Best and Worst States To Retire In
Choosing where to spend your retirement can be an intimidating task, so we've crunched the numbers to calculate the best and worst states for you to retire in 2023. Experts also weigh in with useful tips for finding the right retirement location for you.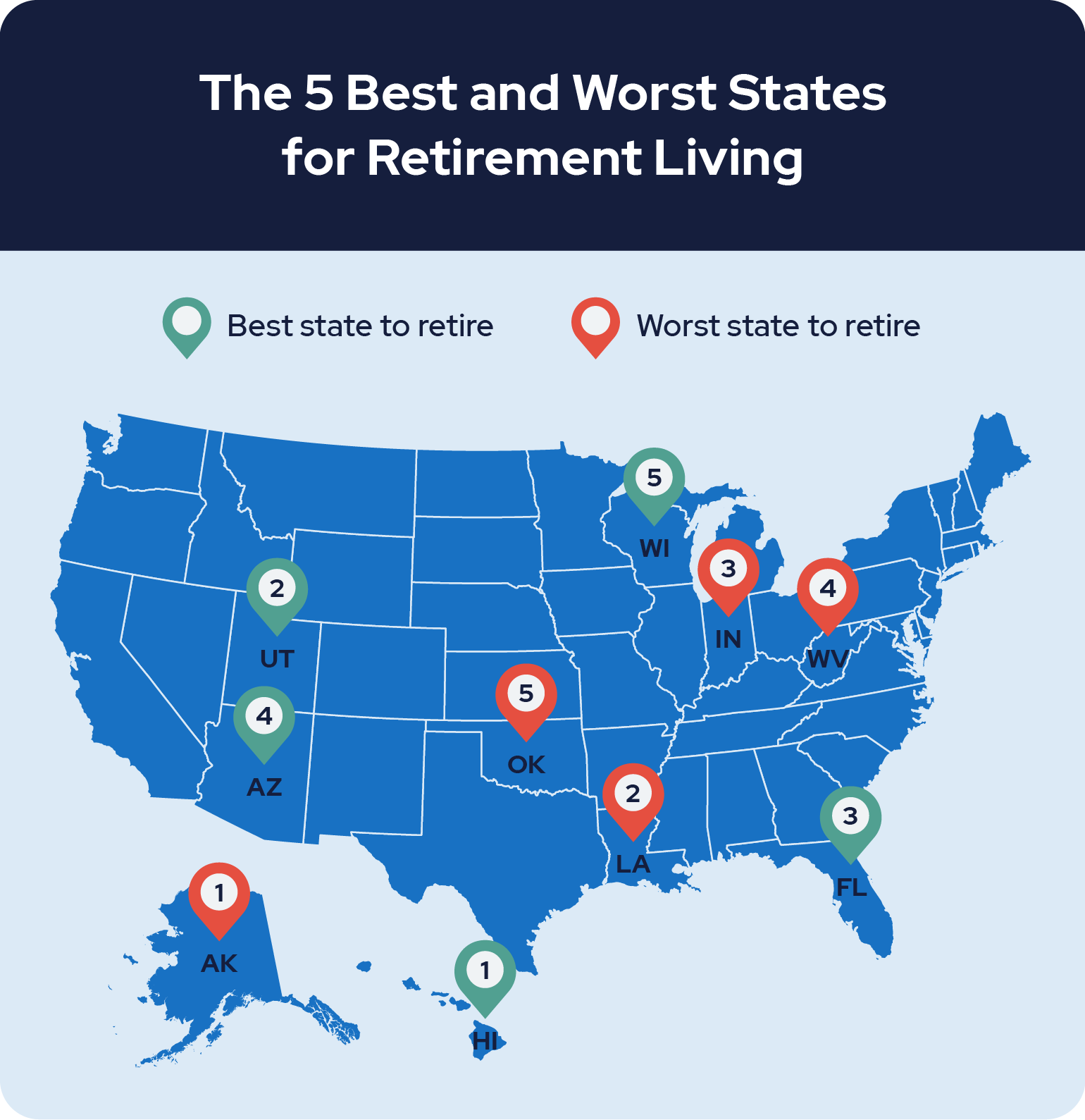 Written by

Christian Simmons

Christian Simmons

Financial Writer

Christian Simmons is a writer for RetireGuide and a member of the Association for Financial Counseling & Planning Education (AFCPE®). He covers Medicare and important retirement topics. Christian is a former winner of a Florida Society of News Editors journalism contest and has written professionally since 2016.

Read More

Edited By

Lamia Chowdhury

Lamia Chowdhury

Financial Editor

Lamia Chowdhury is a financial content editor for RetireGuide and has over three years of marketing experience in the finance industry. She has written copy for both digital and print pieces ranging from blogs, radio scripts and search ads to billboards, brochures, mailers and more.

Read More

Financially Reviewed By

Stephen Kates, CFP®

Stephen Kates, CFP®

Certified Financial Planner™ Professional and Founder of Clocktower Financial Consulting

Stephen Kates is a Certified Financial Planner™ professional and personal finance expert with over a decade of experience working with individuals and families who need help with their finances. With experience as a financial advisor for two of the largest financial firms in the country, Stephen has worked with hundreds of clients to build comprehensive financial plans to grow and protect their wealth.

Read More

Published: November 9, 2020
Updated: May 24, 2023
12 min read time
This page features 18 Cited Research Articles

What Are the Best and Worst States To Retire In?

5 Best States for Retirees

1. Hawaii

2. Utah

3. Florida

4. Arizona

5. Wisconsin

0:40

The Best and Worst States to Retire In

Expert Tips on Choosing the Right State for Your Retirement

Tip 1: Research the Tax Environment

"If you are or plan to be a homeowner in retirement make sure you understand the property tax situation of the particular state you're interested in. Property tax rates vary greatly in this country, and this could either be an area of savings or a big annual expense depending upon where you end up living. Even if your mortgage is paid off, property taxes don't go away. Make sure it's within your budget."

Best States To Retire Tax-Wise

Tip 2: Confirm Availability of Health Insurance and Relevant Medical Care

"It's no surprise that aging comes with health concerns. But financially speaking, it's important to know that wherever you retire there will be timely access to routine and emergency medical treatments. The usually unaccounted-for costs of driving hours to visit a specialist add up, and unfortunately can result in people forgoing needed medical treatments. Accounting for where you will get your medical treatments is as important as knowing if you are covered by insurance for the treatment."

"You will need more medical care in your retirement than before, especially if you have underlying conditions. So it is very important to consider health insurance and its cost. For example, if you plan on taking early retirement, you might not be eligible for Medicare and need to get health insurance coverage until you reach 65. Usually, the cost of health insurance will vary depending on the state. So choose a state whose cost of health insurance is affordable to you."

Tip 3: Consider the Proximity to Family, Friends and Your Favorite Activities

"Retirement is a great time to spend more time with loved ones. If you have family or friends spread out across the country, consider choosing a retirement location that is centrally located so you can easily visit them."

5 Worst States for Retirement

Ranking All 50 States for Retirement Living

Methodology

Last Modified: May 24, 2023

Share This Page

18 Cited Research Articles

Need Help Planning Your Retirement? Yes, I'm Interested I Have Help Already I Will Manage It Myself

RetireGuide will soon offer services to help you better manage your retirement.

We will be offering assistance with annuities, life insurance, Medicare and financial planning. Sign up for updates and be the first to know when these services are available.

Get the right information to stay on top of your retirement planning.

Sign up for our newsletter for our latest retirement planning guides, tips and more!
Your web browser is no longer supported by Microsoft. Update your browser for more security, speed and compatibility.
If you need help pricing and building your medicare plan, call us at 844-572-0696