Travel
Traveling during your golden years is a rewarding experience that many retirees strive for. But these trips require planning — even years before you retire — to make sure they're both affordable and fulfilling. There are some simple steps you can take to make sure you have the journey of a lifetime.
What Should You Consider Before Traveling?
Spending ample time dedicated to traveling is a major priority for many Americans when making plans for their retirement. But dreams may not match up with the reality of everything that goes into travel when you actually start to plan.
It's important to take a serious look at the obligations before committing to travel as part of your lifestyle in retirement. You'll need to understand what your ideal travel plans really involve and how much they will cost — and make an honest assessment of whether you are healthy and fit enough to handle your travel plans.
Questions To Ask Yourself Before Traveling During Retirement
Do you really like to travel?

Don't confuse travel as a lifestyle with taking the odd vacation. Packing your retirement years with travel will be a lot more complicated and stressful than taking one- or two-week vacations every year. How well do you really tolerate being on the road, living in hotels, packing (and unpacking) and coordinating plans? Be sure that you're willing to take on the stress and manage the logistics of long-term travel before hitting the road.

Are your finances in line?

Research the costs of the ‌travel you plan to do well in advance. AARP found that older travelers spent an average of $6,600 on travel in 2019 each — and when you consider that a single international trip can start at around $5,000 for a couple, it's easy to spend your money quickly. Make sure you have the financial means to cover the costs of retirement travel, or you may quickly find that your dream lifestyle is out of reach.

Is your health going to limit you?

It's one thing to see the Eiffel Tower. But it's a totally different story to climb its stairs. Assess how your health and fitness levels play into your travel plans. Think about the time you'll have to spend on your feet, the distances you'll have to walk and the elevation gains you'll have to make walking or climbing.

Do you have obligations at home?

Consider the obligations you have at home that won't disappear while you're away. How long can you be gone? Travel can be complicated if you have family members you are caring for back home, like elderly parents, disabled children or grandchildren you are raising. These obligations may be a deciding factor in any travel plans you make.

Will insurance cover your trips?

Consider travel insurance in case you have to cancel a trip. Insurance can help cover your losses if something unexpected comes up — but it may not cover everything you've already paid for your airfare or hotel reservations.
You should also consider health insurance if you're traveling, especially if traveling internationally. Medicare travel coverage is very limited outside the United States. But it's not a consideration saved for international travel — some Medicare Advantage plans may not have in-network coverage even in the U.S.
How Do You Pick a Travel Destination — and How Do You Get There?
A 2020 survey of travel trends by AARP Research reports that many older travelers choose their travel destinations based on their desires to spend time with family and friends, get away from everyday life and relax away from their homes and routines.
These reasons can also affect how you'll get there.
Top Travel Destinations for Older Americans
Sunny and warm destinations top the list of favorite destinations for both domestic and international travel among Americans from the baby-boom generation.
Southern states accounted for 44% of domestic travel destinations for older Americans. That figure included 17% planning travel specifically for Florida — by far the top travel destination named in the survey.
Another 31% listed western states, 13% listed states in the Northeast and 7% listed the Midwest as their travel destinations.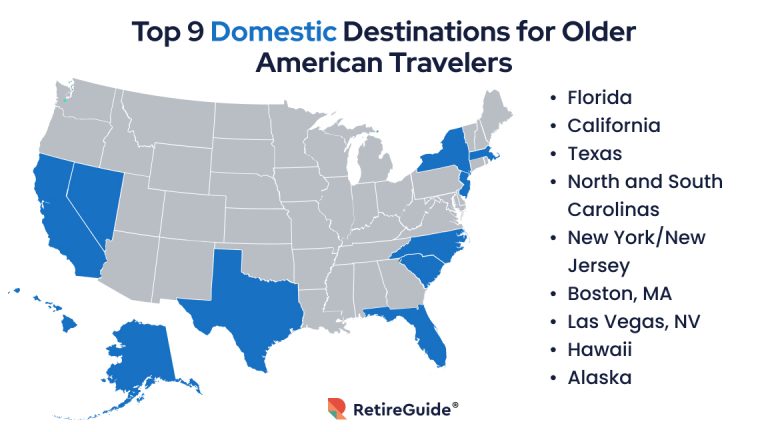 Meanwhile, Latin America accounted for 38% of the most popular international destinations for older American travelers in the survey and Europe represented 37% of the international destination choices.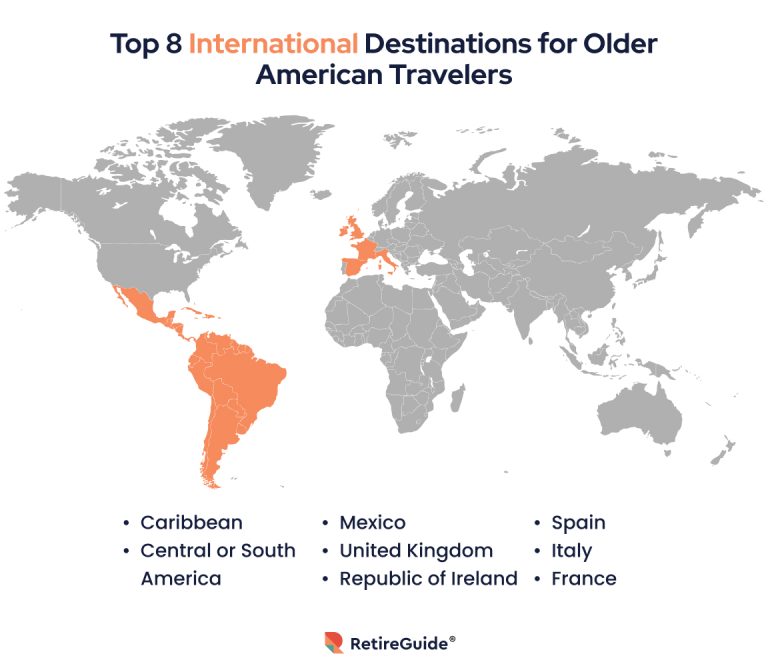 Getting There
As the ‌old adage goes, "It's the journey, not the destination." This wisdom certainly applies to retirement travel. Whether it's a bucket list road trip or a leisurely cruise, getting there can be half the fun — or more.
Before you set off on an adventure, ‌consider how you'll get there and the different options that can make the trip more of an experience‌.
Travel Experiences
Bus Tours

Bus tour packages are a good option if you like traveling with groups and want to eliminate a lot of the planning surrounding a trip. Tours can ease a lot of the logistical hassles since guides make sure you see the sights, deal with language differences and handle your luggage. The downside is that you have little flexibility or choice in what you'll do since you are adhering to a set schedule with a busload of other people.

Cruises

It's no secret that cruises are a favorite travel option amongst seniors. Cruise ships provide activities, amenities and luxuries for passengers along with wide-ranging food and recreation options. You'll visit various international destinations while living aboard a cruise ship. The downside is that ship staterooms tend to be smaller than hotel rooms, the ticket price probably doesn't include all fees and dinner and activities might be scheduled at fixed times that don't mesh well with your preferences.

RV Travel

Hitting the road in an RV (recreational vehicle) during retirement can turn into more than just a trip — in fact, many retirees make it a lifestyle. Living in an RV allows for visiting a bucket list of domestic destinations for an endless road trip. Whether you're hitting every Major League Baseball park or visiting every national park site in the country, RV owners form communities on the road. But RVs can be very expensive — think $60,000 to $500,000 for the initial motorhome purchase alone — plus they depreciate in value the longer you own them and are fuel guzzlers.

"Voluntoursim"

Voluntourism, or volunteer tourism, allows you to spend your retirement time giving back while you travel to a new destination and do volunteer work with a charity or other nonprofit organization. The experience can expose you to new cultures and give you a sense of purpose by doing good work for others. The downsides are that you'll likely have to pay a voluntourism company to do the volunteer labor, there isn't much time for relaxing or sightseeing and you may have to give up modern conveniences while you're at your destination.
Who Should You Travel With?
Everyone has their own ‌preference for the ideal travel companion. You might prefer traveling with family or friends, with travel-specific groups or just going it alone. Choosing who you are most comfortable traveling with is a personal decision, and each has its pros and cons.
Tips for Traveling With Others in Retirement
Traveling with Family

Traveling with family members, like your children and grandchildren, means making memories across generations while you're on your journey. But different generations may have broadly different interests while traveling. Talking with a travel professional about finding activities that bridge generation gaps can help you plan a trip that everyone can enjoy.

Traveling with Friends

Traveling with friends can be fun and rewarding, but it can also be a true test of friendship. When planning to travel with friends, make sure you're all on the same page and that you're all in agreement with the destination (and the costs). You'll all have to be flexible about activities, taking part in those that you all enjoy but also maintaining the freedom to go your own ways to pursue unique interests.

Traveling Solo

Traveling solo may be worth considering if you are particularly adventurous in retirement. Solo travel can liberate you, allowing you to set your own schedule and pace. It also encourages you to meet new people and gives you time to think and reflect. But it can be lonely and leave you with no one to help or support you while you're a long way from home — and maintaining your mental health is an extremely important consideration as you age. Solo travel also tends to be more expensive per person because many types of travel are designed for double occupancy or discounted for groups.
How Do You Plan for Traveling?
Planning is key to any trip. In choosing a perfect travel destination, ‌consider the experience you will have rather than just the place. Think about the things you want to do — relax, sightsee, explore a new culture, eat your favorite foods — then figure out the ideal place to have those experiences.
And when you're spending your hard-earned retirement savings, you'll want to look closely at costs — and explore ways to keep those costs down while maximizing your experiences and enjoyment.
Tips for Getting the Most Bang for Your Travel Buck
Start Budgeting Early

Don't wait until you retire to budget for retirement travel. Make it a part of your retirement planning and budget now if travel is important to you. That way, you can set aside the money you'll need to pay for the trips you know are in your future. Once you do retire, stick to a defined travel budget. Travel is expensive and can eat into your retirement savings quickly if you aren't careful and aware of where your funds are going.

Find Discounts

Take advantage of senior discounts for airline tickets, cruises, hotels, national parks and restaurants. You don't have to wait until retirement, either. You can claim some of the most popular senior discounts when you're as young as 50.

Explore Vacation Packages

Consider building your retirement travels around vacation packages. These combine transportation, accommodations and even meals or other amenities into a single purchase. A smart package can save you hundreds of dollars (or more) on a single trip.

Find Credit Cards with Travel Rewards

Many savvy travelers use a credit card that pays them back with hotel or airline rewards points. With this strategy, your day-to-day purchases generate cash back toward travel essentials like airline tickets or hotel stays and upgrades. It's a simple way to save money on travel while paying for the routine expenses you have to cover regardless.
Pack Your Travel Documents
Make sure you have all the right travel documents on hand. That means applying for or renewing your passport for international voyages and getting approved for any travel visas required by your destination.
You'll also need to organize your travel itinerary details — airline ticket details, hotel reservations, rental car information and any other documents for your transportation and accommodations — and make sure you pack your proof of insurance. Purchasing both medical and travel insurance is wise for retirees traveling far from home.
Certain countries may also require specific documentation or vaccinations for COVID-19 or other medical conditions that threaten global public health. Officials may ask you to produce test result paperwork for particular diseases when arriving at your destination, so always check ahead for what's required.
Last Modified: June 17, 2022
Share This Page
6 Cited Research Articles