Life Insurance Calculator: Estimate Your Needed Coverage
Use the term life insurance calculator below and subsequent information to determine the life insurance policy size that best fits your circumstances, how much it might cost you each month and additional methods for calculating your specific coverage needs.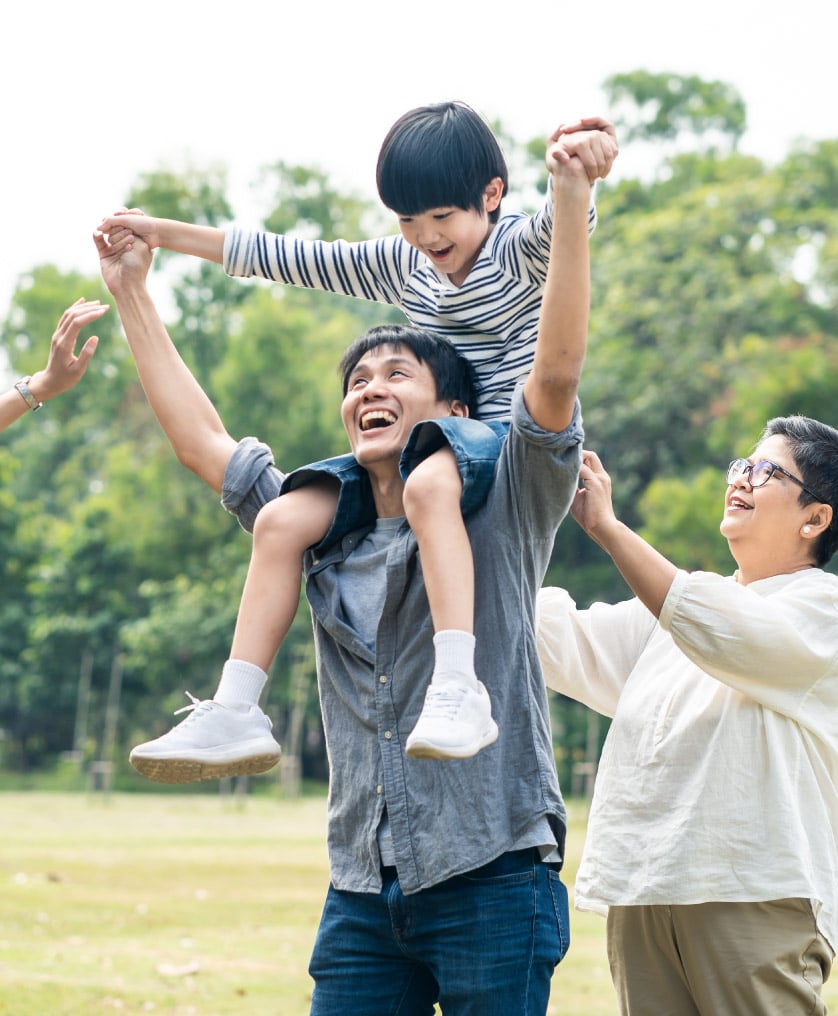 Edited By

Savannah Pittle

Savannah Pittle

Senior Financial Editor

Savannah Pittle is a professional writer and content editor with over 16 years of professional experience across multiple industries. She has ghostwritten for entrepreneurs and industry leaders and been published in mediums such as The Huffington Post, Southern Living and Interior Appeal Magazine.

Read More

Published: March 9, 2022
Updated: June 12, 2023
8 min read time
This page features 7 Cited Research Articles
How Much Life Insurance Do I Need?
There are many factors to consider when determining how much life insurance you may need. The amount varies depending on your age and health status. The following factors should also be taken into consideration:
Your dependents

The number of people relying on you for income

Your liabilities

How much debt you've accumulated

End-of-life expenses

Estimated funeral and end-of-life care costs

Your assets

Your current net worth that would be transferred to your dependents
Use the following steps to learn how to calculate life insurance on your own.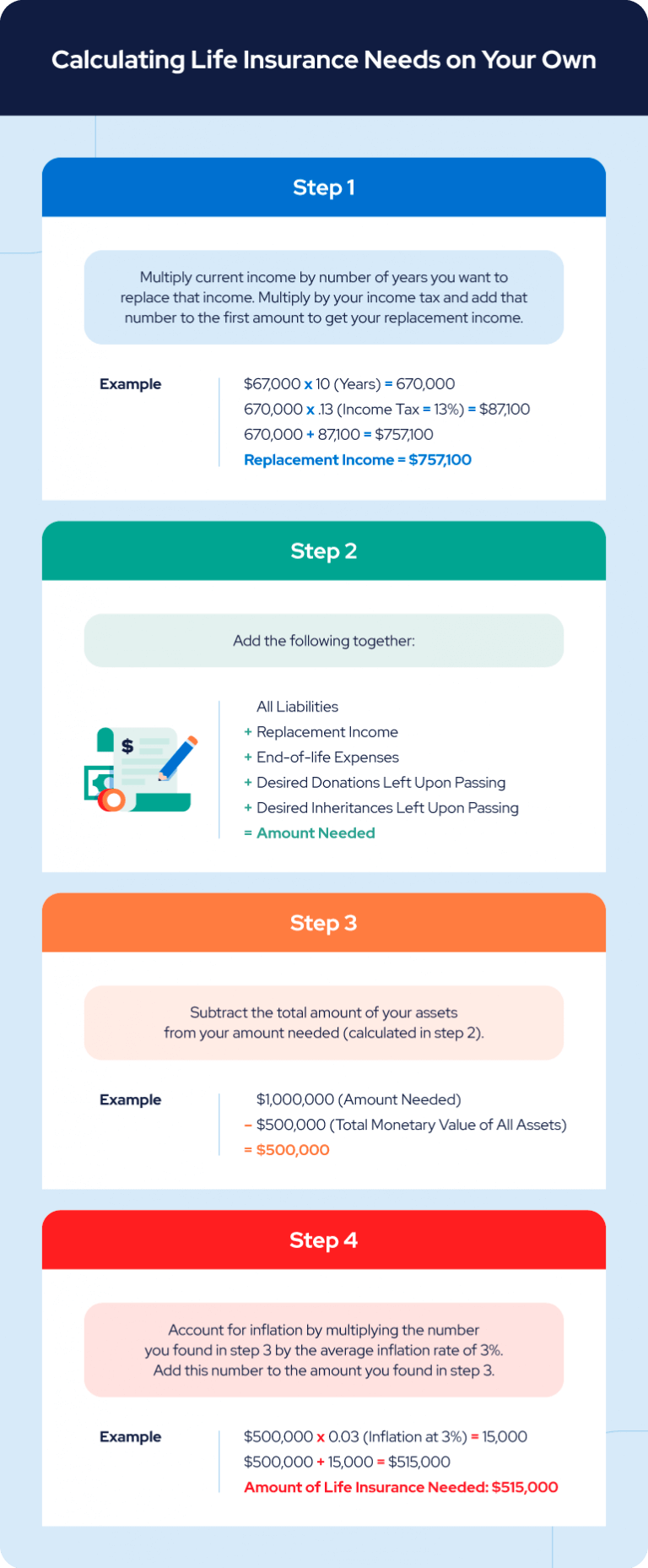 If these calculations seem too complicated to you, there are other methods for calculating how much life insurance you may need. The steps above don't account for things like higher education for your dependents, but the DIME method does.
To get the clearest possible picture of how much life insurance you need, use a few different methods to calculate and talk with a life insurance agent who can help you understand additional nuances for various policies.
Using the DIME Formula
The DIME formula is another way to calculate roughly how large your life insurance policy should be. To get a better understanding of this amount, add up all of the DIME points below:
D - Debt

Start by combining all of your outstanding debts. This can include student loans, car loans, any debts associated with a business or even outstanding credit card balances.

I - Income

Consider how much you currently make, and multiply by how many years that same income will be needed if your dependents won't be able to rely on you for continued income. If your youngest is 10, you may need to multiply your current income by eight for the years before your child goes to college. If your spouse is five years away from retirement, you may only need to multiply this income by five to support them in the years before they stop working.

M - Mortgage

Add the remaining balance of your mortgage to your debt and income replacement amounts.

E - Education

If you have children and would like to assist them in paying for college, add this to your previously calculated amounts as well.
The DIME method isn't foolproof and doesn't account for the assets already in your possession. However, this formula can give you a rough idea of the life insurance policy size you would need to pay off your debts and help your family with living expenses if you were no longer around to earn money.
Multiplying Your Salary by 10
Similar to the income portion of the DIME method, multiplying your current income by 10 is another formula for determining your life insurance needs without a calculator or insurance agent.
Depending on your lifestyle and specific life circumstances, you may also consider increasing the amount from 10 to 15 or maybe more. If you have a lot of dependents, high amounts of debt or you'd like to leave your family with a longer buffer period, increasing the number of years you multiply by your income would be a good idea.
Average Life Insurance Cost Per Month
The monthly cost of life insurance is likely to be different for each individual because these premiums are based on a variety of factors. Insurance underwriters, or those who evaluate how much your premium will cost, account for things such as your sex, age, health and the size of your policy's face value to determine what you'll pay each month.
Your monthly premium will also depend on whether you have a term life or whole life policy. Term life insurance guarantees you coverage for a specific number of years, typically anywhere from 10 to 30 years. Once the initial term has lapsed, you'll no longer have coverage. Whole life, or permanent life, never expires. Your premiums are often much higher, but these policies can build cash value over time, acting as an investment vehicle.
When considering if such a life insurance policy is worth it for you, you may ask, "Is life insurance expensive?" or maybe, "How much does life insurance cost per month?" The good news is that some life insurance policies are significantly lower than most people would assume. In fact, 50% of people overestimate the cost of life insurance by three times its actual cost.
While we can't give you a definite answer without reviewing your unique circumstances, we can give you a rough estimate of what you may pay based on your sex, age and projected policy face value. The below table includes the average life insurance cost per month for a 20-year term life policy for a non-smoker in good health.
Average Monthly Premium for Term Life Insurance
Age
Policy Face Value
Female Premium
Male Premium
25
$250,000
$500,000
$750,000
$1 million
$14
$21
$28
$34
$17
$27
$36
$45
35
$250,000
$500,000
$750,000
$1 million
$17
$26
$34
$43
$19
$30
$41
$52
45
$250,000
$500,000
$750,000
$1 million
$29
$48
$67
$87
$36
$61
$86
$114
55
$250,000
$500,000
$750,000
$1 million
$61
$109
$156
$208
$86
$152
$224
$289
Source: Policy Genius
If you identify outside of a traditional male/female gender identity, choosing the one you relate closest to will help you get a more accurate life insurance estimate. Although many people now identify outside of the gender binary, the insurance industry hasn't yet updated the underwriting processes to keep up with these changes. While your sex does play a role in how much your life insurance may cost, other factors are also considered when determining this amount.
Average Monthly Premium for Whole Life Insurance
Age
Policy Face Value
Female Premium
Male Premium
25
$250,000
$500,000
$1 million
$156
$307
$600
$178
$351
$688
35
$250,000
$500,000
$1 million
$219
$433
$852
$261
$517
$1,019
45
$250,000
$500,000
$1 million
$329
$653
$1,292
$416
$827
$1,640
55
$250,000
$500,000
$1 million
$544
$1,084
$2,153
$678
$1,351
$2,688
Source: Policy Genius
Who Needs Life Insurance?
People who need life insurance the most are those with dependents, anyone who has a heavy amount of debt and business owners. If you were to pass away within the duration of your coverage (for term life), the payout would help pay off any of your outstanding debts and help cover costs for your business, your dependents or both.
However, these aren't the only people who would benefit from life insurance coverage. Individuals with little to no savings and no dependents can use life insurance as a way to pay for funeral expenses so the burden isn't placed on the shoulders of loved ones.
Stay-at-home parents can also profit from a life insurance policy even if they don't earn any income. In the event of an unexpected passing, the surviving spouse can use the life insurance payout to cover the cost of child care, housework and other duties the late spouse used to be responsible for.
Understanding your life insurance needs doesn't have to be difficult or overwhelming. By using the term life insurance calculator or formulas above, you can get a good idea of the amount of life insurance you would need to act as a sufficient safety net for your loved ones.
Once you're ready to take the next step, talk with a certified life insurance agent or life insurance company for an even greater understanding of the types of policies available to you.
Last Modified: June 12, 2023
Share This Page
7 Cited Research Articles
Need Help Planning Your Retirement?
Yes, I'm Interested
I Have Help Already
I Will Manage It Myself
RetireGuide will soon offer services to help you better manage your retirement.
We will be offering assistance with annuities, life insurance, Medicare and financial planning. Sign up for updates and be the first to know when these services are available.
Get the right information to stay on top of your retirement planning.
Sign up for our newsletter for our latest retirement planning guides, tips and more!