Senior Housing
Entering a new stage in life by nearing retirement could entail exploring senior housing options such as senior living communities, assisted living or aging in place. Depending on your independence level, overall health and budget, one option may be better suited for you over another.

Written by

Lindsey Crossmier

Lindsey Crossmier

Financial Writer

Lindsey Crossmier is an accomplished writer with experience working for The Florida Review and Bookstar PR. As a financial writer, she covers Medicare, life insurance and dental insurance topics for RetireGuide. Research-based data drives her work.

Read More

Edited By

Lamia Chowdhury

Lamia Chowdhury

Financial Editor

Lamia Chowdhury is a financial content editor for RetireGuide and has over three years of marketing experience in the finance industry. She has written copy for both digital and print pieces ranging from blogs, radio scripts and search ads to billboards, brochures, mailers and more.

Read More

Reviewed By Bart Astor
Published: June 10, 2022
Updated: June 5, 2023
11 min read time
This page features 13 Cited Research Articles
Senior Living Communities
There are many senior living communities available that serve different functions depending on the level of independence you want in retirement. Some options offer social events, various amenities and day-to-day assistance to ensure you're taken care of.
However, due to health conditions or cost, this may not be a viable option for you. It's best to be well versed in each type of senior living community to ensure you pick the best option for your needs.
If you want a senior living community with more independence, you may want to consider an active adult community, low-income housing or a continuing care community.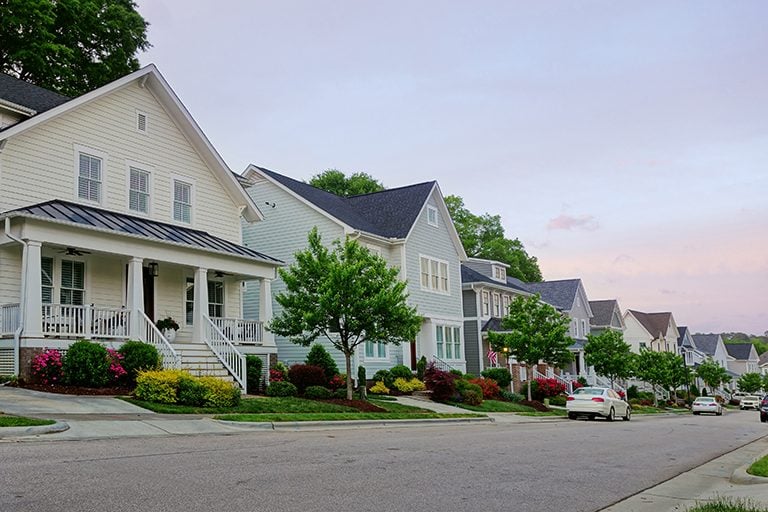 Active Adult Communities
To join an active adult community, you must be over 55 years old and wish to live relatively independent. An active adult community typically has a multitude of on-site activities and resides in an area close to medical facilities.
On-Site Activities for Most Active Adult Communities
Golf
Arts and crafts
Movie nights
Swim
Biking
Cookouts and gatherings
Active adult communities do not assist with daily living activities, such as meals, housekeeping, personal care and administering medication.
The average cost for an active adult community range between $1,500 to $4,000 a month, depending on the community you choose.
Pros and Cons of Active Adult Communities
Pros
Offers community and social gatherings
Independent living
Affordable compared to other options
Cons
Must leave your home to move into community
Does not offer assistance for daily living activities or medical services
Low Income Housing
There are several options for low-income housing for seniors. While some options include purchasing a home for independent living, other options, such as the Supportive Housing for the Elderly Program, helps you find apartments that offer services like cooking, cleaning and transportation.
If you're struggling to find affordable senior housing for yourself or a loved one, know that it isn't an uncommon situation. According to an American Housing Survey sponsored by the U.S. Department of Housing and Urban Development (HUD), one-third of Americans over age 62 struggle to afford housing. Luckily, there are options to help bring down costs.
There are vouchers, assistance programs tax credits and Medicaid coverage options to offer low-income housing for seniors.
Options to Reduce Housing Costs for Seniors
Housing Choice Vouchers (HVC/Section 8)
Rural Rental Assistance (Section 521)
The Housing Improvement Program (HIP)
VA Long-Term Care Services
Low-Income Housing Tax Credit
Medicaid Home and Community Based Services (HCBS) Waivers
Keep in mind that there are requirements for low-income housing options. Typically, you must be over 62 and make a certain amount every year. If you exceed the income limit, then you may not qualify.
The price for low-income housing for seniors varies depending on where you choose to live and how much assistance you get approved for.
Pros and Cons for Low Income Housing
Pros
Offers independent living options
A range of options to reduce costs including tax credits, programs and vouchers
Cons
Can be denied if you don't qualify
Not all low-income housing options offer assistance or social events for seniors
Continuing Care Retirement Communities (CCRC)
Continuing care retirement communities, also known as CCRC, offer a wide range of services all in one location. This typically includes independent living options, skilled nursing care, assisted living and memory care.
Living at a CCRC means you won't have to move far or travel to a different area if you start to have health issues. Even if you choose an independent living option, you still have access to medical care, dining, recreational activities and housekeeping.
According to the Department of Health & Human Services, anyone over the age of 65 has a 70% change of requiring long-term care services. By choosing senior housing that has a range of living options, including long-term care, this could reduce stress for ensuring you have easy access to medical assistance.
Because a CCRC offers so many services, there is a fee upfront along with a monthly fee. On average, the upfront fee is between $200,000 to $500,000. There are different types of CCRC contracts, all with different variations of coverage and general cost.
Pros and Cons for CCRC
Pros
Offers wide range of living options in one area
Social activities
Ample medical assistance available
Independent living options
Cons
Expensive
Most have minimum age requirement of 62
Will likely need a lawyer to review CCRC contract
How To Invest Your Home Sale Proceeds
Aging in Place
According to Capital Caring Health, roughly 90% of older Americans want to remain in the comfort of their own homes as they age. This is commonly referred to as "aging in place."
Moving into a nursing home or assisted living residence may not be your retirement lifestyle goal either. If so, there are options to remain in your home while still receiving assistance, such as village caregiving and meals on wheels.
With either of these options, you should take safety precautions in your home, such as adding bed rails, securing rugs or attaching grab bars in the shower to reduce fall risk. Once you have your home secured, you can even add smart home products and home security systems to make your life easier.
You will still need additional assistance options available with aging in place. That's where village caregiving and meals on wheels can make difficult tasks accessible.
Village Caregiving
Village Caregiving offers in-home, non-medical services for seniors, such as housework, cooking, pet care and errands. Assistance with daily living activities, like hygiene and transport, are also included.
The only medical service offered is assistance with self-administered medications. There are many Village Caregiving options in America, including locations in West Virginia, Ohio, Kentucky, Indiana, Pennsylvania and more.
The price for village caregiving varies, depending on how much assistance you need. Most charge an annual membership fee of several hundred dollars, then all services are included.
Pros and Cons of Village Caregiving
Pros
Allowed to stay in your own home
Low-cost options
Home and personal hygiene assistance
Available in many states
Cons
Does not offer medical assistance
Potentially could be expensive if you need extensive assistance
Meals on Wheels
If you wish to age in place within your home, but have difficulty keeping up with cooking and cleaning, the Meals on Wheels provider could be a great fit for your needs. There are currently over 5,000 Meals on Wheels programs in America, with an online tool to find the program closest to you.
Eligibility Requirements For Delivered Meals
Either you or your partner are over age 60
You're at risk of malnutrition
You are unable to come into a Meals on Wheels People center for a meal
The cost of each meal is $7.39. If you cannot afford the price, then Meals on Wheels states that you will not be denied a meal due to an inability to pay. If you're over the age of 60, Meals on Wheels simply asks that you contribute what you can afford, however, you're not required to pay the full $7.39.
Pros and Cons of Meals on Wheels
Pros
Meals can be free
Program offered all throughout America
Removes the burden of cooking and cleaning
Cons
Eligibility requirements
Only offers food assistance
May require wait lists depending on region
Assisted Living
If you or a loved one can no longer live independently, then assisted living may be the best option. Most assisted living facilities help with daily care, meals, medications, 24-hour supervision, housekeeping, social activities and other activities of daily living.
There are some assisted living facilities that directly cater to your needs, such as memory care, nursing homes or convalescent homes. There's even an option for assisted living help while living in your home. Knowing what services are included in each option, along with general costs, can help guide your decision.
Memory Care
A memory care facility specializes in long-term care, helping seniors with memory issues like Alzheimer's or dementia. Memory care facilities have specially trained employees who are prepared to help those who may forget who or where they are.
Like a nursing home, a memory care facility has 24-hour surveillance and assists with personal care.
There are typically more safety precautions at a memory care facility — for example, some facilities offer tracking bracelets. According to the Alzheimer's Association, six in ten of those who suffer from dementia are at risk of wandering and getting lost or hurt.
If you or a loved one needs extra assistance and suffers specifically from memory issues, a memory care facility would likely be a good fit if it's within your budget.
On average, the monthly cost for memory care rent is $6,935.
Pros and Cons of Memory Care
Pros
Specialized help for memory care
24-hour surveillance for extra safety
Personal care assistance
Cons
Can be costly
Extra surveillance, such as tracking bracelets and locked doors, could make your loved one feel trapped and confused
Home Care
Home care could be a viable option if you don't want to move into a nursing home but need assistance for day-to-day life and can no longer be on your own for extended periods of time. There are two types of home care services, each with a different functionality and purpose. One offers medical assistance, the other does not.
Standard home care services are usually serviced by a personal care assistant. This type does not offer medical care. Services included in this option are assistance was mobility, errands, cleaning, transport, companionship and medication management.
Home health care services provide medical care and therapy from someone with a nursing degree, specialized training or certifications. Services included with home health care include wound care, post-surgery recovery, physical and occupational therapy, blood withdrawal, maintaining medical devices, injections and respiratory therapy.
The cost for home care ranges, depending on how much assistance you need and the type of home care. Typically, home health care is the more expensive option. On average, if you need standard home care for 40 hours a week, it will cost you $3,900 per month. A long-term care insurance plan with benefits for home health care can cover some costs.
Pros and Cons for Home Care
Pros
Options available for medical and nonmedical services
Available in all 50 states
Cons
Will be costly if you need around-the-clock care
Home health care services are more expensive
Nursing Homes
Nursing homes have the option for long-term and short-term stay that offers both medical and personal care services. Nursing homes focus more on skilled medical care compared to other assisted living facilities.
A nursing home typically includes three meals a day, 24-hour supervision, assistance with everyday tasks, nursing care, therapy and rehabilitation. Compared to the other assisted living options, nursing homes are the most expensive option, at $10,562 a month.
Pros and Cons for Nursing Homes
Pros
Offers 24-hour care
Meals and everyday tasks taken care of
Offers physical, occupational and speech therapy
Rehabilitation services
Nursing care
Cons
Most expensive option
Extra surveillance can make those in a nursing home feel trapped or alone
Convalescent Homes
Convalescent homes are commonly referred to as nursing homes, but they are not the same thing. While one can move into a nursing home indefinitely, a convalescent home offers short-term rehabilitative care after an illness, accident or surgery.
Think of a convalescent home as a steppingstone. Let's say you're living in an active adult community, which does not offer medical services, and you get injured. You could briefly live in a convalescent home for several months while you heal before moving back into your active adult community.
Or perhaps you don't feel comfortable moving back into an independent community and decide to move into a nursing home instead. In either scenario, a convalescent home is a short-term living solution while you heal in hopes of becoming independent again, not for long-term care.
Several Services Offered in A Convalescent Home
Occupational therapy
Speech therapy
Physical therapy
Psychiatric care
Adult day and night care
Outpatient rehabilitation
There are wide price ranges for convalescent homes. For example, the average monthly cost for a private room with Lutheran Convalescent Home is $6,509. However, with the Village House Convalescent Home, the average monthly cost for a private room is $9,733. If you believe a convalescent home is a good option for you or your loved one, make sure you do your research to ensure you're getting the best price.
Pros and Cons of Convalescent Homes
Pros
Offers medical services and rehabilitation
Goal is to get back to independent living
Cons
Short-term care only
Due to wide price range, could be very costly
Last Modified: June 5, 2023
Share This Page
13 Cited Research Articles
Who Am I Calling?
Calling this number connects you to one of our trusted partners.
If you're interested in help navigating your options, a representative will provide you with a free, no-obligation consultation.
Our partners are committed to excellent customer service. They can match you with a qualified professional for your unique objectives.
We/Our Partners do not offer every plan available in your area. Any information provided is limited to those plans offered in your area. Please contact Medicare.gov or 1-800-MEDICARE to get information on all of your options.
844-359-1705
Your web browser is no longer supported by Microsoft. Update your browser for more security, speed and compatibility.
If you need help pricing and building your medicare plan, call us at 844-572-0696