Aging in Place: A Guide to Growing Older at Home
Aging in place is the process of staying in your own home as you grow older instead of moving to an outside facility. To properly age in place, you should create a budget, discuss options with your family, connect with home health services and identify necessary home modification projects.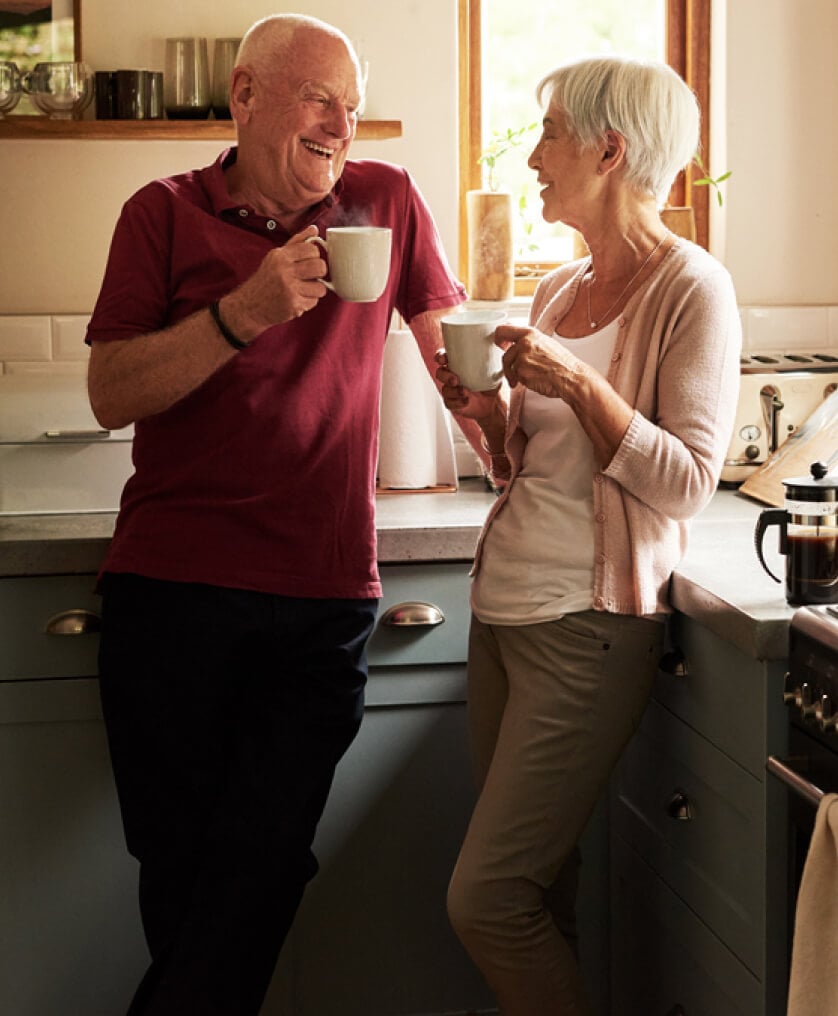 Written by

Terry Turner

Terry Turner

Senior Financial Writer and Financial Wellness Facilitator

Terry Turner has more than 35 years of journalism experience, including covering benefits, spending and congressional action on federal programs such as Social Security and Medicare. He is a Certified Financial Wellness Facilitator through the National Wellness Institute and the Foundation for Financial Wellness and a member of the Association for Financial Counseling & Planning Education (AFCPE®).

Read More

Edited By

Lamia Chowdhury

Lamia Chowdhury

Financial Editor

Lamia Chowdhury is a financial content editor for RetireGuide and has over three years of marketing experience in the finance industry. She has written copy for both digital and print pieces ranging from blogs, radio scripts and search ads to billboards, brochures, mailers and more.

Read More

Reviewed By Bart Astor
Published: February 8, 2021
Updated: March 8, 2023
25 min read time
This page features 8 Cited Research Articles
Key Takeaways
The term "aging in place" refers to the ability of older adults to live in their homes and communities safely, independently and comfortably, regardless of their age, income or abilities.
Examples of aging in place include seniors living in their homes and receiving Meals on Wheels or living in a retirement community so that transportation isn't a concern.
Aging in place is best suited for those who have good health, a strong support system and minimally maintained, fully paid off homes.
Accessibility may mean a one-floor home or having accessible bedrooms and bathrooms upstairs.
Some of the most important aspects of aging in place include living independently, safely and financially soundly.
What Is Aging in Place?
Aging in place occurs when someone makes a conscious decision to grow older in their current residence instead of moving to an assisted living or long-term care facility.
Aging in place works best for people who create a plan, modify their home and establish a supportive network of family and home care services.
Affordable, accessible and suitable housing options also make it easier for older adults to age in place and remain in their community for years to come.
The choice to either age in place or transition to assisted care is a complex and personal decision influenced by emotional, physical and financial factors. But the choice of aging in place has become a leading goal for senior housing by a wide majority of people nearing retirement.
Is Aging in Place Right for You?
Staying in a familiar setting is a priority for many seniors. But aging in place isn't always as easy as it sounds. Maintaining independence can become increasingly difficult as age increases and health declines.
Everyone's situation is unique. It's important to evaluate and be realistic about your own circumstances, and to weigh the benefits of aging in place with the realities of the loneliness and depression experienced by many seniors who live alone.
Logistics of Aging in Place
While staying in the family home is ideal, it isn't always a realistic retirement lifestyle.
"It's not for everyone. It's important to explore your options," Louis Tenenbaum, a former home modifications contractor who now runs the aging in place policy and advocacy organization HomesRenewed, told RetireGuide. "Every house isn't a good candidate, and everyone's situation is different."
While Tenenbaum said most homes can be adapted for aging residents, he admitted that certain situations make remodeling difficult and expensive.
A widowed 70-year-old woman who lives in a ranch-style, accessible home within 15 minutes of her two adult children will likely have an easier time aging in place.

An 85-year-old man who lives in a large, three-story home in a rural area with no nearby family or friends will have a difficult time aging in place.
"A multistory home without a bathroom on the first floor, for example," said Tenenbaum, who founded one of the country's first design-build remodeling companies focused on aging in place services back in 1993. "Or if access is difficult from the outside, like a really long driveway. There's also a lot of homes that are just suffering from major maintenance neglect."
Cognitive impairments, such as Alzheimer's disease and dementia, also make aging in place precarious because round-the-clock care is required as the disease progresses.
Advantages of Aging in Place
Disadvantages of Aging in Place
Planning to Age in Place: Steps to Take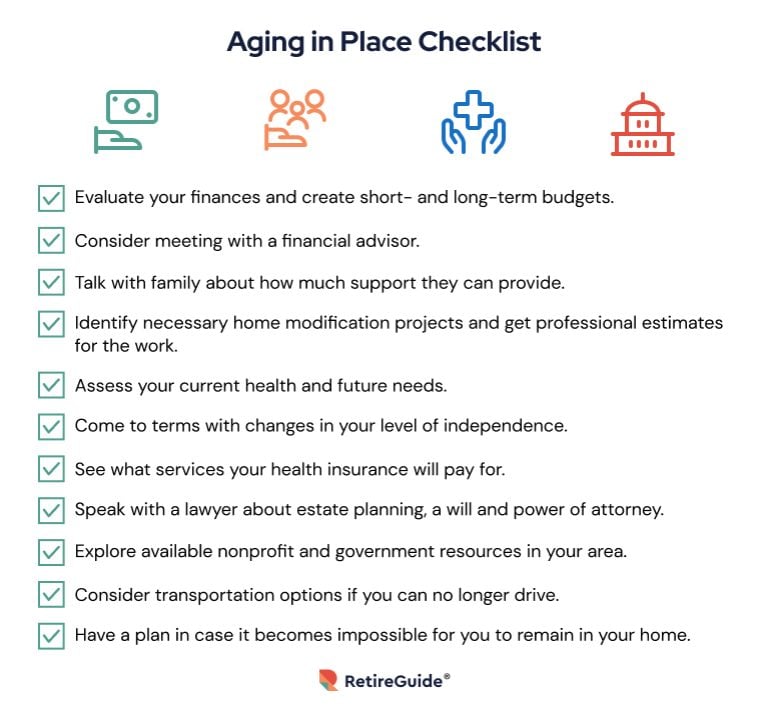 Costs of Aging in Place
Home Modifications
In-Home Care
How to Reduce Costs of Aging in Place
Medicare Advantage and Medigap
Long-Term Care Insurance and Annuities
Program of All-Inclusive Care for the Elderly (PACE)
Free Community Resources
Ask an Expert
Additional Aging in Place Resources for Seniors
I am so impressed with the amount of information presented. It is very comprehensive and easy to understand all that is needed to know about aging in place and the alternatives. Thank you.
Last Modified: March 8, 2023
Share This Page
8 Cited Research Articles
Need Help Planning Your Retirement?
Yes, I'm Interested
I Have Help Already
I Will Manage It Myself
RetireGuide will soon offer services to help you better manage your retirement.
We will be offering assistance with annuities, life insurance, Medicare and financial planning. Sign up for updates and be the first to know when these services are available.
Get the right information to stay on top of your retirement planning.
Sign up for our newsletter for our latest retirement planning guides, tips and more!
Your web browser is no longer supported by Microsoft. Update your browser for more security, speed and compatibility.
If you need help pricing and building your medicare plan, call us at 844-572-0696