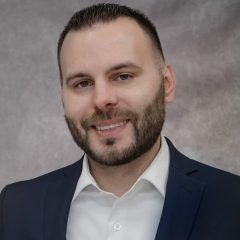 Michael Jones
Medicare Expert and Owner of Grand Anchor Insurance Solutions
Michael Jones is an independent agent and owner of Grand Anchor Insurance Solutions, an agency that specializes in health care insurance products. While he is primarily known for his Medicare expertise, Michael also has a strong background in voluntary benefits for employees of businesses.
Michael is passionate about helping his clients. He enjoys informing them about their health care options and finding what best suits their lifestyle. Michael spends ample time researching each client — determining their budgets, doctor preferences and medication requirements. He uses his findings to narrow his search and find a plan that ticks every box for each client's needs.
Originally from Fayetteville, North Carolina, Michael graduated from Pine Forest High School and later studied accounting at Methodist University.
Outside of work, Michael enjoys spending time with his family, playing pool and swinging on the golf course. He and his family are active members of Solid Rock Church in Myrtle Beach and support many local homeless ministries and charities.
About RetireGuide.com's Experts
RetireGuide.com's experts are trusted authorities on Medicare, life insurance, annuities and retirement planning. Before experts review content on our website for accuracy, we verify that they have relevant experience, licenses and professional designations. We exercise due diligence in vetting prospective experts to protect our readers and ensure the information on our website is trustworthy, comprehensive and useful to readers in the pursuit of their retirement goals.
More About Our Experts