How Do I Check the Status of My Medicare Enrollment?
The status of your Medicare enrollment can be checked online through your My Social Security account on Social Security's website or the "Check Enrollment" section of your MyMedicare.gov account. You can also call the Social Security Administration at 1-800-772-1213 or go to a local Social Security office near you. It takes about 45 to 90 days to receive your acceptance letter after submitting your Medicare application.
Written by

Rachel Christian

Rachel Christian

Financial Writer and Certified Educator in Personal Finance

Rachel Christian is a writer and researcher for RetireGuide. She covers annuities, Medicare, life insurance and other important retirement topics. Rachel is a member of the Association for Financial Counseling & Planning Education.

Read More

Edited By

Lee Williams

Lee Williams

Senior Financial Editor

Lee Williams is a professional writer, editor and content strategist with 10 years of professional experience working for global and nationally recognized brands. He has contributed to Forbes, The Huffington Post, SUCCESS Magazine, AskMen.com, Electric Literature and The Wall Street Journal. His career also includes ghostwriting for Fortune 500 CEOs and published authors.

Read More

Financially Reviewed By

Brian Hickey, CLU®, CLTC®, FLMI

Brian Hickey, CLU®, CLTC®, FLMI

Vice President of Insuractive

Brian Hickey is vice president of Insuractive, an Omaha-based company providing direct-to-consumer Medicare plans, life insurance and wealth protection to individuals. With 24 years' experiencein Medicare, long-term care, life insurance and wealth protection, Brian leads and develops Insuractive's strategic initiatives with a focus on direct-to-consumeroptions for insurance information and solutions.

Read More

Published: October 26, 2020
Updated: September 13, 2022
3 min read time
This page features 4 Cited Research Articles
Check Status of Medicare Application
There are various ways to receive Medicare coverage.
If you already collect Social Security benefits before age 65, you'll be automatically enrolled in Medicare Part A hospital insurance and Medicare Part B medical insurance when you turn 65.
Otherwise, you need to sign up for this coverage on your own.
Once your application is submitted, you can check on its status by:
Logging in to your My Social Security account
Visiting your local Social Security office
Calling Social Security
Visiting the Check Enrollment page on your MyMedicare.gov account
To check the status of your Medicare application on the Social Security website, you will need to enter your Social Security number and the confirmation number you received when you filed your application.
Your application status will show:
The date your application was received
Any requests for additional documents
The address of the Social Security office processing your application
Whether a decision has been made about your application
Once your application is processed, you will receive a notification letter in the mail to inform you of whether your application was approved.
If you need help, or are unable to check your application status online, call the Social Security Administration at 1-800-772-1213 (TTY 1-800-325-0778) from 7 a.m. to 7 p.m. Monday through Friday.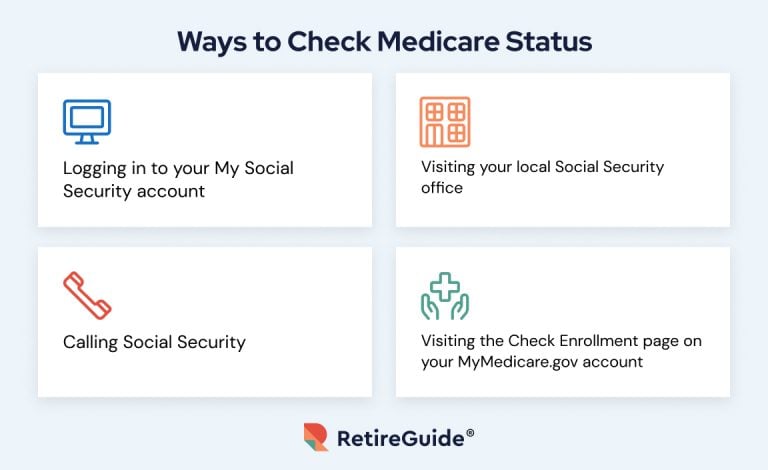 Status of Medicare Advantage and Part D
A Medicare Advantage, or Part C, plan is administered by a private health insurance company that contracts with Medicare.
You can check the status of a Medicare Advantage plan application by contacting the private insurer who administers your plan.
A Medicare Part D plan provides prescription drug coverage. Like Medicare Advantage, Part D plans are administered by private insurance companies.
To check your application status, contact the member services department of your Part D plan for more information.
You can also ask your pharmacy to check the status of your Part D enrollment by sending a test claim to the company.
When Does My Coverage Start?
When and how you enroll for a Medicare plan impacts when your coverage begins. Your benefits may not start until three months after you apply.
If you have not received an acceptance letter 45 to 90 days after submitting your application, call the Social Security Administration or check online. You will need your Medicare application number to do so.
Once your coverage begins, you do not need to reapply each year for Medicare benefits.
However, you will have an opportunity to change plans or adjust your coverage during the Medicare open enrollment period, which runs from Oct. 15 to Dec. 7 each year.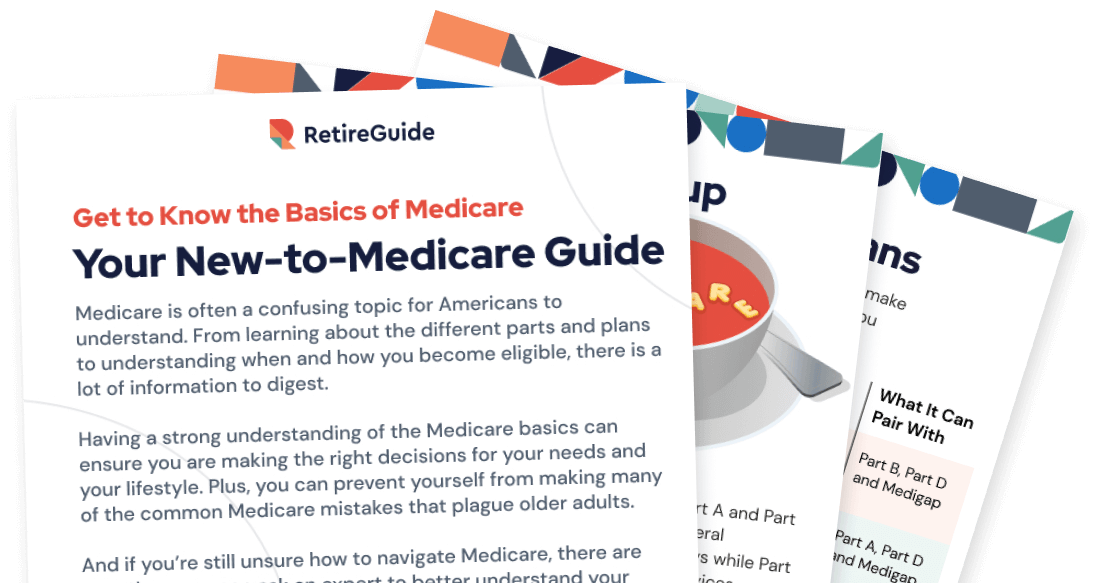 New to Signing Up for Medicare?
Medicare can be confusing. This free PDF will help guide you through the many enrollment periods, penalties and Medicare's "alphabet soup" of plans.
When Will I Receive My Medicare Card?
Once enrolled, you'll receive a red, white, and blue Medicare card. This provides your Part A and Part B benefits.
If you are automatically enrolled in Medicare, your card will arrive in the mail two to three months before your 65th birthday.
Otherwise, you'll usually receive your card about three weeks to one month after applying for Medicare.
Your Medicare card will display:
Your name
Your Medicare number
The Medicare plans you're enrolled in
Start dates for each plan
If you enroll in a Medicare Advantage plan, you'll receive a second ID card for these benefits.
You'll also receive a separate card if you sign up for a standalone Part D plan.
Tip
You can sign in to your MyMedicare.gov account to print a Medicare replacement card.
According to Medicare.gov, even if you use a Medicare Advantage or Part D card, you should still keep your red, white and blue Medicare card handy.
Last Modified: September 13, 2022
Share This Page
4 Cited Research Articles
Who Am I Calling?
Calling this number connects you to one of our trusted partners.
If you're interested in help navigating your options, a representative will provide you with a free, no-obligation consultation.
Our partners are committed to excellent customer service. They can match you with a qualified professional for your unique objectives.
We/Our Partners do not offer every plan available in your area. Any information provided is limited to those plans offered in your area. Please contact Medicare.gov or 1-800-MEDICARE to get information on all of your options.
888-694-0290
Your web browser is no longer supported by Microsoft. Update your browser for more security, speed and compatibility.
If you need help pricing and building your medicare plan, call us at 844-572-0696