How Do I Check the Status of My Medicare Enrollment?
The status of your medical enrollment can be checked online through your My Social Security or MyMedicare.gov accounts. You can also call the Social Security Administration at 1-800-772-1213 or go to your local Social Security office. It takes about 45 to 90 days to receive your acceptance letter after submitting your Medicare application.
Check Status of Medicare Application
Once your application is submitted, you can check on its status by:
Logging in to your My Social Security account
Visiting your local Social Security office
Calling Social Security
Visiting the Check Enrollment page on your MyMedicare.gov account
To check the status of your Medicare application on the Social Security website, you will need to enter your Social Security number and the confirmation number you received when you filed your application.
Your application status will show:
The date your application was received
Any requests for additional documents
The address of the Social Security office processing your application
Whether a decision has been made about your application
Once your application is processed, you will receive a notification letter in the mail to inform you of whether your application was approved.
If you need help, or are unable to check your application status online, call the Social Security Administration at 1-800-772-1213 (TTY 1-800-325-0778) from 7 a.m. to 7 p.m. Monday through Friday.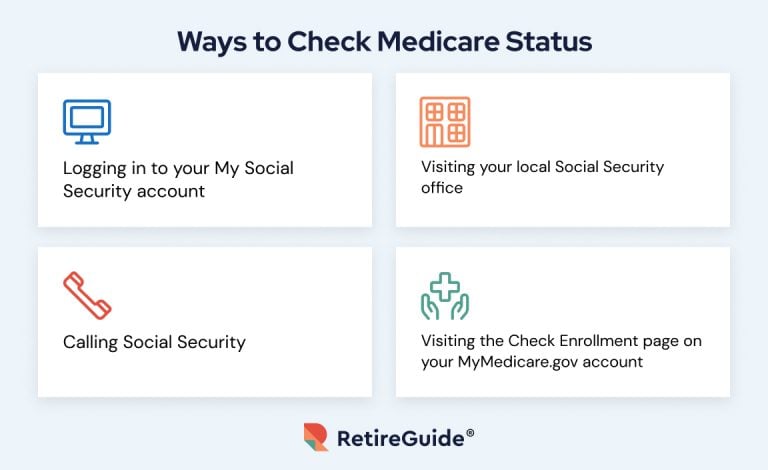 Status of Medicare Advantage and Part D
A Medicare Advantage, or Part C, plan is administered by a private health insurance company that contracts with Medicare.
You can check the status of a Medicare Advantage plan application by contacting the private insurer who administers your plan.
A Medicare Part D plan provides prescription drug coverage. Like Medicare Advantage, Part D plans are administered by private insurance companies.
To check your application status, contact the member services department of your Part D plan for more information.
You can also ask your pharmacy to check the status of your Part D enrollment by sending a test claim to the company.
When Does My Coverage Start?
When and how you enroll for a Medicare plan impacts when your coverage begins. Your benefits may not start until three months after you apply.
If you have not received an acceptance letter 45 to 90 days after submitting your application, call the Social Security Administration or check online. You will need your Medicare application number to do so.
Once your coverage begins, you do not need to reapply each year for Medicare benefits.
However, you will have an opportunity to change plans or adjust your coverage during the open enrollment period, which runs from Oct. 15 to Dec. 7 each year.
Don't Leave Your Health to Chance
You've worked hard your whole life by thinking ahead. Now do the same for your health. Get free Medicare help to plan your future.
When Will I Receive My Medicare Card?
Once enrolled, you'll receive a red, white, and blue Medicare card. This provides your Part A and Part B benefits.
If you are automatically enrolled in Medicare, your card will arrive in the mail two to three months before your 65th birthday.
Otherwise, you'll usually receive your card about three weeks to one month after applying for Medicare.
Your Medicare card will display:
Your name
Your Medicare number
The Medicare plans you're enrolled in
Start dates for each plan
If you enroll in a Medicare Advantage plan, you'll receive a second ID card for these benefits.
You'll also receive a separate card if you sign up for a standalone Part D plan.
Tip
You can sign in to your MyMedicare.gov account to print a Medicare replacement card.
According to Medicare.gov, even if you use a Medicare Advantage or Part D card, you should still keep your red, white and blue Medicare card handy.
Last Modified: April 21, 2022
Share This Page
4 Cited Research Articles