Medicare for Green Card Holders: Everything You Should Know
By understanding when and if you're eligible to apply for Medicare as a green card holder, you'll be able to make more informed decisions about what coverage will be best for you or your loved ones.
On This Page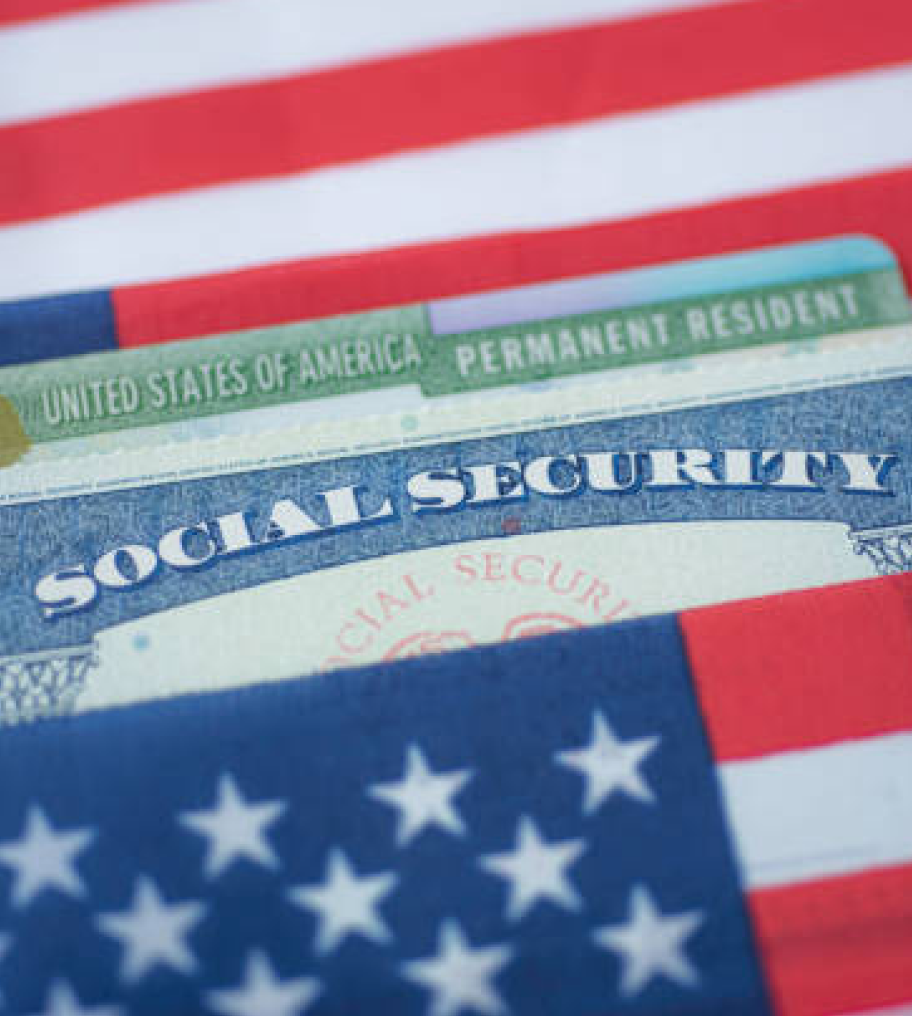 There are many things green card holders need to be aware of when considering Medicare. Is this a free benefit? What are the eligibility requirements? How will Medicare affect the opportunity to become a citizen? With over 2 million lawful permanent residents over the age of 65 residing in the U.S. in 2019, a number that rises each year, having access to this information has never been more important.
Use this guide to help you understand how Medicare works and if you're eligible to receive this government-sponsored benefit as a green card holder.
Are Green Card Holders Eligible for Medicare?
Lawful residents of the U.S. are eligible for Medicare based on several factors. The primary two include the time you've spent living in the country and the length of time you've worked during your residency. Occasionally, if you don't meet these requirements but your spouse does, you may still be eligible for Medicare coverage. These factors can also determine how much you may have to pay for Medicare.
Requirements for Medicare Eligibility as a Green Card Holder
To be eligible for full Medicare benefits as a green card holder, you need to be 65 or older, and you or your spouse need to have worked in the U.S. for at least 10 years (or 40 quarters during one's lifetime).
You may still be eligible for Medicare if you've worked fewer years, but you'll likely pay a higher cost for the benefits. Those who have worked in the U.S. for the required 10 years or more are eligible for Medicare Part A without the premiums. If you don't qualify for premium-free Part A benefits, you may still be able to purchase coverage.
The cost of Medicare Part B is based on how much you made in your working years rather than how long you worked. For this reason, most individuals still have to pay a premium for this coverage, even if they've worked in the country for 20 to 30 years. Those who have to purchase Part A coverage are only eligible to do so after purchasing Part B coverage.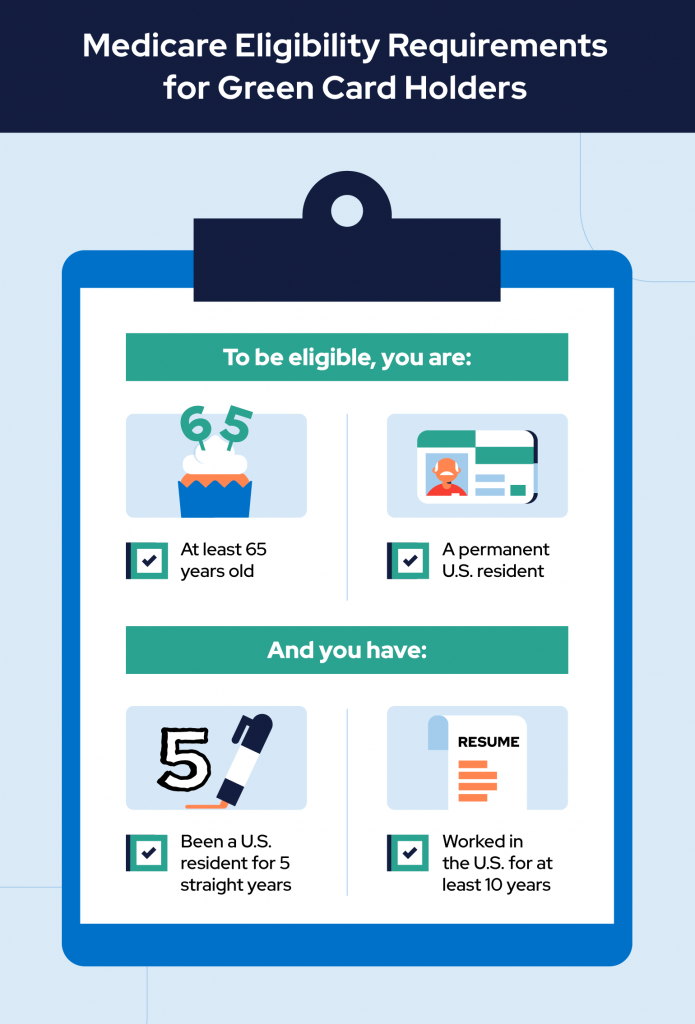 How Long Do You Have To Be a Permanent Resident Before Applying for Medicare?
You need to have established residency for at least five consecutive years before signing up for Medicare benefits. If you haven't been a resident for the required amount of time, you may still qualify if you've been married to a fully insured green card holder or citizen for at least one full calendar year.
What Happens if You Don't Enroll When You're First Eligible?
Whether you're a citizen or permanent resident, you'll incur penalties if you choose not to enroll when you're first eligible. Particularly for Part B coverage, your premium may increase 10 percent each year you delay enrollment.
For those who have to purchase Part A coverage but delay doing so, your premium may increase 10 percent. You'll have to pay this increased premium for double the number of years you delayed receiving the benefit.
The penalty you would have to pay for delaying Part D coverage is fairly complex. Medicare calculates the penalty amount based on how long you delayed coverage and on the national base beneficiary premium.
Is Medicare Free for Green Card Holders?
To receive premium-free Part A Medicare coverage, you'll need 40 work credits, or have worked in the U.S. for a minimum of 40 quarters in your lifetime. During this time you'll have paid Medicare and Social Security taxes. To earn one work credit, you'll need to have worked one quarter and earned at least $1,470, according to the Social Security Administration.
If you have not worked the full 10 years, you can still purchase Medicare Part A insurance, which mainly covers hospital services. The cost to purchase Part A coverage in 2021 can be up to $471 per month.
Even if you receive premium-free Part A coverage, you are still responsible for paying other aspects of Medicare, such as Part B premiums and the 20 percent coinsurance for services. However, you can opt for a private supplement plan to reduce these costs.
Medicare Costs
Regardless of citizenship status, if you're eligible for Medicare you'll have to pay its associated costs. This includes relevant premiums, deductibles and coinsurance. If you don't have the necessary work credits to receive premium-free Part A coverage, you'll need to pay this premium out-of-pocket depending on the number of years you've worked in the country.
Here is a basic premium cost breakdown for Medicare Parts A, B, C and D coverage in 2021:
Part A premium (hospital coverage):
40+ work credits (10 years or more): $0
30-39 work credits (7-9 years: $259 per month
Less than 30 work credits (Less than 7.5 years): $471 per month
Part B monthly premium (medical coverage):

(Based on 2019 income filed on an individual tax return)
$88,000 or less: $148.50
Above $88,000 and less than $111,000: $207.90
Above $111,000 and less than $138,000: $297
Above $138,000 and less than $165,000: $386.10
Above $165,000 and less than $500,000: $475.20
Above $500,000: $504.90
Part C premium (Medicare Advantage)
Part D premium (prescription drug coverage):
Varies by plan and income
Even if you were to purchase Medicare Part A, B and D coverage, you're still likely to have out-of-pocket costs. This is why many private insurance companies offer different Medigap coverage options to mitigate these medical costs.
How To Enroll in Medicare as a Permanent Resident
The enrollment process is the same for everyone. Enroll for Medicare benefits during your initial enrollment period if you want to avoid penalties. This period begins three months before your 65th birthday and ends three months after.
You'll likely be automatically enrolled in Medicare Part A and B if you receive Social Security benefits four months or more before turning 65. If not, you'll need to go to the Social Security Administration website and sign up for the benefits you want.

There are various guidelines to know when deciding how you want to benefit from Medicare as a green card holder. Below are some commonly asked questions that can help you gain a more thorough understanding of how Medicare works and what you can expect from it.
Does Medicare Affect Citizenship?
If you receive Medicare benefits lawfully, this will not affect your ability to become a naturalized citizen of the U.S.
Are Non-Residents Eligible for Medicare?
No. To qualify for Medicare, you must be a lawful permanent resident of the U.S. for at least five years.
What Other Health Insurance Options Are Available to Green Card Holders?
You can purchase various insurance types based on your needs, but basic visitors or travel insurance might be the best option until you can qualify for Medicare. This type of insurance is specifically for individuals who are away from their home country and want to have a protection plan while away.
Understanding the qualifications and costs of Medicare for green card holders can give you a good idea of whether or not you're eligible and can afford to receive this government benefit. If you're unsure what Medicare plan or coverage may be best for you, talk with an expert who can help you figure out the type and amount of coverage you need.

Last Modified: September 7, 2021
Share This Page
13 Cited Research Articles
Top

Click to jump back to top
Need Help Planning Your Retirement?
Yes, I'm Interested
I Have Help Already
I Will Manage It Myself
RetireGuide will soon offer services to help you better manage your retirement.
We will be offering assistance with annuities, life insurance, Medicare and financial planning. Sign up for updates and be the first to know when these services are available.
Get the right information to stay on top of your retirement planning.
Sign up for our newsletter for our latest retirement planning guides, tips and more!