Original Medicare
Original Medicare is the federal government's health insurance program, which is available to most Americans who are 65 and older. It is provided entirely through the government, and beneficiaries can receive treatment and services from any doctor who is enrolled in Medicare.
Key Takeaways
Original Medicare is the health plan provided through the government. It is available to most Americans when they turn 65 but can be available earlier if you have ALS or end-stage renal disease.
Original Medicare is divided into Parts A and B. Part A covers hospital stays and inpatient care, while Part B covers medically necessary treatments and services.
Coverage through Original Medicare is not all-encompassing — there are key areas like vision care, dental care and most prescription drugs that are not covered.
What Is Original Medicare?
Original Medicare can be used to cover your health care needs after you turn 65. The program is available across the country to all Americans who meet certain requirements. Original Medicare covers doctor visits, treatments, services and hospital stays.
Coverage is divided into two parts — Parts A and B — that will each cover different areas of your health care.
Did You Know?
President Lyndon B. Johnson signed
Medicare
and Medicaid into law in 1965. At the time, 56% of Americans over the age of 65 were not covered by health insurance. One million people enrolled in the program its first week. Today there are over 37 million Medicare beneficiaries.
Medicare Part A
If you have Original Medicare, Part A is your hospital insurance. It will help cover hospitalizations, as well as stays in a skilled nursing facility or hospice care. Original Medicare does not cover long-term care however, so Part A will not cover a permanent move to a nursing home.
Medicare Part B
Part B covers medically necessary care and preventive services. It will cover your doctor visits, outpatient care and treatments. Part B will also cover some medical equipment as well as tests and screenings, such as diagnostic tests.

Original Medicare Enrollment & Eligibility
Most Americans are eligible for Medicare when they turn 65. To be eligible for premium-free Part A, you must have worked and paid Medicare taxes for at least 40 quarters or have a spouse that is eligible. Some Americans are eligible before they turn 65 if they have certain disabilities, including ALS and end-stage renal disease.
If you are already receiving Social Security when you turn 65, you should automatically be enrolled in Original Medicare. If not, you have a window to enroll that starts three months before the month of your 65th birthday and ends three months after. You will be penalized if you don't enroll during your initial window.
Original Medicare Deductibles & Costs
If you meet the Medicare tax quarters requirement, then you will be eligible for premium-free Part A coverage. This just leaves you with your deductible, which is $1,556 for 2022.
You will also have to pay a coinsurance of $389 per day starting on your 61st day in the hospital. That figure jumps to $778 for every day after day 90, which are known as lifetime reserve days. If you exhaust all 60 of your reserve days, you will then pay all costs.
If you or your spouse haven't met the requirement of working for 40 quarters, you can still buy into Original Medicare by paying a premium for Part A.
For Part B, you will pay a monthly premium of $170.10. You will also have to meet a deductible of $233 before Medicare begins to pay.
Premiums, deductibles and coinsurance costs change every year.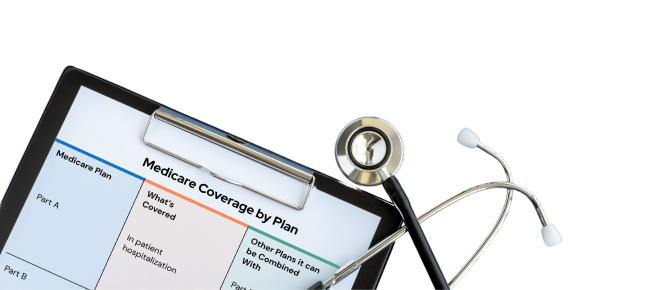 Need FREE Medicare Help?
Our Medicare experts will help you compare, build, and enroll in a plan that gets you the coverages you need at a price you can afford.
What Does Original Medicare Cover?
Original Medicare covers treatments, services and procedures that are medically necessary. This typically means that a doctor must verify that you do need care.
Under Part A, coverage can include hospital stays and inpatient care. Under Part B, a variety of things are included such as regular doctor visits and lab tests.
What Medicare Covers
Ambulance Services
Clinical Research
Hospital Care
Medically Necessary Services
Mental Health
Preventive Services
Some Limited Prescription Drugs
Original Medicare also covers mental health services and some limited outpatient prescription drugs.
What Is Not Covered by Original Medicare?
Some of the biggest areas that are not covered under Original Medicare are vision and dental. Coverage for vision and dental is typically only available through Medicare Advantage plans, which are provided by private insurers and can include additional coverage beyond the scope of Original Medicare.
Original Medicare also usually does not cover cosmetic procedures and services, or anything that isn't of medical significance.
Areas Not Covered Under Original Medicare
Vision
Long-Term Care
Hearing Aids
Cosmetic Surgery
Routine Foot Care
Acupuncture
Hearing aids or exams to fit them are also not covered. More minor services like acupuncture or routine foot care are also typically exempt from coverage.
Frequently Asked Questions About Original Medicare
How do you know if you have Original Medicare?
If you were already receiving Social Security when you turned 65, you should automatically be enrolled in Original Medicare. Otherwise, you will have to enroll yourself to get it. Original Medicare is provided through the federal government. If you enroll in a private Medicare plan, then you have Medicare Advantage.
What are the benefits of Original Medicare?
With Original Medicare, there are few limits on where you can receive your care. You can visit any doctor who is enrolled in Medicare and don't need a referral to visit a specialist. If you have a Medicare Advantage plan, then you must remain within the plan's network and can usually only receive care from specified doctors.
Last Modified: August 2, 2022
Share This Page
4 Cited Research Articles