Annuity Companies and Providers
The annuity market is a highly regulated and competitive $3.2 trillion industry. People interested in safeguarding money for retirement can purchase an annuity from insurance companies, banks, independent brokers and financial advisors. Research any company before buying an annuity.
Key Takeaways
Annuities are insurance contracts sold by financial institutions. The best companies to purchase annuities from should have high credit ratings, positive reviews and an established financial presence.
Annuity issuing companies are not guaranteed by the federal government. They are backed by state-guaranteed associations that are highly regulated.
The majority of annuity companies offer every type of annuity available on the market.
Who Provides Annuities?
An annuity is a contract between you and an insurance company in which the insurer promises to make payments to you, either now or in the future.
Annuities can be purchased with one lump-sum payment or a series of payments. In return, you receive either a single distribution or a series of payments from the insurance company. Annuities are commonly utilized in retirement planning.
You can purchase an annuity from:
Brokerage firms
Large banks
Independent broker dealers
Mutual fund companies
Independent insurance agents and financial advisors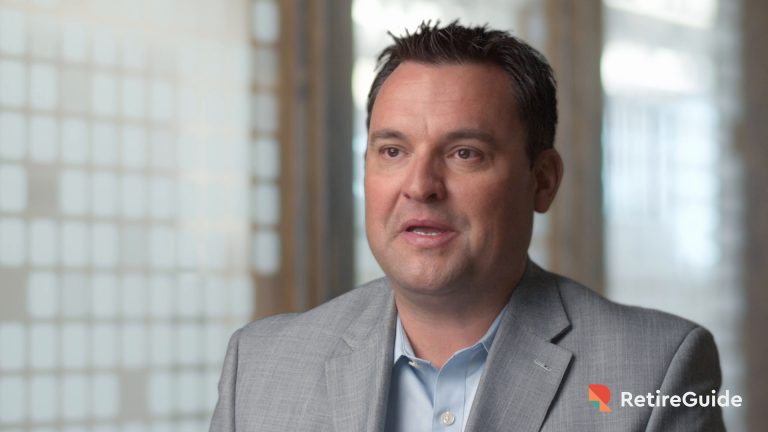 How to Purchase an Annuity
To purchase an annuity, you must follow a simple step-by-step process.
Steps for Buying an Annuity
Determine your present and future financial needs. How much money will you need during retirement? It's important to understand your own investment goals before proceeding.
Select the right annuity product. There's a lot of choices out there. Do your homework, explore your options and ask questions.
Select your provider. The insurance company backs the asset, so choose a trustworthy insurer with a stable financial history.
Carefully review contract terms. Before purchase, the insurance company should provide you with either an illustration or a prospectus. Carefully review this along with your contract.
Fill out the application. Make sure fields are properly completed and ask the insurer any final questions.
Transfer money. Annuities can be purchased with cash, retirement account funds or brokerage account assets.
Stress-Free Annuity Buying
Our financial experts can guide you through the annuity buying process so you can focus on your retirement, asset protection or income generation.
Selecting the Right Annuity Company
Annuities are not guaranteed by the federal government, so your annuity is only as good as the company that issues it.
It is possible for you to lose money if the insurance company you invested with defaults or declares bankruptcy.
That's why it's essential to carefully research any company before purchasing an annuity.
Factors to consider include:
High ratings from independent rating companies such as Standard & Poor's, A.M. Best and Moody's.
Minimal fees and administrative costs
Strong financial health
Positive online reviews
It should be noted that although annuities are not backed by the government, insurance companies that sell these assets are highly regulated and must comply with strict state requirements.
A study by the U.S. Government Accountability Office determined that even after the 2008 financial crisis, the impact on most insurance companies and their policyholders was relatively limited.
Best Annuity Companies
Below is an alphabetical list of highly rated annuity providers.
Best Annuity Providers for 2021
American Equity

American Equity Investment Life Holding Company focuses on the sale of fixed index and fixed rate annuity products. It is licensed to sell in all 50 states as well as the District of Columbia.

American National

Founded in 1905, American National features a wide range of life insurance, annuity and pension plan products. It also offers credit insurance, accident and health insurance.

Athene

Athene Holding Ltd. is a leading retirement services company that issues, reinsures and acquires retirement savings products, including annuities and pensions.

Fidelity & Guaranty Life (F&G)

FGL Holdings is part of the Fidelity National Financial Inc. family of companies. It has offered annuity and life insurance products for nearly 60 years through a network of independent agents.

Liberty Bankers Life

Liberty Bankers Insurance Group offers retirement, life and health insurance products, including annuities. They feature a B++ financial rating by A.M. Best.

National Western Life

National Western Life offers annuity products and features high industry ratings from A.M. Best and Standard & Poor.

Nationwide

Nationwide is a well-known insurance company with more than 90 years of experience. They offer a variety of annuity products, including a new fixed indexed annuity.

North American

North American Company for Life and Health Insurance is a Midwest-based business established in 1886. They offer a comprehensive portfolio of universal life insurance, term life insurance and annuity products.

Oxford Life

Oxford Life Insurance Company features products for older Americans that help meet their financial needs, with an emphasis on life insurance and annuities.

Reliance Standard Life

Reliance Standard Life Insurance Company is a leading insurance carrier specializing in employee benefits solutions. It offers two types of annuities — traditional fixed and fixed index.

Transamerica

Established in 1904, Transamerica features high strength ratings from independent rating services and offers annuity products, including its Secure Retirement Index Annuity.

United of Omaha

As Mutual of Omaha's main subsidiary since 1926, United of Omaha Life Insurance Company features products in the long-term care, life insurance, fixed annuity and Medicare supplement markets.
Frequently Asked Questions About Annuity Companies
What is an insurance annuity?
Annuities are purchased through insurance companies that act as their own form of insurance against you running out of money after you retire. They offer a guaranteed line of income and are typically tax-deferrable.
What happens to my annuity if the insurance company fails?
Annuities are not provided or insured by the federal government. If your insurance company fails or goes bankrupt, you — the annuitant — are at risk of losing your money.
However, insurance companies are legally required to belong to their particular state's guaranty association who do provide protection. This is one of many reasons why it's important to read through your contract when purchasing an annuity.
Last Modified: May 3, 2022
Share This Page
10 Cited Research Articles