Annuities Explained
Annuities are a contract you buy into to provide you with regular payments over a set period of time – or for the rest of your life, providing you a guaranteed lifetime income in retirement. Your employer may provide you with an annuity option or you can buy them through a life insurance company.

Written by

Terry Turner

Terry Turner

Senior Financial Writer and Financial Wellness Facilitator

Terry Turner has more than 35 years of journalism experience, including covering benefits, spending and congressional action on federal programs such as Social Security and Medicare. He is a Certified Financial Wellness Facilitator through the National Wellness Institute and the Foundation for Financial Wellness and a member of the Association for Financial Counseling & Planning Education (AFCPE®).

Read More

Edited By

Lee Williams

Lee Williams

Senior Financial Editor

Lee Williams is a professional writer, editor and content strategist with 10 years of professional experience working for global and nationally recognized brands. He has contributed to Forbes, The Huffington Post, SUCCESS Magazine, AskMen.com, Electric Literature and The Wall Street Journal. His career also includes ghostwriting for Fortune 500 CEOs and published authors.

Read More

Financially Reviewed By

Ebony J. Howard, CPA

Ebony J. Howard, CPA

Credentialed Tax Expert at Intuit

Ebony J. Howard is a certified public accountant and freelance consultant with a background in accounting, personal finance, and income tax planning and preparation.  She specializes in analyzing financial information in the health care, banking and real estate sectors.

Read More

Published: September 24, 2021
Updated: July 13, 2023
5 min read time
This page features 5 Cited Research Articles
Facts About Annuities
People typically buy annuities to guarantee an income in retirement. In recent years, they have become an alternative to pensions which have been disappearing from the private sector. But annuities also provide other benefits.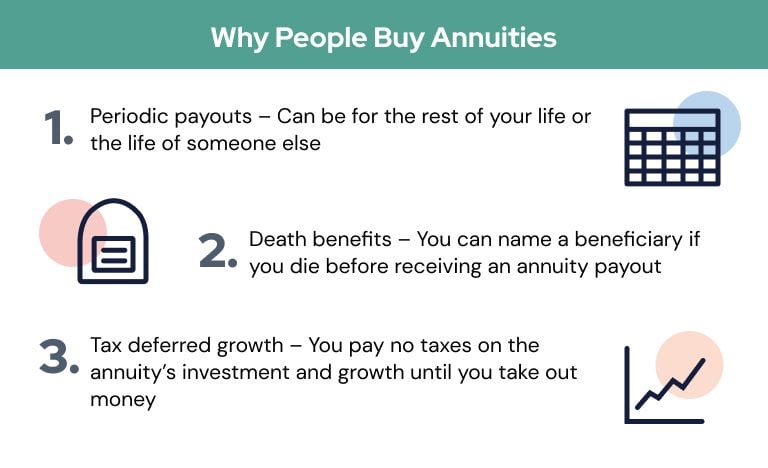 Narrowing Your Annuity Choices
There are several ways to classify the various types of annuities, annuity taxation features and other qualities. You can use these classifications to narrow your choices to the type of annuity that may work best for you.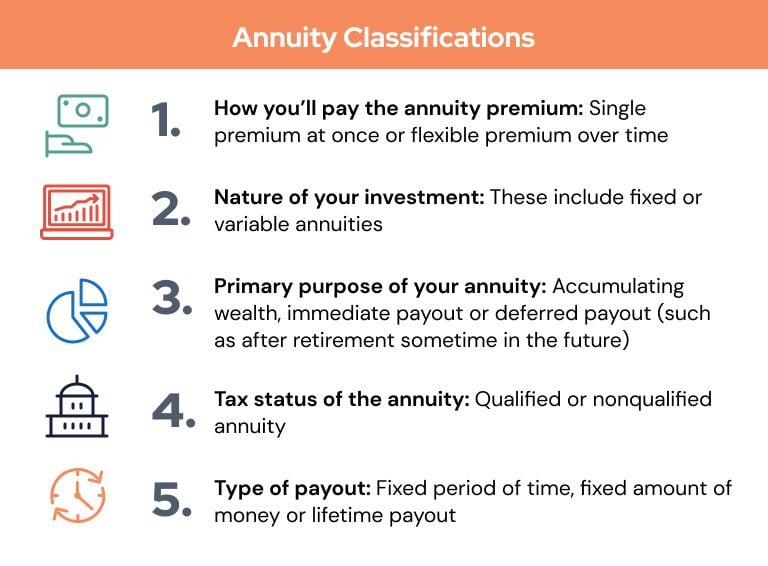 How soon are you retiring?
What is your goal for purchasing an annuity?
Select all that apply
Learn About Top Annuity Products & Get a Free Quote
Find out how an annuity can offer you guaranteed monthly income throughout your retirement. Speak with one of our qualified financial professionals today to discover which of our industry-leading annuity products fits into your long-term financial strategy.
For fastest service, call now!
866-219-2282
Call Now
Or fill out the form
Annuity Features
Annuities have features that make them particularly useful as an investment for retirement. They can ensure your retirement security and provide an income stream once you no longer have a salary.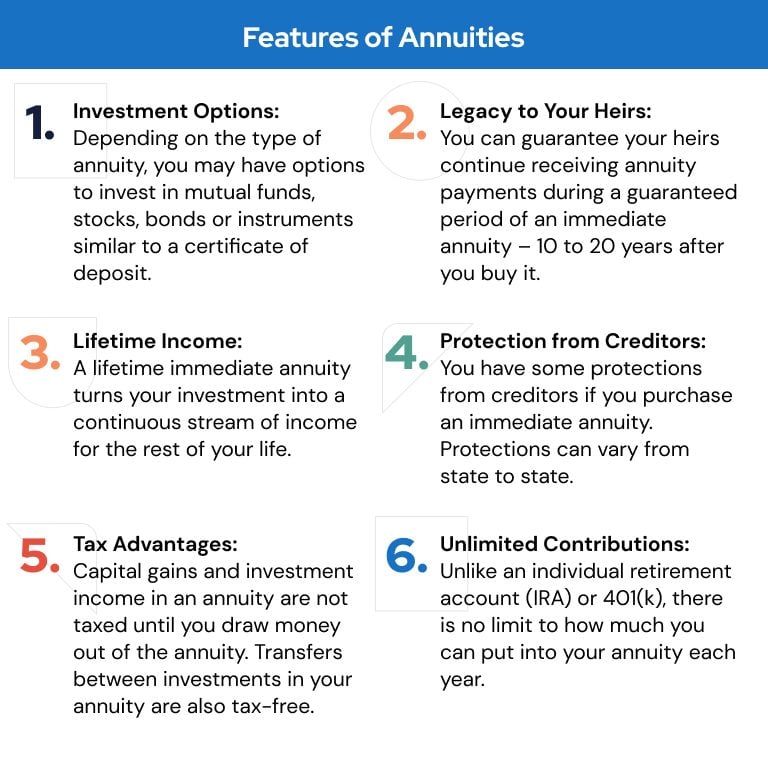 Types of Annuities
There are several types of annuities, but most fall into three basic categories: fixed annuities, variable annuities and indexed annuities.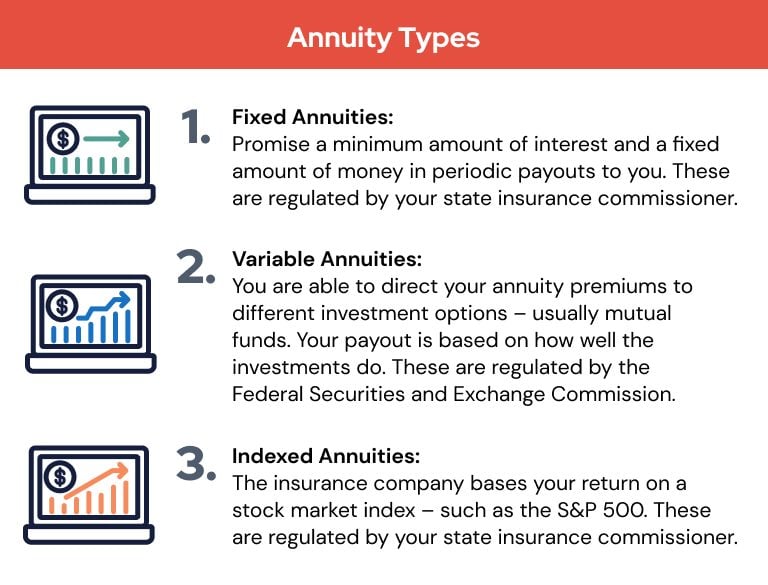 Interested in Buying an Annuity?
Connect with a specialist to find out how an annuity can offer you guaranteed monthly income for life.
*Ad: Clicking will take you to our partner Annuity.org.
Types of Variable and Fixed Annuities
Within these three basic types of annuities, there are several different subtypes that offer different features. Many can be purchased as either a fixed or a variable annuity.
Variable and Fixed Annuities
Fixed period annuities

A fixed period annuity pays a fixed amount of money routinely over a specified number of years. The amount of payouts depends on the amount of money put into the annuity.

Single premium annuities

A single premium annuity is purchased with a single payment. The money may be invested for growth as a deferred annuity or for a short time as an immediate annuity.

Flexible premium annuities

Flexible premium annuities are only available as deferred annuities and are purchased through a series of payments.

Lifetime annuities

A lifetime annuity provides a guaranteed income for the life of the annuitant. Another version allows a beneficiary to continue receiving an income stream after the first annuitant dies.

Qualified annuities

A qualified annuity allows you to invest and distribute money in an IRA, Keogh plan or other qualified retirement plan. Money placed into a qualified annuity is not taxable as income.

Nonqualified annuities

A nonqualified annuity is one purchased outside of a tax-favored retirement plan. Taxes are deferred until you withdraw your money from the annuity.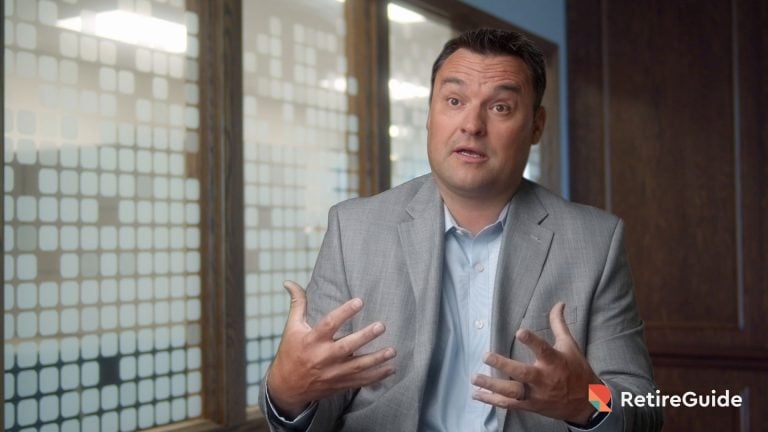 Annuity Payout Options
Your annuity payout options are determined when you first purchase an annuity. There are three main options you can choose from: deferred, immediate and inherited payouts.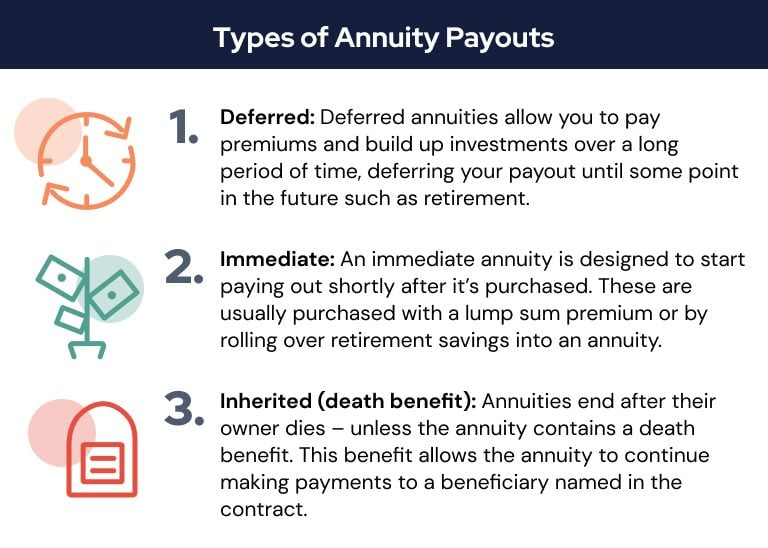 Choosing an Annuity Payout Option
You have six basic annuity payout options. These determine how long you'll receive payouts, how frequently they happen and how much each annuity payout will be.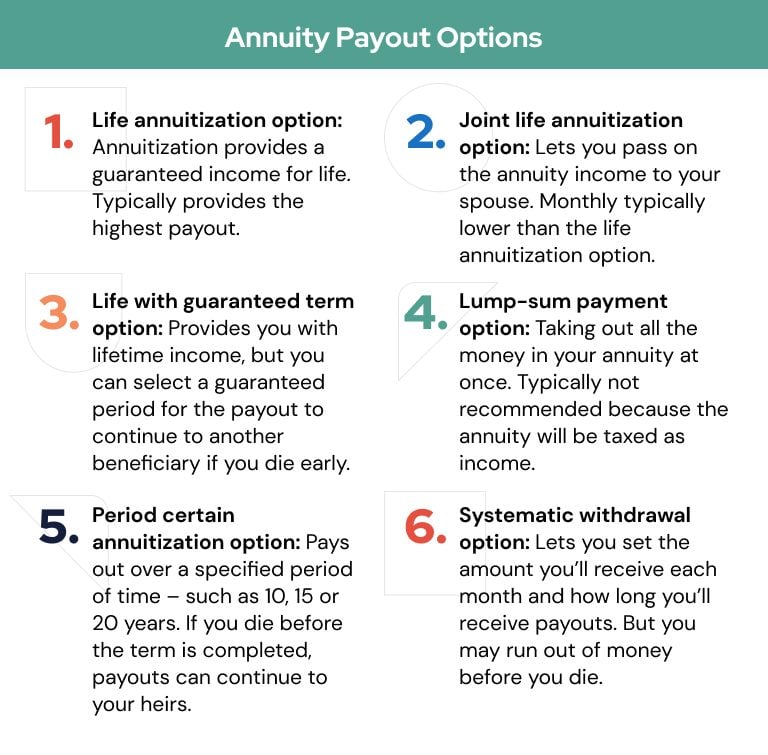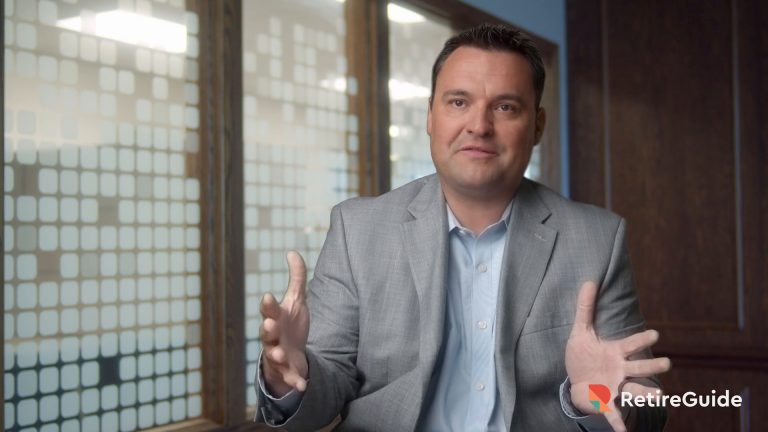 Buying Annuities
Buying annuities requires doing research into annuity rates and companies as well as comparing the various plans available. You want to find an annuity that meets your needs and fits within your budget.
Annuity Rates
The annuity rate is the percentage amount that a particular annuity grows in value each year. Fixed annuities guarantee an interest rate for anywhere from one to 10 years at a time, based on the annuity. Variable or indexed annuities don't guarantee a rate because growth is dependent on investment performance.
Annuity Companies
Independent broker-dealers and independent agents account for most annuity sales to individuals – a combined 44 percent of all individual annuities sold in 2020. Most of the annuities sold through these independent financial professionals included annuities from some of the most recognizable names in the insurance industry.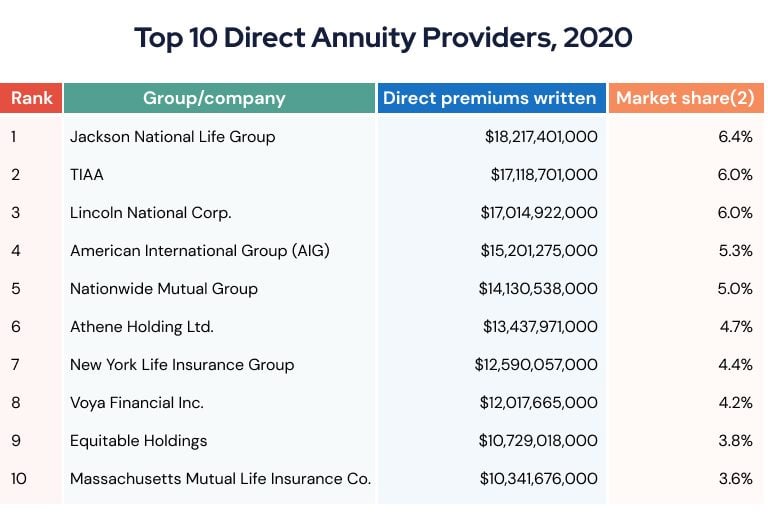 The Best Annuity Companies of 2023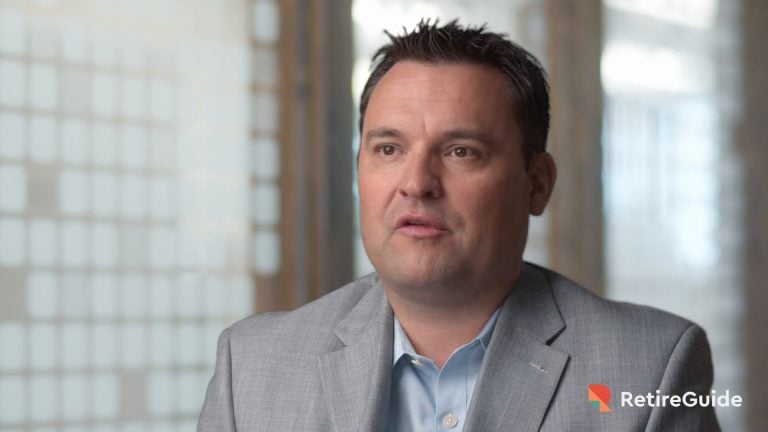 Comparing Annuities
Comparing annuities can seem confusing at first, but if you keep in mind what you want to accomplish with an annuity, you can clear much of the confusion.
Steps to Comparing Annuities
Compare benefits – not features:

Once you settle on your objective – say lifetime income – features like investments or payout schedules will fall into place more easily.

Don't be overwhelmed by annuity types:

Different classifications and types of annuities can accomplish different goals. Know what your goal is and focus on the type that gets you there.
Talking with a financial professional can help you stay focused and present you with the best possible annuity options to compare – and ultimately reach your retirement goals.
You can also browse commonly asked questions regarding annuities when you read our annuity FAQs.
Last Modified: July 13, 2023
Share This Page
5 Cited Research Articles
Who Am I Calling?
Calling this number connects you to one of our trusted partners.
If you're interested in help navigating your options, a representative will provide you with a free, no-obligation consultation.
Our partners are committed to excellent customer service. They can match you with a qualified professional for your unique objectives.
We/Our Partners do not offer every plan available in your area. Any information provided is limited to those plans offered in your area. Please contact Medicare.gov or 1-800-MEDICARE to get information on all of your options.
844-359-1705
Your web browser is no longer supported by Microsoft. Update your browser for more security, speed and compatibility.
If you need help pricing and building your medicare plan, call us at 844-572-0696