Expert Contributors
RetireGuide's experts are knowledgeable professionals who contribute to the accuracy and quality of our content. Our experts and contributors share RetireGuide's mission to provide trustworthy and timely information to our readers.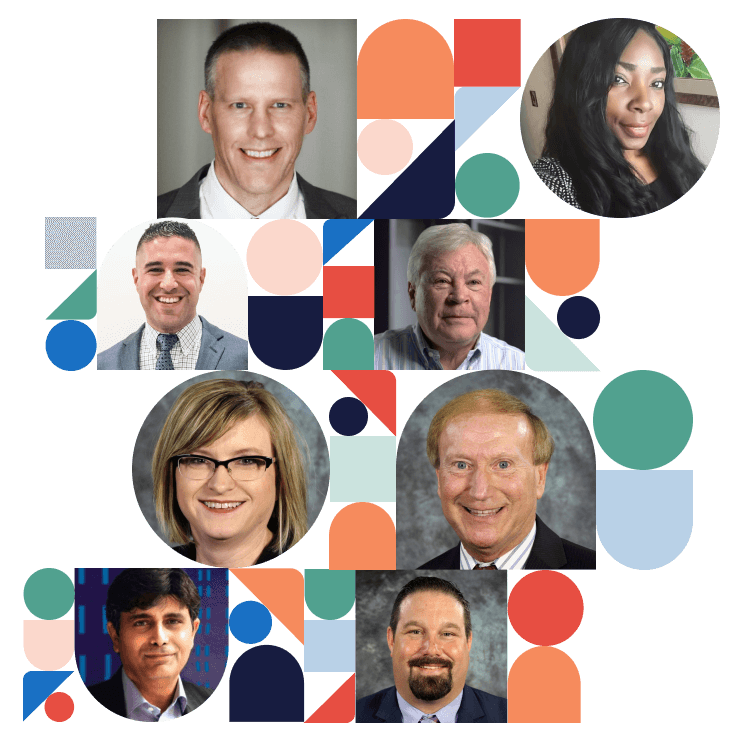 How Our Professional Contributors Help the Community
RetireGuide's experts are trusted authorities who break down complex financial and health care policy topics for consumers. They contribute to RetireGuide by authoring content, providing industry insight and reviewing our pages to ensure all information is factual, clear and reliable.
Experts who contribute to RetireGuide include financial analysts, certified public accountants, Social Security advisors and insurance professionals. RetireGuide contributors are respected experts in their field who enrich our site with objective, verifiable and evidence-based information.
We vet and research each contributor to ensure they meet our high standards for education, formal training, credentials, membership in professional societies and reputation among consumers and peers. By sharing their knowledge and insight, our contributors offer readers like you a credible source of financial information you can trust.
Awards, Honors and Professional Affiliations
Our financial and health care policy experts are members of esteemed professional organizations, including the Association for Financial Counseling & Planning Education (AFCPE), the National Association of Personal Financial Advisors and the National Association of Enrolled Agents.
Many have won awards for exceptional performance and service in the industry.
Top Publications
Our experts' background and understanding of finance and health care have been featured in industry trade publications and national news outlets, including Kiplinger, The New York Times, The Wall Street Journal, CNN, Forbes and Bloomberg.
Additional Experts Featured on RetireGuide
Not all experts on RetireGuide write or review content. Some researchers, professors and certified professionals choose to provide valuable quotes and information during interviews conducted by RetireGuide staff writers.
Financial experts quoted in RetireGuide's content are held to the same high standards as contributors and reviewers. They must have verified credentials relevant to the topic — including memberships to professional societies and certifications from established educational institutions.
Justin Chidester, CFP®, AFC®

Financial Planner and Founder of Wealth Mode Financial Planning

Erin Kidd, EA, AFC®

Tax Individual Program Manager at Thompson Greenspon

Susan Greenhalgh, AFC®

Accredited Financial Counselor and President of Mind Your Money LLC

Adrienne Ross, AFC®, CFP®, ChFC®

Financial Planner and Founder of Clear Insight Financial Planning LLC

Robert Rosen

Financial Advisor at Edward Jones

Mark Cavalieri, LUTCF®, CWC

Associate Director of Multiyear Guaranteed Annuity Sales at SMS Financial Solutions

Julianne Miller, AFC®

Accredited Financial Counselor and Daily Money Manager

Steve Rohrig, CLU®, ChFC®, RICP®, CASL

Insurance Expert and Associate Director of Training at Senior Market Sales

Christie Tornikoski, EA, AFC®

Tax Accountant at Spire Financial Consulting

Brad Martin

Volunteer Income Tax Assistance (VITA) Program Coordinator at United Way of Southwest Alabama

Sandy Block

Senior Editor at Kiplinger Personal Finance

Keri Norris

Attorney and Chief Legal Officer at LegalShield

L. Rachel Wilson

Attorney at Nest Estate Planning

Mary Kay Buysse

Executive Director of the National Association of Senior & Specialty Move Managers

Emily Allen

Senior Vice President of AARP Foundation Programs

Daniel Jimenez, Ph.D.

Associate Professor of Psychiatry and Behavioral Sciences at the University of Miami

Dr. David Steffens

Professor and Chair of Psychiatry at the University of Connecticut Health Center

Eric Loucks, Ph.D.

Associate Professor of Epidemiology, Behavioral and Social Sciences, and Medicine at Brown University

David Edmisten

Founder & Lead Advisor at Next Phase Financial Planning

Elle Kaplan

CEO and CIO at LexION Capital

Henry Abenaim

CEO at Fundingo

Jacob Sensiba

Investment Advisor at CRG Financial Services

Jared Weitz

CEO & Founder at United Capital Source Inc.

Renee Fry

CEO & Founder at Gentreo

Alaine Reschke-Hernandez

Board certified music therapist and assistant professor at the University of Kentucky

Gerri Detweiler

Debt expert

Gal Wettstein

Senior Research Economist at the Center for Retirement Research at Boston College

Jan Stewart

Chairwoman on the Board of Directors at Kerry's Place Autism Services and Consultant to the Tourette Association of America Education Advisory Board

Karla Radka

President and CEO at Senior Resource Alliance

Patricia Bubash, M.Ed, LPC

Karla Radka

President and CEO at Senior Resource Alliance

Brandy Bauer

Director of NCOA's Health Coverage and Benefits

Brian Clark, BSN, MSNA

Founder of United Medical Education

Linda Chavez

Founder and CEO of Seniors Life Insurance Finder
Medicare and Health Care Experts
RetireGuide's Medicare-related pages quote reputable policy experts who understand the complexity of government's legislative impact on health care.
Medicare experts on RetireGuide work for government agencies and trusted nonprofit organizations, including the Kaiser Family Foundation, The Senior Citizens League, the National Academy for State Health Policy and the Patient Advocate Foundation.
Their backgrounds and years of experience enrich Medicare-related news and relevant articles on our site.
Tricia Neuman

Senior Vice President and Director of the Program on Medicare Policy at the Kaiser Family Foundation (KFF)

Shannon Hohl

Program Supervisor of Idaho's Senior Health Insurance Benefit Advisors (SHIBA) Program

Caitlin Donovan

Health Care Policy Expert at the National Patient Advocate Foundation

Trish Riley

Executive Director of the National Academy for State Health Policy

Mary Johnson

Policy Analyst and Editor with the Senior Citizens League

Anne Chansler

Statewide Program Director of Florida Serving Health Insurance Needs of Elders (SHINE)

Rebecca Kinney

Director of the Administration for Community Living Office of Healthcare Information and Counseling (OHIC)

Joe Arroyo

Independent Insurance Agent and Author of "Mastering Medicare: Enroll with Confidence"

Jack Hoadley, Ph.D.

Former Commissioner on the Medicare Payment Advisory Commission and Research Professor Emeritus in the Health Policy Institute of Georgetown University's McCourt School of Public Policy

David Meyers

Health Researcher and Assistant Professor of Health Services, Policy and Practice at the Brown University School of Public Health

Abigail Barker, Ph.D.

Research Assistant Professor at Washington University in St. Louis' Center for Health Economics and Policy

Kelly Anderson

Assistant Professor at the University of Colorado Skaggs School of Pharmacy and Pharmaceutical Sciences
Interested in Becoming an Expert Contributor?
Our content is written and reviewed by trusted professionals who specialize in retirement planning and Medicare. If you are interested in contributing to RetireGuide, email Managing Editor Emily Powell at epowell@retireguide.com for more information.
Last Modified: August 14, 2023