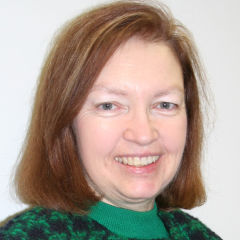 Barbara O'Neill, Ph.D., CFP®, AFC®, CRPC®
Certified Financial Planner™ professional, Accredited Financial Counselor™ and owner and CEO of
Money Talk
Dr. Barbara O'Neill, a Certified Financial Planner™ professional and Accredited Financial Counselor™, is the owner and CEO of Money Talk: Financial Planning Seminars and Publications. She writes, speaks and reviews content related to personal finance.
As a Rutgers Cooperative Extension educator and personal finance specialist for 41 years, Dr. O'Neill is now a Distinguished Professor Emeritus at Rutgers University. She has authored more than 190 academic articles and received over 35 national awards and grants, totaling more than $1.2 million in support of her financial education programs and research.
Dr. O'Neill previously served as president of the Association for Financial Counseling and Planning Education (AFCPE) and received the AFCPE Distinguished Fellow Award. She is also a Next Gen Personal Finance fellow.
Sharing personal finance information via Twitter via @moneytalk1, Dr. O'Neill posts weekly entries on her Money Talk blog and released Flipping a Switch, a book about 35 later-life transitions, in 2020.
About RetireGuide.com's Experts
RetireGuide.com's experts are trusted authorities on Medicare, life insurance, annuities and retirement planning. Before experts review content on our website for accuracy, we verify that they have relevant experience, licenses and professional designations. We exercise due diligence in vetting prospective experts to protect our readers and ensure the information on our website is trustworthy, comprehensive and useful to readers in the pursuit of their retirement goals.
More About Our Experts