Best Fixed Annuity Rates for September 2023
An annuity rate is the percentage an annuity grows each year. Annuity rates can fluctuate from company to company on a regular basis and are often tied to current interest rates. Some of the highest annuity rates belong to top-rated insurance companies, although there is not always a direct relationship.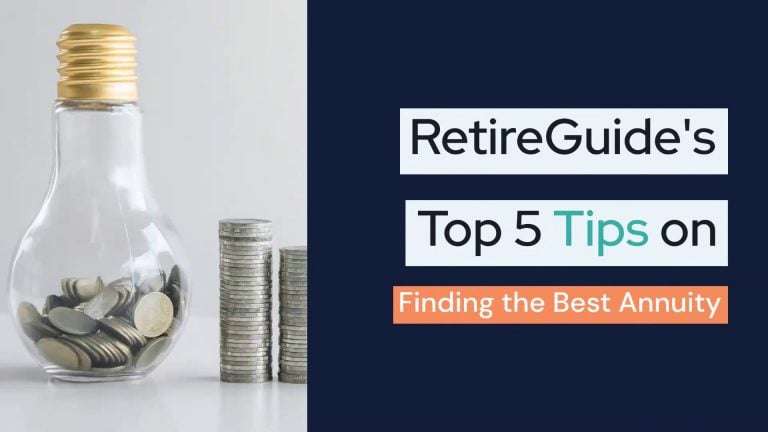 Written by

Lindsey Crossmier

Lindsey Crossmier

Financial Writer

Lindsey Crossmier is an accomplished writer with experience working for The Florida Review and Bookstar PR. As a financial writer, she covers Medicare, life insurance and dental insurance topics for RetireGuide. Research-based data drives her work.

Read More

Edited By

Lamia Chowdhury

Lamia Chowdhury

Financial Editor

Lamia Chowdhury is a financial content editor for RetireGuide and has over three years of marketing experience in the finance industry. She has written copy for both digital and print pieces ranging from blogs, radio scripts and search ads to billboards, brochures, mailers and more.

Read More

Financially Reviewed By

Brandon Renfro, Ph.D., CFP®, RICP®, EA

Brandon Renfro, Ph.D., CFP®, RICP®, EA

Retirement and Social Security Expert

Brandon Renfro is a Retirement and Social Security Expert and financial planner. He focuses on helping clients create a secure financial future in retirement and co-owns Belonging Wealth Management. He is also a former finance professor and writes for several publications.

Read More

Published: June 3, 2020
Updated: September 8, 2023
7 min read time
This page features 4 Cited Research Articles

Best Annuity Rates This Week

Understanding Annuity Rates

Several factors determine the rate you'll receive on an annuity. Annuity rates tend to be higher when the general level of all interest rates are higher.

The Best Annuity Companies and Providers of 2023

Comparing Annuity Rates

What Determines the Average Return on Annuities?

Josh Curtis |

0:50

What would a 10-year annuity look like?

Our financial experts will help you find an annuity tailored to your needs.

Replay Video

Other Considerations Beyond Annuity Rates

Frequently Asked Questions About Annuity Rates

Last Modified: September 8, 2023

Share This Page

4 Cited Research Articles
Who Am I Calling?
Calling this number connects you to one of our trusted partners.
If you're interested in help navigating your options, a representative will provide you with a free, no-obligation consultation.
Our partners are committed to excellent customer service. They can match you with a qualified professional for your unique objectives.
We/Our Partners do not offer every plan available in your area. Any information provided is limited to those plans offered in your area. Please contact Medicare.gov or 1-800-MEDICARE to get information on all of your options.
844-359-1705
Your web browser is no longer supported by Microsoft. Update your browser for more security, speed and compatibility.
If you need help pricing and building your medicare plan, call us at 844-572-0696