Multi-Year Guaranteed Annuity (MYGA)
Multi-year guaranteed annuities, or MYGAs, are a type of fixed annuity that protects your premium and accumulates interest at a guaranteed rate for a specific amount of time. MYGAs can help you create additional income during retirement by supplementing Social Security benefits and any investment accounts you hold.

Written by

Terry Turner

Terry Turner

Senior Financial Writer and Financial Wellness Facilitator

Terry Turner has more than 35 years of journalism experience, including covering benefits, spending and congressional action on federal programs such as Social Security and Medicare. He is a Certified Financial Wellness Facilitator through the National Wellness Institute and the Foundation for Financial Wellness and a member of the Association for Financial Counseling & Planning Education (AFCPE®).

Read More

Edited By

Lee Williams

Lee Williams

Senior Financial Editor

Lee Williams is a professional writer, editor and content strategist with 10 years of professional experience working for global and nationally recognized brands. He has contributed to Forbes, The Huffington Post, SUCCESS Magazine, AskMen.com, Electric Literature and The Wall Street Journal. His career also includes ghostwriting for Fortune 500 CEOs and published authors.

Read More

Financially Reviewed By

Ebony J. Howard, CPA

Ebony J. Howard, CPA

Credentialed Tax Expert at Intuit

Ebony J. Howard is a certified public accountant and freelance consultant with a background in accounting, personal finance, and income tax planning and preparation.  She specializes in analyzing financial information in the health care, banking and real estate sectors.

Read More

Published: November 29, 2021
Updated: October 25, 2023
4 min read time
This page features 3 Cited Research Articles
Similar to certificates of deposit in function, MYGAs provide a contractually determined annual yield amount. But, they also provide a guaranteed rate of interest and currently yield higher returns than CDs.
Whether you are looking to diversify your portfolio or for a safer product to grow your retirement income, by understanding how MYGAs work and the benefits they provide you can determine whether MYGAs are the right solution for you.
What Is a MYGA?
When you purchase a MYGA, you sign a contract with an insurance company to pay a lump-sum premium in exchange for a guaranteed fixed interest rate on your contribution for a specified period of time, typically three to 10 years.
Think of MYGAs as an industry equivalent to CDs; you purchase them from an insurance company rather than a bank or a broker, but like CDs they offer a contractual annual yield for an amount of time you choose.
The major advantage of MYGAs compared to CDs, though, is that you can grow your interest tax-deferred — plus, they typically offer higher rates of return. At the end of the accumulation period, you can collect the premium you originally paid to purchase the annuity as well as the interest earned. In some cases, you can instead opt to renew the contract.
Interested in Buying an Annuity?
Connect with a specialist to find out how an annuity can offer you guaranteed monthly income for life.
*Ad: Clicking will take you to our partner Annuity.org.
Are MYGAs Safe?
A type of fixed annuity, MYGAs are a safer way to grow your money than investments like stocks and bonds. This is because they're not tied to the market, which means they're not vulnerable to market volatility.
MYGA contracts also typically guarantee the premium, meaning you won't lose the money you used to purchase the annuity, and they allow you to grow your money during an agreed-upon guaranteed interest rate period that will not fluctuate.
MYGA Risks
While risks are low with MYGAs, there is always some level of risk involved with any financial product.
MYGAs are not insured by the Federal Deposit Insurance Corporation (FDIC) or any other federal agency. Because annuities are issued by insurance companies, the federal government cannot guarantee that you won't lose your money in the unlikely event that the issuing company goes bankrupt.
However, MYGAs are protected at the state level by state guaranty associations to which insurance companies must belong. These guaranty associations will pay claims up to your state's statutory limit, which is $250,000 on average, according to the National Organization of Life & Health Insurance Guaranty Associations.
Additionally, if for some reason you need to make a withdrawal from the account prior to the end of the contract, you may be subject to withdrawal and surrender fees. It's important to check your contract, as some insurers will allow you to withdraw a certain amount for free after the first year — depending on your age.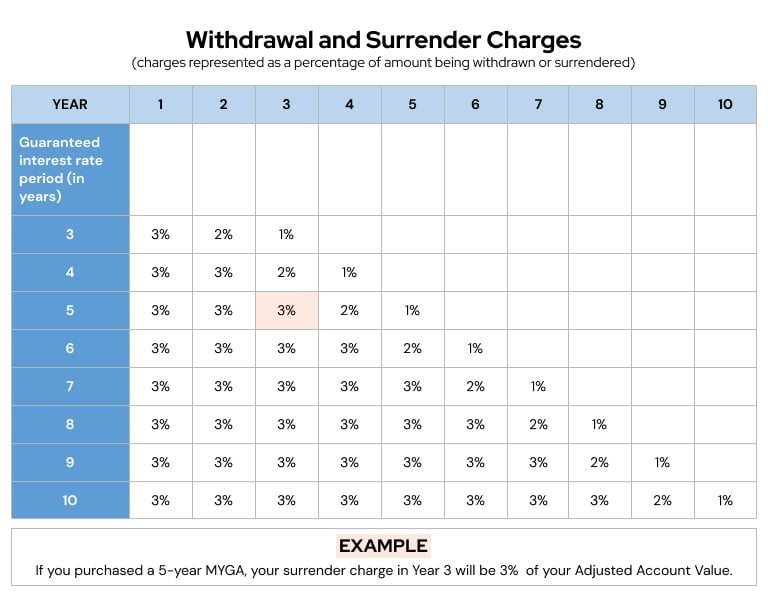 MYGA Annuity Rates
MYGA rates change daily and are likely to differ from one carrier to another. Today, MYGAs pay much higher rates than comparable CDs, and they compound yearly.
As of Nov. 22, 2021, you could earn up to 3.05 percent a year on a 10-year MYGA and up to 2.95 percent on a seven-year contract, according to data provided by RetireGuide's partner Senior Market Sales. The best MYGA rate was 2.95 percent for a five-year surrender period, 2.35 percent for a three-year surrender period and 2.15 percent for a two-year surrender period.
Beat the Bank With Fixed Annuity Rates As High As 6%
Start with a zero-commitment conversation to learn how annuities can help fund your retirement.
*Ad: Clicking will take you to our partner Annuity.org.
What Is a MYGA Ladder?
Because the interest rates on MYGAs change depending on the length of the contract, you might consider laddering them. MYGA ladders involve you purchasing a portfolio of MYGA annuities with staggered rate guarantee periods over several years.
For example, if you have $100,000, you could consider putting $25,000 each into three-year, five-year, seven-year and nine-year MYGA contracts. Visualize each annuity as one rung of a ladder. Beginning in year three, you'd have money coming in every two years, which you could then reinvest into another MYGA to continue climbing the ladder.
The biggest benefit of participating in MYGA laddering is that it provides you with protection against rising interest rates.
MYGAs vs. Other Retirement Investments
When it comes to investing your money and saving for retirement, you have a lot of options to choose from. Of course, each has its pros and cons. Here's a breakdown of how MYGAs compare to other popular retirement savings options.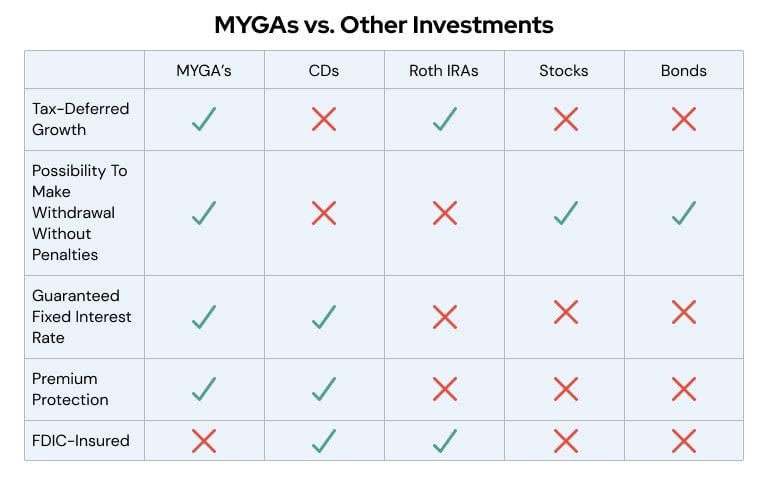 It's important to evaluate your personal financial goals prior to purchasing a MYGA, another type of annuity or a different financial product entirely. The best first step is to consult a financial advisor who can help you to determine how much you should allocate toward saving vehicles to fit your financial strategy.
Advertisement
Connect With a Financial Advisor Instantly
Our free tool can help you find an advisor who serves your needs. Get matched with a financial advisor who fits your unique criteria. Once you've been matched, consult for free with no obligation.
Last Modified: October 25, 2023
Share This Page
Who Am I Calling?
Calling this number connects you to one of our trusted partners.
If you're interested in help navigating your options, a representative will provide you with a free, no-obligation consultation.
Our partners are committed to excellent customer service. They can match you with a qualified professional for your unique objectives.
We/Our Partners do not offer every plan available in your area. Any information provided is limited to those plans offered in your area. Please contact Medicare.gov or 1-800-MEDICARE to get information on all of your options.
844-359-1705
Your web browser is no longer supported by Microsoft. Update your browser for more security, speed and compatibility.
If you need help pricing and building your medicare plan, call us at 844-572-0696