Multi-Year Guaranteed Annuity (MYGA)
Multi-year guaranteed annuities, or MYGAs, are a type of fixed annuity that protects your premium and accumulates interest at a guaranteed rate for a specific amount of time. MYGAs can help you create additional income during retirement by supplementing Social Security benefits and any investment accounts you hold.
Similar to certificates of deposit in function, MYGAs provide a contractually determined annual yield amount. But, they also provide a guaranteed rate of interest and currently yield higher returns than CDs.
Whether you are looking to diversify your portfolio or for a safer product to grow your retirement income, by understanding how MYGAs work and the benefits they provide you can determine whether MYGAs are the right solution for you.
What Is a MYGA?
When you purchase a MYGA, you sign a contract with an insurance company to pay a lump-sum premium in exchange for a guaranteed fixed interest rate on your contribution for a specified period of time, typically three to 10 years.
Think of MYGAs as an industry equivalent to CDs; you purchase them from an insurance company rather than a bank or a broker, but like CDs they offer a contractual annual yield for an amount of time you choose.
The major advantage of MYGAs compared to CDs, though, is that you can grow your interest tax-deferred — plus, they typically offer higher rates of return. At the end of the accumulation period, you can collect the premium you originally paid to purchase the annuity as well as the interest earned. In some cases, you can instead opt to renew the contract.
Stress-Free Annuity Buying
Our financial experts can guide you through the annuity buying process so you can focus on your retirement, asset protection or income generation.
Are MYGAs Safe?
A type of fixed annuity, MYGAs are a safer way to grow your money than investments like stocks and bonds. This is because they're not tied to the market, which means they're not vulnerable to market volatility.
MYGA contracts also typically guarantee the premium, meaning you won't lose the money you used to purchase the annuity, and they allow you to grow your money during an agreed-upon guaranteed interest rate period that will not fluctuate.
MYGA Risks
While risks are low with MYGAs, there is always some level of risk involved with any financial product.
MYGAs are not insured by the Federal Deposit Insurance Corporation (FDIC) or any other federal agency. Because annuities are issued by insurance companies, the federal government cannot guarantee that you won't lose your money in the unlikely event that the issuing company goes bankrupt.
However, MYGAs are protected at the state level by state guaranty associations to which insurance companies must belong. These guaranty associations will pay claims up to your state's statutory limit, which is $250,000 on average, according to the National Organization of Life & Health Insurance Guaranty Associations.
Additionally, if for some reason you need to make a withdrawal from the account prior to the end of the contract, you may be subject to withdrawal and surrender fees. It's important to check your contract, as some insurers will allow you to withdraw a certain amount for free after the first year — depending on your age.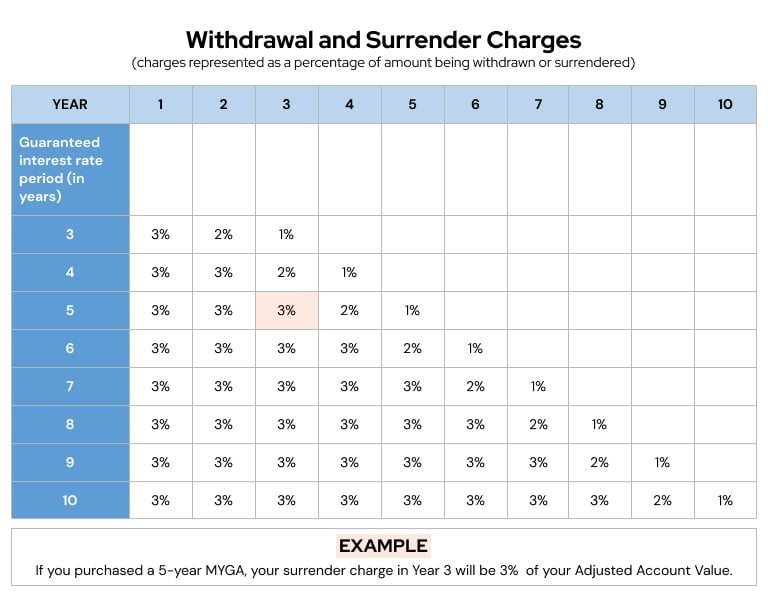 MYGA Annuity Rates
MYGA rates change daily and are likely to differ from one carrier to another. Today, MYGAs pay much higher rates than comparable CDs, and they compound yearly.
As of Nov. 22, 2021, you could earn up to 3.05 percent a year on a 10-year MYGA and up to 2.95 percent on a seven-year contract, according to data provided by RetireGuide's partner Senior Market Sales. The best MYGA rate was 2.95 percent for a five-year surrender period, 2.35 percent for a three-year surrender period and 2.15 percent for a two-year surrender period.
What Is a MYGA Ladder?
Because the interest rates on MYGAs change depending on the length of the contract, you might consider laddering them. MYGA ladders involve you purchasing a portfolio of MYGA annuities with staggered rate guarantee periods over several years.
For example, if you have $100,000, you could consider putting $25,000 each into three-year, five-year, seven-year and nine-year MYGA contracts. Visualize each annuity as one rung of a ladder. Beginning in year three, you'd have money coming in every two years, which you could then reinvest into another MYGA to continue climbing the ladder.
The biggest benefit of participating in MYGA laddering is that it provides you with protection against rising interest rates.
MYGAs vs. Other Retirement Investments
When it comes to investing your money and saving for retirement, you have a lot of options to choose from. Of course, each has its pros and cons. Here's a breakdown of how MYGAs compare to other popular retirement savings options.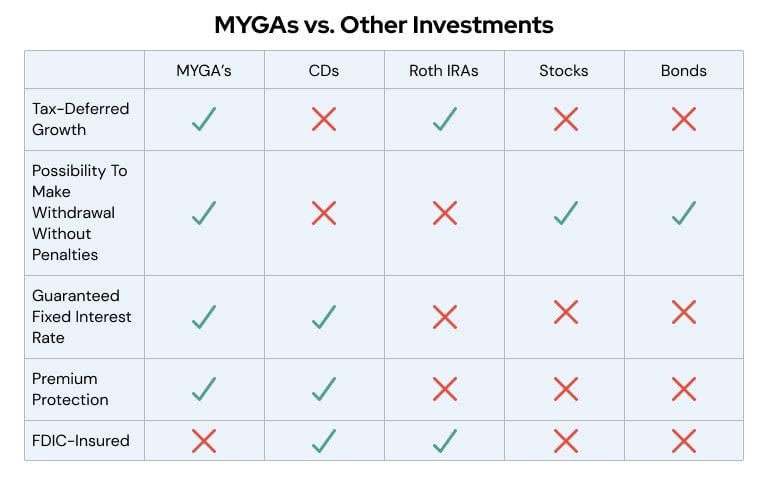 It's important to evaluate your personal financial goals prior to purchasing a MYGA, another type of annuity or a different financial product entirely. The best first step is to consult a financial advisor who can help you to determine how much you should allocate toward saving vehicles to fit your financial strategy.
Last Modified: December 21, 2021
Share This Page