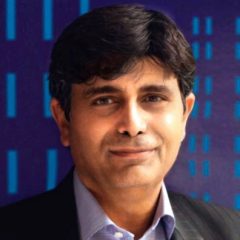 Cyrus E. Bamji
Head of Communications at the Alliance for Lifetime Income
Cyrus E. Bamji has spent over 20 years creating and leading highly successful digital transformation, growth and business strategies for financial services, technology and health care organizations.
He is currently head of communications for the Alliance for Lifetime Income. The nonprofit consumer education association is made up of 22 members — all leading financial service companies in the U.S. and global market. He leads ALI's financial communications, media relations, digital and content development focused on educating consumers about annuities and protected income.
Previously, he was executive vice president and chief strategy officer for LifeRoading LLC, a boutique management consulting firm, leading large-scale efforts with clients such as Jackson National Life Insurance, AARP, Lockheed Martin, and the Food and Drug Administration.
Mr. Bamji has also held various executive positions, including vice president at AARP; chief marketing officer with UniversalAccess Inc., one of the world's largest public telecom data companies; and chief marketing officer for CityNet, a telecom startup where he was co-founder and helped the company raise $500 million in two rounds of private equity funding.
He began his career with Fleishman-Hillard International, where he was senior vice president in the Washington, D.C., office, and helped start the first worldwide technology practice.
He holds a master's degree in mass communication and marketing and a bachelor's degree in international relations from the University of South Carolina/Columbia.
About RetireGuide.com's Experts
RetireGuide.com's experts are trusted authorities on Medicare, life insurance, annuities and retirement planning. Before experts review content on our website for accuracy, we verify that they have relevant experience, licenses and professional designations. We exercise due diligence in vetting prospective experts to protect our readers and ensure the information on our website is trustworthy, comprehensive and useful to readers in the pursuit of their retirement goals.
More About Our Experts