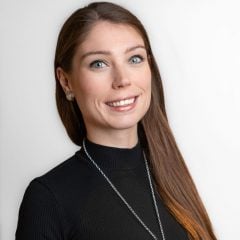 Rachel Christian
Financial Writer and Certified Educator in Personal Finance
LinkedIn | MuckRack | Quora | Medium
As a professional journalist and reporter since 2014, Rachel Christian has produced quality digital content, news stories, investigational pieces, marketing copy and community profiles across a variety of platforms nationwide.
She is a member of the Association for Financial Counseling & Planning Education and a past member of the American Finance Association.
In June 2021, she became a Certified Educator in Personal Finance with FinCert, a division of the Institute for Financial Literacy.
Rachel holds a bachelor's degree in journalism from the University of Southern Indiana. While in school, she held leadership roles at her college newspaper and completed an internship with Tucker Publishing Group in Evansville, Indiana. She also worked as a public relations assistant with the University of Southern Indiana's Communication Department.
During her professional career, she's written about government regulations, municipal budgets, local meetings and other aspects of policy reform and finance.
She's been featured in Evansville Business, the Mount Vernon Democrat, the Osceola News-Gazette, the Evansville Courier & Press, Central Florida Health News, The Knight Agency, Positively Osceola, Warrick County Publishing, Well Being Magazine, the Winter Haven Sun and the Clermont News Leader.
Rachel's clear and concise writing style breaks down complex retirement topics and provides relevant information to RetireGuide readers.