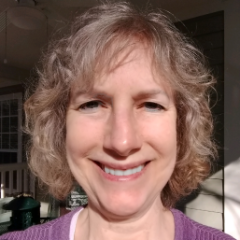 Robin Schiltz, C.D.S.
Senior Safety Expert
Robin Schiltz is a professional copywriter and content strategist with more than 15 years of experience in writing for various digital brands in the financial, mental health, senior care and food industries. In addition, she has ghostwritten several books discussing mental health.
She is also a blogger and co-owner of Senior Safety Advice, an online senior resource platform that provides practical information and useful solutions for caregivers and seniors who wish to age in place safely.
As a hands-on caregiver for both parents (who lived to the ages of 89 and 98, respectively), Robin knows first-hand how rewarding, yet challenging it can be to care for an elderly family member. As a blogger, she can share what she learned as a caregiver to help seniors and their loved ones find answers to questions that come up during the aging process.
Robin is a certified Senior Home Safety Specialist through the Age Safe America organization, an AOTA (American Occupational Therapy Association) Approved Provider. She is also a certified CARES® Dementia Specialist™ (C. D. S.) through HealthCare Interactive®.
She received a Bachelor's degree in Accounting from Indiana Wesleyan University in Marion, Indiana. She also holds an AAS in Dental Hygiene from Pueblo Community College in Pueblo, Colorado and practiced in the dental field for four decades.
Robin is a military wife (U.S. Air Force, retired) and a mom. She's also a runner with one marathon and numerous half marathons under her running belt.
About RetireGuide.com's Experts
RetireGuide.com's experts are trusted authorities on Medicare, life insurance, annuities and retirement planning. Before experts review content on our website for accuracy, we verify that they have relevant experience, licenses and professional designations. We exercise due diligence in vetting prospective experts to protect our readers and ensure the information on our website is trustworthy, comprehensive and useful to readers in the pursuit of their retirement goals.
More About Our Experts