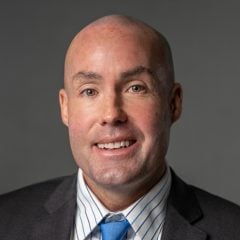 Thomas Brock, CFA®, CPA
Financial Expert
Thomas Brock, CFA®, CPA, is a financial expert with experience in investments, corporate finance and accounting, as well as personal and small-business financial consulting.
Upon graduating from Bowling Green State University with a bachelor's degree in business administration and a master's from Franklin University, Thomas hit the ground running in his career. His early years involved managing various accounting and planning functions, which led to several key initiatives.
Thomas then went on to implement a financial reporting system and establish a centralized procurement office. He also integrated several multi-million-dollar merger and acquisition deals.
Outside of corporate finance and accounting, Thomas is also passionate about helping individuals and small businesses meet their financial needs. His services for this sector include accounting, financial planning, budgeting and investing. He also extends his expertise to a variety of organizations and students virtually.
Thomas is a chartered financial analyst charterholder and a certified public accountant.
About RetireGuide.com's Experts
RetireGuide.com's experts are trusted authorities on Medicare, life insurance, annuities and retirement planning. Before experts review content on our website for accuracy, we verify that they have relevant experience, licenses and professional designations. We exercise due diligence in vetting prospective experts to protect our readers and ensure the information on our website is trustworthy, comprehensive and useful to readers in the pursuit of their retirement goals.
More About Our Experts