Medicare Part B
Medicare Part B is part of Original Medicare. It covers medically necessary care and preventative services. This includes doctor visits, outpatient care, cancer screenings, medical equipment and more. The standard monthly premium for Medicare Part B is $170.10 in 2022.
Key Takeaways
Medicare Part B is the part of Original Medicare that handles outpatient treatments, services and medically necessary care.
Part B also covers preventive care including screenings and lab tests, as well as mental health and medical equipment.
Most Americans are eligible for Part B when they turn 65. Unlike Part A, Part B comes with a monthly premium.
What Does Medicare Part B Cover?
As the medical insurance component of Original Medicare, Part B covers two main categories:
Medically Necessary Services: Doctor visits and anything needed to diagnose or treat a medical condition.
Preventative Care: Services and screenings to prevent illness or provide early detection.
Types of Medically Necessary Services
Ambulance transportation
Medical equipment
Mental health
Limited outpatient prescription drugs
Clinical research
Lab tests
Types of Preventative Care Services
Disease screenings
Cancer screenings
Glaucoma tests
Mental health screenings
One-time Welcome to Medicare preventive visit
Shots
Tobacco use cessation counseling
Yearly wellness visit
Annual wellness visits are a way to monitor your health and may include a cognitive impairment assessment to screen for Alzheimer's Disease.
The Part B deductible doesn't apply for yearly wellness visits or most preventive services.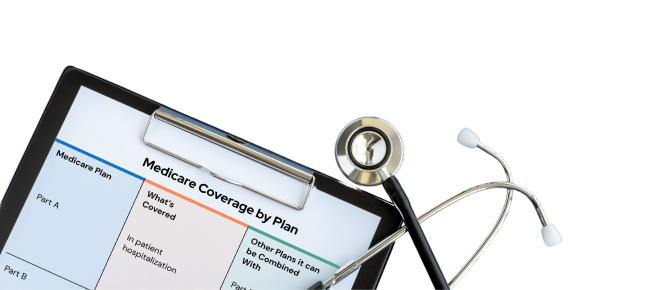 Need FREE Medicare Help?
Our Medicare experts will help you compare, build, and enroll in a plan that gets you the coverages you need at a price you can afford.
Medicare Part B Enrollment & Eligibility
Most Americans are eligible for Medicare Part B when they turn 65. Some people can get Part B at a younger age if they have certain disabilities, like end-stage renal disease or ALS.
How to Sign Up for Medicare Part B
If you are already receiving Social Security when you turn 65, then you should be automatically enrolled in Part B. If not, you need to sign up with Social Security when you first become eligible.
You can sign up at the Social Security website or by calling 800-772-1213.
Important Medicare Deadlines
If you are new to Medicare, you will first become eligible to enroll three months before the month of your 65th birthday. This period ends three months after it, creating a seven-month window to enroll.
If you don't enroll during this window, you may be penalized by having to pay a higher Part B premium when you do enroll.
If you missed your initial enrollment period, you can then enroll during the General Enrollment Period. It lasts from Jan. 1 to March 31 each year, with your Medicare coverage starting on July 1. Remember that you may face a late enrollment penalty if you didn't sign up for Medicare when first eligible.
Costs & Deductibles for Medicare Part B in 2022
You pay a monthly premium, or fee, for Part B coverage. Your premium is automatically deducted from your benefit payment if you receive Social Security. Otherwise, you'll receive a bill.
The standard Part B premium amount is $170.10 for 2022, up from $170.10 in 2021. Your cost may be higher if your adjusted gross income as reported on your individual IRS tax return from two years ago is above $91,000.
You must pay your Part B premium every month even if you don't use it.
Medicare Part B Costs
Standard Premium: $170.10
Deductible: $233
Coinsurance: 20% after deductible is met
What Does Medicare Part B Not Cover?
Medicare Part B can cover many treatments and services if they are deemed medically necessary.
Anything that is not considered a medical necessity, such as cosmetic and non-medical procedures, will likely not be covered. Treatments that are not strictly related to health like massages or acupuncture are also not covered.
What Does Part B Not Cover?
Acupuncture
Cosmetic surgery
Dental care
Dentures
Hearing aids
Routine foot care
Part B also does not cover several key areas of health for older adults such as hearing, vision and dental. Coverage for these services is typically only available through a Medicare Advantage plan, which is provided by private insurers.
Frequently Asked Questions About Medicare Part B
How long does it take to get Medicare Part B after applying?
If you have just turned 65, then your Part B coverage should start the month that you sign up. If you sign up a month after you turn 65, then your coverage will start two months later. Your coverage begins when you turn 65 if you sign up before your birthday. You should receive your Medicare card within a month of applying.
Is Medicare Part B ever free?
You always have to pay for the Part B monthly premium. This is unlike
Part A
, which is premium-free for most Americans if they meet certain requirements.
What is the income limit for Medicare Part B?
The income limit for Part B is an individual tax return of $91,000 or less or a joint tax return of $182,000 or less. If your individual or joint income exceeds those amounts, then you will pay a higher monthly premium for Part B.
Last Modified: August 2, 2022
Share This Page
10 Cited Research Articles