Medicare Part D
Medicare Part D is a plan sold through private insurers that can cover prescription drugs. Drug coverage is not available through Original Medicare. Beneficiaries can acquire Part D through a stand-alone plan or by enrolling in a Medicare Advantage plan that includes it.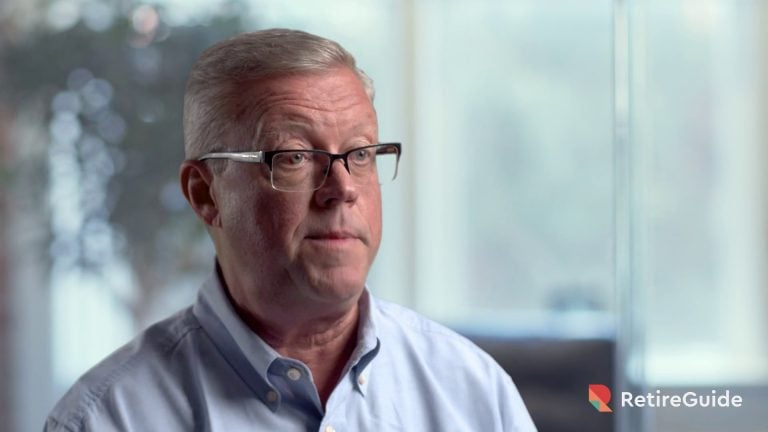 Written by

Christian Simmons

Christian Simmons

Financial Writer

Christian Simmons is a writer for RetireGuide and a member of the Association for Financial Counseling & Planning Education (AFCPE®). He covers Medicare and important retirement topics. Christian is a former winner of a Florida Society of News Editors journalism contest and has written professionally since 2016.

Read More

Edited By

Lamia Chowdhury

Lamia Chowdhury

Financial Editor

Lamia Chowdhury is a financial content editor for RetireGuide and has over three years of marketing experience in the finance industry. She has written copy for both digital and print pieces ranging from blogs, radio scripts and search ads to billboards, brochures, mailers and more.

Read More

Reviewed By

Michael Jones

Michael Jones

Medicare Expert and Owner of Grand Anchor Insurance Solutions

Michael Jones is a licensed insurance agent who manages his own agency called Grand Anchor Insurance Solutions. In addition to being a Medicare expert, Michael specializes in other insurance products such as voluntary benefits for employees of businesses.

Read More

Published: May 14, 2020
Updated: October 27, 2023
7 min read time
This page features 10 Cited Research Articles

What Is Medicare Part D?

Part D coverage is provided by government-approved private insurance companies that Medicare later reimburses.

Every plan has its own formulary, or a list of medications it covers. This list sets the price for each drug.

About 45 million of the more than 60 million people covered by Medicare are enrolled in Part D plans.

Enrolling in Part D is mandatory when you become eligible for Medicare. Some choose not to enroll in Part D because they don't take any medications. Later, they find there is a penalty for not enrolling when they became eligible. Be sure to enroll once you become eligible so you do not have to pay this penalty.

How Does Medicare Part D Work?

There are several different ways for Medicare beneficiaries to get a Part D plan. Even though Original Medicare does not include any coverage for prescription drugs, beneficiaries can purchase a stand-alone drug plan to pair with Medicare through a private insurer.

But the most common option is to switch to a Medicare Advantage plan, which often includes Part D as well as other expanded benefits like dental and vision coverage.

One of the benefits of opting for a Medicare Advantage plan that includes Part D instead of pairing Original Medicare with a drug plan is that all your coverage is in one place. An all-inclusive plan prevents you from having to juggle multiple plans and premiums at once.

What Drugs Are Covered by Medicare Part D?

Since Part D is provided through private insurance companies, each plan can vary as far as exactly what drugs are covered. But in general, prescription drug plans cover a wide variety of medications, both brand-name and generic.

Types of Drugs Covered Under Part D

Antidepressants
Antipsychotics
Anticonvulsants
Antineoplastics
Antiretrovirals
Immunosuppressants
Injectable insulin

Prescription drug plans can also cover vaccines and other types of medication like HIV treatments. Starting in January 2023, Medicare beneficiaries won't have any out-of-pocket costs for adult vaccines that are recommended by the Centers for Disease Control.

One of the biggest Part D drug coverage changes in January 2023 was for injectable insulin. There is a cap of $35 for a 30-day supply of any insulin that your Part D plan covers, even if you haven't met your deductible yet.

Each Part D plan will have a formulary that lists out what types of drugs are covered. Remember, when selecting a plan, compare both coverage and cost. The price for a drug can vary between plans, as well as the level of coverage available.

How Much Does Medicare Part D Cost in 2024?

According to CMS, the national average monthly bid amount for Medicare Part D is $64.28 in 2024. The average monthly premium is projected to be $55.50 in 2024. 

But an analysis of the prescription drug benefits found that actual premiums paid by Part D recipients in 2023 varied widely across the country, from a low of $1.60 in Oregon to a high of $201.10 in South Carolina.

High-income households pay even more. The income-related monthly adjustment amount (IRMAA) is added to the standard Part D premium.

You may also have a deductible or copay cost.

When you're looking for the right prescription drug plan, keep this in mind:

No plan covers every drug.
The same drug can cost much more or much less, depending on the plan.
Plan costs — including premiums, deductibles and copays — can fluctuate each year.

Monthly Premiums

The monthly premium that you will pay for Part D depends on the specific plan. Costs can vary widely based off the insurer you purchase your plan through and the amount of coverage available.

Monthly Adjustment

Depending on your annual income, you may also pay a monthly adjustment to your premium. Higher yearly incomes result in higher premiums. For example, your Part B premium would jump from $174.70 to $244.60 if you made more than $103,000.

Yearly Deductibles

Each Part D plan also comes with an annual deductible that you will have to meet before your plan kicks in. Just like your monthly premium, your deductible will vary depending on your specific plan. There are some premium-free plans as well as others that don't include a deductible.

Have you selected your 2024 Medicare plan?

Maximize your Medicare savings by connecting with a licensed insurance agent. Annual Enrollment is open until December 7th.

Medicare Part D Enrollment & Eligibility

Beneficiaries are eligible for a Part D plan when they become eligible for Medicare. They can enroll in Part D by purchasing a stand-alone plan or enrolling in a Medicare Advantage plan that includes prescription drug coverage.

Initial Enrollment

You can purchase a Part D plan during initial enrollment, which is when you first become eligible for Medicare when you turn 65. For example, in the months leading up to or just after your 65th birthday, you could opt to enroll in a Medicare Advantage plan that includes Part D.

Annual Election

Medicare has an open enrollment period each year that runs from Oct. 15 through Dec. 7. You can make changes to your plan or enroll in a new plan during this time. For example, you may have been on Original Medicare for several years but, during this period, you can now decide to add a stand-alone drug plan or join a Medicare Advantage plan that includes one.

Special Enrollment Periods

Beneficiaries are occasionally able to make coverage changes like adding a Part D plan during special enrollment periods, which typically occurs from a life change. Special enrollment periods are also useful if you're moving to a new area or if you lose your existing coverage.

Medicare Enrollment Periods

Tom Parkin |

0:42

When can you change your Medicare Part D Plan?

Get Free Help Pricing and Building Your Medicare Plan

Replay Video

Late Enrollment Penalty

Most people become eligible for Medicare around their 65th birthday.

If you do not enroll in drug coverage when you first become eligible, you will face a late enrollment penalty if you try to sign up later.

This penalty is added to your premium each month for as long as you have drug coverage.

Eligibility

While Part D is available through private insurers, you must be eligible for Original Medicare to be able to purchase a plan. Aside from several rare circumstances, you must be 65 or older to be eligible.

How to Choose Medicare Part D Coverage

Research is key to selecting the best Medicare Part D plan for you. Plans can vary heavily depending on where you live, and you should consider everything from the level of coverage you are seeking to whether a stand-alone plan or switching to Medicare Advantage is the best option for you.

How to Evaluate Your Medicare Part D Needs

Step 1: Consider your necessities. Determine what medications are most important to you to receive coverage for and what level of coverage you are hoping to have.
Step 2: Consider your costs. You should figure out how much money you can reasonably spend on health care in a year and determine how much you are willing to commit to a Part D plan
Step 3: Research and compare plans. Examine each plan's formulary to make sure the drugs you care about most are listed. If you take mostly generic prescriptions, look for plans with coverage tiers. Tiers group drugs into different pricing categories, with generic drugs being the cheapest. If you don't generally take prescription drugs, consider plans with low monthly premiums. These usually come with high deductibles.

John Clark, CLTC®, NSSA® |

0:43

How do I choose a Medicare Part D prescription drug plan?

Frequently Asked Questions About Medicare Part D

How Does Medicare Part D Work?

Part D is a plan sold through private insurers that can cover prescription drugs. If you purchase a stand-alone plan, then it works as its own insurance with its own premiums and deductibles, and it can be used when you are prescribed medication. If you get Part D through a

Medicare Advantage plan

, then it is just part of your Medicare coverage.

How many Medicare Part D plan choices are available?

There are 709 Part D plan choices available nationwide in 2024, according to KFF. The average Part D beneficiary will have 20 plans with drug coverage to choose from in 2023. There are also numerous Medicare Advantage prescription drug plans offered at the local level.

Last Modified: October 27, 2023

Share This Page

10 Cited Research Articles
Who Am I Calling?
Calling this number connects you to one of our trusted partners.
If you're interested in help navigating your options, a representative will provide you with a free, no-obligation consultation.
Our partners are committed to excellent customer service. They can match you with a qualified professional for your unique objectives.
We/Our Partners do not offer every plan available in your area. Any information provided is limited to those plans offered in your area. Please contact Medicare.gov or 1-800-MEDICARE to get information on all of your options.
888-694-0290
Your web browser is no longer supported by Microsoft. Update your browser for more security, speed and compatibility.
If you need help pricing and building your medicare plan, call us at 844-572-0696