Your Medicare Card
Your red, white and blue Medicare card will arrive in the mail after you enroll in Medicare. A Medicare card shows that you have Medicare health insurance and whether you have Part A or Part B coverage, or both. It also shows the date your coverage starts.
About Your Medicare Card
Your Medicare card is your proof of Medicare medical insurance. You will need to present it to your doctor or other health care provider if you ever need medical services. It's important to carry it with you whenever you go to the doctor, pharmacy, hospital or any other health care provider.
When Do You Get Your Medicare Card?
When you receive your Medicare card depends on how and when you enroll in Medicare.
Five Explanations for When You Will Receive Your Medicare Card
Already Receiving Retirement Benefits

You should automatically receive your Medicare card three months before your 65th birthday.

You Are Receiving Disability Benefits

You will automatically be enrolled in Medicare after 24 months and should receive your Medicare card in the 25th month.

You Are Almost 65 But Not Receiving Retirement Benefits

You must manually enroll in Medicare during your enrollment period and your Medicare card should arrive within 30 days.

You Have ALS (Lou Gehrig's Disease)

You will be automatically enrolled in Medicare the same month your disability benefits begin, and you should receive your card shortly after that.

You Have End-Stage Renal Disease

You can enroll in Medicare Parts A and B at any time after your diagnosis whether you are 65 or not. Your card should arrive shortly after that.
What's on a Medicare Card?
Your Medicare card will provide doctors, hospitals and other health care providers with all the information they will need to determine what kind of Medicare coverage you have and how much to bill Medicare for your medical services.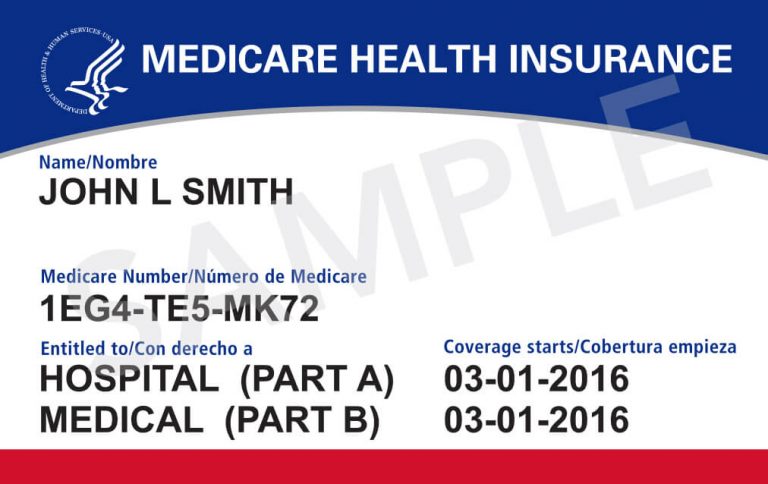 The Four Things on Your Medicare Card
Your full name.
Your Medicare identification number.
Whether you have Medicare Part A, Part B or both.
The date your Medicare coverage starts.
How Do You Apply for a Medicare Card?
You apply for your Medicare card when you first enroll in Medicare Part A, Part B or both. There are four different options for manually enrolling in Medicare.
How to Apply for a Medicare Card
Apply for Medicare online at the Social Security Administration website.
Apply over the phone by calling Social Security toll-free at 1-800-772-1213 (TTY users should call 1-800-325-0778).
You can apply in person at your local Social Security office.
Railroad workers can apply by calling the Railroad Retirement Board at 1-877-772-5772 (TTY users should call 1-312-751-4701).
Using Your Medicare Card
You'll need to have your Medicare card with you any time you have any medical-related visits or services. This is true even if you have Medicare Advantage, Medicare Part D prescription drug coverage or Medigap supplemental insurance.
Your regular doctor may make a copy of your card on your first visit so they will have it readily available on file. But pharmacies, testing labs, some doctors and other health care providers will require you to show it on each visit.
Be sure to let your doctor or other health care provider know if you've received a replacement or updated Medicare card. They will need the new information.
Avoiding Medicare Scams
Your Medicare card has information on it that identity thieves may attempt to steal from you. You should keep your card in a safe place and never share the information on it with anyone other than your health care providers or your other insurers.
Be careful about sharing your Medicare card information with people who call you. Medicare or someone representing the program will only call you under two circumstances.
A member of a Medicare health or drug plan or the agent you worked with may call you but only if you've already joined the plan.
If a customer service representative from 1-800-MEDICARE (1-800-633-4227) returns a call you made after you left a message.
You can share your information with trusted organizations and agencies that work with Medicare such as your State Health Insurance Assistance Program.
Report Identity Theft
If you think someone has used your Medicare card illegally, call your local police or the Federal Trade Commission's ID Theft Hotline at 1-877-438-4339 (TTY users should call 1-877-486-2048).

If you get a call from someone asking for your Medicare card number or other personal information, you should hang up and call Medicare immediately at 1-800-633-4227.
Source: U.S. Centers for Medicare & Medicaid Services
Don't Leave Your Health to Chance
You've worked hard your whole life by thinking ahead. Now do the same for your health. Get free Medicare help to plan your future.
Replacing Your Medicare Card
If your Medicare card is lost, stolen or damaged, you can apply for a replacement card online through the My Social Security Account at the Social Security website. You will have to set up an account if you haven't already done so.
How to Apply for a Replacement Medicare Card Online
Log in to My Social Security Account.
Select "Replacement Documents."
Select "Mail my replacement Medicare Card."
Your replacement card will be mailed to your address on file with Social Security. It should arrive in the mail in about 30 days.
You will receive a new Medicare ID number when you apply for a replacement card. If you need your new number before the replacement card arrives, you can log on to myMedicare.gov and print out an official copy of your new card.
You can also apply for a replacement card over the phone at 1-800-633-4227 (TTY users can call 1-877-486-2048).
Last Modified: May 18, 2022
Share This Page
4 Cited Research Articles