Retirement Financial Advisors: Your Key to a Confident Retirement
Working with a retirement financial advisor can ensure that you are working towards a secure and stable retirement. Advisors can help you devise a retirement plan, determine what investments to make, and confirm that your savings remain on track. Not all advisors make sense for everyone, and choosing one who fits your needs and budget can be critical.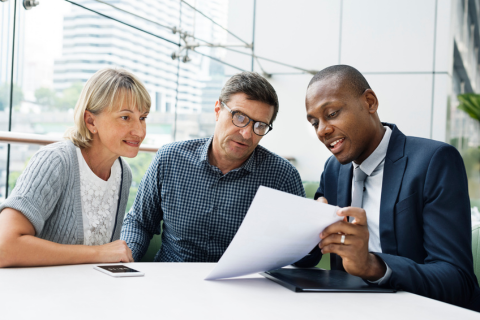 Written by

Christian Simmons

Christian Simmons

Financial Writer

Christian Simmons is a writer for RetireGuide and a member of the Association for Financial Counseling & Planning Education (AFCPE®). He covers Medicare and important retirement topics. Christian is a former winner of a Florida Society of News Editors journalism contest and has written professionally since 2016.

Read More

Edited By

Lamia Chowdhury

Lamia Chowdhury

Financial Editor

Lamia Chowdhury is a financial content editor for RetireGuide and has over three years of marketing experience in the finance industry. She has written copy for both digital and print pieces ranging from blogs, radio scripts and search ads to billboards, brochures, mailers and more.

Read More

Financially Reviewed By

Stephen Kates, CFP®

Stephen Kates, CFP®

Certified Financial Planner™ Professional and Founder of Clocktower Financial Consulting

Stephen Kates is a Certified Financial Planner™ professional and personal finance expert with over a decade of experience working with individuals and families who need help with their finances. With experience as a financial advisor for two of the largest financial firms in the country, Stephen has worked with hundreds of clients to build comprehensive financial plans to grow and protect their wealth.

Read More

Published: March 28, 2023
Updated: June 23, 2023
6 min read time
This page features 4 Cited Research Articles

Key Takeaways

Retirement financial advisors can help get your retirement plan on track and ensure that you are set up for a sound and secure retirement.
Advisors assist with several financial areas, ranging from one-off consultations for fine-tuning plans to managing investments or building a plan from the ground up.
It can be important to confirm that your advisor is bound by fiduciary duty, so they are obligated to always put your needs first.

What Are Retirement Financial Advisors?

Retirement financial advisors are professionals who can use their expertise and insight to help you navigate your path to retirement. Advisors come in many forms and can help you with a variety of retirement planning topics.

What Can Retirement Financial Advisors Help With?

Retirement planning
Estate planning
Choosing and managing investments
Offering advice and insight

What you are looking for from a financial advisor may depend on how close you are to retirement and what your savings needs are. Some advisors can help you craft a retirement plan from scratch and devise the steps you need to take to be set up for your golden years.

Other advisors can review and offer insights on your existing plan or help you select and manage retirement investments.

The type of advisor who makes the most sense for you will depend on your personal situation and how much help you need on your road to retirement.

Planning for retirement is much more than choosing investments and planning for the income you can take from your portfolio. Balancing Social Security, Medicare, life insurance, end-of-life care and legacy planning are all important. It's important to choose an advisor or team that can offer you well-rounded advice in addition to investment advice.

Benefits of Working with Retirement Financial Advisors

There are many potential benefits to working with retirement financial advisors. Managing a retirement plan all on your own can be daunting. It can also be easy to make mistakes or underestimate how much savings you need and how well your plan is performing.

Speaking to a financial professional or having them review your plan can help alleviate some of that doubt. A Charles Schwab survey found that 65% of people with a written financial plan feel more financially stable.

Working with an advisor to craft a set plan can make a difference.

On top of alleviating doubt, working with a retirement financial advisor can help make your retirement planning more efficient and effective, as well. For example, a financial advisor may be able to steer you towards advantageous investments and strategies that you would not have been able to devise on your own.

According to the New York Times, another potential benefit of working with a retirement financial advisor is protection against cognitive decline.

It's an unfortunate reality that many seniors develop some form of dementia or Alzheimer's as they age. Trusting a second pair of eyes with your finances can help prevent any serious financial mistakes, or even being a victim of financial abuse, down the road.

3 Minute Quiz: Can You Retire Comfortably?

Take our free quiz & match with a financial advisor in 3 easy steps. Tailored to your goals. Near you or online.

How To Choose a Retirement Financial Advisor

When choosing a retirement financial advisor, one of the most important areas to consider is whether the advisor you are considering has fiduciary duty. This means that they are required and obligated to act in your best interests when informing you about financial decisions.

An advisor who is not a fiduciary could, for example, push you towards certain products or decisions that would benefit themselves, even if it is not the best decision for yourself.

Another step in choosing an advisor is determining exactly what your needs are. One type of advisor may make sense for someone who is looking to fine tune an existing plan, while another type would be better for someone who needs a retirement strategy crafted from scratch.

It also makes sense to consider fees and compensation. Not all advisors make money in the same way, and comparing costs and how their commissions are earned may help narrow down your options.

But people don't always spend time comparing compensation, even though it can make a big difference. According to Pew, retirees often emphasize investments options and control over investments over fees when selecting an advisor.

Questions To Ask a Retirement Financial Advisor

The questions you should ask a retirement financial advisor will depend on your personal situation. Narrow down your needs to help find the best questions.

Questions Retirement Financial Advisors Can Help With

Investment advice
How to optimize your retirement plan
How much money you will need in retirement
How on track your plan is

Retirement financial advisors may be able to provide investment advice and answer questions about your current investments to determine whether you're on the right track.

Advisors can also provide information on how to create a retirement plan and what steps you need to take to get started. In addition, they can help with calculations on how long your money will last in retirement or how close you are to achieving your goals.

Coming up with the questions that you need answered before settling on a retirement financial advisor may help you narrow down your options and select an advisor that makes the most sense for you.

Never Miss Important News or Updates with Our Weekly Newsletter

Get money-saving tips, hard-to-find info and tactics for a successful retirement in our free weekly newsletter.

What Do Retirement Advisors Charge?

The price of a retirement financial advisor can vary heavily. Costs differ from advisor to advisor but may also be impacted by the type of advice or services you are looking for.

It may, for example, be much cheaper to seek out a one-off consultation to check up on your retirement plan compared to finding an advisor to completely manage your investment strategy.

Regardless of what type of advisor you opt for, it can be important to be aware of how much you are paying. Advisors may charge you in different ways, including set fees or commissions and percentages of investments.

This can make it difficult to understand exactly how much you are paying for their services. Determining how much and what you will be charged for can help you better select the best option.

While costs vary, one common model, according to the U.S. News & World Report, is the assets-under-management fee. In this model, the fee you pay is a percentage of the assets the advisor manages. A common rate is often 1%.

Frequently Asked Questions About Retirement Financial Advisors

How often should you meet with a retirement financial advisor?

The frequency of meeting with an advisor will depend on how sound your plan is, as well as how close you are to retirement. But generally, meeting with an advisor any less than once a year may not make sense, especially if you are continually paying them.

Never Miss Important News or Updates with Our Weekly Newsletter

Get money-saving tips, hard-to-find info and tactics for a successful retirement in our free weekly newsletter.

Advertisement

Connect With a Financial Advisor Instantly

Our free tool can help you find an advisor who serves your needs. Get matched with a financial advisor who fits your unique criteria. Once you've been matched, consult for free with no obligation.

Last Modified: June 23, 2023

Share This Page

4 Cited Research Articles
Your web browser is no longer supported by Microsoft. Update your browser for more security, speed and compatibility.
If you need help pricing and building your medicare plan, call us at 844-572-0696