How Much Do You Need to Retire?
Many experts say your annual retirement income should be 70 percent to 80 percent of your final pre-retirement salary. So, if you make $80,000 when you leave the workforce, you'll need at least $56,000 for each year you plan to spend in retirement.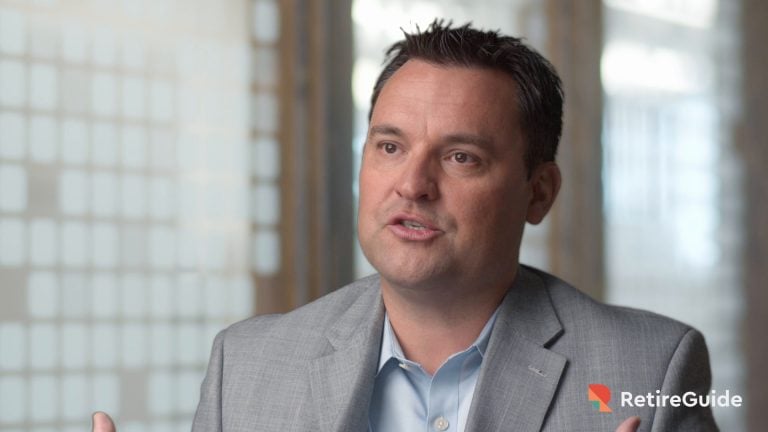 Written by

Rachel Christian

Rachel Christian

Financial Writer and Certified Educator in Personal Finance

Rachel Christian is a writer and researcher for RetireGuide. She covers annuities, Medicare, life insurance and other important retirement topics. Rachel is a member of the Association for Financial Counseling & Planning Education.

Read More

Edited By

Matt Mauney

Matt Mauney

Financial Editor

Matt Mauney is an award-winning journalist, editor, writer and content strategist with more than 15 years of professional experience working for nationally recognized newspapers and digital brands. He has contributed content for ChicagoTribune.com, LATimes.com, The Hill and the American Cancer Society, and he was part of the Orlando Sentinel digital staff that was named a Pulitzer Prize finalist in 2017.

Read More

Reviewed By

Ebony J. Howard, CPA

Ebony J. Howard, CPA

Credentialed Tax Expert at Intuit

Ebony J. Howard is a certified public accountant and freelance consultant with a background in accounting, personal finance, and income tax planning and preparation.  She specializes in analyzing financial information in the health care, banking and real estate sectors.

Read More

Published: September 21, 2020
Updated: October 20, 2023
5 min read time
This page features 10 Cited Research Articles

Determine Your Retirement Needs

Everyone's retirement goals are different. How much money you need to save depends on your current income and the lifestyle you want during retirement.

Three Common Retirement Savings Goals

$1 million to $1.5 million
10 to 12 times your current income
70 percent to 80 percent of your annual salary for each year you plan to spend in retirement

Determining your needs and wants is a crucial part of retirement planning and the best way to find a savings goal that works for you.

For many people, certain expenses decrease in retirement. Student loans are paid off and your children are often grown and financially independent. You may be done paying off your mortgage, or close to it. Or you may choose to downsize to a more affordable house or condo.

But while some costs decrease, others may increase.

For example, if you plan to travel extensively in early retirement, you may need 100 percent of your current salary for the first few years instead of 70 percent to 80 percent.

Another factor to consider is your life expectancy. At age 65, the average American life expectancy is between 20 and 22 years — and half the population will live longer than that.

Outliving your savings — known as longevity risk — is a real threat to your nest egg. If you're in good health and plan to live a long life, you need to plan accordingly.

Is Your Retirement Plan on Track?

Explore annuity solutions that align with your planning needs.
*Ad: Clicking will take you to our partner Annuity.org.

Saving vs. Investing

Simply saving money during your working years makes it much more difficult to reach your retirement goals.

Interest rates remain low, so money in a savings account will likely just sit there. It won't grow unless you add more money.

In the early and middle years of your career, you have time to recover from market volatility and losses. That's why it's important to invest when you're young.

You can invest for retirement by opening a brokerage account or a retirement account, such as a 401(k) plan at work.

The average yearly return on stock investments is 7 percent, while savings account interest rates often hover around 0.08 percent.

You need to actively manage these accounts to grow your money. If this isn't a priority for you, consider hiring a professional.

As you near retirement, experts recommend cutting back on risky investments. While stock-heavy portfolios do well in the long term, they can bottom out during market downturns.

If you need to access money within the next five years, add low-risk investments to your portfolio, such as bonds or certificates of deposit (CDs).

Retirement Statistics for 2023

Determine Your Retirement Age

Deciding when you should retire can feel like a balancing act. If you retire too early, you may run out of money. If you delay retirement, you could miss out on other experiences such as traveling or spending time with family.

Yet, delaying retirement comes with financial perks. First, your monthly Social Security benefits increase the longer you wait. The maximum benefit caps out at age 70.

If you're lagging behind on savings and investments, delaying retirement lets you earn more money and contribute to your accounts longer. It also gives your money more time to enjoy the effect of compounding interest.

Finally, retiring later creates a shorter window to depend on your savings, reducing your longevity risk.

But life doesn't always go according to plan.

A 2019 study by the Society of Actuaries found a persistent difference between expectations about retirement age and the reality.

People tend to retire much earlier than they plan to. According to the study — which surveyed more than 2,300 people age 45 to 80 — pre-retirees plan to retire at a median age of 65.

In contrast, actual retirees reported leaving the workforce at a median age of 60. That number has held steady since 2013.

Income, gender and marital status didn't greatly impact median retirement age, the study found.

Delaying retirement might make sense financially, but your health may not agree. According to research by the Urban Institute, while life spans have increased since Social Security was first introduced, there is little evidence of people's ability to work at older ages.

In addition to health limitations, finding and keeping a job can become more difficult as you age.

Beat the Bank With Fixed Annuity Rates As High As 6%

Start with a zero-commitment conversation to learn how annuities can help fund your retirement.
*Ad: Clicking will take you to our partner Annuity.org.

Retirement Strategies

There are different strategies to help you determine how much you need to save and spend to meet your retirement goals.

A popular method is the 4 percent rule.

It proposes that by limiting your retirement withdrawals to 4 percent of your total assets per year, your money should stretch for 25 to 30 years.

It assumes that you'll adjust this percentage over time to account for inflation.

You can use the 4 percent rule to calculate how much money you need to save for retirement by multiplying your desired annual retirement income by 25. This strategy is known as the Rule of 25.

For example, if you want to live on $50,000 a year in retirement, you'll need to save $1.25 million ($50,000 x 25 = $1.25 million).

The 4 percent rule isn't perfect, though. While this strategy assumes a 5 percent return on investments — accounting for taxes and inflation — it doesn't consider additional retirement income, such as Social Security or pension benefits.

It also assumes you'll maintain a lifestyle similar to the one you had during your working years.

Systematic withdrawal is another popular retirement income strategy. This method takes a diversified investment portfolio of bonds, CDs, stocks, mutual funds and other assets, then sells off certain investments each year to generate necessary income.

In this case, the sustainable withdrawal spending rate depends on your risk tolerance, investment returns and time horizon.

Another option is the flooring retirement income strategy, also known as the essential versus discretionary approach.

It prioritizes your needs in retirement over wants. Income for essential expenses should come from a secure income source, such as Social Security or pension benefits. You can also use annuities to create a floor of income, or set up a bond or CD ladder.

Your wants, or discretionary expenses, are paid for with riskier investments, such as stocks or mutual funds.

Retirement Planning Strategies for Late Starters

Advertisement

Connect With a Financial Advisor Instantly

Our free tool can help you find an advisor who serves your needs. Get matched with a financial advisor who fits your unique criteria. Once you've been matched, consult for free with no obligation.

Last Modified: October 20, 2023

Share This Page

10 Cited Research Articles
Who Am I Calling?
Calling this number connects you to one of our trusted partners.
If you're interested in help navigating your options, a representative will provide you with a free, no-obligation consultation.
Our partners are committed to excellent customer service. They can match you with a qualified professional for your unique objectives.
We/Our Partners do not offer every plan available in your area. Any information provided is limited to those plans offered in your area. Please contact Medicare.gov or 1-800-MEDICARE to get information on all of your options.
844-359-1705
Your web browser is no longer supported by Microsoft. Update your browser for more security, speed and compatibility.
If you need help pricing and building your medicare plan, call us at 844-572-0696