Retirement Community & Assisted Living Calculator
As many older Americans approach an age where they must determine if a retirement community, assisted living or aging in place is right for them, the assisted living cost calculator below can help identify the best long-term senior housing option for everyone.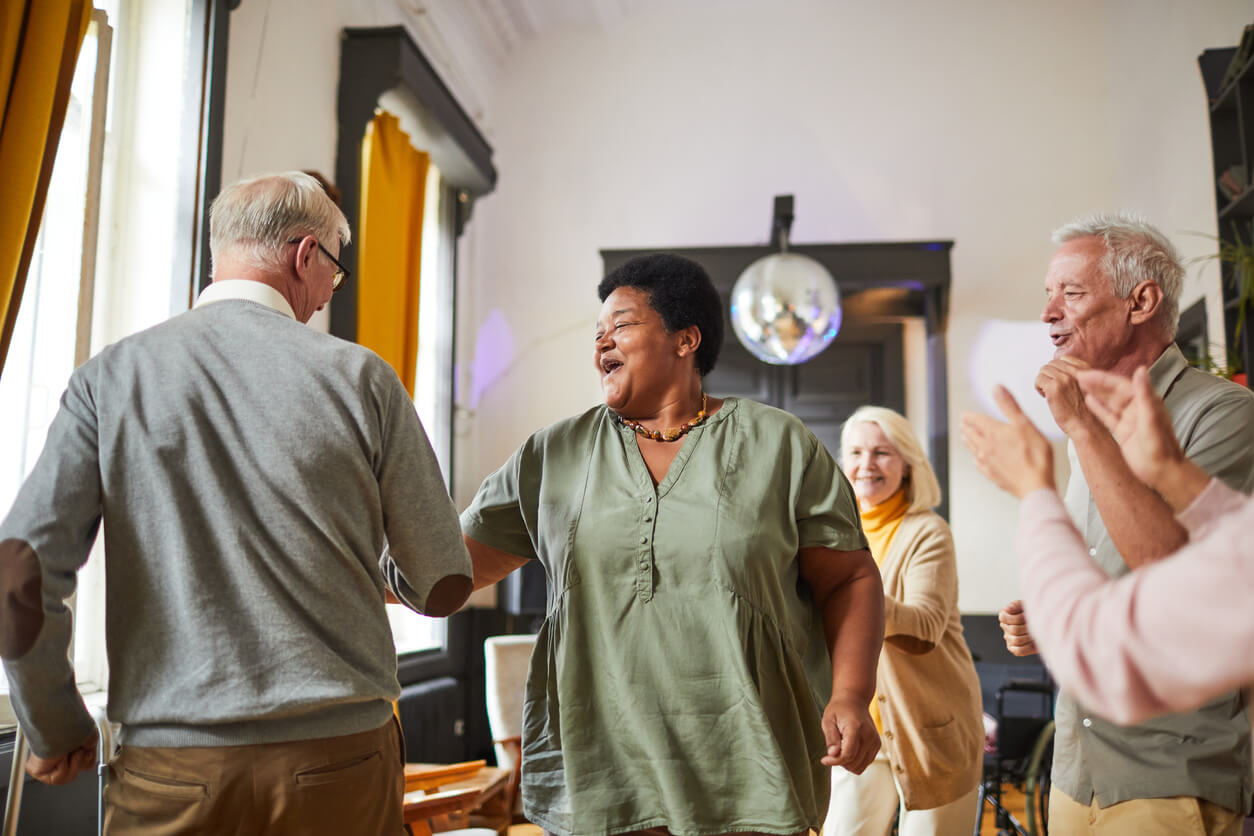 Edited By

Savannah Pittle

Savannah Pittle

Senior Financial Editor

Savannah Pittle is a professional writer and content editor with over 16 years of professional experience across multiple industries. She has ghostwritten for entrepreneurs and industry leaders and been published in mediums such as The Huffington Post, Southern Living and Interior Appeal Magazine.

Read More

Published: July 20, 2022
Updated: May 23, 2023
6 min read time
This page features 5 Cited Research Articles
When you consider your current living expenses — such as mortgage or rent, utilities, groceries, in-home health care, etc. — and compare them to the average cost of assisted living and retirement communities, you may be surprised to discover that residential senior living can be more affordable than you think. Use this calculator to find out.
Retirement Community & Assisted Living Calculator
Step 1: Current Aging in Place Costs
?
Enter your state of residence and current monthly living expenses to calculate your projected monthly costs to age in place in your home.
What is your state of residence?
What is your monthly mortgage or rent payment?
The default values represent U.S. national averages.
What is your total cost of utilities (electricity, water, etc.)?
The default values represent U.S. national averages.
What is your homeowners or renters insurance?
The default values represent U.S. national averages.
What is your property tax?
The default values represent U.S. national averages.
What are your groceries and dining out expenses?
The default values represent U.S. national averages.
What are your expenses for entertainment, hobbies, etc.?
The default values represent U.S. national averages.
What are your yard care and cleaning services expenses?
The default values represent U.S. national averages.
What are your home or maintenance repairs expenses?
The default values represent U.S. national averages.
Transportation (auto insurance, registration, gas and maintenance)
The default values represent U.S. national averages.
In-home health care assistance
The default values represent U.S. national averages.
Monthly total aging in place costs
?
$

NUMBER
The average U.S. monthly total aging in place cost is $9,790.
Step 2: Cost Comparisons
?
Compare your projected monthly in-home care costs with estimated monthly costs for long-term senior housing options in your state, including retirement communities, assisted living facilities and in-home health care.
Type of long-term care
?
Average monthly cost in
STATE
?
Your current costs (based on the values you entered in Step 1)
In-home health care
Retirement community
Assisted living facility
Common Senior Housing Options
| | |
| --- | --- |
| Retirement Communities | Also known as independent living, retirement communities are residential settings for people 55+ who are generally healthy, don't need personal care assistance and want to live independently in a shared senior community environment. |
| Assisted Living | Assisted living communities provide direct care to seniors who are not in need of regular medical care but do require some assistance with everyday activities like bathing, getting dressed, or eating. |
| Aging in Place with In-Home Health Care | Aging in place is the term used for those who prefer to remain in their own home rather than relocate to residential senior living. Some seniors may only need minimal assistance from a loved one, while others may require professional in-home health care services to support their evolving needs. |
Typical Long-term Senior Living Costs
The price tags associated with these senior housing options can vary greatly from state to state, impacting your current budget and the financial legacy you leave your family. The national median costs below provide a useful starting point to gauge the potential financial impact of each one.
| Type of Senior Housing | 2021 U.S. Median Cost of Care |
| --- | --- |
| Retirement Communities | $30,624 annually = $2,552 per month |
| Assisted Living | $54,000 annually = $4,500 per month |
| In-home Health Care | $61,776 annually = $5,148 per month |
Factors Impacting Your Long-term Care Needs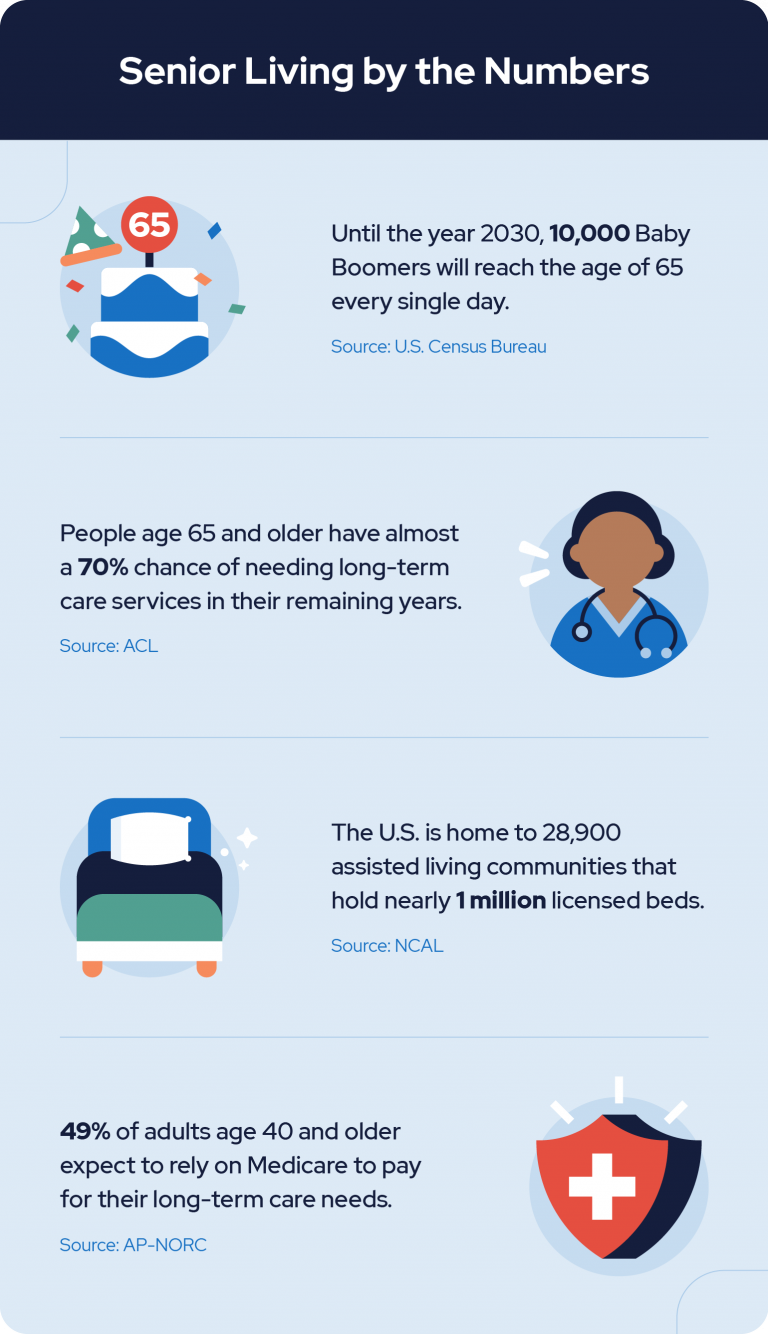 The Administration for Community Living (ACL) estimates that one-third of current 65-year-olds may never require long-term care support, but 20 percent will need it for longer than five years.
Key factors to consider when determining your potential long-term care needs include:
Age:

The older you are, the more likely you are to require long-term care. The ACL also projects that about 70% of adults age 65 and over will need long-term care services during their remaining years.

Sex:

Women have a higher likelihood of needing long-term care because they typically live longer than most men. Statistics also show that women require care for an average of 3.7 years — much longer than men at an average of 2.2 years.

Living situation:

Those who live alone are more likely to need assistance from a paid caregiver.

Health conditions

If you have family history of, or currently live with, a chronic health condition (such as diabetes or high blood pressure), you face an increased risk of needing long-term care.

Lifestyle

Lack of exercise and a poor diet can also increase your risk.
How To Pay For Senior Housing Costs
Identifying the most affordable and appropriate senior housing option for you is an important decision to make as you budget for your future. Depending on the type of senior living you choose, financial assistance programs may be available.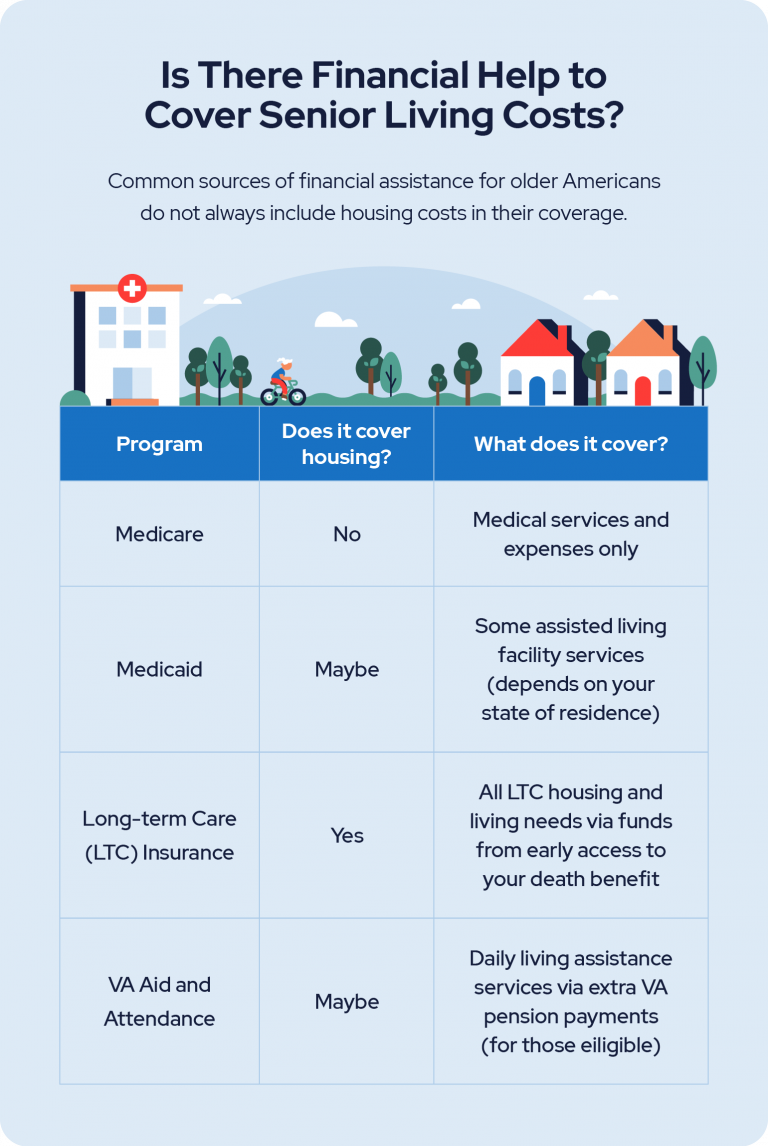 Medicare
According to one study, long-term care facility costs account for the largest portion of out-of-pocket spending among Medicare beneficiaries. The reason for this is that Medicare does not cover long-term senior housing.
Medicaid
Medicaid is one financial assistance program that can help, but only in covering the costs of assisted living facilities. Specific Medicaid coverage details vary by state. It's also important to note that typically only services such as nursing and personal care are covered. States legally cannot apply any Medicaid funds to cover the costs associated with room and board in assisted living. Qualifying for Medicaid requires a low income, so applicants must have exhausted their personal financial resources before applying.
Long-term Care Insurance
When you purchase a life insurance policy, you have the option to add a long-term care rider, which allows you early access to a percentage of your death benefit while you're still alive. You can apply those funds to pay for long-term care services not covered by Medicare.
VA Aid and Attendance
The U.S. Department of Veterans Affairs (VA) offers additional monthly payments to a qualified veteran's monthly VA pension, known as the VA Aid and Attendance benefit. This supplemental financial aid is available to those requiring assistance in performing daily activities, like bathing, feeding and dressing.
Selecting the senior living option that's right for you requires studying the financial burdens each one brings with it. This assisted living cost calculator is designed to provide you with a simplified overview of your potential costs to make the decision process easier.
Last Modified: May 23, 2023
Share This Page
5 Cited Research Articles