Home Health Care: Pros and Cons Plus Other Options
Many types of home care exist, but Medicare doesn't cover them all. Home health care is just one type of home care that's covered by Medicare under certain conditions, such as length of care and type of service needed.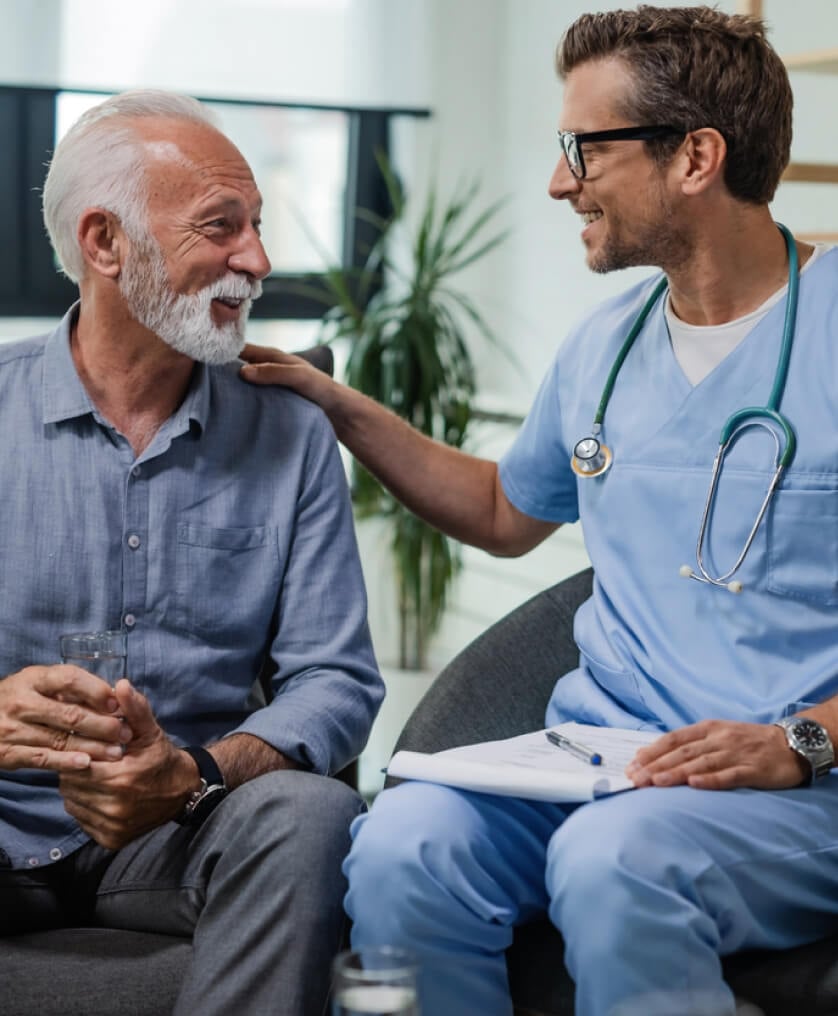 Edited By

Lee Williams

Lee Williams

Senior Financial Editor

Lee Williams is a professional writer, editor and content strategist with 10 years of professional experience working for global and nationally recognized brands. He has contributed to Forbes, The Huffington Post, SUCCESS Magazine, AskMen.com, Electric Literature and The Wall Street Journal. His career also includes ghostwriting for Fortune 500 CEOs and published authors.

Read More

Published: September 17, 2021
Updated: October 9, 2023
6 min read time
This page features 8 Cited Research Articles
Whether you're in the process of advanced care planning or researching different care options for a loved one, at some point you may ask yourself, "What is home health care?" There are many specialized care options to choose from, home health care included, which can make it difficult to choose which is best for your situation.
This guide will help you better understand home health care — how it works, specific services included and what Medicare will cover under this type of care.
What Is Home Health Care?
Home health care is an umbrella term that includes a variety of in-home care services to help you recover from an illness or injury. These services can range from helping you increase your independence to maintaining a sufficient level of functionality or slowing progressive decline.
You'll find that home health care is often more affordable than care given in a hospital or skilled nursing facility, but just as helpful.
Who Needs Home Health Care?
To receive home health care services, a doctor will need to prescribe this care for you. They will only do this when it's determined that you are homebound and need short-term medical care.
What Does Home Health Care Include?
There's a broad range of services included in home health care, and an even larger list when talking about home care. The two can be easily mistaken for each other, but there are specific differences.
Home health care provides assistance with physician-directed care to help you recover. These services typically only last a short time and include physical therapy, speech-language pathology services and medical social services.
Alternatively, home care can include assistance with more general activities, such as grooming and going to the bathroom.
Types of Home Care and Their Costs

Deciding if you or a loved one needs home care is a big decision, so you want to be sure it's the right choice and you can afford it. To do this, evaluate individual needs and if they align with various home care options.
There are several types of home care, home health care being just one of them. There are also companion health services and private nursing care that you can utilize in the case that home health care isn't necessary.
Companion Care Services
Companion care services are often more general, everyday assistance. According to Visiting Angels Living Assistance Services:
[Companion] Care will typically include a number of ways to make daily living easier and safer for the care recipient. For example, a caregiver might perform errands, such as grocery shopping or picking up medications, on behalf of a senior. At other times, caregivers will plan and prepare regular meals, perform light housekeeping duties and offer medication reminders.
This kind of care is typically most beneficial when you or your loved one can still perform personal tasks such as dressing or bathing but need help with other daily chores. These services are typically not covered by Medicare.
According to the Genworth Cost of Care survey, companion care services (classified in this study as "homemaker services") cost an average of $151 per day. This number comes out to an average of $4,615 per month or roughly $55,381 per year, based on care provided 40 hours per week.
Home Health Care
Unlike private nursing care, whose services are often utilized long-term, home health care is typically only used for a short while. A doctor must prescribe these services for you, and the home health care aides must be able to give medical assistance.
Home health care services include:
Part-time or intermittent care
Physical or occupational therapy
Speech-language pathology services
Medical social services
Certain osteoporosis drugs for women
The cost of home health care is typically low. Medicare covers 100 percent of all the above services when you meet the required qualifications. If you need any medical equipment, such as a wheelchair or walker, you'll be responsible for paying 20 percent of the Medicare-approved amount.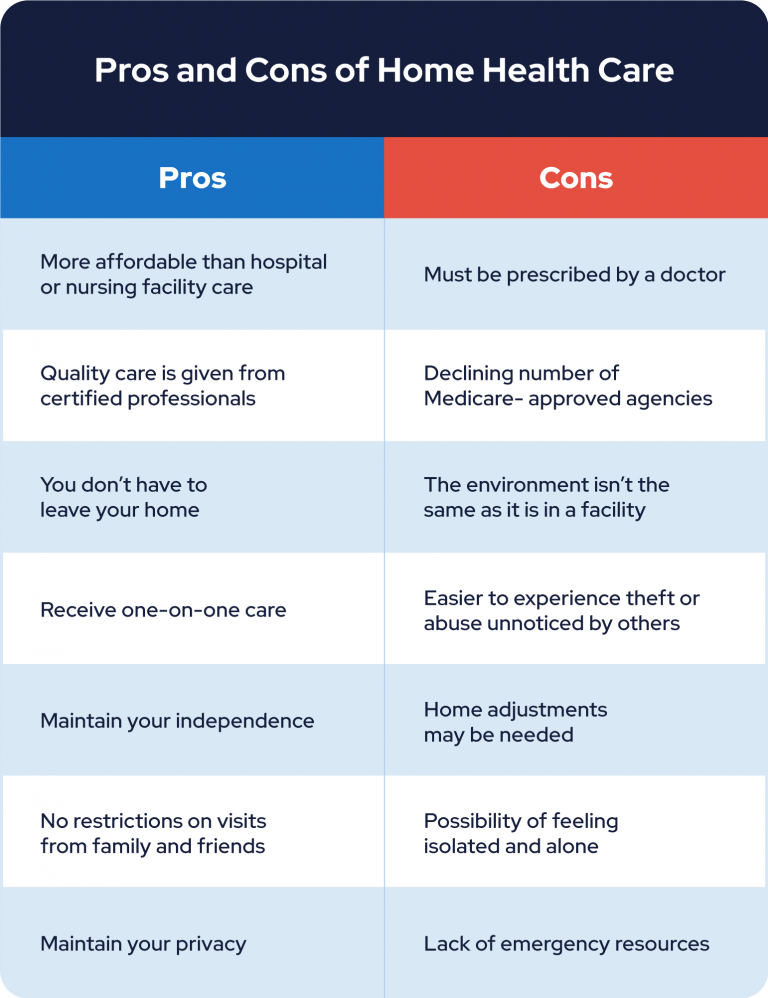 Private Nursing Care
Though similar to companion care, private nursing care is best for those with a chronic illness or disability who need long-term assistance.
According to Bayada, these services include:
Feeding tube or catheter care
Ventilator or tracheostomy care
Monitoring vital signs
Administering medications
Ostomy/gastrostomy care
Care for specific diseases or conditions including traumatic brain injury, spinal cord injury, amyotrophic lateral sclerosis (ALS) or multiple sclerosis (MS)
Medicaid covers many of these services, but Medicare does not. Similar to home health care, private nursing care must be prescribed by a licensed doctor. Data from Genworth shows that the average monthly cost of a home health aide is about $4,713, based on care provided 40 hours per week.
Home Health Care vs. Hospice vs. Palliative Care
Home health care can often be confused for hospice or palliative care, but they aren't the same. As previously mentioned, home health care is typically only used for the short term and the main goal is to help you get better.
The goal of palliative care is to improve quality of life, and it's often used for an extended time. According to Get Palliative Care, it's best for those with a serious illness who need extra support. This type of care can be administered in either a hospital or home setting.
Hospice is a comfort care that differs from curative care. According to Vitas Healthcare, it's often short-term and for individuals who have a prognosis of six months or less to live. This care is typically only given in the home.
Paying for Home Health Care
When you're enrolled in either Medicare Part A or Medicare Part B, the cost of your home health care services will be completely covered. If you're ineligible to receive Medicare or the care you've been prescribed is outside of Medicare's coverage, there are a few other ways you can pay for the assistance you need, including:
Medicaid
Veteran programs
Programs of All-Inclusive Care for the Elderly (PACE)
Long-term care insurance or private insurance
Personal assets such as annuities, investments or real estate
Because home health care is short-term and more affordable than care in a facility, you may not need additional financial assistance. However, if you do need additional help, federal programs like Medicaid and PACE were designed to provide this.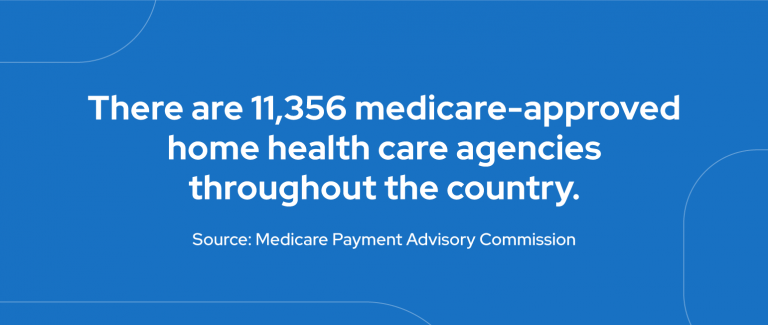 When Does Medicare Cover Your Home Health Care?
Medicare will cover your home health care services if you meet the following criteria:
You've been prescribed the care by a licensed physician
A licensed physician has created a care plan for you and will review it regularly
A doctor has certified that you need one or more of the Medicare-approved services and you are homebound
The home health care agency is Medicare-approved
Once you've met all of these conditions, your doctor will work directly with the home health care agency to get you the care you need.
Asking yourself questions like, "What is home health care?" and "Will I need it or another type of care at some point?" are normal things to consider when making plans for your future. Once you understand the services provided under this type of care and how much it may cost, you can make more informed decisions for yourself or a loved one.
If you're unsure how to set up a Medicare plan that will ensure the greatest benefits towards this kind of care, it's always best to talk with an expert. They can walk you through what the insurance does and doesn't cover, and give you a good idea of what kind of coverage you may need.

Last Modified: October 9, 2023
Share This Page
8 Cited Research Articles
Need Help Planning Your Retirement?
Yes, I'm Interested
I Have Help Already
I Will Manage It Myself
RetireGuide will soon offer services to help you better manage your retirement.
We will be offering assistance with annuities, life insurance, Medicare and financial planning. Sign up for updates and be the first to know when these services are available.
Get the right information to stay on top of your retirement planning.
Sign up for our newsletter for our latest retirement planning guides, tips and more!
Who Am I Calling?
Calling this number connects you to one of our trusted partners.
If you're interested in help navigating your options, a representative will provide you with a free, no-obligation consultation.
Our partners are committed to excellent customer service. They can match you with a qualified professional for your unique objectives.
We/Our Partners do not offer every plan available in your area. Any information provided is limited to those plans offered in your area. Please contact Medicare.gov or 1-800-MEDICARE to get information on all of your options.
888-694-0290