What Does a Patient Advocate Do and Is It Covered by Medicare?
With all the medical jargon and often fast-paced environment, visiting the doctor can sometimes be overwhelming. Getting more information and asking for the next steps after receiving a diagnosis or undergoing a test can be confusing and difficult if you don't know where to start or the most important things to ask.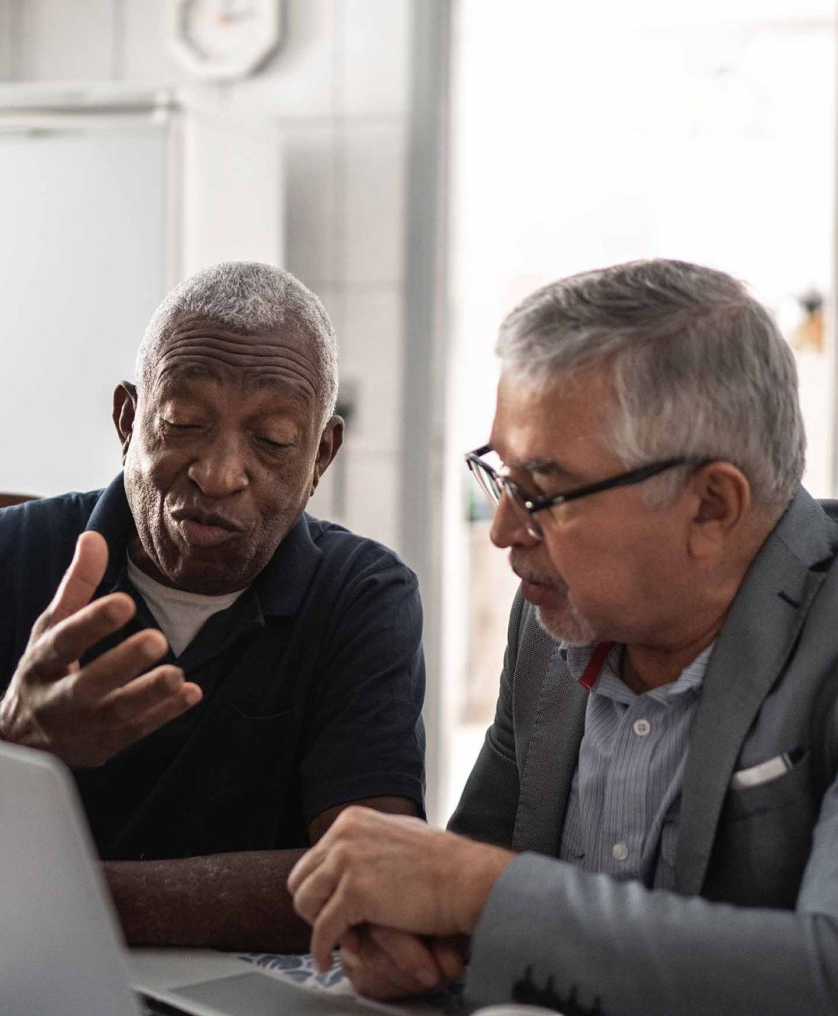 Edited By

Lee Williams

Lee Williams

Senior Financial Editor

Lee Williams is a professional writer, editor and content strategist with 10 years of professional experience working for global and nationally recognized brands. He has contributed to Forbes, The Huffington Post, SUCCESS Magazine, AskMen.com, Electric Literature and The Wall Street Journal. His career also includes ghostwriting for Fortune 500 CEOs and published authors.

Read More

Published: October 28, 2021
Updated: October 9, 2023
7 min read time
This page features 4 Cited Research Articles
"What does a patient advocate do?"
"How do I go about hiring one?"
"What services do they provide?"
These are all common questions you might ask when deciding if a patient advocate would be beneficial for your unique situation. In this post, we'll cover the answers to these questions as well as tips for hiring an advocate and taking on the role of advocate for a loved one.
What Is a Patient Advocate?
A patient advocate is an individual who supports and advises patients in their health care needs. Those who work in a patient advocate role often focus on helping those with a specific condition or need. In fact, most private patient advocate foundations focus their services around those with a chronic illness or a life-threatening disease.
Other common terms for a patient advocate include:
Medical advocate
Health advocate
Patient liaison
Patient representative
Consumer advocate
If you have a trusted family member or close friend with previous medical experience, you can also choose to have them act as your liaison. Be sure to weigh the pros and cons together before opting for this route.
Common Patient Advocate Responsibilities
With a variety of different titles and work settings, it can be difficult to determine if using the services of an advocate is necessary. So, what does a patient advocate do?
Patient liaison responsibilities differ depending on the organization and area of medicine emphasized.
Aside from providing communication between patients, medical professionals and family members, patient advocate services can also include:
Identifying care issues
Referring to health care professionals
Conflict resolution
Crisis management
Patient rights support
Assistance in finding financial resources
Help setting up doctor appointments
Medical advising
Legal help
Reading and understanding medical charts and documents
While some hospitals and insurance companies employ their own patient advocates, you may also choose to hire a private third party to fill this role. Each advocate may provide different services and offerings, so it's important to determine your specific needs before hiring one.
Does Medicare Cover Patient Advocacy?
Private patient advocates are paid out of pocket. However, Medicare has its own Medicare Beneficiary Ombudsman that assists with getting issues resolved and provides helpful information for you to make the best health care decisions possible.
To receive advocacy and assistance, contact your local State Health Insurance Assistance Program (SHIP). According to the Centers for Medicare and Medicaid Services, SHIP provides free health insurance guidance for those with Medicare benefits.
Have you selected your 2024 Medicare plan?
Maximize your Medicare savings by connecting with a licensed insurance agent. Annual Enrollment is open until December 7th.
Types of Patient Advocates
The types of patient liaisons differ in many ways. Some advocates specifically focus on advising in a certain setting, while others focus on advocacy through certain types of insurance. Hospital patient advocates, independent patient advocates and Medicare advocates are all different types of patient advocates.
The biggest difference between these types of advocates is who their allegiance is to. Hospital advocates are typically employed by a hospital's risk management department and therefore have specific boundaries set by the hospital. An independent advocate works directly for you and a Medicare advocate often works for Medicare or the state.
Family members can also provide advocacy. In some cases, it may be beneficial to have a close family member act as your representative along with another type of advocate. The two can work together to help you receive the best possible care.
How To Find a Medical Advocate
You may find your insurance or the hospital you're being treated at has its own patient advocates. These advocates often don't cost you anything, but be cautious.
It can be tempting to opt for a "free" hospital or insurance advocate, especially when you're already paying high costs for health care. However, though not always the case, some advocates who work for hospitals or insurance companies may be partial to their institution. This could leave you with an advocate who's looking out for said hospital or insurance company's best interests, rather than yours.
With only about 75,000 patient advocates in the U.S., how do you find one that meets your needs?
You can start by looking for different patient advocate companies or organizations, such as:
If you still haven't found an advocate near you, you can simply search "patient advocate" online and include your desired location.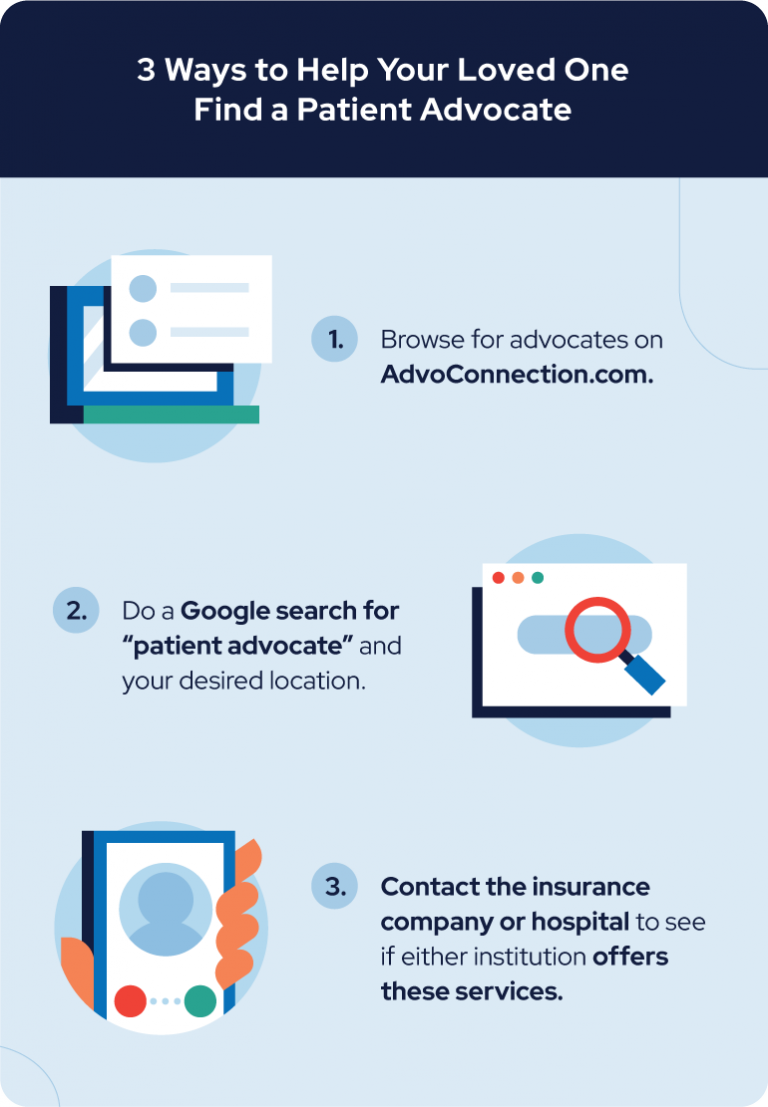 Patient Advocate Interview Questions
Many advocates also undergo different types of training or receive college degrees in different subjects. For that reason, it's important to find out what you can about different patient liaisons before choosing one to advocate for something as important as your health.
Although there is no specific degree program for patient advocates, most are well educated beyond a high school diploma. In fact, one data study by Zippia shows that 79 percent of health advocates have one or more college degrees.
Asking the right questions will help you find a private patient advocate who will be best suited for you.
Potential patient advocate interview questions you can ask include:
How do you handle stressful situations?
Have you handled similar cases in the past?
What are your credentials?
How much do you charge?
What are your typical working hours?
What past experiences have prepared you for my unique case?
How would you handle an ethical dilemma?
Be sure to explain your case well and the type of assistance you're looking for. This can help the advocates you interview get to know you better and showcase past experiences that have prepared them to take care of your situation.
Advocating for a Loved One
If your loved one would like you to fill the role of advocate, you should be aware of the potential emotional toll it can take on you. One study by the Journal of Clinical Oncology shows that 50 percent of patient advocates feel exhausted from their advocacy work and 40 percent feel sadness from it.
This same survey showed that there are also benefits of being a patient advocate, including the feeling of satisfaction and empowerment.
If your loved one has asked you to advocate for them, the following tips can help you get started:
Ask lots of questions
Write everything down
Pay close attention to doctors' and nurses' instructions
Understand and communicate your loved one's wishes
Take time to practice self-care
Advocating for a loved one can be hard, time-consuming work. However, it can also be rewarding.
Never Miss Important News or Updates with Our Weekly Newsletter
Get money-saving tips, hard-to-find info and tactics for a successful retirement in our free weekly newsletter.
Preventing Burnout When Advocating for a Loved One
Many patient advocates experience exhaustion at some point. Exhaustion without rest or time to recover can quickly lead to feelings of burnout, making it difficult to advocate for your loved one.
To avoid burnout, schedule time to rest and relax. If you find yourself too busy, consider asking another trusted friend or family member to step in for a day or two so you can recover physically, emotionally and mentally.
You can also experience symptoms of burnout when your body doesn't get the proper nutrition. Caring for a loved one can be time-consuming, making it easy to skip meals here and there or forget to drink enough water. However, getting the right amount of nutrients and fluids improves both your physical and mental stamina, which can help prevent burnout.

Now that you're no longer asking, "What does a patient advocate do?" you can spend time finding one that fits your needs. If you're still unsure if hiring a patient advocate is the right move for you, talk with an expert who can help you decide. You may also consider talking with trusted family members and friends to get their opinions and guidance as well.
Last Modified: October 9, 2023
Share This Page
4 Cited Research Articles
Need Help Planning Your Retirement?
Yes, I'm Interested
I Have Help Already
I Will Manage It Myself
RetireGuide will soon offer services to help you better manage your retirement.
We will be offering assistance with annuities, life insurance, Medicare and financial planning. Sign up for updates and be the first to know when these services are available.
Get the right information to stay on top of your retirement planning.
Sign up for our newsletter for our latest retirement planning guides, tips and more!
Who Am I Calling?
Calling this number connects you to one of our trusted partners.
If you're interested in help navigating your options, a representative will provide you with a free, no-obligation consultation.
Our partners are committed to excellent customer service. They can match you with a qualified professional for your unique objectives.
We/Our Partners do not offer every plan available in your area. Any information provided is limited to those plans offered in your area. Please contact Medicare.gov or 1-800-MEDICARE to get information on all of your options.
888-694-0290