14 Accessible Vacations for Senior Citizens With Limited Mobility
When you're a senior with limited mobility, you don't have to forgo vacations. Check out our guide to learn about the best accessible vacation spots, along with tips on how to plan your adventure.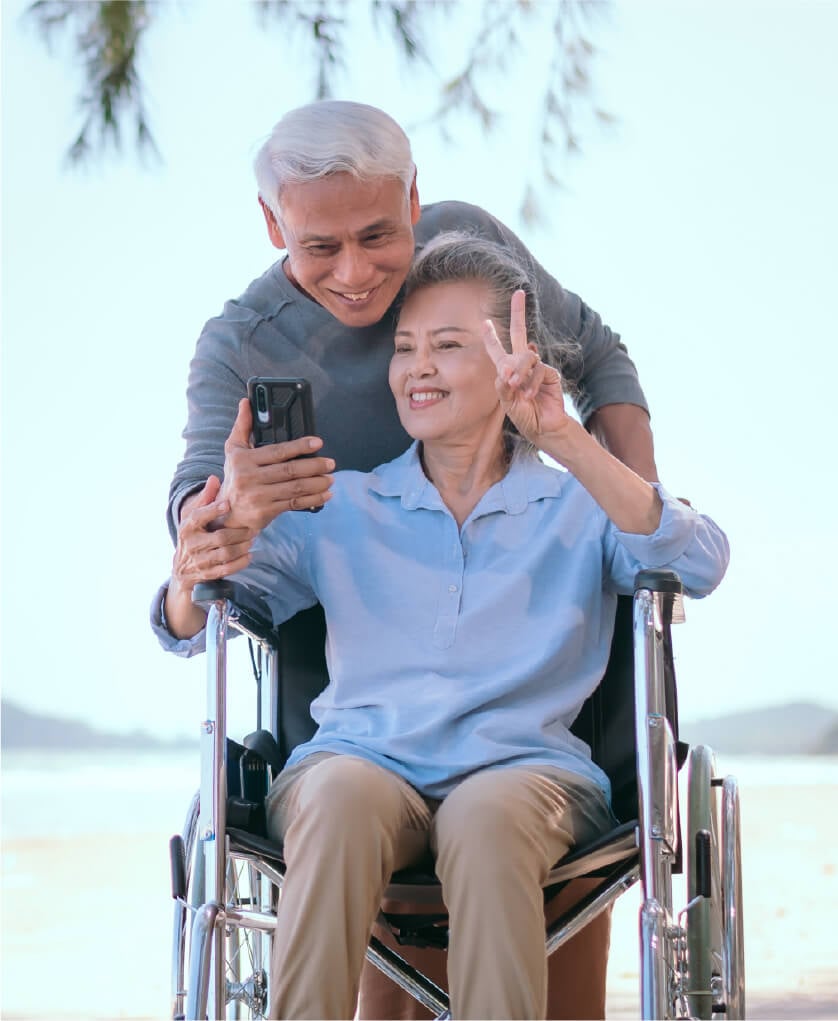 Written by

Christian Simmons

Christian Simmons

Financial Writer

Christian Simmons is a writer for RetireGuide and a member of the Association for Financial Counseling & Planning Education (AFCPE®). He covers Medicare and important retirement topics. Christian is a former winner of a Florida Society of News Editors journalism contest and has written professionally since 2016.

Read More

Edited By

Lamia Chowdhury

Lamia Chowdhury

Financial Editor

Lamia Chowdhury is a financial content editor for RetireGuide and has over three years of marketing experience in the finance industry. She has written copy for both digital and print pieces ranging from blogs, radio scripts and search ads to billboards, brochures, mailers and more.

Read More

Published: June 29, 2022
Updated: May 26, 2023
11 min read time
This page features 2 Cited Research Articles
There's a common misconception that, as you age, life becomes less exciting. Maybe you can't walk long distances or need to use a cane or a wheelchair to get around. But even with limited mobility, you shouldn't be discouraged from enjoying your golden years post-retirement. In addition, creating a retirement bucket list can provide you with a tangible set of goals and exciting experiences to strive for, ensuring that this period of your life is rich with adventure, fulfillment and joy.
While it might require some planning, there is no shortage of great vacation ideas for seniors with limited mobility. Whether you want to ferry through the refreshing mist of Niagara Falls, catch an amazing city skyline atop Seattle's Space Needle or decompress aboard a Caribbean cruise ship, our guide will help you find the perfect accessible vacation for you.
14 Best Wheelchair-Friendly Vacation Spots for Seniors With Disabilities
When you plan any vacation, it's important to figure out what destinations appeal most to you. Below, we've outlined some of the best accessible vacation locations in the US.
Niagara Falls State Park, New York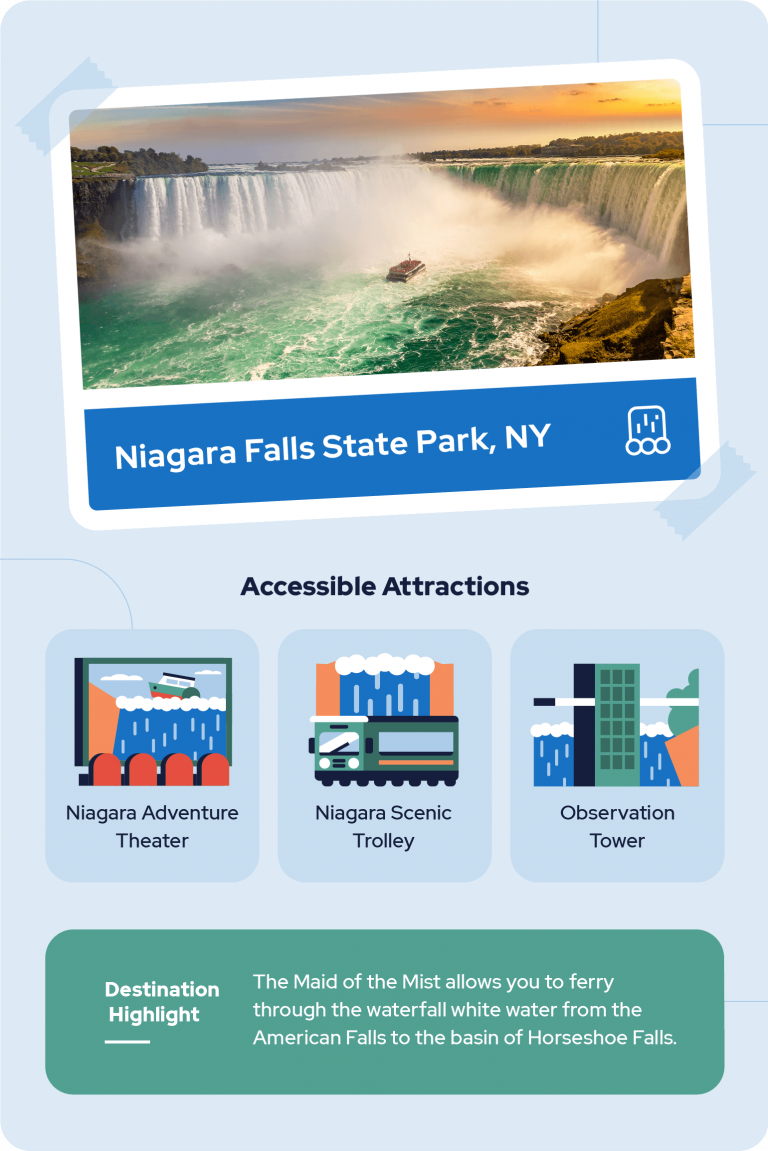 Niagara Falls State Park offers both entertainment and awe-inspiring scenery that are accessible for all visitors. Some major attractions at the park include the Niagara Adventure Theater, Niagara Scenic Trolley and the Observation Tower.
Each venue mentioned above is wheelchair-accessible, and restaurants around Niagara such as the Rainbow Room and the Hard Rock Cafe often feature ramps and accessible restrooms.
Destination Highlight: One of the best accessible attractions is the Maid of the Mist, the electric boat tour that ferries you through the misty waterfall white water from the American Falls to the basin of the Horseshoe Falls.
Philadelphia, Pennsylvania
Philadelphia is a city with a plethora of interesting accessible hotels, restaurants, museums and historic sites.
When you're getting around the city, you have the option to transport yourself via the Southeastern Pennsylvania Transportation Authority (SEPTA) or the Philly PHLASH. Both transportation options offer wheelchair-accessible buses with lifts and ramps that can be lowered to street level.
A bonus is that senior citizens can ride on the Philly PHLASH for free, providing transportation to historic sites such as The Franklin Institute, the Philadelphia Museum of Art, Penn's Landing, the Philadelphia Zoo and more.
Destination Highlight: The Liberty Bell serves as an accessible landmark that serves as a symbol of America's values of independence and freedom.
San Francisco, California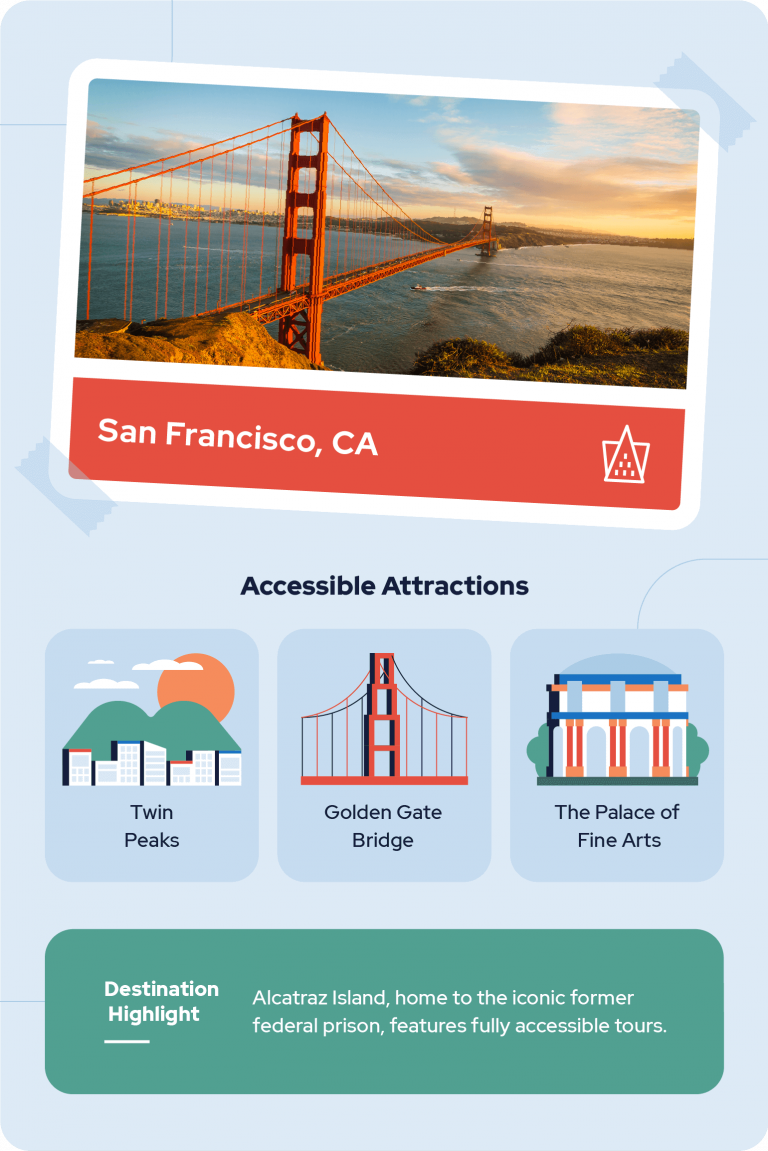 San Francisco is one of the most culturally diverse and accessible cities in the world. The city features trains, city buses and streetcars accessible to wheelchairs.
Some of the most iconic areas to visit in San Francisco include the Golden Gate Bridge, which provides access to its pedestrian walkway, and Twin Peaks, which offers sweeping views of the city's skyline.
Destination Highlight: Alcatraz Island, home to the iconic former federal prison, features accessible tours, parking and Braille resources.
3 Minute Quiz: Can You Retire Comfortably?
Take our free quiz & match with a financial advisor in 3 easy steps. Tailored to your goals. Near you or online.
San Antonio, Texas
San Antonio is a city with historic sites, lively theme parks and beautiful spots for sightseeing. A centerpiece of the city is its River Walk, which runs through the heart of downtown along the San Antonio River. The walk features ramps, elevators and an accessibility map to coordinate the path.
You can also visit the Alamo, a historical site where pivotal battles occurred during the Texas Revolution. Today, the Alamo is an accessible tourist location that provides opportunities for peaceful strolls in its gardens, shrine and iconic church.
Destination Highlight: Morgan's Wonderland is a San Antonio theme park founded specifically for persons with disabilities. The park features more than 25 wheelchair-accessible attractions including Ferris wheels, swings and carousels.
Daytona Beach, Florida
If you enjoy outdoor activities and soaking up the sun, then Daytona Beach might be the vacation spot for you. Some fun activities you can do include fishing at the Daytona Pier, watching movies at the Paragon Theater or visiting the Daytona International Speedway.
Destination Highlight: Daytona Beach's "World's Most Famous Beach" is known for its lush palm trees, tropical atmosphere and white, powdery sand. This beach also offers free access to wheelchair-friendly parking.
Chicago, Illinois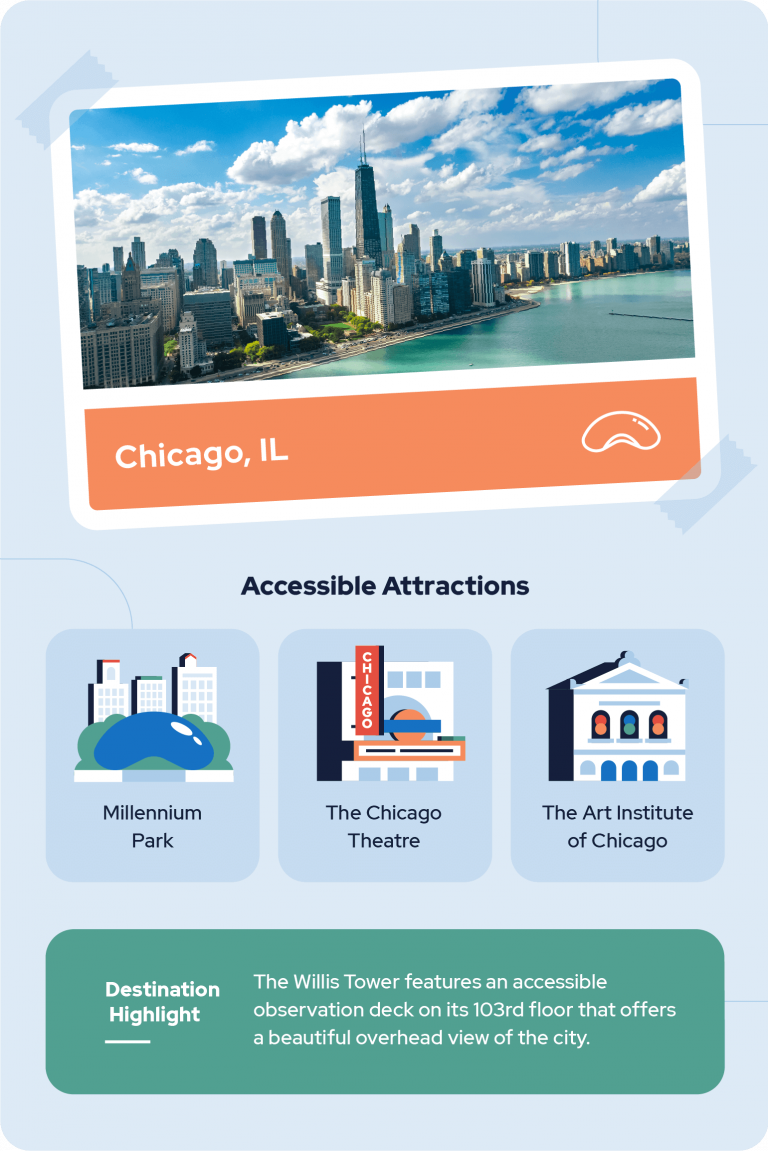 Chicago is known for its towering skyscrapers and deep dish pizza, and is a great vacation destination for those who love sightseeing and entertainment. If you're looking for the perfect place to take a picture, you might visit the Millennium Park and pose next to the iconic Cloud Gate sculpture, also known as "The Bean."
Another must-visit attraction is the Chicago Theatre, which you might recognize from its appearance across pop culture representations of the Windy City. The theater features plays, comedy shows and concerts with wheelchair-accessible seating and restrooms.
Destination Highlight: Willis Tower is a 108-story skyscraper that features an overview of the city from the observation deck on its 103rd floor. The deck is completely accessible with ramps, and wheelchairs are even available to rent.
Oahu, Hawaii
The Hawaiian island Oahu is famous for its beautiful beaches and tropical weather. There are all-terrain wheelchairs available at beaches such as Ala Moana Beach Park, Kailua Beach Park and more. In Honolulu, you might visit the Pearl Harbor Aviation Museum or Iolani Palace, the former home to Hawaii's last monarchs.
Destination Highlight: Hanauma Bay Nature Preserve stands out as a gorgeous beach where you can watch dolphins, attend sunset dinner cruises or participate in Luaus. Call ahead of time and you can reserve a beach-friendly wheelchair.
Never Miss Important News or Updates with Our Weekly Newsletter
Get money-saving tips, hard-to-find info and tactics for a successful retirement in our free weekly newsletter.
San Diego, California
San Diego is known for its great weather year-round and beautiful beaches. Ocean Beach and Mission Beach are both wheelchair-accessible and offer rentals for beach-friendly wheelchairs. You can explore the city via the San Diego Trolley, which discounts tickets for people with disabilities.
Destination Highlight: The San Diego Zoo is known as one of the best zoos in the world with more than 3,500 animals and 700,000 different plant species. The zoo features an ADA shuttle service and an accessibility map for guests with disabilities.
Seattle, Washington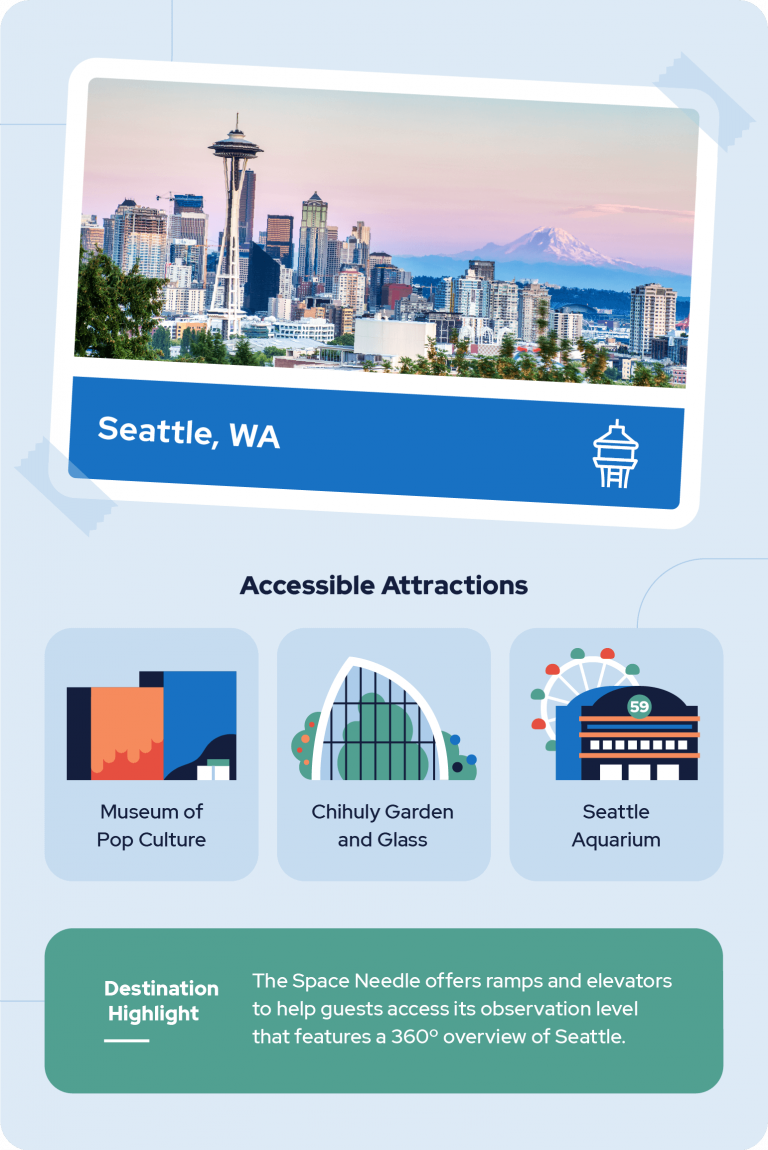 Home to the Space Needle, Seattle, Washington, is a city bustling with accessible attractions. You can ferry to Bainbridge Island and get a view of Seattle's skyline or visit the Chihuly Garden and Glass museum to see the stunning workmanship of Dale Chihuly's vibrant sculptures.
Destination Highlight: The Space Needle is a futuristic-looking landmark that stands 605 feet tall and features ramps and elevators to help travelers ascend to the top of the building. There, you have a 360º view over Seattle, including views of Mount Rainier and the Cascade Mountains.
Washington, D.C.
People often vacation to America's capital city to enjoy its museums, stunning architecture and historic monuments. Destinations such as the Washington Monument, White House, National Zoo and National Air and Space Museum are all wheelchair-accessible.
Destination Highlight: The Lincoln Memorial is a free historic landmark with ramps and elevators available to transport you to a picturesque statue of our 16th president.
Miami, Florida
Miami is a vibrant city with a diverse population, beautiful architecture and accessible beaches. Some of the best attractions in the area include the Art Deco Historic District and Zoo Miami.
The Art Deco Historic District is a great place to soak in retro, colorful architecture. While it can get busy at times, the area is equipped with a well-cared-for sidewalk along with plenty of ramps.
Destination Highlight: The city of Miami Beach offers a breezy atmosphere and a beautiful view of the ocean. This beach offers both motorized and manual wheelchairs for those with limited mobility.
3 Minute Quiz: Can You Retire Comfortably?
Take our free quiz & match with a financial advisor in 3 easy steps. Tailored to your goals. Near you or online.
Atlanta, Georgia
Atlanta is the perfect destination for historians and sightseeing enthusiasts alike with its wide array of zoos, gardens, parks and historic landmarks. Whether you're searching for a peaceful afternoon at the Centennial Olympic Park or the Atlanta History Center, there's plenty to do for visitors with limited mobility.
Destination Highlight: The World of Coca-Cola stands out as an accessible museum highlighting the history of the nation's most popular soft drink. The museum is completely ADA-compliant and offers courtesy wheelchairs.
Las Vegas, Nevada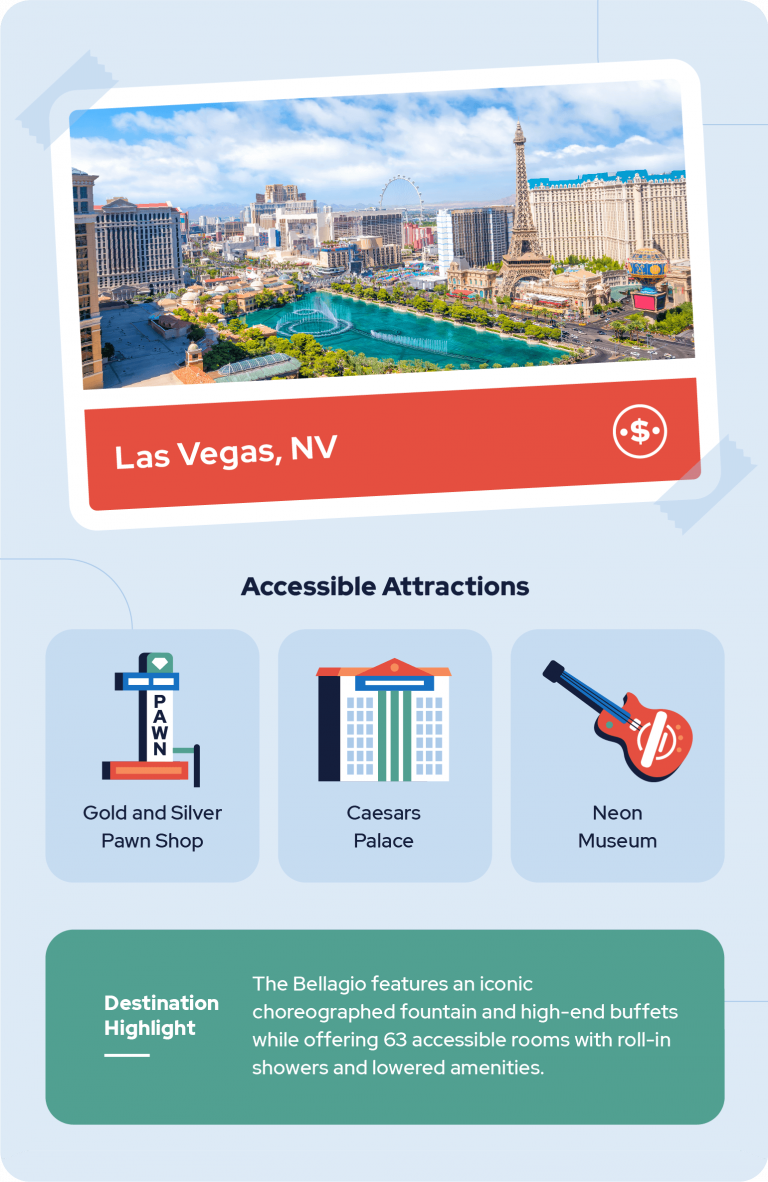 Located in Nevada, "Sin City" is known for its entertainment and nightlife. Whether you want to sightsee along the Vegas Strip, visit the Gold and Silver Pawn Shop from the "Pawn Stars" TV show or visit the shops next to Caesars Palace, there's never a shortage of wheelchair-friendly activities in Sin City.
Destination Highlight: The Bellagio is an iconic Vegas resort known for its infamous choreographed fountain, high-end buffets and casino. The resort offers 63 accessible rooms with roll-in showers, shower chairs and lowered amenities.
Royal Caribbean Symphony of the Seas Cruise
If you'd rather visit multiple destinations, a cruise may be the perfect solution.
Royal Caribbean's Symphony of the Seas cruise features over 40 accessible cabins with roll-in showers and fold-out shower benches. Known as one of the largest cruise ships in the world, the cruise also features theaters, live orchestras and accessible pools with lift chairs.
Destination Highlight: The best part of this cruise is its accessible design. The ship offers ramps, elevators, lifts for outdoor pools, accessible bathrooms and resources for those with hearing and visual disabilities.
Planning an Accessible Vacation
It's not always easy to plan an accessible vacation. When you're a senior with limited mobility, there are some destinations that aren't as easy to navigate. For example, if there's rough or rocky terrain across a vacation destination, it may be best to choose somewhere else to visit.
But with a little planning, you can embark on a vacation that caters to your needs.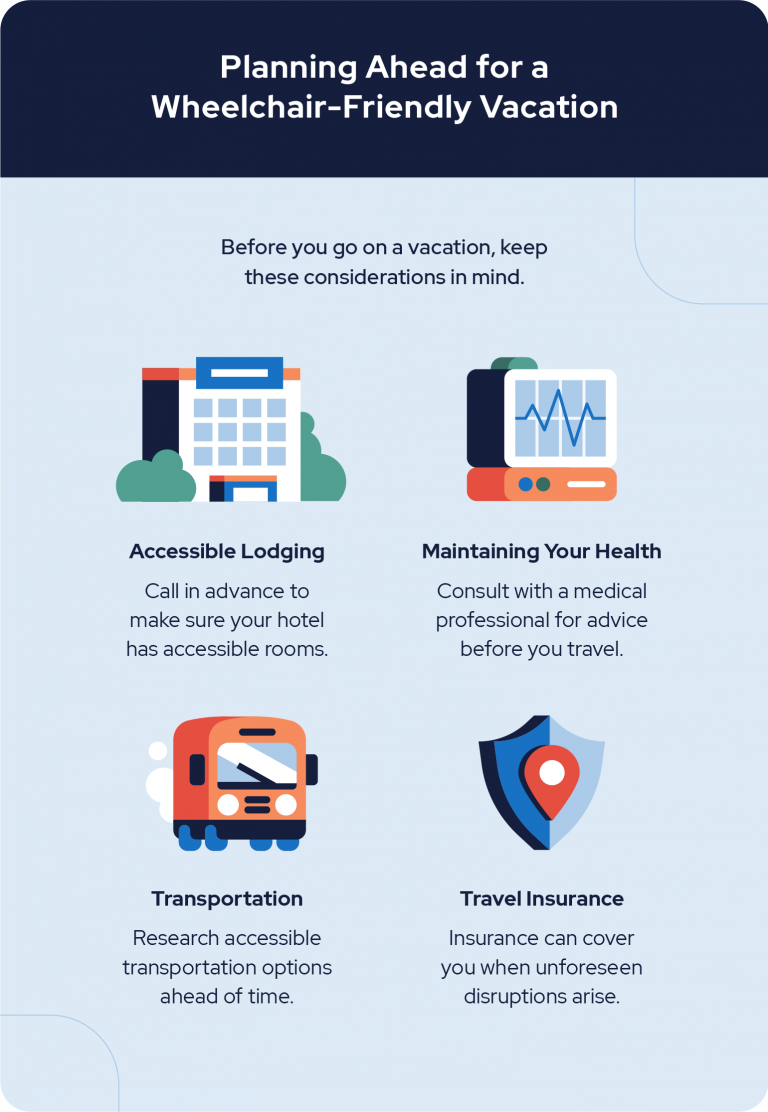 The first step toward planning your getaway is to book accessible lodging.
Booking Accessible Lodging
One of the most important things to look for when planning an accessible vacation is that your hotel can accommodate your needs. To make sure a hotel is right for your getaway, call the front desk ahead of time. Ask them about their accommodations and if they have any accessible bedrooms available.
Some other considerations you should ask about include:
Hotel location

Try to find centrally located hotels that are nearby the sights you want to see.

Bathroom accommodations

Make sure that you can access your shower and that your room's toilet has grab bars, if necessary.

Elevator access

If your hotel has an accessible room available on a higher floor, an elevator is a must-have for those in wheelchairs.

Spaciousness

Inquire about how spacious your room is to ensure that you can maneuver around properly in a wheelchair.
Once you've confirmed that your hotel fits your needs, you can move forward with your reservation.
Never Miss Important News or Updates with Our Weekly Newsletter
Get money-saving tips, hard-to-find info and tactics for a successful retirement in our free weekly newsletter.
Maintaining Your Health
When traveling with a disability, health should be a top priority. Here are some things you should consider doing before you leave:
Visit your doctor

Before you travel, make sure that a professional reviews your medical history and travel plans. They will be able to make recommendations for how you can stay healthy.

Think about your medications

If you're leaving the country, check with the U.S. Embassy to ensure your medications are legal where you're headed.

Check your health insurance

If you travel overseas, your health insurance might not cover you. To prepare for emergencies, you may want to invest in travel health insurance.
Make sure to pack smart and stock up on your necessary medications before you take off on your vacation. Additionally, if you're booking a cruise, make sure that the cruise line has any items you should need such as a wheelchair or medical oxygen.
Check out our post about Medicare coverage for people with disabilities to make sure you're staying on top of your health.
Finding Transportation
One of the most difficult parts about traveling with limited mobility is finding transportation.
When it comes to accessible transportation, you should think about:
Air travel

Persons with disabilities are usually able to board airplanes early and receive assistance moving baggage from airline personnel.

Public transportation

Public transit is often a more accessible option than taxis or rideshares.

Renting mobility devices

Some destinations offer mobility equipment, such as scooters or wheelchairs, for rent.

Plan ahead

Call any transportation services you plan on using ahead of time to ensure they can meet your needs.
The more you research your transportation options ahead of time, the more you can relax and enjoy your vacation.
Obtaining Travel Insurance
To ensure you're prepared in the event of unforeseen circumstances, travel insurance can be a sound investment. Normally, travel insurance covers all travelers, including those with disabilities, but always double-check this before you invest in it.
Some outcomes for which travel insurance may cover you include:
Medical expenses

If you injure yourself on your journey, travel insurance can help you cover medical bills, even if you're traveling overseas.

Trip interruptions

If you need to return home or cancel your trip altogether, travel insurance can reimburse you for costs already incurred.

Loss of baggage

You can receive reimbursement if your baggage is lost or stolen.
Keep in mind that travel insurance varies by provider. Research and compare different options before you commit to an insurance plan. You may want to keep information about what medical expenses your insurance would cover in a medical binder.
Final Thoughts Before Booking Your Next Vacation
There are plenty of great accessible vacations available to seniors with limited mobility. By choosing the right vacation destination and planning ahead, your adventure is sure to go smoothly.

Last Modified: May 26, 2023
Share This Page
Need Help Planning Your Retirement?
Yes, I'm Interested
I Have Help Already
I Will Manage It Myself
RetireGuide will soon offer services to help you better manage your retirement.
We will be offering assistance with annuities, life insurance, Medicare and financial planning. Sign up for updates and be the first to know when these services are available.
Get the right information to stay on top of your retirement planning.
Sign up for our newsletter for our latest retirement planning guides, tips and more!
Your web browser is no longer supported by Microsoft. Update your browser for more security, speed and compatibility.
If you need help pricing and building your medicare plan, call us at 844-572-0696