Will Medicare Pay For a Lift Chair? Coverage Guide & How To Qualify
Medicare can help pay for a portion of a lift chair under DME (durable medical equipment) coverage if you qualify. Medicare will cover up to 80% of the approved cost of the motor, but you'll owe any copies, deductibles and additional costs, such as cushions for the chair.
Written by

Christian Simmons

Christian Simmons

Financial Writer

Christian Simmons is a writer for RetireGuide and a member of the Association for Financial Counseling & Planning Education (AFCPE®). He covers Medicare and important retirement topics. Christian is a former winner of a Florida Society of News Editors journalism contest and has written professionally since 2016.

Read More

Edited By

Savannah Hanson

Savannah Hanson

Senior Financial Editor

Savannah Hanson is a professional writer and content editor with over 16 years of professional experience across multiple industries. She has ghostwritten for entrepreneurs and industry leaders and been published in mediums such as The Huffington Post, Southern Living and Interior Appeal Magazine.

Read More

Reviewed By

Aflak Chowdhury

Aflak Chowdhury

Medicare Expert

Aflak Chowdhury is a Medicare expert and independent insurance broker specializing in group health insurance. He has worked for major providers including Humana and Principal Financial Group and today works mainly in the small group market.

Read More

Published: May 10, 2021
Updated: January 18, 2023
12 min read time
This page features 5 Cited Research Articles
Overview: Medicare Lift Chair Coverage
| Medicare Plan | Lift Chair Coverage |
| --- | --- |
| Part A (Inpatient) | N/A |
| Part B (Outpatient) | Covers up to 80% of lift chair mechanisms. |
| Part C (Medicare Advantage) | Generally covers up to 80% of lift chair mechanism costs. Costs vary by plan. |
| Part D (Prescription Drugs) | N/A |
| Supplemental Insurance | Can help cover out-of-pocket costs related to lift chairs. Coverage varies by plan. |
It's not always easy to decipher Medicare's coverage requirements. However, there are only a few criteria governing whether you qualify for lift chair coverage or not.
In this article, we'll break down lift chair Medicare coverage and explore several important questions about cost, eligibility, and other coverage options.
What Is a Lift Chair?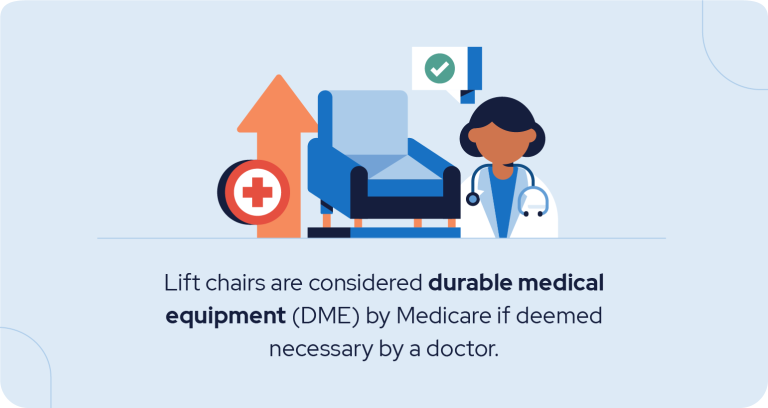 Lift chairs are like recliners that help you stand up from a seated position. These chairs use a powered lifting mechanism to push the entire chair up from its base into a more upright, vertical position.
The lifting motion in the chair is often controlled with a handheld remote; pressing the up button will move the chair from reclined to seated to lifted in a vertical position that plants your feet on the ground.
People use lift chairs to assist with standing up and sitting down, aiding conditions like:
Joint pain
Reduced muscle strength
Mobility challenges.
Motorized lift chairs are one of many home modifications that can make it easier for you to age in place as you get older.
Does Medicare Cover Lift Chairs?

Yes, Medicare coverage includes some lift chair costs. However, Medicare does not cover the entire chair. Medicare Part B covers up to 80% of the motorized lifting mechanism as durable medical equipment (DME).
A doctor must prescribe the lift chair to you for a medical reason, like:
Arthritis
Muscle weakness
Balance issues
Medicare Advantage (Medicare Part C) plans also generally pay for 80% of lift chair mechanisms. Check with your provider if you have a Medicare Advantage plan to see if your plan covers lift chair mechanisms.
How To qualify for partial reimbursement from Medicare

If you're wondering how to qualify for partial coverage of the lift mechanism on a lift chair, you'll need to meet the medical and financial criteria below.
Determine Medical Necessity
Medicare will only cover part of a lift chair if a doctor evaluates you and writes you a prescription for the chair. Your doctor must determine that the power lift chair is medically necessary and that you would likely be confined to a bed or chair without it.
Lift chairs are usually prescribed to assist patients with:
Severe arthritis
Muscular dystrophy
Other neuromuscular diseases
Your doctor must fill out a certificate of medical necessity for a seat lift mechanism, CMS-849, for you to qualify for Medicare reimbursement. The form contains several questions about your condition to determine your Medicare eligibility.
File for Reimbursement
If you purchase your lift chair from a Medicare supplier, you'll typically have to pay out of pocket for the chair and seek partial reimbursement from Medicare for the motor.
If the equipment supplier participates in Medicare, it will usually file a claim on your behalf. If the supplier doesn't file your claim, you can download and print a request for payment online.
After they process your claim, you'll be reimbursed for the portion covered by Medicare.
It's important to note that you must order your lift chair from a medical supplier that participates in Medicare. Otherwise, none of your expenses will qualify for reimbursement.
How Much Will a Lift Chair Cost With Medicare?
How much you pay out-of-pocket for your lift chair depends on the style and accessories you choose.
Medicare will cover 80% of the lift chair's motorized mechanism if both the doctor and the durable medical equipment provider are enrolled in Medicare.
Lift chair prices can vary widely — from a few hundred to a thousand dollars or more. Your final cost will depend on several factors, including the:
Overall size and weight load of the chair
Type of fabric and amount of cushion in the seat
Positioning of the chair, whether infinite, two-, or three-position
Generally, infinite-position chairs cost more than two-position chairs.
Determining whether your Medicare plan will cover a lift chair can be as easy as speaking with your advisor. However, you might be able to figure out by yourself if the chair will be covered by reviewing the article above.
Lift chairs can be life-changing devices. If you think you might need one, start discussing it with your doctor and your Medicare plan provider.
Never miss important news or updates
Get successful retirement tips in our free weekly newsletter
Frequently Asked Questions About Lift Chairs and Medicare Coverage
Here are a few frequently asked questions to explore Medicare coverage for lift chairs.
Last Modified: January 18, 2023
Share This Page
5 Cited Research Articles
Who Am I Calling?
Calling this number connects you to one of our trusted partners.
If you're interested in help navigating your options, a representative will provide you with a free, no-obligation consultation.
Our partners are committed to excellent customer service. They can match you with a qualified professional for your unique objectives.
We/Our Partners do not offer every plan available in your area. Any information provided is limited to those plans offered in your area. Please contact Medicare.gov or 1-800-MEDICARE to get information on all of your options.
888-694-0290
Your web browser is no longer supported by Microsoft. Update your browser for more security, speed and compatibility.
If you need help pricing and building your medicare plan, call us at 844-572-0696