Will Medicare Pay For a Lift Chair?
The motorized portion of a lift chair is partially covered by Medicare. If you qualify, Medicare will cover up to 80 percent of the approved cost for the motor. You will owe any copays, deductibles and additional costs, such as fabric and cushions for the chair.
| Medicare Plan | Lift Chair Coverage |
| --- | --- |
| Part A (Inpatient) | N/A |
| Part B (Outpatient) | Covers up to 80% of lift chair mechanisms if prescribed by a doctor. Other costs and deductible will still apply. |
| Part C (Medicare Advantage) | Generally covers up to 80% of lift chair mechanism costs. Costs vary by plan. |
| Part D (Prescription Drugs) | N/A |
| Supplemental Insurance | Can help cover out-of-pocket costs related to lift chairs. Coverage varies by plan. |
Medicare Coverage for Lift Chairs
Medicare coverage includes some lift chairs costs, so long as a doctor prescribes it to you for a medical reason, such arthritis or balance issues.
However, Medicare does not cover the entire chair.
Only the motorized lifting mechanism is covered by Medicare Part B as durable medical equipment, or DME.
Medicare will pay 80 percent of the approved cost for the motorized device, but other costs still apply.
Medicare Advantage plans also generally pay for 80 percent of lift chair mechanisms. If you have a Medicare Advantage plan, check with your plan provider.
Lift Chair Expenses Not Covered by Medicare
Medicare won't cover lift chairs that use a spring device to propel you up.
The fabric, cushion and other accessories of a lift chair also aren't covered by Medicare.
Medicare will pay 80 percent of the approved cost for the motorized lifting device. You will owe the remaining 20 percent along with all other costs for the chair and assembly.
The Part B deductible also applies.
How to Qualify for a Medicare Lift Chair
You will need to be evaluated by a doctor who will write you a prescription for the chair.
Your doctor must determine that the power lift chair is medically necessary and that without it, you would likely be confined to a bed or chair.
Lift chairs are usually prescribed to assist patients with severe arthritis, muscular dystrophy or other neuromuscular diseases.
Your doctor must fill out a certificate of medical necessity for a seat lift mechanism, CMS-849, for you to qualify for Medicare reimbursement.
The form contains several questions about your condition that will determine your Medicare eligibility.
To qualify for partial reimbursement from Medicare, you generally must meet the following requirements:
You have severe arthritis of the hip or knee or a severe neuromuscular disease.
You can't stand up on your own from a regular chair.
Without the lift chair, you'd be confined to a bed or chair.
Once standing, you can walk independently, even if you need the assistance of a walker or cane.
You do not live in a skilled nursing facility, hospice or nursing home.
If you purchase your lift chair from a Medicare supplier, you'll typically have to pay out-of-pocket for the chair and seek partial reimbursement from Medicare for the motor.
If the equipment supplier participates in Medicare, it will usually file a claim on your behalf. If the supplier doesn't file your claim, you can download and print a request for payment online.
After the claim is processed, you'll be reimbursed for the portion covered by Medicare.
It's important to note that you must order your lift chair from a medical supplier that participates in Medicare. Otherwise, none of your expenses will qualify for reimbursement.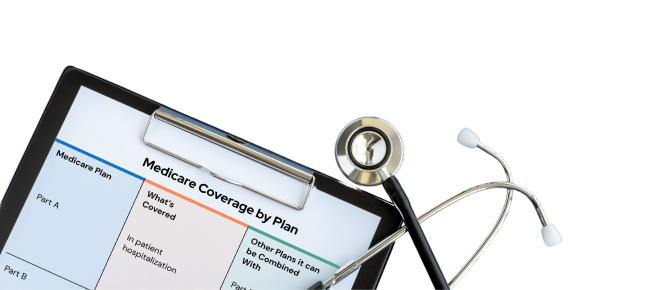 Need FREE Medicare Help?
Our Medicare experts will help you compare, build, and enroll in a plan that gets you the coverages you need at a price you can afford.
Out-of-Pocket Costs for Lift Chairs
How much you pay out-of-pocket for your lift chair depends on the style and accessories you choose.
Medicare will cover 80 percent of the lift chair's motorized mechanism if both the doctor and the durable medical equipment provider are enrolled in Medicare.
Lift chair prices can vary widely, from $300 or $400 to a thousand dollars or more.
Generally, infinite-position chairs cost more than two-position chairs.
Your final cost will depend on several other factors, including the type of fabric and amount of cushioning you select, as well as the size of the chair.
What Is a Lift Chair?
Lift chairs often look like recliners. Both allow you to recline in a backward position and extend your feet.
Unlike a traditional recliner, a lift chair features a powered lifting mechanism that pushes the entire chair up from its base into a more upright, vertical position.
Motorized lift chairs are one of many home modifications that can make it easier for you to age in place as you get older.
Lift chairs help you stand up from a seated position. They are often used by people with mobility challenges, joint pain or reduced muscle strength.
Most lift chairs feature a hand-held remote control.
If the up button is held down, the power chair will move from a reclined position to a seated position and finally a vertical lifted position until your feet touch the ground.
Three Types of Lift Chairs
Two-Position

These are the most basic, and often the most economical, type of lift chairs. They offer a basic recline function of about 45 degrees. The footrest flips into position as the chair reclines. The footrest cannot be operated independently.

Three-Position

These lift chairs can recline to an almost flat position and can stop at any degree in between. As with two-position lift chairs, the footrest flips up as the chair reclines and cannot be operated independently.

Infinite-Position

An infinite-position lift chair allows you recline to a flat position. It also features individual motors for both the back and the footrest, so you can separately adjust each part of the chair.
Some lift chairs offer additional features, such as heat or massage.
Keep in mind that a lift chair is not the same as a stair lift, or a motorized seat that takes you from the bottom to the top of a staircase.
Last Modified: August 3, 2022
Share This Page
4 Cited Research Articles