What Is Life Insurance?
Life insurance is an agreement between you and an insurance company that in exchange for monthly premiums the insurer promises to pay a sum of money to your loved ones when you die. Purchasing a solid life insurance policy can strengthen a well-rounded retirement plan.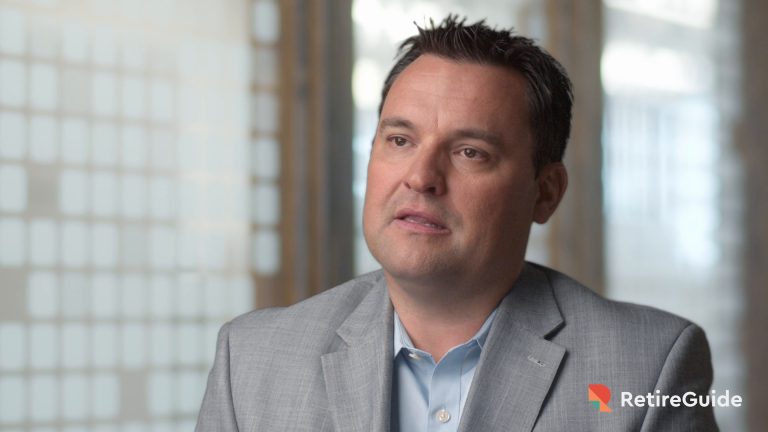 Written by

Rachel Christian

Rachel Christian

Financial Writer and Certified Educator in Personal Finance

Rachel Christian is a writer and researcher for RetireGuide. She covers annuities, Medicare, life insurance and other important retirement topics. Rachel is a member of the Association for Financial Counseling & Planning Education.

Read More

Edited By

Matt Mauney

Matt Mauney

Financial Editor

Matt Mauney is an award-winning journalist, editor, writer and content strategist with more than 15 years of professional experience working for nationally recognized newspapers and digital brands. He has contributed content for ChicagoTribune.com, LATimes.com, The Hill and the American Cancer Society, and he was part of the Orlando Sentinel digital staff that was named a Pulitzer Prize finalist in 2017.

Read More

Reviewed By

Eric Estevez

Eric Estevez

Licensed Independent Insurance Broker

Eric Estevez is a duly licensed independent insurance broker and a former financial institution auditor with more than a decade of professional experience. He has specialized in federal, state and local compliance for both large and small businesses.

Read More

Published: April 22, 2020
Updated: January 17, 2023
5 min read time
This page features 6 Cited Research Articles

How Does Life Insurance Work?

Life insurance may seem confusing. Knowing how life insurance works makes it easier to navigate your options and select the coverage that's right for you.

All life insurance policies fall into two main categories: Permanent and temporary. Each type requires you to pay a premium — often monthly — and all policies have a death benefit for your beneficiaries.

The amount of the death benefit depends on how much coverage you purchase. More coverage equals higher monthly premiums.

Most financial planners recommend buying a policy worth six to 10 times your annual salary. So, if you make $50,000 a year, a policy worth $300,000 to $500,000 is ideal.

To receive money upon your death, your beneficiaries will need to make a claim with the insurance company. Money is typically dispersed one to two weeks after filing a claim.

Options also exist for those who find themselves needing to sell their life insurance policies while they are still alive. Life settlements and viatical settlements are two such options that beneficiaries needing to sell their policies can explore.

Did You Know?

A trust or organization can be named as a beneficiary on your life insurance policy.

Josh Curtis |

0:57

Why is life insurance an important aspect of retirement planning?

Types of Life Insurance

There are two main types of life insurance. Term life lasts for a specific number of years, while permanent life lasts your entire lifetime.

Term Life

Term life insurance provides coverage for a specific amount of time. Your beneficiaries receive a death benefit only if you die within this timeframe. Typical terms include 10, 20 and 30 years.

Term life tends to be the simplest form of life insurance and more affordable than most permanent life policies. However, these no-frills contracts may not cover all your needs.

Permanent Life

Permanent life insurance, as the name implies, offers coverage that does not expire. It also combines a death benefit with a savings or investment account.

It tends to be more expensive than term life. But these higher premiums are paid in exchange for guaranteed lifetime coverage and an accumulating cash value you can borrow against.

Permanent life insurance is actually an umbrella term for several different subtypes of coverage, including whole, universal and variable.

Types of Permanent Life Insurance

Whole Life

Whole life is the most common type of permanent life insurance, according to the Insurance Information Institute. Premiums remain level for the life of the policy. Like universal and variable, whole life builds cash value that grows tax-deferred. This accumulating cash value is tied to a formula determined by the insurance company.

Universal Life

Universal life insurance offers more flexibility than whole life insurance. Policy holders can typically change the amount and frequency of premium payments as well as adjust the death benefit amount. Accumulating cash value is tied to the current interest rate set by the insurer. Universal life is often used as an estate planning strategy to preserve wealth transferred to beneficiaries.

Variable Life

Variable life insurance features an accumulating cash value tied to investment options that work like a mutual fund. These investments are made within the policy's subaccounts and can include stocks, bonds and other options. Your policy's cash value may grow more quickly, but it carries more risk. Returns from these investments are not guaranteed.

Compare Life Insurance

Never Miss Important News or Updates

Get money-saving tips, hard-to-find info and tactics for a successful retirement in our free weekly newsletter.

Life Insurance in Retirement

Nearly half of U.S. households don't have enough life insurance coverage, according to Limra, a life insurance industry group.

Not everyone may need life insurance. However, as you approach retirement, it's important to consider how your loved ones will survive once you're gone.

Purchasing life insurance may be a good idea if you:

Have debt
Live in a joint-income household or are the sole income earner
Own a business
Are paying off a mortgage
Are concerned about funeral expenses
Have any minor children
Have an adult child with special needs
Want to provide an inheritance for your heirs

What Is the Cost of Life Insurance?

The cost of life insurance depends on the type you buy as well as several other factors, including your:

Age
Sex
Personal and family medical history
Weight
Tobacco use

You will likely need to undergo a medical exam or share recent medical records in order to qualify for life insurance.

Many older Americans worry about the cost of purchasing a new life insurance policy. While you can't change your age, you can take other steps, including quitting smoking, exercising regularly and losing weight. These measures can help bring down premium costs.

Otherwise, waiting to buy will always be more expensive. Term life insurance rates will typically be significantly higher for a 60-year-old than for a 50-year-old. The same is true for permanent policies.

Average Monthly Cost for 20-Year Term Life with $500,000 Coverage

| AGE | MALE | FEMALE |
| --- | --- | --- |
| 45 | $95 | $75 |
| 55 | $235 | $161 |
| 65 | $740 | $481 |

Source: Senior Market Sales

Adding a Rider

If you or your spouse already has life insurance, you may consider adding a rider to the policy.

Each rider increases your premium, but these options include benefits on top of normal coverage. This can include the ability to convert a term life policy into a whole life policy or to receive part of the death benefit early if you require long-term care in a nursing home.

Last Modified: January 17, 2023

Share This Page

6 Cited Research Articles
Your web browser is no longer supported by Microsoft. Update your browser for more security, speed and compatibility.
If you need help pricing and building your medicare plan, call us at 844-572-0696