What Is Life Insurance and How Does It Protect You?
Life insurance is a contract between you and an insurance company that provides your loved ones with a death benefit when you pass away in exchange for premium payments. A life insurance policy covers the financial responsibility of any debt, loss of income or burial costs that your family could otherwise face. Purchasing a life insurance policy can strengthen a well-rounded retirement plan.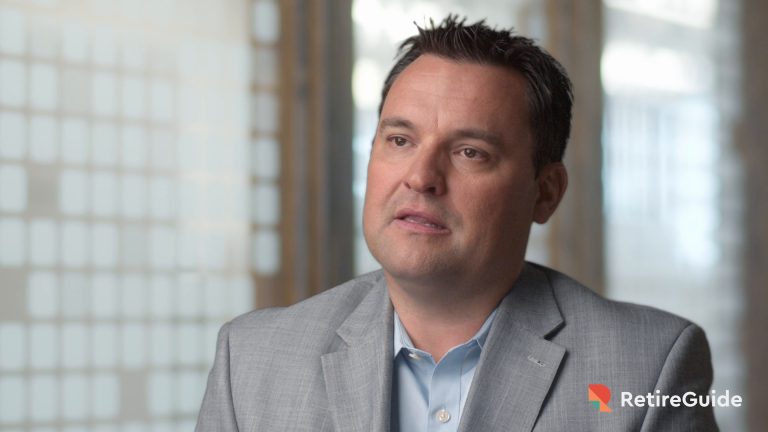 Written by

Lindsey Crossmier

Lindsey Crossmier

Financial Writer

Lindsey Crossmier is an accomplished writer with experience working for The Florida Review and Bookstar PR. As a financial writer, she covers Medicare, life insurance and dental insurance topics for RetireGuide. Research-based data drives her work.

Read More

Edited By

Lamia Chowdhury

Lamia Chowdhury

Financial Editor

Lamia Chowdhury is a financial content editor for RetireGuide and has over three years of marketing experience in the finance industry. She has written copy for both digital and print pieces ranging from blogs, radio scripts and search ads to billboards, brochures, mailers and more.

Read More

Reviewed By

Eric Estevez

Eric Estevez

Owner of HLC Insurance Broker, LLC

Eric Estevez is a duly licensed independent insurance broker and a former financial institution auditor with more than a decade of professional experience. He has specialized in federal, state and local compliance for both large and small businesses.

Read More

Published: April 22, 2020
Updated: October 7, 2023
7 min read time
This page features 5 Cited Research Articles

Key Takeaways

You must keep up with premiums payments for your life insurance policy to remain active.
If your life insurance policy is active when you pass, your beneficiary will receive a death benefit.
There are two main life insurance policy types — term and permanent.

Understanding the Basics of Life Insurance

While the life insurance types and coverage rules can be complex, how life insurance works is simple.

You pay monthly premiums to an insurance company, and they'll pay your beneficiary a death benefit if you were to pass away while the policy is active. They can choose to receive the benefit in a lump sum or in scheduled payments over time.

In some cases, you'll be required to complete a medical exam or fill in an online survey about your health to have your application accepted.

Life insurance typically covers all types of death, with one main exception. If the insured commits suicide within the first two years of the policy being active, the insurance company won't pay out.

Basic Life Insurance Terms

Premiums

The amount you pay to the life insurance company to keep your life insurance policy active.

The individual you select to receive your death benefit.

Death Benefit

The amount, or face value of your policy, that your beneficiary will receive when you pass away.

Optional add-ons you can add to your life insurance policy. Riders provide additional benefits and flexibility, so they usually increase your premium.

Life insurance is an essential component to establishing financial security, which is a challenge during times of high inflation. In fact, 44% of Americans wouldn't be prepared financially if a primary wage earner in their family passed away, according to the 2022 Insurance Barometer Study.

If you're wary of purchasing a life insurance policy due to cost concerns, consider getting a few life insurance quotes, as nearly 80% overestimate the cost of a life insurance policy.

Life insurance coverage is one of the most important financial decisions one can make in their lifetime.

What Does Life Insurance Cover?

Choosing the Right Life Insurance Policy for Your Needs

To choose the right life insurance policy, you need to consider:

Your health
Costs and coverage

Term vs. Permanent Life Insurance

| Policy Type | Coverage Length | Premium Cost | Fixed Death Benefit and Premiums | Cash Value Component |
| --- | --- | --- | --- | --- |
| Term | 10 to 30 years | Affordable | Yes | No |
| Permanent | Lifelong | Usually Expensive | Varies | Yes |

Term policies are best for those looking for short-term coverage at an affordable price.

Permanent policies are best for those with a bigger budget looking for lifelong coverage with investment options.

Compare each life insurance policy type to ensure it fits your financial and lifestyle needs.

Whole Life Insurance vs. Term Life Insurance: Which Is the Best Fit for You?

Pro Tip

Your health and the amount of coverage you need can affect the

cost of your life insurance policy

. If you have poor health, you may want to consider purchasing a policy that doesn't require a medical exam.

Life Insurance Calculator: Estimate Your Needed Coverage

You shouldn't accept the first quote for a term or permanent policy you receive. You can request a quote for the same exact policy from different life insurance companies and receive wildly different numbers.

"Make sure to shop around and compare policies from different providers to find the best one that fits your needs and budget," Linda Chavez Founder & CEO of Seniors Life Insurance Finder told RetireGuide.

Compare at least three life insurance quotes to avoid overpaying on premiums and to find the best policy.

You should also verify that the life insurance company has a high financial strength rating, which dictates how trustworthy a company is to meet financial expectations.

3 Minute Quiz: Can You Retire Comfortably?

Take our free quiz & match with a financial advisor in 3 easy steps. Tailored to your goals. Near you or online.

Applying for Life Insurance and Understanding the Underwriting Process

You can apply for life insurance online directly through the company, or through an agent or broker.

Life insurance companies utilize an underwriting process, which includes a medical exam and questions about your life. If you're found to have too many health risks, you could be denied coverage.

However, this shouldn't be an incentive to lie about your health on your application. If you lie or omit an illness, you'd be committing life insurance fraud.

Poor health doesn't mean high-risk individuals can't get life insurance coverage. Acceptance varies on a case-by-case basis and depends on which policy type you're applying for.

For example, some life insurance policies have accelerated underwriting, which typically doesn't include a medical exam. Accelerated underwriting also typically results in a quicker application approval for coverage.

When Should You Get Life Insurance?

Managing Your Life Insurance Policy

The most important part of managing your life insurance policy is making sure you pay your premiums on time.

If you miss premium payments, your policy could lapse. And if you pass away while your policy is lapsed, your beneficiary won't receive a death benefit in most cases.

There are four other factors to consider when managing your life insurance policy.

Taxes

You may be considering taxation of your life insurance benefit for your beneficiaries. In almost all cases, your life insurance's death benefit is not taxable. However, there are a few rare instances when life insurance may involve taxes. Make sure the fine print of your life insurance policy guarantees a tax-free benefit.

Borrowing From Your Cash Value

If you have a permanent life insurance policy, you can borrow funds from your policy's cash value. However, you should consider consulting with a tax expert or financial planner before doing so. In some cases, you can severely reduce your death benefit and forfeit coverage by borrowing too much.

Converting Your Policy

If you purchased a term policy 20 years back and the term is about to end, you can sometimes convert your term policy into a permanent one. Just know you may have to retake your medical exam and your premiums will be readjusted.

Considering a Life Settlement

Say you decide down the line that you don't want your life insurance policy anymore. You could consider a life settlement, in which you'd sell your policy to a third party for a portion of your death benefit.

Facts About Life Insurance: Must-Know Statistics in 2023

When To Get Life Insurance

There's a common misconception that only those with children need life insurance, but this isn't true. There are many key moments when you should consider purchasing a life insurance policy.

"Life insurance is important to consider during various life milestones. Some key moments include getting married, starting a family, buying a home or launching a business." Dennis Shirshikov, a finance, economics and accounting professor at the City University of New York told RetireGuide.

"For example, when you get married, life insurance can help provide financial security for your spouse in case something happens to you. Similarly, when you have children, a policy can ensure their financial needs are met even if you're not there to provide for them."

Since premiums for life insurance rise as you age, you should consider getting life insurance as soon as possible.

For example, the monthly premium cost is $36.32 for a 20-year term policy with $250,000 of coverage through State Farm for a healthy 50-year-old woman.

For the same exact policy, but quoted for a healthy 65-year-old woman, the quote is $167.04 a month.

Josh Curtis |

0:57

Why is life insurance an important aspect of retirement planning?

Frequently Asked Questions About Life Insurance

Last Modified: October 7, 2023

Share This Page

5 Cited Research Articles
Your web browser is no longer supported by Microsoft. Update your browser for more security, speed and compatibility.
If you need help pricing and building your medicare plan, call us at 844-572-0696