Financial Wellness
Financial wellness is a state of being in which you can meet current and future financial obligations, feel secure in your financial future and make choices that let you enjoy life. Financial wellness can also reduce preoccupation with money needs and improve your mental and physical well-being. Those who practice financial wellness tend to spend wisely, have emergency funds and utilize a budget.
Written by

Terry Turner

Terry Turner

Senior Financial Writer and Financial Wellness Facilitator

Terry Turner has more than 30 years of journalism experience, including covering benefits, spending and congressional action on federal programs such as Social Security and Medicare. He is a Certified Financial Wellness Facilitator through the National Wellness Institute and the Foundation for Financial Wellness and a member of the Association for Financial Counseling & Planning Education (AFCPE®).

Read More

Edited By

Lee Williams

Lee Williams

Senior Financial Editor

Lee Williams is a professional writer, editor and content strategist with 10 years of professional experience working for global and nationally recognized brands. He has contributed to Forbes, The Huffington Post, SUCCESS Magazine, AskMen.com, Electric Literature and The Wall Street Journal. His career also includes ghostwriting for Fortune 500 CEOs and published authors.

Read More

Financially Reviewed By

Ebony J. Howard, CPA

Ebony J. Howard, CPA

Credentialed Tax Expert at Intuit

Ebony J. Howard is a certified public accountant and freelance consultant with a background in accounting, personal finance, and income tax planning and preparation.  She specializes in analyzing financial information in the health care, banking and real estate sectors.

Read More

Published: August 12, 2021
Updated: January 17, 2023
4 min read time
This page features 12 Cited Research Articles
What Is Financial Wellness?
Financial wellness – sometimes referred to as financial well-being – means the ability to have a healthy financial life.
It is being in a situation where you control your day-to-day or month-to-month finances while having the freedom and security to deal with financial emergencies and still stay on track to meet your long-term financial goals.
The U.S. Consumer Financial Protection Bureau (CFPB) identifies four elements that define financial wellness or well-being.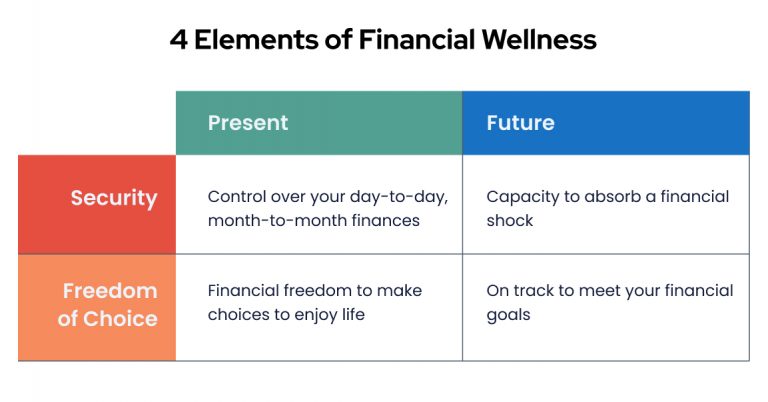 Financial wellness depends heavily on changing your behavior to improve your financial life.
In most cases, the first steps require you to stabilize your day-to-day financial situation to create a solid foundation on which you can build a financial future.
Steps to Achieving Financial Wellness
Developing a plan to live within your financial means
Creating an emergency cash reserve (and creating – in advance – your household definition of "emergency")
Eliminating debt – particularly your credit card and other consumer debt
Creating and sticking to a budget that earmarks money for savings and investments
Building your financial literacy – understanding basics of debt, investing, risk, retirement planning and taxes
Applying your preparations and financial literacy toward a long-term financial plan for your future
Financial wellness allows you to focus less on day-to-day money worries, which is a critical step toward creating a successful and sustainable retirement planning strategy.
You can find financial wellness programs within your workplace, professional financial services companies or non-profit organizations.
Financial Wellness vs. Financial Literacy
Financial wellness is different from financial literacy.
Financial literacy is possessing the skills and knowledge to make informed decisions and effective choices with your financial resources.
Financial wellness is the peace of mind that comes with the financial security and freedom of choice to maintain your financial resources now and in the future – including through financial emergencies.
Financial wellness describes the state of your financial health. It also describes the way your finances affect your physical, mental and social health.
Personal Financial Wellness
About 125 million Americans – 54 percent – say they live paycheck-to-paycheck. That includes 40 percent of people making more than $100,000 a year, according to a 2021 survey by LendingClub Bank.
Anywhere from 12 to 33 percent report trouble paying their bills.
This cycle can make it difficult to understand your current financial situation and make it seemingly impossible to make any long-term financial plans. It also takes a toll on your mental, emotional and physical health.
Did You Know?
Preoccupation with money problems can cause a cognitive decline of 13 IQ points – about the same as losing a full night's sleep – according to a 2013 study published in the journal Science.
Your financial wellness goals can be very personal and likely change as your priorities change, and you age toward retirement.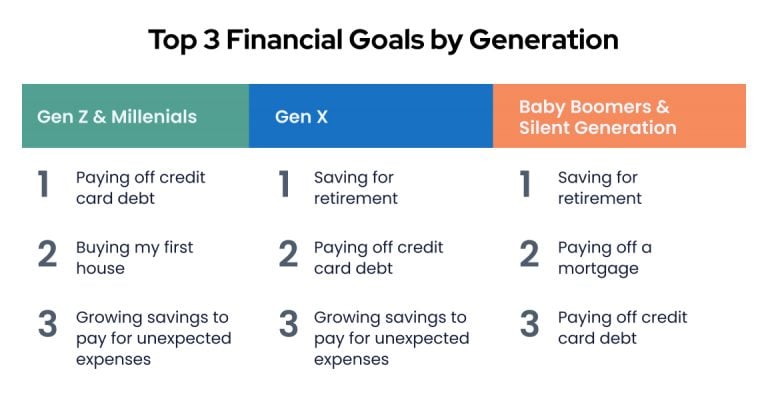 Talking with a professional, licensed financial advisor – especially one who specializes in financial wellness – can help get you started.
Never Miss Important News or Updates
Get money-saving tips, hard-to-find info and tactics for a successful retirement in our free weekly newsletter.
Employee Financial Wellness
You may be able to access financial wellness resources through your job.
The number of employer-sponsored financial wellness programs increased in the 2010s. By 2019, 53 percent of companies offered financial wellness programs, compared to just 24 percent four years earlier, according to a survey by Bank of America.
Also, more employers now believe they have an "extreme responsibility" for their employees' financial wellness – more than a four-fold increase between 2013 and 2020.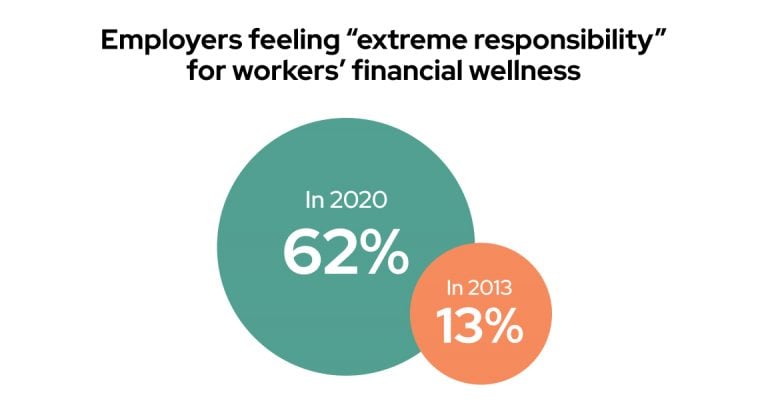 Employers are partly driven toward improving workers' financial wellness because it also improves their bottom line.
Other surveys suggest that financial stress makes workers less productive.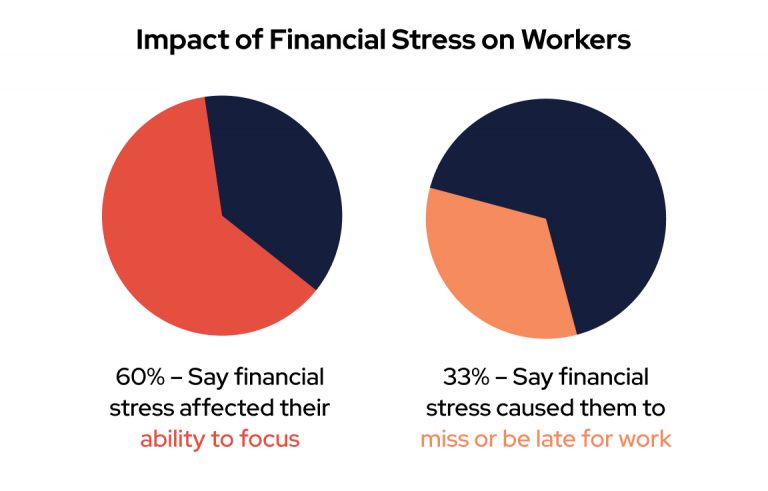 At the same time that businesses are expanding access to financial wellness programs, the number of individual workers who rate their own financial wellness as good or excellent is declining.
Ask your human resources department or Employee Assistance Program (EAP) about financial wellness resources that may be available to you. If your company doesn't offer a financial wellness program, ask it to consider adding one. Companies are increasingly seeing a business benefit in the idea.
Last Modified: January 17, 2023
Share This Page
12 Cited Research Articles
Who Am I Calling?
Calling this number connects you to one of our trusted partners.
If you're interested in help navigating your options, a representative will provide you with a free, no-obligation consultation.
Our partners are committed to excellent customer service. They can match you with a qualified professional for your unique objectives.
We/Our Partners do not offer every plan available in your area. Any information provided is limited to those plans offered in your area. Please contact Medicare.gov or 1-800-MEDICARE to get information on all of your options.
844-524-0356
Your web browser is no longer supported by Microsoft. Update your browser for more security, speed and compatibility.
If you need help pricing and building your medicare plan, call us at 844-572-0696