Financial Wellness
Financial wellness is a state of being in which you can meet current and future financial obligations, feel secure in your financial future and make choices that enhance your life. Financial wellness can also reduce concerns about money and improve your mental and physical well-being. Those who practice financial wellness tend to spend wisely, have emergency funds and utilize a budget.

Written by

Terry Turner

Terry Turner

Senior Financial Writer and Financial Wellness Facilitator

Terry Turner has more than 35 years of journalism experience, including covering benefits, spending and congressional action on federal programs such as Social Security and Medicare. He is a Certified Financial Wellness Facilitator through the National Wellness Institute and the Foundation for Financial Wellness and a member of the Association for Financial Counseling & Planning Education (AFCPE®).

Read More

Edited By

Lamia Chowdhury

Lamia Chowdhury

Financial Editor

Lamia Chowdhury is a financial content editor for RetireGuide and has over three years of marketing experience in the finance industry. She has written copy for both digital and print pieces ranging from blogs, radio scripts and search ads to billboards, brochures, mailers and more.

Read More

Reviewed By

Stephen Kates, CFP®

Stephen Kates, CFP®

Certified Financial Planner™ Professional and Founder of Clocktower Financial Consulting

Stephen Kates is a Certified Financial Planner™ professional and personal finance expert with over a decade of experience working with individuals and families who need help with their finances. With experience as a financial advisor for two of the largest financial firms in the country, Stephen has worked with hundreds of clients to build comprehensive financial plans to grow and protect their wealth.

Read More

Published: August 12, 2021
Updated: August 7, 2023
5 min read time
This page features 5 Cited Research Articles
What Is Financial Wellness?
Financial wellness – sometimes referred to as financial well-being – means the ability to have a healthy financial life.
It is being in a situation where you feel in control of your day-to-day or month-to-month finances while having the security and flexibility to deal with financial emergencies and still stay on track to meet your long-term financial goals.
"Financial wellness is important because it helps people take control of their financial lives and make smart decisions about their money. Being financially well means having greater peace of mind and security for the future," Michael Collins, CFA® and founder of WinCap Financial told RetireGuide.
The U.S. Consumer Financial Protection Bureau (CFPB) identifies four pillars that define financial wellness or well-being: the ability to absorb a financial shock, financial freedom, having control over your finances and staying on track to meet your financial goals.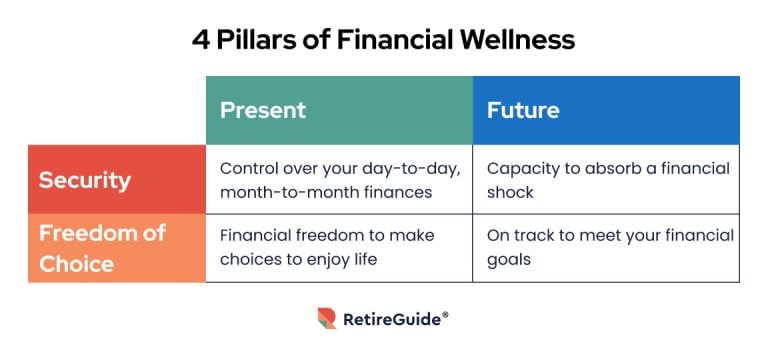 Financial wellness allows you to focus less on day-to-day money worries – which is a critical step toward creating a successful and sustainable retirement planning strategy.
Financial Wellness vs. Financial Literacy
Financial Literacy

Possessing the skills and knowledge to make informed decisions and effective choices with your financial resources.

Financial Wellness

The peace of mind that accompanies financial security and freedom of choice to maintain your financial resources now and in the future – including through financial emergencies.
Financial wellness describes the state of your financial health. It also describes the way your finances affect your physical, social and mental health.
How To Improve Financial Wellness
Improving your financial wellness depends heavily on changing your behavior.
In most cases, the first steps require you to stabilize your day-to-day financial situation to create a solid foundation on which you can build a financial future.
7 Ways To Improve Financial Wellness
Developing a plan to live within your financial means
Creating an emergency cash reserve (establish in advance your household definition of "emergency")
Automating your savings wherever possible
Eliminating debt – particularly your credit card and other consumer debt
Creating and sticking to a budget that sets aside money for savings and investments
Building your financial literacy – understanding the basics of debt, investing, risk, retirement planning and taxes
Applying your preparations and financial literacy toward a long-term financial plan for your future
Resources for Low-Income Seniors
Financial wellness is relevant across all age groups. From those living leisurely in retirement to new parents, each stage of life presents unique objectives for achieving financial stability.
Top 3 Financial Goals by Generation
| Gen Z & Millennials | Gen X | Baby Boomers & Silent Generation |
| --- | --- | --- |
| 1. Paying off credit card debt | 1. Saving for retirement | 1. Saving for retirement |
| 2. Buying their first house | 2. Paying off credit card debt | 2. Paying off a mortgage |
| 3. Growing savings to pay for unexpected bills | 3. Growing savings to pay for unexpected bills | 3. Paying off credit card debt |
How Long Will My Retirement Savings Last? [Calculator]
Financial Wellness Tips
Collins also offered RetireGuide several financial wellness tips, "Make sure to remain engaged in your financial decisions and track your spending and investments to make sure you're on course for a secure retirement."
"You should create a retirement budget and stick to it, use tax-advantaged retirement accounts, and consider the potential impact of inflation when making decisions. You should also make sure you have adequate life and health insurance and have a plan in place for potential long-term care needs."
Barbara O'Neill, Ph.D., CFP®, CRPC, AFC® and the author of "Flipping a Switch: Your Guide to Happiness and Financial Security in Later Life" gave RetireGuide a unique tip on achieving financial wellness. O'Neill focused more on the mental and social health aspects. "If you've been frugal as a super saver for four to five decades, you can spend more. Spending more can be a part of your financial wellness journey."
"This can be difficult for a lot of people, but if you have the resources — take your family on a cruise, fly first class or do a number of things you weren't able to do before. Try to do things sooner than later, because you may not be as healthy or mobile later on."
Financial Wellness Programs
You can find financial wellness programs within your workplace, college, professional finance company or a non-profit organization.
If you're enrolled at a college, look on your school's website to see if they have any free financial wellness programs available. It will likely be on your school's calendar.
If you're not in college, your next best option is to check if your workplace has a program. For example, Paypal and Microsoft both have comprehensive packages to help their employees reach financial wellness.
If your college or workplace doesn't offer a financial wellness program, you can look into services from a professional finance company or non-profit organization.
Did you know?
The Consumer Financial Protection Bureau has a
free questionnaire
to measure your current financial well-being and receive personalized steps to help you improve.
Employee Financial Wellness
In response to growing stress about financial wellness, many employers are expanding support to their employers, according to a 2022 survey by Bank of America. The same survey also found that 62% of employers now believe they have an "extreme responsibility" for their employees' financial wellness – which is an increase from 56% in 2021.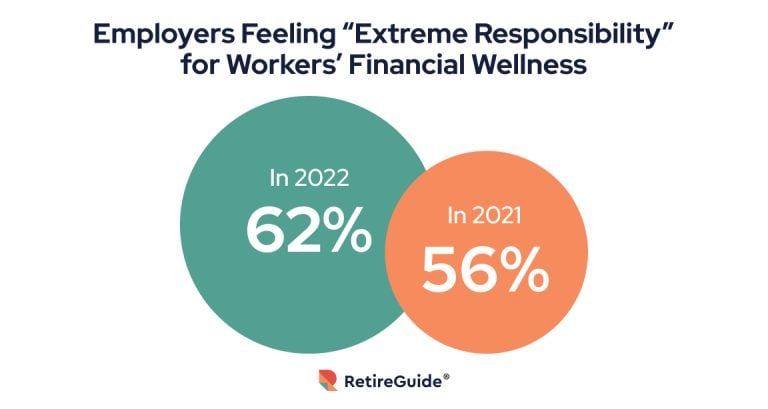 Employers are partly driven toward improving workers' financial wellness because it also improves their bottom line.
Other surveys suggest that financial stress makes workers less productive.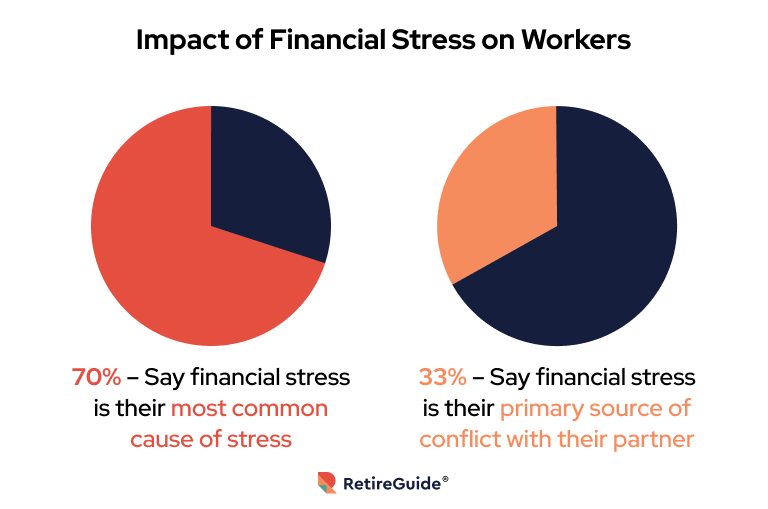 At the same time that businesses are expanding access to financial wellness programs, the number of individual workers who rate their own financial wellness as good or excellent is declining.
Ask your human resources department or Employee Assistance Program (EAP) about financial wellness resources that may be available to you. If your company doesn't offer a financial wellness program, ask them to consider adding one.
Editor Malori Malone contributed to this article.
Advertisement
Connect With a Financial Advisor Instantly
Our free tool can help you find an advisor who serves your needs. Get matched with a financial advisor who fits your unique criteria. Once you've been matched, consult for free with no obligation.
Last Modified: August 7, 2023
Share This Page
5 Cited Research Articles
Your web browser is no longer supported by Microsoft. Update your browser for more security, speed and compatibility.
If you need help pricing and building your medicare plan, call us at 844-572-0696