Resources for Low-Income Seniors
To address the financial challenges faced by low-income older adults, our guide provides a compilation of free or low-cost assistance programs in different categories. The categories include programs for health care, prescriptions, nutrition, housing and more. These resources aim to lessen financial strain and improve the well-being of older adults.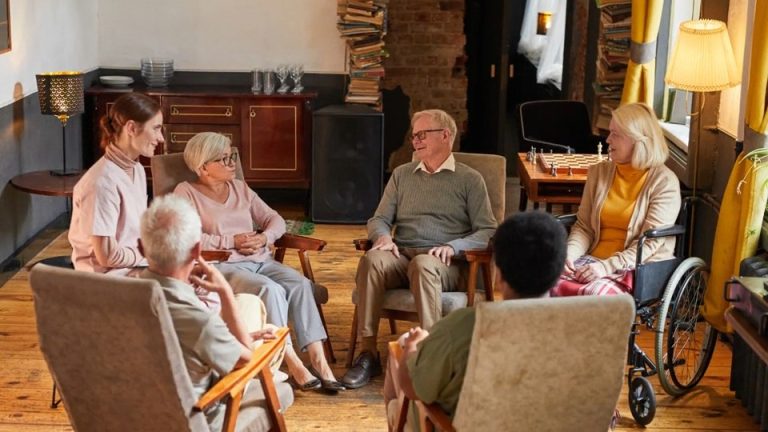 Written by

Lindsey Crossmier

Lindsey Crossmier

Financial Writer

Lindsey Crossmier is an accomplished writer with experience working for The Florida Review and Bookstar PR. As a financial writer, she covers Medicare, life insurance and dental insurance topics for RetireGuide. Research-based data drives her work.

Read More

Edited By

Lamia Chowdhury

Lamia Chowdhury

Financial Editor

Lamia Chowdhury is a financial content editor for RetireGuide and has over three years of marketing experience in the finance industry. She has written copy for both digital and print pieces ranging from blogs, radio scripts and search ads to billboards, brochures, mailers and more.

Read More

Reviewed By

Rubina K. Hossain, CFP®

Rubina K. Hossain, CFP®

Certified Financial Planner™ Professional and Client Advisor for MEIRA

Rubina K. Hossain is a Certified Financial Planner™ with over 15 years of expertise. As a Client Advisor for MEIRA in Coral Gables, Florida, she crafts personalized financial plans and investment portfolios to help clients achieve their goals. Rubina's dedication to her profession has earned her the prestigious CFP® certification and the role of Chair of the Council of Examinations at the CFP® Board. Beyond her work, she empowers disadvantaged girls through budgeting workshops and provides pro bono advice to women in need.

Read More

Published: August 7, 2023
Updated: August 16, 2023
9 min read time
This page features 10 Cited Research Articles

Key Takeaways

Many programs can offer additional coverage for health care and prescription costs — on top of your Medicare coverage.
Meals on Wheels and the Medicare Grocery Card are programs that can provide free or low-cost options for nutritional meals.
Housing programs, like the Housing Choice Voucher Program, can provide affordable housing for seniors who qualify.
The IRS provides free tax assistance to qualifying older adults.

Understanding the Challenges Faced by Low-Income Seniors

According to the National Council on Aging, more than 15 million adults over 65 years old are economically insecure with incomes below 200% of the poverty level.

Affordable housing is still out of reach for most low-income seniors and health care costs are expected to continue rising significantly over the next three years, according to Fierce Health Care.

"The main burdens affecting the quality of life for lower income seniors are health care costs, lack of transportation and increased cost of living," Karla Radka, President & CEO of Senior Resource Alliance told RetireGuide. "This information is data-driven from our elder helpline. These are the areas that really affect their quality of life when it comes to financial stability."

With concerns over a looming recession and rising prices, it's more important than ever to be aware of free financial aid resources for seniors. These resources can help you better manage your finances to achieve the retirement lifestyle you deserve.

Our editorial team compiled a list of five buckets with resources to help low-income older adults.

One organization, BenefitsCheckUp, provides resources for several of the buckets listed above. BenefitsCheckUp offers nationwide resources to help pay for health care, prescriptions, food, utilities and more.

"Every year, older adults leave $30 billion in benefits on the table that they're eligible for but don't enroll in. They might not think they're eligible, or don't know about the benefits or the application process is too complicated." Brandy Bauer, Director of the National Council on Aging's Health Coverage and Benefits, told RetireGuide.

"BenefitsCheckUp is a free tool that helps older adults see what federal, state and local benefits they might be eligible for depending on where they live, and which points them to the agencies where they can apply. People can also call our free helpline, 1-800-794-6559, where benefits specialists help them with the application process as well."

Health Care and Prescription Resources for Seniors

Health care and drug costs are rising each year while more older adults are suffering from chronic conditions. In 2021, the National Council on Aging reported that 80% of adults 65 or older have at least one chronic condition. Their 2023 updated report shows that percentage has jumped to 95%.

The leading causes of death are heart disease, cancer, COVID-19, stroke, chronic lower respiratory diseases, Alzheimer's disease and diabetes — which can all require costly medications and procedures.

Resources To Cover Health Care and Prescription Costs

Find an HRSA Health Center
Community based health centers that provide affordable high-quality care, regardless of your ability to pay.
Extra Help
Helps lower or eliminate Part D prescription costs.
State Health Insurance Assistance Program (SHIP)
Free education on Medicare coverage and how to lower out-of-pocket costs.
Medicare Savings Programs
There are four types of Medicare Savings Programs available to cover Medicare costs.

Qualified Medicare Beneficiary (QMB) Program
Specified Low-Income Medicare Beneficiary (SLMB) Program
Qualifies Individual (QI) Program
Qualified Disabled and Working Individuals (QDWI) Program

Medicaid
If you have a low income, Medicaid can cover general health care costs, home- and community-based services (HCBS), along with long-term care services.
Program of All-Inclusive Care for the Elderly (PACE)
The PACE program provides coverage for prescriptions, doctor visits, transportation, home care, nursing home stays and hospital visits. There is no copay, deductible or coverage gap with PACE.
Patient Assistance Program
Connects you to patient assistance programs run by pharmaceutical companies who provide free medications to those with low incomes.

Food Resources for Seniors

According to Health in Aging, malnutrition is common among adults over 65, potentially causing medical problems, disabilities and hospitalization, and over 50% of older adults in hospitals or nursing homes have a poor nutrition or diet.

Connecting to resources for access to low cost or free nutritional foods is essential for your health as you age.

Resources To Cover Food Costs

Housing & Utilities Resources for Seniors

About 30% of extremely low-income renter householders are seniors, according to a report from the National Low-Income Housing Coalition's 2023 report. Despite inflation starting to lower within the first several months this year, low-income renting seniors will continue to struggle to find affordable homes, according to the same report.

Luckily, there are programs to aid seniors with housing and utility costs. For example, the U.S. Department of Housing and Urban Development (HUD) awarded $15 million to help low-income older adults age in place. Their programs help fund repair and renovation costs to allow seniors to stay in their homes with increased accessibility and safety features.

Learn more about other programs to help low-income senior housing costs and utility bills.

Resources To Cover Housing and Utility Costs

| | |
| --- | --- |
| Low-Income Housing Tax Credit (LIHTC) | The LIHTC program provides affordable housing for low-income seniors, placing restrictions on how much your rent can be. |
| Housing Choice Voucher Program | If your income doesn't exceed 50% of the median income in your area, you could qualify to pay only 30% of your income for rent. |
| Section 202 Supportive Housing Program | This program is specifically for adults over 65 years old who meet their low-income requirement. If approved, you'll pay only 30% of your income for rent. |
| Emergency Home Assistance for the Elderly Program (EHEAP) | Your state may have an EHEAP program, a federally funded program that helps cover low-income seniors' energy bills. If you qualify, you could be eligible for up to $5,000, according to the Senior Resource Alliance. |
| Section 504 Home Repair Program | If you're over 62 with a low income, this program can approve you for a loan up to $50,000. The funds must be used to repair or improve your home to remove health and safety hazards. |

Income, Tax and Legal Resources for Seniors

Poverty among older adults highlights a glaring issue — Medicare and Social Security aren't enough to keep seniors financially secure. Nearly 80% of individuals 60 or older don't have financial stability to cover long-term care services or another financial shock, according to the National Council on Aging.

You can utilize other resources, like SSI benefits, if you earn under a specific income and number of assets. There are also free tax programs and legal resources, specifically tailored to seniors.

Legal resources can help you fight and be wary of scams. Scams targeting older adults are on the rise. A recent press release from the Federal Trade Commission found that older adults are likely to be targeted and fall victim to fraud.

Resources To Cover Income, Tax and Legal Costs

Other Resources for Seniors

Other resources, like low-cost transportation, veteran resources and mental health programs can be essential for your well-being.

Resources for Transportation, Mental Health Services and Veterans Benefits

| | |
| --- | --- |
| Substance Abuse and Mental Health Services Administration | Provides access to valuable mental health resources, like health care programs and support groups. Offers low-cost and free options, with or without insurance. |
| U.S. Department of Veterans Affairs (VA) | The (VA) offers a wide range of benefits, including but not limited to VA health benefits, dental resources, education cost coverage, housing assistance and more. |
| Nonemergency Medical Transportation (NEMT) Program | The NEMT program provides transportations to older adults to get to and from medical appointments at little to no cost. |
| Public Transit | Seniors can get reduced fares with public transit. For example, with Lynx buses, those over 65 can get an all-day pass for only $2.25. |
| Paratransit | A paratransit is specifically designed to provide transportation for older adults and adults with disabilities. To use a paratransit, you'll need to qualify under the Americans with Disabilities Act. |
| Transportation Volunteer Programs | Your state likely has a volunteer program to provide low-cost or free transportation for seniors. |

Frequently Asked Questions

Karla Radka

President and CEO at Senior Resource Alliance

Brandy Bauer

Director of NCOA's Health Coverage and Benefits

Advertisement

Connect With a Financial Advisor Instantly

Our free tool can help you find an advisor who serves your needs. Get matched with a financial advisor who fits your unique criteria. Once you've been matched, consult for free with no obligation.

Last Modified: August 16, 2023

Share This Page

10 Cited Research Articles
Your web browser is no longer supported by Microsoft. Update your browser for more security, speed and compatibility.
If you need help pricing and building your medicare plan, call us at 844-572-0696