Financial Literacy: Essential Skills for a Secure Retirement
Retirement planning can be daunting, especially if you're unsure of your financial situation or what you'll need to live comfortably in your golden years. But having a healthy understanding of financial literacy can help you navigate the process by giving you the necessary knowledge and skills to avoid common retirement pitfalls and make wise financial choices that lead to long-term success.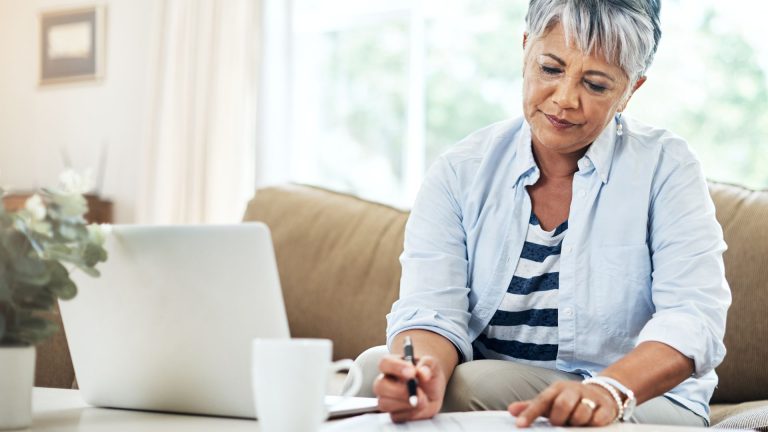 Written by

Christian Simmons

Christian Simmons

Financial Writer

Christian Simmons is a writer for RetireGuide and a member of the Association for Financial Counseling & Planning Education (AFCPE®). He covers Medicare and important retirement topics. Christian is a former winner of a Florida Society of News Editors journalism contest and has written professionally since 2016.

Read More

Edited By

Savannah Pittle

Savannah Pittle

Senior Financial Editor

Savannah Pittle is a professional writer and content editor with over 16 years of professional experience across multiple industries. She has ghostwritten for entrepreneurs and industry leaders and been published in mediums such as The Huffington Post, Southern Living and Interior Appeal Magazine.

Read More

Financially Reviewed By

Toby Walters, CFA®

Toby Walters, CFA®

Chartered Financial Analyst and Paraplanner

Toby Walters, CFA®, has over 25 years of financial research experience. With a knowledge and understanding of researching and analyzing financial data, he has developed a unique and experienced viewpoint on money matters. He has been a chartered financial analyst since 2003, and most recently a portfolio analyst and paraplanner.

Read More

Published: April 24, 2023
Updated: May 17, 2023
7 min read time
This page features 7 Cited Research Articles

Key Takeaways

Financial literacy is a broad term, but it often refers to how strong of an understanding you have of money and how you can make it work for you.
Being financially literate is important for executing a successful retirement savings plan and avoiding pitfalls along the way.
There are many free resources available to help you improve your financial literacy, including government information hubs and free financial calculators.

What Is Financial Literacy?

Financial literacy is the concept of understanding how money functions and how it can work to our advantage as we spend and save. While it's a broad term that doesn't have one set definition, it generally refers to understanding how to manage your money, how banks and financial institutions work and what the important markers of the U.S. economy mean.

Think of understanding finances like speaking a language. Some people might have a rudimentary handle on a language, while others may have a stronger grasp of it or even be fluent. Financial literacy works the same way.

Did You Know?

A 2022 study found that Americans estimate they have lost an average of $1,819 in the last year due to financial illiteracy.

Being financially literate can help you make sound financial decisions in all stages of life, but it becomes even more critical when planning for retirement.

Essential Financial Literacy Skills

Financial literacy is not about becoming an expert. You don't need to possess the same knowledge as someone who works on Wall Street — but you should grasp the fundamentals and develop your skills.

Essential Financial Literacy Skills

Building an Accurate Budget
Saving Effectively
Understanding Where Your Money Goes
Planning Ahead for Pitfalls

One area of financial literacy that's important for retirement planning and living in retirement is the ability to build and maintain an effective personal budget. Although it's a basic skill, it's also something few people actively do. A 2020 Intuit survey found that 65% of Americans did not know how much money they spent in the previous month.

Living month-to-month without tracking your expenses may be feasible when you're young, in the workforce and single. But family life brings more bills, more monthly complexity and more targets to save for — a house, college tuition and retirement, to name a few. Once you've retired, you generally rely on finite savings along with Social Security. So effective budgeting today can be the difference between an easy retirement and a hard one.

Planning your retirement budget when you are younger can be tricky. You may not know exactly how much money you will need in 30 or 40 years. But even creating a theoretical retirement budget can help you better grasp the savings you'll need for a comfortable retirement.

Being able to save that money effectively is another key financial literacy skill. There is no way around the fact that serious savings are necessary to make a secure retirement a reality.

Understanding how much savings you need and incorporating those savings into your month-to-month expenses can make all the difference.

Is Your Retirement Plan on Track?

Explore annuity solutions that align with your planning needs.
*Ad: Clicking will take you to our partner Annuity.org.

Financial Planning for Retirement

Not only can being financially literate help you plan better for retirement, but it can also give you a stronger sense of how much you need to save — and how to get there.

Did You Know?

According to the Federal Reserve, 60% of non-retirees surveyed in 2021 did not think that their retirement savings were on track.

One key to retirement planning that hurts some people is the importance of starting at a young age. Saving for retirement isn't something to think about when you hit your 50s. The most effective retirement savers start early, letting the money they put away work to their long-term advantage.

Having a strong understanding of financial literacy can help you understand the most effective ways to save your money as well. It's not always as simple as just sticking a percentage of your paycheck into a savings account.

Being financially literate can also help you understand how to maximize the effectiveness of common retirement savings vehicles like 401(k)s and IRAs. It can also help you navigate other potentially lucrative financial products that everyday Americans don't consider, such as certificates of deposit and annuities.

Common Retirement Financial Pitfalls

Many financial pitfalls can catch financially illiterate retirees by surprise.

Common Retirement Pitfalls

Not Building Enough Savings
Underestimating How Much Medical Expenses Will Cost
Taking On Debt or Leaving Debt Unresolved

Of these, a major concern is not saving enough money to last throughout retirement. This can stem from a lack of financial literacy or understanding of how saved money can grow over time with little extra effort on your part. But some may have the tools and the motivation to start saving for retirement and still fail to grasp how much money they'll really need for life after working.

One area especially easy to underestimate is the impact of medical costs during retirement. A 2022 study by the Center for Retirement Research at Boston College found that half of all Americans spent at least $4,311 on out of pocket medical costs in 2018. In fact, the study concluded that median medical costs alone can take up 25% of your Social Security benefits.

And another potential pitfall that can majorly affect your retirement savings is approaching your golden years with unresolved debt. Taking on debt isn't always a bad thing and can be a healthy part of your financial strategy, but getting out of debt before your finances tighten up in retirement is important.

Resources for Improving Financial Literacy

Financial literacy is not just for professionals. There are many resources available for both seniors and Americans still saving for retirement to improve their financial literacy.

The U.S. Department of Labor, for example, collaborated with the Social Security Administration and the Centers for Medicare and Medicaid Services to produce a retirement toolkit that offers lots of important and digestible information related to retirement savings all in one place.

You can also take advantage of the National Credit Union Administration's Financial Literacy & Education Resource Center, which offers a hub of many resources and guides that are publicly available. A similar directory is available through the Office of the Comptroller of the Currency.

On top of educational resources, there are many easy-to-use calculators available online that can offer you a snapshot of how your finances are stacking up and what you need to fix for retirement.

RetireGuide offers calculators, including our tool designed to help assess your retirement savings health and a Medicare coverage simulator for estimating how much different health conditions will cost retirees.

Financial Literacy FAQs

Advertisement

Connect With a Financial Advisor Instantly

Our free tool can help you find an advisor who serves your needs. Get matched with a financial advisor who fits your unique criteria. Once you've been matched, consult for free with no obligation.

Last Modified: May 17, 2023

Share This Page

7 Cited Research Articles
Who Am I Calling?
Calling this number connects you to one of our trusted partners.
If you're interested in help navigating your options, a representative will provide you with a free, no-obligation consultation.
Our partners are committed to excellent customer service. They can match you with a qualified professional for your unique objectives.
We/Our Partners do not offer every plan available in your area. Any information provided is limited to those plans offered in your area. Please contact Medicare.gov or 1-800-MEDICARE to get information on all of your options.
844-359-1705
Your web browser is no longer supported by Microsoft. Update your browser for more security, speed and compatibility.
If you need help pricing and building your medicare plan, call us at 844-572-0696