End-of-Life Planning Guide for Medicare Patients and Families
End-of-life planning when you're in full health can bring comfort to you now and peace to your loved ones after you pass.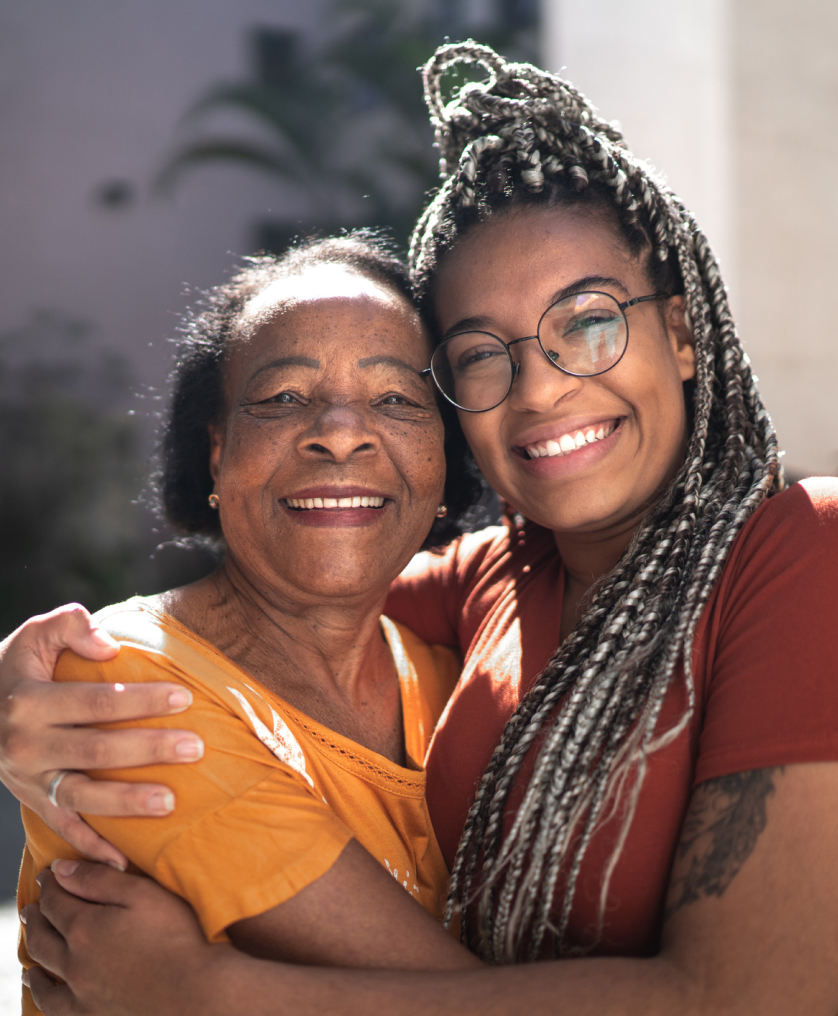 Edited By

Lee Williams

Lee Williams

Senior Financial Editor

Lee Williams is a professional writer, editor and content strategist with 10 years of professional experience working for global and nationally recognized brands. He has contributed to Forbes, The Huffington Post, SUCCESS Magazine, AskMen.com, Electric Literature and The Wall Street Journal. His career also includes ghostwriting for Fortune 500 CEOs and published authors.

Read More

Published: August 11, 2021
Updated: April 5, 2023
10 min read time
This page features 9 Cited Research Articles
Key Takeaways
Medicare coverage is complex when it comes to end-of-life planning. Coverage changes depending on whether you are in hospice or receiving palliative care. It's important to always do your research before planning to rely solely on this government benefit.
Hiring a dedicated company or estate attorney will help you avoid making serious mistakes while estate planning.
Discussing your end-of-life plan with friends and family is tough for everyone. However, it's important to have this conversation because it will eventually bring comfort to your loved ones.
Planning for the end of someone's life is a tough subject that most people don't like talking about. It brings various emotions to the table and, for some, even fears. However, facing the discomfort and planning for your end-of-life care or a loved one's can alleviate stress and overwhelm at a time that should be focused on mourning and honoring the life of who's passed on. Our guide will help you approach end-of-life planning for Medicare beneficiaries, whether you're planning for yourself or a family member.
Making End-of-Life Preparations
On average, end-of-life care can cost upwards of $138,100 from the time you're 65 years old to the time you pass away. The actual amount paid out of pocket varies by person and depends on the services needed, insurance funds available and the type of care provided. Not preparing for these costs early on can mean your family is left to pay the price.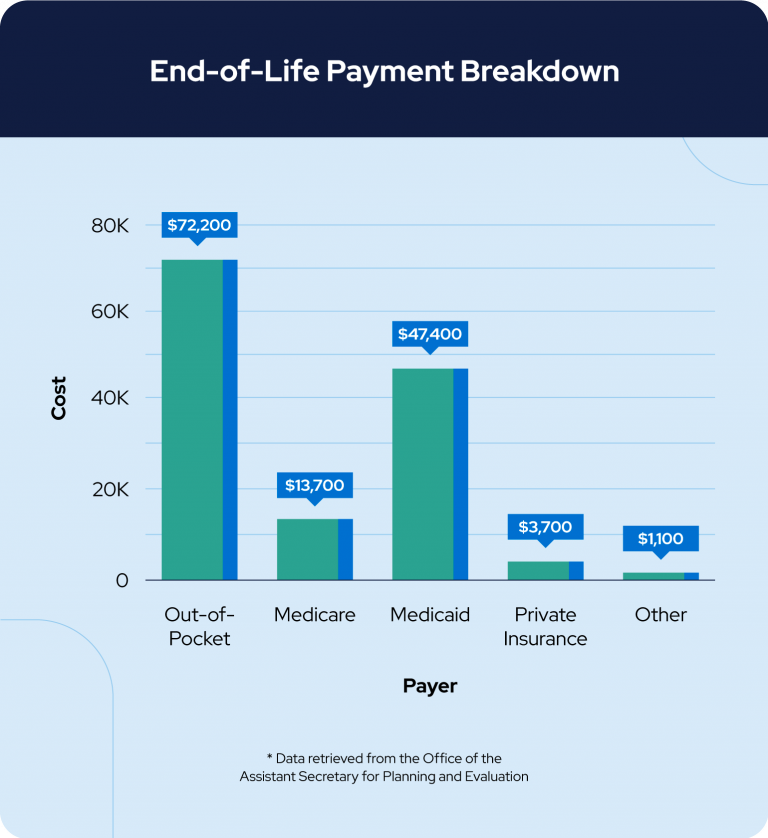 By gathering together necessary information, documenting financial details and creating a will or trust, you can rest easy knowing your family has what they need.
Understanding Medicare Coverage
When making end-of-life preparations, it's important to understand what Medicare does and doesn't cover. For example, Medicare will cover hospice expenses after you've been certified as terminally ill. However, once you've begun hospice care, Medicare won't cover any treatments intended to cure you or any expenses related to hospital care unless arranged by your hospice team.
Likewise, Medicare also covers various palliative care options for long-term illnesses. This includes (but is not limited to) inpatient and outpatient care as well as counseling for mental health.
Determine Your End-of-Life Care
End-of-life care includes all the health care you'll need in your last days, months or years. There are different ways to fund this and it's important to consider how you will do so early on. According to one study by the Kaiser Family Foundation, about eight in 10 people in the U.S. who passed away in 2014 were on Medicare — which helped them pay for end-of-life care. That being said, Medicare doesn't pay for everything, so be sure to do your research before planning to rely solely on this government benefit.
Data from the Office of the Assistant Secretary for Planning and Evaluation shows that 52% of 65-year-old Americans are likely to need long-term care at some point. One in seven of those people is estimated to spend more than five years with a disability that will require long-term care. Creating an advance directive is one way you can ensure your family knows what your wishes are for this care if you become unable to communicate those to them. You can make an advance directive with your health care provider at one of your annual Medicare wellness visits.
Based on these statistics, it's a good idea to assume you will need some form of care as you get older. In general, it's best to over-plan so you'll be at peace knowing you have enough for your needs and won't leave a financial burden to your beneficiaries.
Starting in 2016, Medicare began covering the costs of advanced care planning. This includes knowing your options for end-of-life care, deciding which options will be best for you and sharing those wishes with your family and physician.
Consider Final Expense Insurance
Final expense insurance helps mitigate end-of-life costs. According to Lincoln Heritage Funeral Advantage, the death benefit of this policy often ranges from $10,000 to $50,000. Depending on your health and age at the time of applying, your monthly payment could be anywhere from $25 to $125.
If you've already paid your funeral expenses or have a whole life policy with a significant death benefit attached, a final expense policy isn't necessary. It's also important to note that if you're over the age of 85 or have significant health issues, you may not qualify for this insurance.
Make a Will or Trust
A will outlines where your assets will go after you pass. It also appoints one person to be responsible for fulfilling the wishes of the will. On the other hand, a trust takes effect as soon as you create it. A trust gives another person or institution the legal right to hold the title to property for another individual.
There are pros and cons to both, so make sure you understand the details of each before deciding which is best for you. In some cases, it may be necessary to have a will and a trust.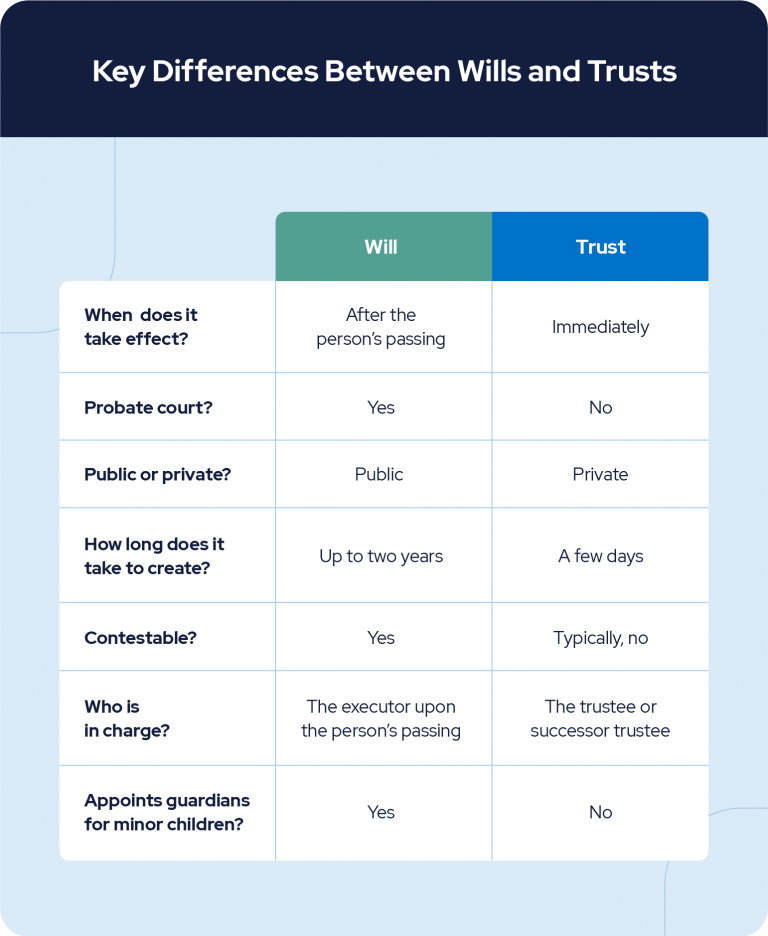 Create an Estate Plan
An estate plan outlines everything that will happen to your estate after you pass. To some degree, creating a will or trust is part of preparing your estate. It's best to hire a professional company or attorney to assist with your estate planning. They can help you avoid making serious mistakes that could cause potential hardships for family members.
Aside from ensuring you don't miss anything important in your estate plan, an estate planning attorney can also help you reduce tax liabilities. Additionally, they can offer an objective perspective in an otherwise emotionally draining process.
Document Your End-of-Life Wishes
If you have additional wishes you'd like upheld after your passing, document them in one place. These can be letters left to your loved ones, specific funeral arrangements or anything else you hope happens once you're no longer here.
Doing this can bring peace to your family as they work through their loss. It can also prevent arguments or disagreements about what you would have wanted.
Gather Your Documents
By gathering all of your personal, financial and confidential documents together, you can more clearly see what's missing or what would be helpful for your beneficiaries to have. Among these documents, consider including your:
Will or trust
Funeral and burial documents
Financial records and account numbers
Life insurance policy (if any)
Power of attorney
Car title(s)
Social Security card
Personal records
Your last wishes
Putting these documents in a binder or digital file will keep them organized. Tell your executor or a family member where you keep these documents and how to access them if they're in a safe or encrypted on a hard drive.
Choose an Executor
An executor is a person who will carry out your will (if you have one) and your last wishes. In certain situations, you may have different unofficial executors to handle parts of your funeral or other items of business.
When choosing an official executor, there are a few things to keep in mind. An immediate family member often takes on this role, but you can also choose someone else. Make sure the executor you choose is someone you trust and who has your best interests in mind.
Likewise, you can also hire a third party to act as your executor. This can be a local bank, trust company or estate planning attorney.
Don't Leave Your Health to Chance
Find a local Medicare plan that fits your needs by connecting with a licensed GoHealth insurance agent.
Familial Responsibilities
There are a lot of things that need to be done to get your loved one's things in order once they're no longer with you. If you put off helping them plan, you may find yourself overwhelmed by handling your responsibilities amidst your grief. Planning early can alleviate this heartache and ensure you won't have to make many decisions on your own, giving you space to focus on honoring your family member's legacy.
It's normal to not know where to start. Use the checklist below to guide you and your loved one through the process.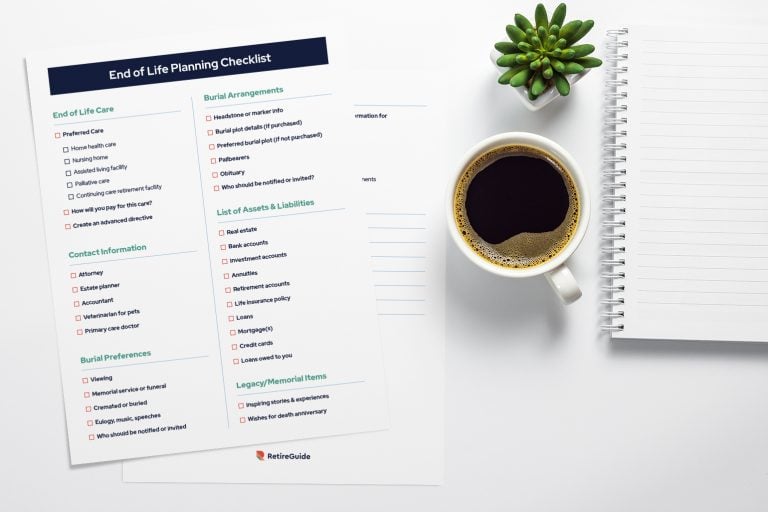 Reporting a Death to Medicare
After the passing of a loved one who was on Medicare, the person responsible for handling the deceased's affairs should contact the Social Security Administration to report the death. On some occasions, the funeral home will do this for you. If you prefer this, you'll need to give them your loved one's Social Security number. If you decide to do this yourself, the Social Security number to call is 1-800-772-1213. For those with a hearing impairment, text 1-800-325-0778.
If Social Security benefits were being paid via direct deposit to your loved one's bank, contact the financial institution as soon as possible to notify them of the death. If the benefits were sent in the mail, you'll need to return the checks received after your loved one's passing back to Social Security.
Check for Death Benefits
While there is no Medicare death benefit, you can apply to receive a $255 benefit from Social Security. To receive this benefit, you need to be the surviving spouse of the deceased or a child of the deceased who is eligible for benefits from the beneficiary's earnings record.
You should also be aware of other payouts available from an annuity, life insurance policy or pension. If you're listed as a beneficiary for any of these things, make sure you understand the tax consequences. For example, you don't have to pay taxes on life insurance proceeds in most situations, but there are a few exceptions.
Make Burial Preparations According to Your Loved One's Wishes
Talking with your loved one early on about burial and funeral arrangements can alleviate stress when they pass on. Most funerals take place a week or less from the time of a person's passing, which can leave little time for grief if you're overwhelmed by decision-making. Having a plan ahead of time will allow you the space to mourn with less stress from handling funeral and burial logistics.
When planning for this event, determine your loved one's preferred burial location and consider purchasing a burial plot early on. Also talk about any preferred funeral arrangements such as specific flowers, people who will speak or where the funeral will be held.
Navigating the End-of-Life Conversation
Though difficult, having this conversation early on can ease a lot of concerns and heartache. Try to discuss end-of-life planning before your loved one's health begins to decline so they can contribute their thoughts clearly.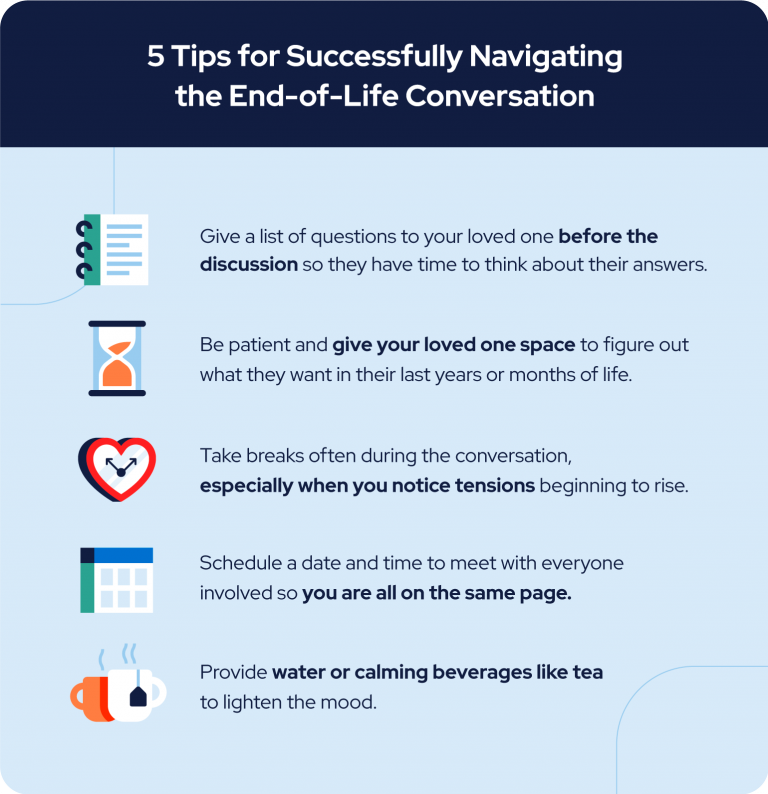 Thinking about end-of-life planning isn't nearly as fun as thinking about plans for retirement, but both are important. Your end-of-life plan will likely change as you age, but preparing early will bring comfort to your loved ones who will, at some point, experience a great loss.
Considering how you will pay for end-of-life care, who will be responsible for handling your assets and how Medicare will play a role in this phase of your life are just a few steps in the process. It's okay to take your time making these decisions. Most likely, the earlier you begin making them, the more time you'll have to reflect on how you'd like to live out your last days.
Last Modified: April 5, 2023
Share This Page
9 Cited Research Articles
Need Help Planning Your Retirement?
Yes, I'm Interested
I Have Help Already
I Will Manage It Myself
RetireGuide will soon offer services to help you better manage your retirement.
We will be offering assistance with annuities, life insurance, Medicare and financial planning. Sign up for updates and be the first to know when these services are available.
Get the right information to stay on top of your retirement planning.
Sign up for our newsletter for our latest retirement planning guides, tips and more!
Who Am I Calling?
Calling this number connects you to one of our trusted partners.
If you're interested in help navigating your options, a representative will provide you with a free, no-obligation consultation.
Our partners are committed to excellent customer service. They can match you with a qualified professional for your unique objectives.
We/Our Partners do not offer every plan available in your area. Any information provided is limited to those plans offered in your area. Please contact Medicare.gov or 1-800-MEDICARE to get information on all of your options.
888-694-0290