Retiring in Arizona
One of the most popular retirement destinations in the United States is Arizona. The warm weather, relatively amenable taxes and number of retirement communities make it an attractive destination for many older Americans. But, as with any state, there are drawbacks such as air quality and cost in some areas. Depending on what you are looking for in retirement, Arizona may make sense for you.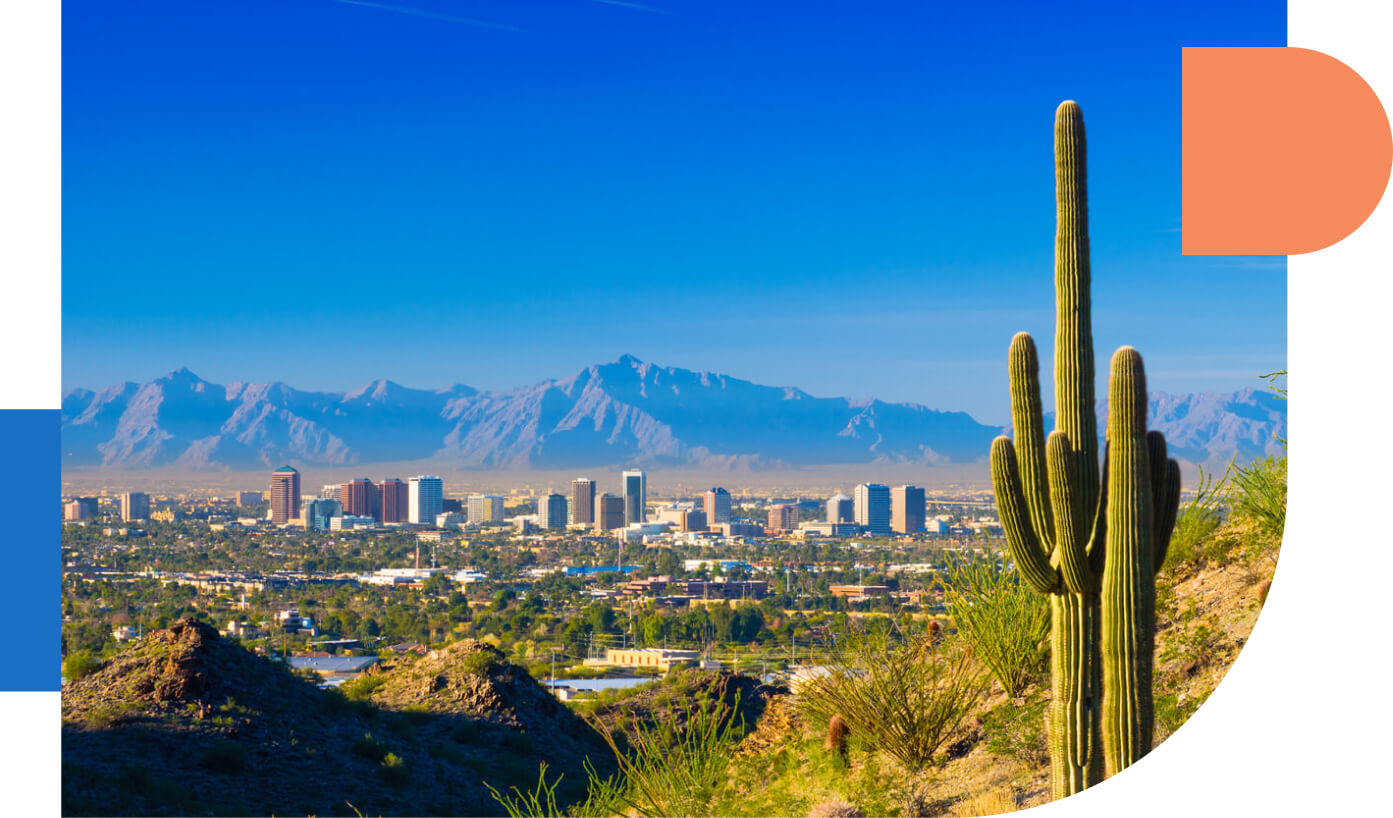 Written by

Christian Simmons

Christian Simmons

Financial Writer

Christian Simmons is a writer for RetireGuide and a member of the Association for Financial Counseling & Planning Education (AFCPE®). He covers Medicare and important retirement topics. Christian is a former winner of a Florida Society of News Editors journalism contest and has written professionally since 2016.

Read More

Edited By

Lamia Chowdhury

Lamia Chowdhury

Financial Editor

Lamia Chowdhury is a financial content editor for RetireGuide and has over three years of marketing experience in the finance industry. She has written copy for both digital and print pieces ranging from blogs, radio scripts and search ads to billboards, brochures, mailers and more.

Read More

Financially Reviewed By

Stephen Kates, CFP®

Stephen Kates, CFP®

Certified Financial Planner™ Professional and Founder of Clocktower Financial Consulting

Stephen Kates is a Certified Financial Planner™ professional and personal finance expert with over a decade of experience working with individuals and families who need help with their finances. With experience as a financial advisor for two of the largest financial firms in the country, Stephen has worked with hundreds of clients to build comprehensive financial plans to grow and protect their wealth.

Read More

Published: June 22, 2022
Updated: May 23, 2023
10 min read time
This page features 10 Cited Research Articles

Is Arizona a Good Place To Retire?

Arizona is a major retirement destination for Americans, lagging only behind Florida in number of people who choose to spend their life after retirement there.

Warm weather states typically rank highly for retirees, but there are several unique features that make Arizona a particularly attractive place to consider for retirement.

Did you know?

Arizona is the second most popular retirement state in the U.S.

Source: AARP

Pros of Retiring in Arizona

An obvious pro of retiring in Arizona is the warm weather. According to Visit Arizona, even in the winters, the average high remains in the upper 60s. That's a very appealing perk for the millions of new retirees who spent their careers in colder northern states.

More days of sunshine and high temperatures year-round gives you the chance to fully enjoy and take advantage of your retirement.

Another pro of retiring in Arizona is the state's popularity as a retirement destination. You'll find it won't be hard to form new friendships and build social connections given the number of similarly aged people within the state, and there are many large and vibrant retirement communities.

Arizona isn't the cheapest state to live in, but it's also not overly expensive. There is a state income tax, but no tax on Social Security.

Cons of Retiring in Arizona

For some retirees, the weather can be as much of a con as it is a pro. Simply put, Arizona can get very hot. The average high from June to August in Phoenix is 105. While the high heat doesn't pose the same practical issues the cold winters do like avoiding snow and treacherous driving, it can make outdoor activities just as untenable for part of the year.

Another environmental concern for retirees is the air quality. Air pollution is typically worse near the west coast and Arizona is no exception. This could exacerbate certain health issues.

And while Arizona by no means has a bad health care system, it essentially ranks in the middle of the pack nationally due to being dragged down by bad ratings in certain categories like health care access.

Arizona Retirement Systems

If you are considering retiring in Arizona, your type of retirement savings may impact your decision.

For example, Arizona will not tax Social Security. So, if you are planning on relying heavily on your Social Security check in retirement, Arizona may make sense as a landing spot.

Arizona, however, will tax any 401(k) distributions, since they are essentially considered a form of income. Pensions are treated the same way and will also be taxed.

But if you retired from the military, then your retirement earnings will be tax-free.

When considering any state for retirement, it's important to be aware of where your money is going to come from in retirement.

You can dramatically upgrade your post-work lifestyle by identifying a state with rules that are most advantageous for where your retirement income is coming from.

Arizona Taxes for Retirees

While there are some states with cheaper taxes, Arizona's tax rates are moderately beneficial for retirees. While there is an income tax, your Social Security will not be taxed.

Arizona is also one of many states that has a gradual income tax, meaning your tax rate will increase if you bring in a lot of money. According to a state taxes article from Forbes, the tax rate varies from 2.59% to 4.5% depending on how much income you bring in.

Even the highest level of tax still matches up well with other U.S. states. Neighboring California, for example, has a much higher maximum tax rate of 13.3%

How Arizona's Maximum Income Tax Rate Compares to Nearby States

Arizona: 4.5%
California: 13.3%
New Mexico: 5.9%
Utah: 4.95%
Colorado: 4.55%
Nevada: no state income tax

Arizona typically compares favorably to other states on property tax as well. This can be appreciated since many of the states that advertise no income tax make that money back in other ways, like with very high property taxes. But finding your dream retirement home in Arizona should not result in astronomical taxes.

The income and property tax rates combined in Arizona can be valuable for retirees hoping to get the most out of their money, which can already be difficult to stretch through a long retirement.

3 Minute Quiz: Can You Retire Comfortably?

Take our free quiz & match with a financial advisor in 3 easy steps. Tailored to your goals. Near you or online.

Cost of Living in Arizona

Living in Arizona isn't exactly cheap, but it's not overly expensive either, especially compared to some of the other best states to retire in. According to the Missouri Economic Research and Information Center, Arizona ranked 33rd nationally for cost of living in 2021.

Comparable states for cost of living were Idaho, Pennsylvania and Virginia. A higher cost of living essentially means that your money will not go as far as it would somewhere else.

According to USA Today, the value of a dollar in Arizona is $1.04, which is right around the middle of the pack nationally.

This means you probably don't have to worry about your money having significantly less spending power in Arizona than it would where you currently live or in another retirement destination you are considering.

Arizona vs. California

Arizona and California are naturally often compared since they share a border and offer similar cultural and environmental advantages to retirees.

The bottom line is that California is simply a much more expensive state to live in, ranking 48th nationally in cost of living. Your money will not go nearly as far in California as it would in Arizona.

Parts of California also deal with the same air pollution issues that plague Arizona.

But, despite the much higher cost of living there, California does have some benefits over Arizona. There is a larger variety in environment and places to live and generally a higher quality of life.

Both states rank similarly for health care.

Health Care in Arizona

Arizona's health care matches up well with and exceeds much of the country. According to the U.S. News & World Report health care rankings, Arizona ranks 21st nationally in overall health care. Arizona also ranks 4th in quality of health care.

This is a major consideration for many retirees. When determining where to retire, it makes sense to identify areas with strong health care systems and service since older adults are likely to deal with health issues as they age.

But one issue for the state is that, while its quality of care is excellent, access to that care is lagging. Arizona was ranked 43rd for health care access, and the United Health Foundation found that the state had a low prevalence of cancer screenings and flu shot coverage.

Medicare quality is also an important consideration for retirees. While Original Medicare is a federal program with uniform coverage across the country, Medicare Advantage plans that many retirees opt for vary from state to state.

According to the U.S. News & World Report, Arizona ranked 24th for Medicare quality. This means that retirees in Arizona should have access to a good variety of quality Medicare Advantage plans.

Arizona Affordability

An immediate concern with affordability in Arizona is that – as is the case with much of the country – rent and housing costs are currently exploding. This is an issue new retirees will have to deal with almost anywhere they move in the country, but it has hit certain parts of Arizona particularly hard.

According to an article from Arizona Republic, rent in Arizona has increased by 30% in the last year alone. The average price of rent is currently $1,537 and is projected to jump to $2,475 in five years.

The continuous rising costs of property may be unattractive to retirees who are hoping to ensure that the money they have saved lasts through their retirement. Arizona's housing issues have been partly caused by new residents entering the state – which obviously applies to retirees as well.

Outside of the current housing situation, Arizona is generally an affordable place to live. Phoenix was long considered one of the most affordable cities in the western United States and the state's cost of living matches up well against the rest of the country.

Quality of Life in Arizona

Quality of life can be a difficult area to measure for any state since the term can mean different things to different people. For one retiree, great weather may be a huge factor for quality of life while another may care much more about social activities available where they live.

That being said, Arizona does tend to offer many of the perks often associated with quality of life. The state includes both major cities like Phoenix and Tucson, as well as major natural attractions like the Grand Canyon. The winters are mild at worst and there are lots of outdoor adventure and nature activities.

In 2019, USA Today ranked Arizona as the 29th best state to live in.

Air Quality

Air quality is a serious issue in Arizona and can have an impact on quality of life. The United Health Foundation ranked the state 45th overall in air pollution.

Air pollution is typically worse on the west coast and it is certainly something for older Americans to weigh when determining where to retire, especially if they have existing health issues that could be exacerbated by poor air quality.

Never Miss Important News or Updates with Our Weekly Newsletter

Get money-saving tips, hard-to-find info and tactics for a successful retirement in our free weekly newsletter.

Best Places To Retire in Arizona

When looking into where to retire into Arizona, there are personal factors you must consider. You may be interested living in a big city, or else in a smaller town or suburb. You may also want to live in a retirement-specific community.

Arizona offers options for each.

Top Cities

According to Forbes, two Arizona cities cracked the list for top retirement destinations in 2022.

The first is Tucson. It's the second largest city in the state behind Phoenix and offers plenty of advantages for retirees. Forbes noted that the median home price is well below the national average, giving you the chance to purchase a nice home without a lot of money.

But there are downsides that come with cities, like higher rates of crime and pollution.

The other city that made Forbes' list doubles as a retirement community: Sun City. It is a major 55+ community located close enough to Phoenix to still give you access to a major city as well.

Sun City itself has a population of nearly 40,000, offering you the chance to assimilate into a major retirement community that offers many of the common amenities and perks associated with retirement villages.

Top Retirement Communities

If you're interested in joining a retirement community in Arizona, Sun City clearly stands out above the rest. Retirement villages vary in size, but Sun City truly operates as its own independent city, giving you the chance to live in a real, vibrant environment with many fellow retirees.

Sun City is over 50 years old and includes everything from eight individual golf courses, seven recreation centers and over 100 different clubs.

You also could look into Sun City West, the smaller sister city nearby. It's not quite as large and expansive as Sun City but offers many similar benefits to retirees.

Top Mobile Home Retirement Communities in Arizona

Arizona has several mobile home retirement communities, a unique way to live in retirement.

One of the most popular is Agave Village, which is a 55+ community. The community is in Mesa, which is not far from Phoenix, offering retirees regular access to a major city away from their community.

Agave Village includes a variety of facilities for its residents, including a clubhouse, gym and kitchen.

Top Places to Retire on a Budget

Your money will go farther in Arizona than it would in the Northeast, for example. Due to its very low housing prices, pulling off retirement on a budget while staying in a city is definitely possible in Tucson.

This is especially true if you are moving from a state with a higher cost of living. Even Phoenix offers a much more accessible cost of living than you would find in other parts of the country.

Last Modified: May 23, 2023

Share This Page

10 Cited Research Articles
Your web browser is no longer supported by Microsoft. Update your browser for more security, speed and compatibility.
If you need help pricing and building your medicare plan, call us at 844-572-0696