Retirement in South Carolina
South Carolina offers some advantages to potential retirees, including no estate tax or tax on Social Security. The state also has great beaches and is generally affordable to live in. But crime is also a major concern in South Carolina, and there are not as many natural amenities like big cities or nature-related activities as you would find in more traditional retirement destinations.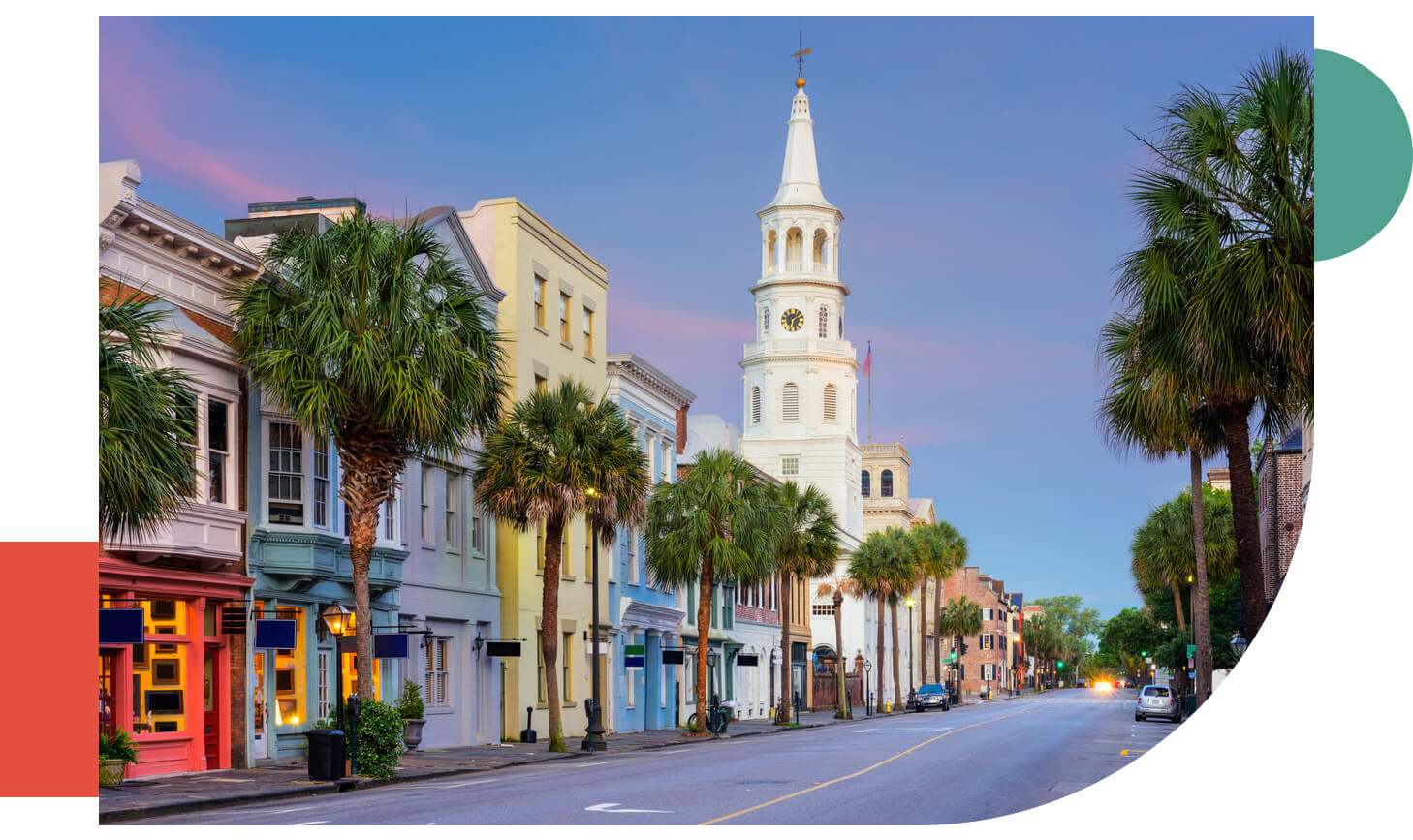 Written by

Christian Simmons

Christian Simmons

Financial Writer

Christian Simmons is a writer for RetireGuide and a member of the Association for Financial Counseling & Planning Education (AFCPE®). He covers Medicare and important retirement topics. Christian is a former winner of a Florida Society of News Editors journalism contest and has written professionally since 2016.

Read More

Edited By

Lamia Chowdhury

Lamia Chowdhury

Financial Editor

Lamia Chowdhury is a financial content editor for RetireGuide and has over three years of marketing experience in the finance industry. She has written copy for both digital and print pieces ranging from blogs, radio scripts and search ads to billboards, brochures, mailers and more.

Read More

Reviewed By Bart Astor
Published: June 23, 2022
Updated: February 20, 2023
12 min read time
This page features 7 Cited Research Articles
Best Places to Retire in South Carolina
South Carolina includes some areas that could be of interest to retirees. The mild climate, nearby beaches and low cost of living can serve to make it a potentially attractive destination. Some cities and areas do stand out.
Best Overall Cities
Top retirement cities in South Carolina
Charleston
Greenville
Columbia
Charleston makes sense if you are interested in retiring in more of a town setting than a full-blown city for your retirement life. The town has a lot of history and a strong community, but a potential drawback is that it can be much more expensive to live in than the rest of the state.
Greenville is a more affordable option that is also in a good location, offering quick access to major cities while also being surrounded by nature.
If you are more interested in a full-on city, then Columbia may appeal to you. The capital of the state is still generally affordable and offers the activities and lifestyles more on par with a major city than a small community.
Best Retirement Communities
While it is not a traditional retirement state, South Carolina still has its share of retirement communities and villages.
The largest in the state is Sun City Hilton Head, which is near both Savannah, Georgia and the beach on Hilton Head Island. The amenities include three separate golf courses, plenty of sports facilities and everything from restaurants to nature trails.
Best Beach Cities
Myrtle Beach is considered the best and most popular beach destination of the Carolinas. The beautiful beaches and fantastic weather of South Carolina make it a tourism destination and a potentially ideal spot to retire.
It's generally affordable and may be a much cheaper beach retirement spot than more traditional options or best retirement states, like the Florida beaches where property can be astronomically expensive.
Safest Cities
South Carolina does have a crime issue, which can be a big disadvantage for retirees. USA Today ranked South Carolina as one of the 10 most dangerous states in the U.S.
Crime is typically higher in more populated areas and cities, so smaller towns and communities may offer a safer environment.
According to an article from Safe Wise, Edgefield, Bluffton and Walhalla are some of the safest areas within South Carolina.
Most Affordable Places
Outside of Charleston, many areas that make sense for retirement in South Carolina are generally affordable. On top of its scenery and beach advantages, Myrtle Beach is a very affordable area where retirees' money can go far.
Outside of a beach setting, Spartanburg is another area to consider that offers affordable living. Spartanburg also offers plenty of nature activities and attractions, making it potentially tranquil place to retire.
Cost of Living in South Carolina
South Carolina is across the board a very cheap state to live in. This can be a big plus for retirees hoping to extend their savings or live a higher quality of life than they could afford in more populated states.
According to data from the Missouri Economic Research and Information Center, South Carolina has the 18th lowest cost of living in the United States. The spending power of $100 in the state would be equal to more than $110.
Simply put, your money will go far in South Carolina. Not only could this upgrade your quality of life compared to what you could afford in other states, but it could also extend your retirement savings years out.
The low housing costs are particularly attractive to retirees since property can be a major expense in other states. If you're a property owner in a more expensive region of the country, this also gives you the chance to sell your current home and pocket much of the money towards your retirement since you won't need all of it to buy a new home.
Never Miss Important News or Updates
Get money-saving tips, hard-to-find info and tactics for a successful retirement in our free weekly newsletter.
Is South Carolina Tax-Friendly for Retirees?
According to an article from Tax Foundation, South Carolina's sales tax in 2020 was 7.46%, which is fairly high. The income tax rate of 7% is also mid-to-high and much higher than the surrounding states in the immediate region.
It's also a potentially major drawback for retirees since popular retirement states like Florida don't have any kind of state income tax. But you still may potentially come out ahead given the low cost of living.
South Carolina also will not tax your Social Security and does not include an estate tax — two areas that are typically major points of interest for retirees.
While retirement income is taxed, there are numerous perks and benefits that make South Carolina more advantageous from a tax perspective than many other states for retirees.
South Carolina's Health Care for Retirees
The United Health Foundation, which measures not just health care but the overall health of a state, ranked South Carolina 35th in its 2021 state rankings.
The report also ranked South Carolina 44th in violent crime.
The U.S. News & World Report also ranked South Carolina 35th in Medicare quality, which measures the effectiveness and availability of Medicare Advantage plans, which are sold regionally by private insurers.
South Carolina essentially doesn't have top tier health care offerings compared to other states, which can obviously be a major issue for retirees.
Health care isn't bad or overtly difficult to access, but it does lag behind some of the more common retirement destinations in the U.S.
Pros and Cons of Retiring in South Carolina
The advantages of retiring in South Carolina include an affordable lifestyle where your money can go much farther than in many other parts of the country. Even popular tourist spots like Myrtle Beach can offer affordable living.
South Carolina also offers many tax advantages to retirees, including no estate tax or tax on Social Security. Throw in a mild climate, and there is a lot to like about South Carolina.
But there are serious drawbacks as well. Crime is a serious issue throughout the state, and South Carolina frequently ranks as one of the least safe parts of the country.
Health care is also, at best, middle-tier nationally, which can be a key area of concern for retirees worrying about the health issues that frequently pop up in retirement.
Never miss important news or updates
Get successful retirement tips in our free weekly newsletter
Retiring in South Carolina FAQs
Is it better to retire in South Carolina or Florida?
The better state for retirement may depend on the personal preferences of the retiree. But Florida is generally a much more popular retirement destination, with better weather, a massive senior community and much lower crime rates.
How much do you need to retire in South Carolina?
South Carolina has one of the lowest costs of living in the U.S. Your money will go far there, and a smaller amount of retirement savings may be sufficient. The median household income in the state is about $55,000.
Last Modified: February 20, 2023
Share This Page
7 Cited Research Articles
Your web browser is no longer supported by Microsoft. Update your browser for more security, speed and compatibility.
If you need help pricing and building your medicare plan, call us at 844-572-0696