Retiring in California
The idea of retiring in California can be enticing to many older adults. The state features a diverse set of lifestyles and locales, from major cities to small beach towns. But it is also one of the most expensive states in the country, including having the highest income tax nationally. You will likely need significant savings to be able to retire comfortably in California.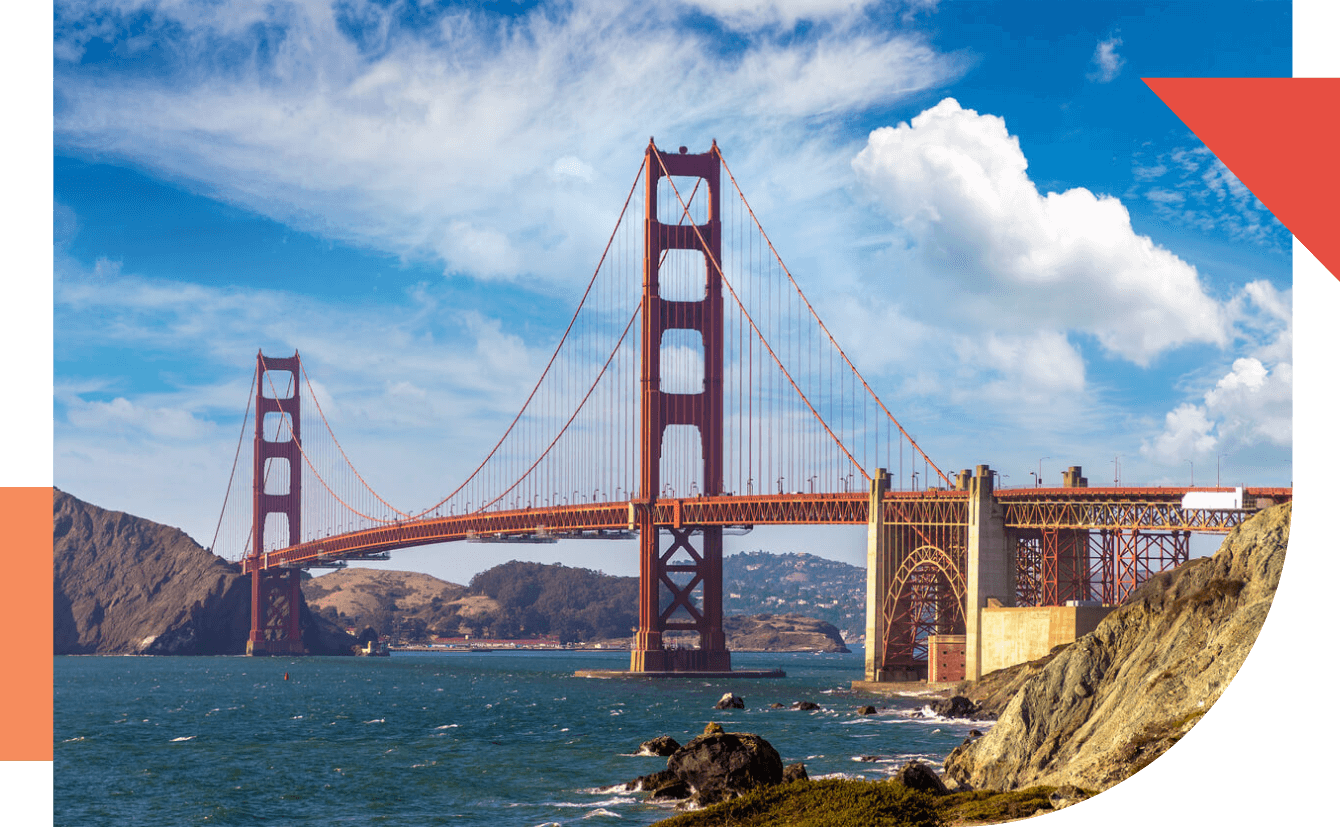 Written by

Christian Simmons

Christian Simmons

Financial Writer

Christian Simmons is a writer for RetireGuide and a member of the Association for Financial Counseling & Planning Education (AFCPE®). He covers Medicare and important retirement topics. Christian is a former winner of a Florida Society of News Editors journalism contest and has written professionally since 2016.

Read More

Edited By

Lamia Chowdhury

Lamia Chowdhury

Financial Editor

Lamia Chowdhury is a financial content editor for RetireGuide and has over three years of marketing experience in the finance industry. She has written copy for both digital and print pieces ranging from blogs, radio scripts and search ads to billboards, brochures, mailers and more.

Read More

Published: June 23, 2022
Updated: May 23, 2023
9 min read time
This page features 8 Cited Research Articles
Best Places To Retire in California
What counts as the best place to retire in California will vary depending on your personal circumstances and what you want out of your retirement.
You may be interested in living by the ocean, making one of several coastal cities and beach towns an ideal retirement spot. Or you may want to be surrounded by nature, making the northern part of the state more appealing.
But even outside of your personal preferences, there are several areas in California that stand out that could promote a strong life after retirement.
Best Overall Cities
California has a wide range of offerings when it comes to cities. Everything from local towns to full-blown metropolitan epicenters are represented throughout the state.
Best Cities to Retire in California
Fresno
San Diego
San Francisco
Santa Barbara
Santa Cruz
According to a retirement article from U.S. News and World Report, Santa Barbara is one less-thought-of area that could make a lot of sense for retirees. The Pacific coast city has a median home price of about $660,000, which is lower than you'll find in some of the more populated cities in California.
A fifth of Santa Barbara's population is 60 or older, giving you the chance to assimilate into a community that is already full of other retirees.
If you're looking for a bigger city with more diversity in activities, then San Francisco could be a good option. Set right on the water, it's a world class city with much to do and many different lifestyles available.
It also has a surprisingly large senior population. The downside is that you will need to have well-stocked savings to pull off a retirement here, since it's one of the most expensive cities in the country.
One option that is a bit cheaper than San Francisco is San Diego. It's a major city and includes many of the same advantages as the other more expensive cities in California.
You also may want to consider Fresno. It's located far inland, so it doesn't come with the same beach and Pacific Coast view advantages of other cities. But it is a significantly cheaper place to live while offering a more relaxing, retirement-friendly environment with many outdoor activities and good weather.
Best Retirement Communities
Given the size of the state, California unsurprisingly has a bevy of options when it comes to retirement communities, both big and small.
One of the largest and oldest is Laguna Woods Village. It houses nearly 19,000 residents in Orange County and offers a wide range of activities within its neighborhoods. According to its website, the community has two full golf courses, five swimming pools and everything from an art studio to equestrian center.
There are numerous options throughout the state, as well for retirees who would prefer a smaller community.
Best Coastal Cities
With more than 800 miles of coastline, California has no shortage of options when it comes to coastal cities and towns. Everything from sandy beaches to tall cliffs overlooking the Pacific Ocean can be found.
As one of the premier coastal cities in the world, San Francisco stands out as an elite option. The city is surrounded by water on three sides and is a center of Pacific coast culture.
San Diego is another major coastal city that may appeal to you. But when identifying where to retire, you may also want to look into areas in northern California.
According to Visit California, smaller and less-frequented Santa Cruz is another coastal destination. It offers both ocean life and nature activities in a quiet part of the state that may appeal to retirees more than the major and constant activity of a big city.
Most Affordable Places
It's important to remember that California has one of the highest standards of living in the country. So, even the more affordable parts of the state will still likely be more expensive to live in than what would pass for affordable in other states.
As far as larger cities within the state. Fresno may be one of the most affordable. According to California.com, Fresno's median home price is around $250,000, which is astronomically lower than what you will find in other big Californian cities.
Fresno is also about two hours away from Los Angeles, keeping you within driving distance of one of the nation's major cultural centers.
Bakersfield is another more affordable option, offering significantly lower housing prices than you'd find in the larger cities, but retaining its own vibrant culture. Sacramento – the state capital – is another possibility. It's pricier than places like Fresno or Bakersfield but still not in the ballpark of what it would cost to live in Los Angeles or San Francisco.
3 Minute Quiz: Can You Retire Comfortably?
Take our free quiz & match with a financial advisor in 3 easy steps. Tailored to your goals. Near you or online.
Cost of Living in California
Simply put, California is an incredibly expensive state to live in, separating it from many of the best retirement states. It costs more to live in California than almost any other U.S. state.
According to a data report from Missouri Economic Research and Information Center, California ranks 48th nationally for cost of living in 2021, behind only New York and Hawaii.
California ranks poorly for cost of living in categories like groceries, utilities and transportation. But the category that hurts the state the most is housing. Rent and property values are significantly higher in California than almost anywhere else in the country.
According to an article from Tax Foundation, the spending power of $100 in California is just $87.11. This means that your money will have significantly less value in California. That same amount of money has a spending power of over $100 in every bordering state.
For retirees, this means that moving to California for retirement would be a major financial adjustment. Unless you are coming from New York or Hawaii, you will be adjusting to a higher cost of living and your money will not go as far as it did in your current state.
Since many retirees are counting on a finite amount of savings to get them through retirement, it's important to calculate exactly how far your money will go in California before making the decision to move there.
Is California Tax-Friendly for Retirees?
Things that go into cost of living like housing costs or groceries are not the only areas that will eat into your savings if you opt to retire in California. Taxes in the Golden State are higher than virtually any other U.S. state.
According to a report from Tax Foundation, California has the highest income tax in the nation, coming in at 13.3%. Only three other states have a double-figure income tax rate and Hawaii, which has the second highest in the country, is still more than two points lower than California's.
California has a similarly high sales tax, which clocks in at 8th in the country.
California Income Tax Compared to Popular Retirement States
California, however, is one of several states that does not tax Social Security. But you will still likely need hefty retirement savings to be able to live a comfortable post-retirement life in California to make up for the high cost of living and tax rates.
Never Miss Important News or Updates with Our Weekly Newsletter
Get money-saving tips, hard-to-find info and tactics for a successful retirement in our free weekly newsletter.
California's Health Care for Retirees
California offers solid health care for its residents, but it doesn't necessarily stand out nationally. The United Health Foundation senior report placed California at 38th in its 2021 health rankings. It also noted that the state has a high prevalence of falls, which is an area of concern for older adults.
One area that the state does rank very well in is Medicare quality. While Original Medicare is provided at a federal level and is the same in all states, private companies offer regional Medicare Advantage plans.
More populous states tend to have more and better options for Medicare Advantage, and California is no exception. According to the U.S. News & World Report, it ranks second among all states in Medicare quality.
While California's overall health rankings is middle of the pack, its large population and numerous options – especially in relation to Medicare – actually make it an ideal state for retirees from a health care perspective.
Pros and Cons of Retiring in California
The main pro of retiring in California is the fact that the state offers a high quality of life in a variety of different environments. There are few states that can boast of everything from beaches to major cities to mountains and national parks.
Virtually every retiree can find a part of the state that appeals to them. And the high number of older Americans in several cities throughout the state can help you feel like you're part of a community.
California has all the activities and excitement that come with big cities, while also offering the tranquility of beach town life just a short drive away. There are few places in the U.S. that can truly offer better living, along with regularly warm weather.
However, the tradeoff for such a high standard of living is the cost of it.
There's no way around the fact that California is an incredibly expensive state to live in, even for retirees. This sets up a sizeable barrier that prevents most older adults from reasonably being able to retire in California.
Even if you spent years saving for your retirement and put lots of money away, the combination of cost of living, housing prices and taxes in California can quickly eat away at your savings and leave you in a precarious position.
Retirement in California simply may not make sense for those who don't have a significant amount of wealth set aside for retirement.
Retiring in California FAQs
What is a good retirement income in California?
California is not a cheap place to live. According to the U.S. Census Bureau, the median household income in the state is about $79,000. To live a comfortable retirement lifestyle, you will likely need to have the savings necessary to exceed that amount each year.
Is it expensive to retire in California?
California is one of the most expensive places to retire in the United States. The Golden State has the third highest cost of living of any state, as well as a high tax rate. Housing and rent are also very expensive.
Where is the most affordable place to retire in California?
There is no one most affordable place. It depends on your specific circumstances. But when looking for a cheaper place to live in California, avoid the big cities where expenses run high. Smaller cities like Fresno and Sacramento can be much cheaper to live in.
Last Modified: May 23, 2023
Share This Page
8 Cited Research Articles
Your web browser is no longer supported by Microsoft. Update your browser for more security, speed and compatibility.
If you need help pricing and building your medicare plan, call us at 844-572-0696