Retiring in Alabama
Alabama's nationally ranked low cost of living and bevy of scenic small towns can make it an appealing retirement destination for many seniors. The state can be relatively tax-friendly for retirees as well, but it ranks poorly for health care and doesn't offer a significant variety of places to live.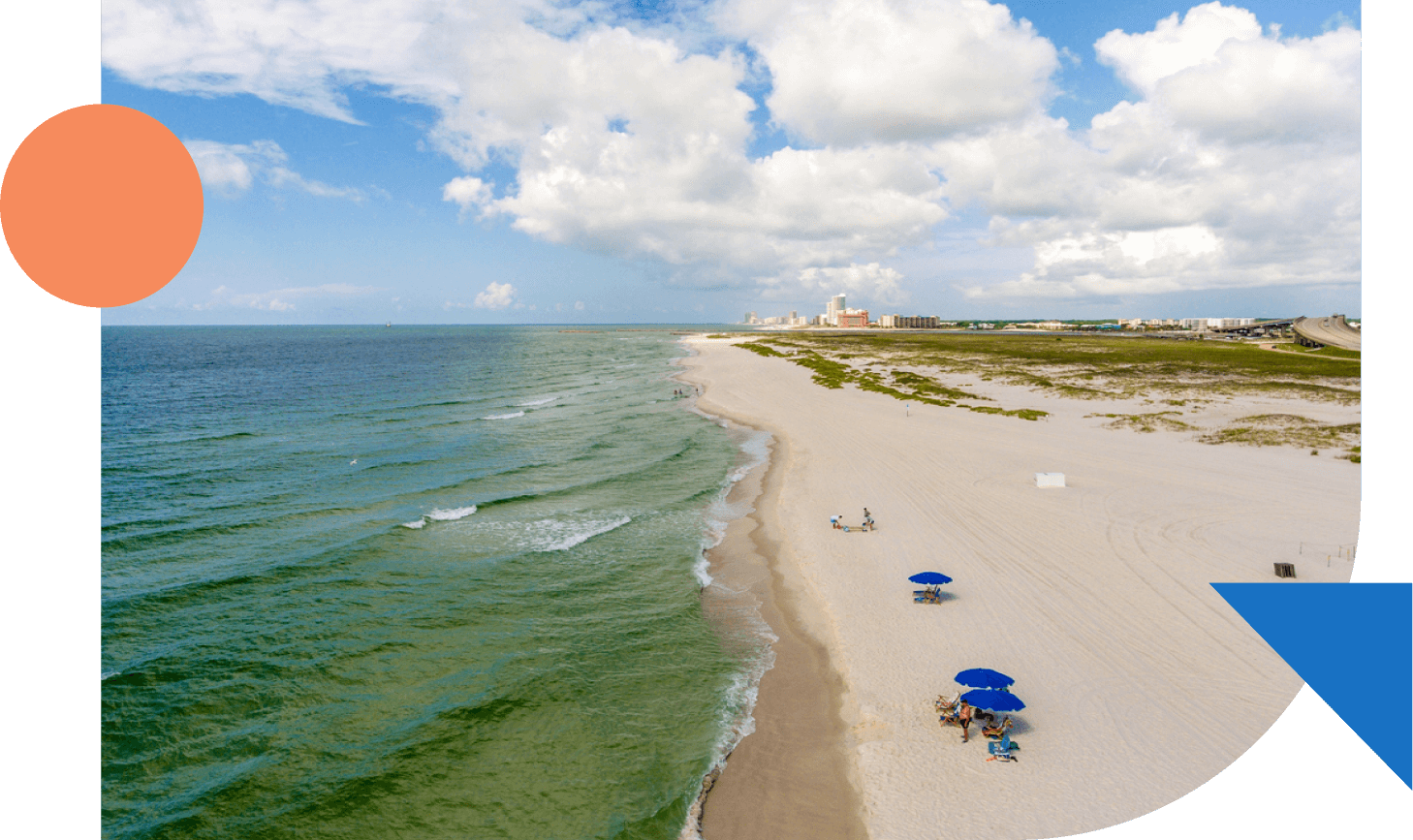 Written by

Christian Simmons

Christian Simmons

Financial Writer

Christian Simmons is a writer for RetireGuide and a member of the Association for Financial Counseling & Planning Education (AFCPE®). He covers Medicare and important retirement topics. Christian is a former winner of a Florida Society of News Editors journalism contest and has written professionally since 2016.

Read More

Edited By

Savannah Hanson

Savannah Hanson

Senior Financial Editor

Savannah Hanson is a professional writer and content editor with over 16 years of professional experience across multiple industries. She has ghostwritten for entrepreneurs and industry leaders and been published in mediums such as The Huffington Post, Southern Living and Interior Appeal Magazine.

Read More

Published: June 22, 2022
Updated: May 23, 2023
13 min read time
This page features 5 Cited Research Articles
Best Places To Retire in Alabama
Alabama doesn't have as many big cities as some other states, but it does have plenty of small towns that offer a relaxing retirement lifestyle. The state also has lesser-known beaches and stretches of coastline, benefits which are more commonly attributed to Florida when considering potential retirement locales.
Best Overall Cities
According to both the Alabama Media Group and local news station WHNT, the best place to retire in Alabama is Orange Beach. The small town has a high rate of senior residents and plenty of retirement-related activities. It has a nice, small-town vibe while being surrounded by nature, and also offers regular and easy access to a beach without the higher cost of living you run into in similar beach towns in Florida.
Another attractive option for retirees is Fairhope, another small town found on the Gulf Coast of the state. It's a friendly community with a nice downtown area and great scenic views all around.
In fact, small-town living may be one of the more enticing aspects of retiring in Alabama. While some states offer major cities and growing communities, Alabama offers many quiet spots that include a mixture of tight-knit, vibrant towns with surrounding nature-related attractions.
Best Retirement Communities
Just as there are many small towns scattered through Alabama, there are many corresponding small retirement communities.
Some Alabama retirement villages can be as small as just a handful of homes, but one of the largest retirement communities in the state is National Village. Located in the Auburn area close to Auburn University, the community offers the advantage of living with other older adults while never being too far from a vibrant college town and all that comes with Auburn's culture.
According to the community's website, it's divided into several distinct villages and includes many amenities such as golf courses, sporting activities and pools. The area also offers nature trails and a lake.
Best Lake Cities
Alabama is spotted with lakes, making several of its small lake towns potentially appealing retirement destinations.
One popular option is Guntersville. More than a fifth of the lake city's population are seniors. The town is set on the massive Lake Guntersville and offers the tranquil retirement lifestyle that comes with living on peaceful waters.
Another very small lake town is Cedar Bluff. According to WHNT, the population is just under 2,000 residents. The town sits on Weiss Lake and is surrounded by water. If you're looking for a truly nature-filled retirement and a small-town vibe, this area might be ideal.
Most Affordable Places
Alabama is generally a very affordable state when compared to other parts of the country, so many of its small towns will offer a low cost of living.
But surprisingly, the most affordable area may be a large city. In fact, Birmingham is one of the most affordable parts of the entire country. So if you're looking to retire in Alabama but value city life over small-town feel, Birmingham might serve as a perfect destination.
Your retirement money can go further in Birmingham, Alabama than in most large cities around the country.
Cost of Living in Alabama
Alabama's cost of living is quite low compared to the rest of the country. The Missouri Economic Research and Information Center ranks Alabama as the eighth-lowest cost of living in the U.S.
For comparison, popular retirement destinations Florida and Arizona — widely considered some of the best states to retire in — rank No. 27 and No. 33 on the list, respectively.
Your money has the potential to go much farther in Alabama, which can dramatically upgrade your retirement lifestyle and ease concerns about burning through your life savings. The Tax Foundation found that $100 in Alabama actually has the spending power of $115.34 elsewhere.
Combined with the relatively low cost of property in the state, you will likely save money should you choose to retire in Alabama.
3 Minute Quiz: Can You Retire Comfortably?
Take our free quiz & match with a financial advisor in 3 easy steps. Tailored to your goals. Near you or online.
Does Alabama Tax Retirement Income?
Like many states, Alabama taxes some forms of retirement income. The good news is that neither Social Security nor pension income is taxed in the state. This can be very beneficial, especially if you are planning for your Social Security check to be a major part of your retirement income.
But Alabama will tax other forms of retirement income, like 401(k) withdrawals, since the state has an income tax and they include the withdrawals as a type of income.
Alabama's individual income tax rate was 5% in 2022. This compares favorably to much of the country and is about on par for the immediate region. The rate is, however, a con when compared to nearby Florida, which has no state income tax at all.
But this income tax disparity can be somewhat counteracted by the low cost of living since some states with no income tax (like Florida) make up the revenue with expensive housing and higher costs of living.
Alabama's Health Care for Retirees
Perhaps the largest deterrent to retiring in Alabama is the level of health care service available throughout the state. According to the United Health Foundation, Alabama ranks No. 44 nationally in overall health rankings. This ranking makes it one of the least healthy states in the country.
The report found that Alabama's population had a high prevalence of premature death and a low prevalence of exercise.
The state also ranked poorly for the actual health care and health care systems within Alabama. U.S. News and World Report ranked Alabama No. 35 in the nation for health care quality.
For comparison, popular retirement spots Florida and Arizona ranked No. 18 and No. 4, respectively.
On a positive note, Alabama ranked No. 4 nationally for Medicare quality. While Medicare is a federal program that does not vary by state, Medicare Advantage plans are offered regionally. There is a high level of quality and diversity in the plans available in Alabama.
Don't Leave Your Health to Chance
You've worked hard your whole life by thinking ahead. Now do the same for your health. Get free Medicare help to plan your future.
Pros and Cons of Retiring in Alabama
The pros of retiring in Alabama are simple. The state offers mild weather paired with an extremely low cost of living, giving retirees the chance to make the most of their retirement savings.
Tax on retirement income is also generally favorable when compared to most other states.
Alabama offers some of the best small-town living in the country for retirees. Plenty of towns feature easy access to beautiful lakes and beaches, paired with nearby nature and scenery and vibrant downtown areas.
But there are some legitimate deterrents to retiring in Alabama as well. Health care is a major concern for retirees, and there is simply no way around the fact that Alabama's health care does not stack up when compared to other retirement destinations.
There also isn't a ton of variety for where to live in Alabama, with few major cities and little diversity in climate and environment.
Never miss important news or updates
Get successful retirement tips in our free weekly newsletter
Retiring in Alabama FAQs
How much money do you need to retire in Alabama?
Alabama has one of the lowest costs of living in the United States, so you don't ‌need as significant an amount of money or savings to make retirement comfortable there versus in other areas of the country. For reference, the median household income in Alabama was about $52,000 in 2020.
Do seniors pay property taxes in Alabama?
Alabama will not levy state taxes on your property if you are over the age of 65. There are also certain disabilities that can exempt you from paying property tax in the state.
Does Alabama tax your pension?
Alabama will not tax your pension income. While the state also doesn't tax Social Security income, other forms of retirement income, like 401(k) distributions, are subject to income tax.
I am seriously looking for a place to retire that is safe and affordable and has nice beaches/water. I found a lot of value and hope in your article.
Last Modified: May 23, 2023
Share This Page
5 Cited Research Articles
Your web browser is no longer supported by Microsoft. Update your browser for more security, speed and compatibility.
If you need help pricing and building your medicare plan, call us at 844-572-0696