Aging in Place: A Guide to Growing Older at Home
Aging in place is the process of staying in your own home as you grow older instead of moving to an outside facility. To properly age in place, you should create a budget, discuss options with your family, connect with home health services and identify necessary home modification projects.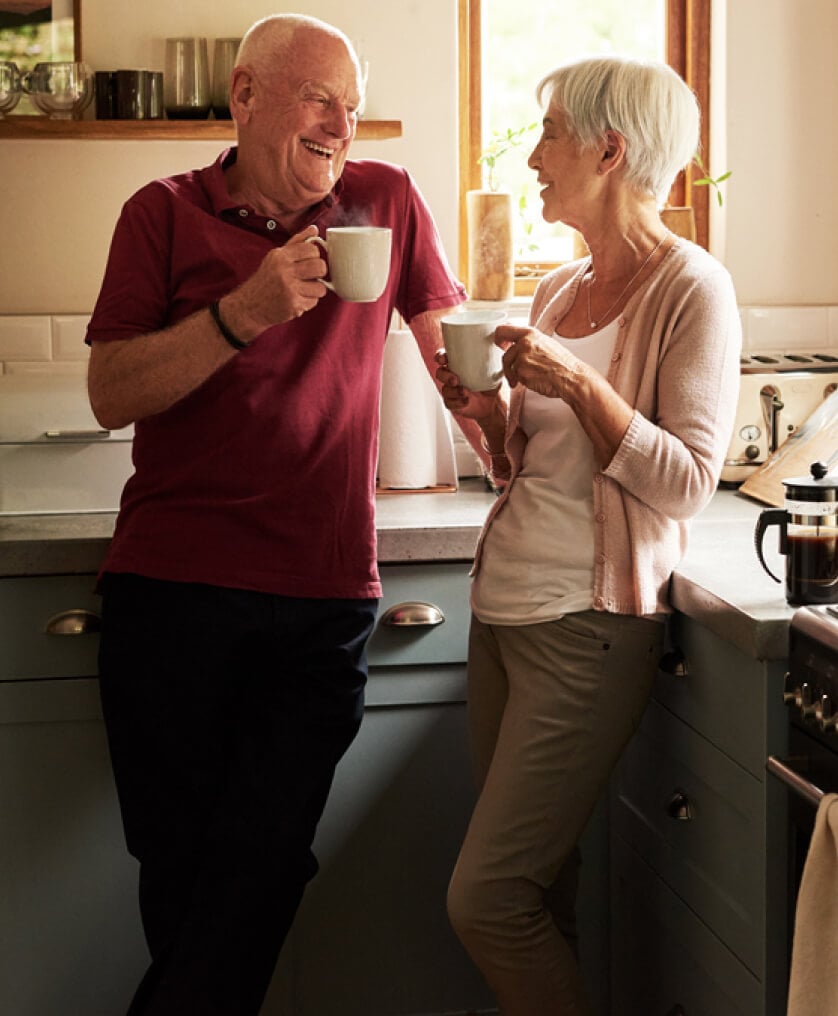 Key Takeaways
The term "aging in place" refers to the ability of older adults to live in their homes and communities safely, independently and comfortably, regardless of their age, income or abilities. Examples of aging in place include seniors living in their homes and receiving Meals on Wheels or living in a retirement community so that transportation isn't a concern.
Aging in place is best suited for those who have good health, a strong support system and minimally maintained or fully paid off homes.
Some of the most important aspects of aging in place include living independently, safely and financially soundly.
Nearly 80 percent of adults ages 50 and older want to remain in their current homes as they age, according to AARP.
Aging in place is often more affordable than transitioning to institutionalized care and allows someone to retain independence in a comfortable, familiar setting.
However, aging in place isn't right for everyone. It requires careful planning, research and coordination.
In this guide, we explore the many factors older adults and their families should consider when making this decision.
We also discuss available resources from the government and nonprofit organizations that can help make the aging in place process easier.
What Is Aging in Place?
Aging in place occurs when someone makes a conscious decision to grow older in their current residence instead of moving to an assisted living or long-term care facility.
Aging in place works best for people who create a plan, modify their home and establish a supportive network of family and home care services.
Affordable, accessible and suitable housing options also make it easier for older adults to age in place and remain in their community for years to come.
The choice to either age in place or transition to assisted care is a complex and personal decision influenced by emotional, physical and financial factors.
Is Aging in Place Right for You?
Staying in a familiar setting is a priority for many seniors.
But aging in place isn't always as easy as it sounds. Maintaining independence can become increasingly difficult as age increases and health declines.
Everyone's situation is different. It's important to evaluate and be realistic about your own circumstances.
Logistics of Aging in Place
A widowed 70-year-old woman who lives in a ranch-style, accessible home within 15 minutes of her two adult children will likely have an easier time aging in place.

An 85-year-old man who lives in a large, three-story home in a rural area with no nearby family or friends will have a difficult time aging in place.
Advantages of Aging in Place
Less Expensive

Assisted living facilities and nursing homes are expensive. Most health insurance programs and Medicare do not cover long-term care. Aging in place is usually much more affordable than moving into a facility, especially if your current home is paid off.

Maintain Independence

Personal independence tends to decrease with age. Older adults will eventually need help to accomplish everyday tasks. But if assistance is available from family, friends and caregivers, seniors can retain aspects of independence at home.

Familiar Setting and Routine

For many seniors, the emotional value of a home is far greater than its monetary value. While some older adults quickly adapt to living at a nursing home, others may never fully adjust or feel at home in a new environment. This can negatively impact a person's mental health.
While staying in the family home is ideal, it isn't always realistic.
"It's not for everyone. It's important to explore your options," Louis Tenenbaum, a former home modifications contractor who now runs the aging in place policy and advocacy organization HomesRenewed, told RetireGuide. "Every house isn't a good candidate, and everyone's situation is different."
While Tenenbaum said most homes can be adapted for aging residents, he admitted that certain situations make remodeling difficult and expensive.
"A multistory home without a bathroom on the first floor, for example," said Tenenbaum, who founded one of the country's first design-build remodeling companies focused on aging in place services back in 1993. "Or if access is difficult from the outside, like a really long driveway. There's also a lot of homes that are just suffering from major maintenance neglect."
Cognitive impairments, such as Alzheimer's disease and dementia, also make aging in place precarious because around-the-clock care is required as the disease progresses.
Disadvantages of Aging in Place
Safety Concerns

As you age, health emergencies become more frequent. Having someone nearby who can quickly assist you if you fall or have an accident is important. If you live alone, cognitive impairments can become dangerous. You might forget to take your medication, or you may wander away from home.

Home Maintenance Challenges

There's a tendency for your home to fall into disrepair as you age in it. Some older adults are unable to pay for regular repairs. Others may struggle to do the work themselves or find reliable help. Delaying maintenance can endanger your safety and limit the livability of your home.

Lack of a Support System

Not everyone is fortunate enough to have nearby family members willing to help. Aging in place may not be feasible if there are few friends and neighbors you can turn to for support or if you're not comfortable coordinating a network of caregivers. If your adult children live far away or have their own health issues, aging in place can be particularly challenging.
Planning to Age in Place: Steps to Take
Aging in place isn't simply a decision to do nothing and stay put. Things will need to change, and preparations will need to be made.
Creating a roadmap and checklist can help prioritize what needs to be done. Examining available home care and community resources makes it easier to decide what's right for you and your family.
"If you start planning and addressing where the holes are in your aging-in-place plan, it's going to make things more comfortable in the long run," Tara Ballman, program director at the National Aging in Place Council, told RetireGuide.
Steps to Take to Age in Place (Checklist)
Proper planning can go a long way. It's better to have a support system established before a health crisis forces you to make uncomfortable decisions.
"If you wait until you're already infirmed or in bad health, that's a poor time to hire a remodeling contractor to modify your home," Tenenbaum said. "We really want people to take these steps in advance."
Staying social is also key for seniors aging in place, Ballman said.
"The social aspect is something people don't plan for — but they should," said Bellman, who also works as an aging services expert at HomeWorks Physical Therapy in Costa Mesa, California.
Senior centers, clubs and community activities are a good way to stay involved. Zoom or FaceTime calls with loved ones can help, too.
Ask an Expert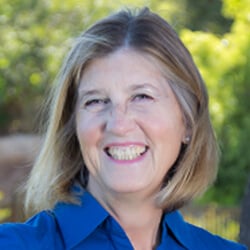 Fritzi Gros-Daillon
AGING IN PLACE EXPERT
Fritzi Gros-Daillon is the director of education and advocacy at Age Safe America, a national membership, training and advocacy organization focused on home safety assessments and aging-in-place home modifications. She is also the former owner of Transitions USA, a senior move management company that specializes in downsizing for seniors moving from larger homes into apartments or assisted living facilities.
Why should people create an aging in place plan now?

As we age, so do our surroundings and our homes. Having a plan reduces the stress of decisions when something unexpected happens.

What should an aging in place plan include?

An aging in place plan has many components: Goals, assessment of current and future needs and wants, health care considerations and financial resources.

Starting with a home safety assessment is a great way to identify and mitigate the risks of falls and other hazards, and to add features such as extra lighting to enhance a home.

How can people decide if it's better to remain in their home or move to an outside facility?

There are several factors to consider — including the goals and wishes of the homeowner. There are financial considerations, such as moving expenses, selling a home and the cost of the new community into which a person would move.

These costs are balanced against home maintenance costs.

When does aging in place make sense?

Aging in place makes sense if the homeowner can manage the home sufficiently. This may mean by themselves, or with the help of family, friends or even professionals.

It makes sense when someone has access to health care, socialization and transportation.

When does aging in place not make sense?

It may not make sense if any of the components of one's ability to stay in the home are compromised. For example, a health event or a progressive condition that requires more care can trigger a decision to move.

Or it may be loneliness and the desire for community that can make a move to an outside facility a better solution for someone.

What are some financial considerations to keep in mind?

You can analyze the costs of staying home versus moving to a community-care setting. If there is no mortgage on a house, for example, there may be funding in the home equity to pay for a home assessment and modifications that can help a homeowner stay there.
Costs of Aging in Place
Often seniors choose to age in place simply because it is the most economical option.
Expenditures for nursing homes are more than three times those for noninstitutional long-term care services, according to an analysis by the U.S. Department of Housing and Urban Development.
Did You Know?
In 2020, the national median cost of an assisted living facility was $51,600 a year. A private room in a nursing home was more than double, with a median national cost of $105,850 per year.
Many seniors dread the idea of expensive institutionalized care, especially those who own their own home outright.
Forty-one percent of homes owned by people age 55 to 69 were mortgage-free in 2017, according to a data analysis from Zillow. The number rises to 68 percent for adults 70 and older.
But aging in place isn't cheap. Yes, the home might be paid for, but other costs exist.
Creating a budget is a great way to identify potential expenses and reduce long-term spending.
Still, money can be a tough subject to bring up.
"The roles are starting to reverse as the adult children see a need or desire to help their parents and that is uncomfortable for everyone," Susan Greenhalgh, accredited financial counselor and president of Mind Your Money LLC, told RetireGuide.
But Greenhalgh said it's important to be honest with yourself — and your family — about your financial resources and limitations.
"Parents can ease the burden on their children by bringing up financial topics first," Greenhalgh said. "This is a great gift for your children."
If you're an adult child, establish this dialogue with your parents early. Reassure them that just because you want to help doesn't mean you're cutting them out of financial decisions.
When creating an aging in place budget, consider the cost of:
Rent or mortgage payments
In-home care, such as home health aides and registered nurses
Utilities
Credit card and debt payments
Phone and Internet bills
Out-of-pocket Medicare costs such as premiums, deductibles and prescription drug costs
Food, including meal and grocery delivery costs
Personal care items
Transportation, especially if an older person can no longer drive
Assistive technology such as a personal mobile emergency response system or magnifiers to assist people with low vision
Hiring help for repairs, cleaning or cooking
Property taxes
Evaluate your sources of income as well such as Social Security benefits, disability benefits, retirement account distributions and pensions.
Keep in mind that the cost of aging in place will likely increase over time. It may be more affordable to stay in your home now, but that can change in five or 10 years.
Some seniors may want to explore the Federal Housing Administration's Home Equity Conversion Mortgage program, which helps people age 62 and older who own their homes outright age in place by giving them access to their home's equity as income.
The first step in qualifying for a federally approved reverse mortgage is an educational session with a qualified counselor. They can explain the process in detail, and you can decide if it's right for you.
It's also important to consider where you will age in place.
You may consider a "granny flat" or "in-law quarters" — a separate, self-contained living unit with its own entrance, kitchen, bathroom and bedroom located on the same property as your children's house.
Only about 7 percent of people have an auxiliary dwelling unit, but according to a 2018 AARP survey, 1 in 3 people would consider building one on their property.
Constructing this type of tiny home may be cheaper than buying a new home or moving into a nursing home.
Speaking with a financial advisor or money coach is a wise way to map out future expenses. A professional can offer unbiased third-party perspective and help you refine your budget.
Another option is talking to a geriatric care manager. This professional is usually a licensed nurse or social worker who helps you create a long-term care plan and find the community resources you need.
You can use the Eldercare Locator to find geriatric care manager recommendations.
Home Modifications
Modifications can make it easier for you to navigate and live in your home as you age.
Some changes are relatively quick and easy, such as removing throw rugs or rearranging furniture.
Other renovations are more costly and time consuming.
Common Aging in Place Home Modifications
Installing nonslip flooring, especially in the bathroom.
Widening doorways and hallways for wheelchairs or scooters.
Installing a walk-in tub or shower.
Building ramps.
Installing grab bars and grips in the bathroom.
Creating a bedroom on the first floor.
Adding brighter lighting fixtures.
The cost of home modifications can range from a couple hundred dollars for basic projects to several thousand dollars for extensive modifications.
Did You Know?
About 80 percent of home modifications and renovations are paid for out-of-pocket by the residents.
If you decide to move forward with modifications, it's wise to consult an expert.
The National Association of Home Builders certifies aging in place specialists who are trained to design and build barrier-free living environments specifically for older adults.
"Everyone's home is different, and everyone's physical limitations are unique," Adam Fine, president of Accessible Construction and two other California-based companies, told RetireGuide. "A professional can come in and assess your needs room by room."
Fine is a certified aging-in-place specialist who entered the industry more than 20 years ago when his father was dying from Parkinson's disease.
"It made me realize how important it is to adapt your home as you age to make it safer," he said.
After inspecting a home during an initial consultation, Fine drafts a game plan of projects along with estimated costs. Customers can then decide which modifications fit their budget.
"Many people will start out with just a few basic modifications," Fine said. "Over time, people's needs change. They may call us a few years later and decide they want that stair lift installed after all."
Fine said common accessibility issues his clients face include getting over the front door threshold, getting on and off the toilet, climbing stairs, and getting out of the bed and shower.
Many home modifications don't require actual construction, Fine said. For example, instead of knocking down walls to widen a doorway, his crews prefer to use offset hinges, which add about an extra inch-and-a-half to each side.
Non-construction projects average between $4,000 to $10,000 while construction projects can range from $20,000 to $40,000, Fine said.
A total bathroom remodel averages around $20,000, while basic bathroom modifications run about $1,000.
"I tell my customers that for a nominal investment now, make the home safer so that you can be more independent and stay in it for as long as possible," Fine said.
Tip
The
National Association of Home Builders
offers a full checklist of aging-in-place remodeling ideas. You can find a certified aging-in-place specialist by calling the NAHB at 1-800-368-5242.
Source: National Association of Home Builders
In-Home Care
If you want to remain in your home, you'll likely require some type of in-home care.
Home health care is typically less expensive, more convenient and just as effective as services you receive in a hospital or nursing facility.
Ask yourself some basic questions to identify the kind of aging-in-place home care that's right for you.
Questions to Consider About Home Health Care
How many hours of care per day and per week will you need?
How much care can your family provide?
What kind of care may you need in the future?
How much will your other health care costs be in addition to in-home care?
Do you also need homemaker services such as help with cleaning, cooking or grocery shopping?How many hours per week?
Professional caregivers such as nurses, aides and therapists can provide short-term or long-term care in the home, but their costs vary.
In 2020, the national median hourly rate for homemaker services was $23.50 an hour, according to Genworth Financial's Cost of Care Survey. The national median cost for home health aides was $24 an hour.
Many home health care services are covered by Medicare. Other government programs, such as Medicaid and the Department of Veteran's Affairs, can also help pay for this care.
Once you understand your needs, you can start exploring your options.
Types of Home Health Care Services
Home Health Aides

These professionals can assist with basic personal needs such as getting out of bed, walking, bathing and dressing.

Skilled Nursing Care

A registered nurse or a licensed practical nurse provides skilled nursing care. Services may include wound dressing, intravenous therapy, administering medication and certain injections, monitoring your general health, pain control and other health support services.

Occupational, Physical and Speech Therapy

Professional therapists can provide services to help increase your ability to perform daily duties or improve your speech after an illness or injury.

Medical Social Services

Services can include counseling or help finding resources in your community for emotional support. Medicare does not cover these services unless you already receive skilled care.

Homemaker Services

A homemaker can assist with chores or tasks that maintain your household, such as meal preparation, light cleaning, laundry and grocery shopping.

Medical Supplies

Items such as catheters and wound dressings are provided by your home health agency. Medicare may also cover some of the cost for durable medical equipment, such as wheelchairs or walkers.

Telehealth Services

An increasing number of insurance providers — including Medicare, Medicaid and many private insurers — now cover telehealth appointments. Recent policies related to the COVID-19 pandemic have helped increase access and expand coverage of telehealth services, which can help connect you to a nurse or doctor without leaving your home.
Keep in mind that Original Medicare will not pay for full-time home care or homemaker services if this is the only care you need. It also doesn't pay for extended long-term stays at an assisted living or skilled nursing facility.
If your doctor or health care provider determines you need home health care, they should give you a list of agencies in your area.
You can also find available home health options by using the Medicare search tool or by conducting your own online research.
If you're a veteran, check with the VA. You may be eligible for medical care in your home, homemaker services, adult day care and hospice.
To learn more, visit the VA website or call the VA Health Care Benefits number at 1-877-222-8387.
How to Reduce Costs of Aging in Place
An important part of aging in place is thinking about how you are going to afford the help you need.
Some services and equipment may be covered by Medicare or other health insurance. Some may not.
Medicare Advantage and Medigap
If you're eligible, Original Medicare will pay all costs for home health care services ordered by a doctor and provided by a certified home health agency.
To qualify for Medicare home health services, you must be homebound and under the care of a doctor.
Additional services may be provided by Medicare Advantage, which are plans administered by private health insurance companies that contract with the federal government.
In 2019, the Centers for Medicare & Medicaid Services allowed Medicare Advantage plans to begin offering expanded in-home support services that Original Medicare doesn't cover.
This can include nonmedical transportation, adult day care programs, caregiver support, nutrition programs and home modifications.
It can also include nontraditional offerings. In California, SCAN Health Plan offers Medicare Advantage members a free Fitbit activity tracker every two years to monitor fitness goals.
"There's a lot of little things they can work into those Medicare Advantage plans now that you don't get typically with traditional Medicare," said Tara Ballman, the program director at the National Aging in Place Council.
Several major insurers offer Medicare Advantage plans with enhanced benefits, including Cigna, Anthem, Humana and UnitedHealth Group.
You can search for Medicare Advantage plans in your area that offer these services by using the Medicare Plan Finder Tool or by calling 1-800-633-4227.
About 40 percent of all Medicare beneficiaries are enrolled in a Medicare Advantage plan. For those enrolled in Original Medicare, supplemental plans known as Medigap can help cover out-of-pocket costs, including deductibles, coinsurance and copayments.
Long-Term Care Insurance and Annuities
People who plan early may buy insurance policies that cover expenses related to aging in place. This can include long-term care insurance or a life insurance policy with a rider for long-term care, often referred to as a hybrid policy.
However, these policies come at a high price.
The average long-term care insurance yearly premium for a 55-year-old single male in 2019 was $2,050, according to the American Association for Long-Term Care Insurance. The yearly cost for a female averaged $2,700.
Even if you can afford the coverage, you may not qualify. About 1 in 5 applicants younger than age 60 are declined, and rejection rates increase with age, according to 2019 data from the same trade group.
Annuities are another option that may help fund future costs. An annuity is a contract issued by an insurance company that converts your premiums into a guaranteed fixed income stream.
Annuities can be complex and expensive. It may require an initial investment of $100,000 or more, and purchasing one gets more expensive as you age.
Program of All-Inclusive Care for the Elderly (PACE)
Program of All-Inclusive Care for the Elderly (PACE) is a program run by Medicare and Medicaid. It helps provide services to people who would otherwise need care in a nursing home.
PACE covers in-home care, adult day care, doctor visits, hospital and nursing home stays, prescription drugs and some medical transportation.
It can also pay for training and respite for family caregivers.
There may be a monthly charge for services.
PACE can also cover some or all the long-term care needs for people with Alzheimer's disease.
In 2020, there were 133 PACE programs operating 264 centers in 31 states, and more than 51,000 Americans participated in some type of PACE program.
You can use the online PACEFinder or call 1-877-267-2323 to see if there's a PACE program near you.
Free Community Resources
Nearly every community in the U.S. has an established network of services that allow older adults to age in place.
Most of these are available to all seniors, regardless of income.
There are 622 Area Agencies on Aging in the U.S., and each coordinates a complex local service delivery system to reach millions of older adults and caregivers.
Common services offered by local Area Agencies on Aging include:
Delivered meals
Visiting nurses
Transportation services
Information and referrals
Senior centers that offer adult day care, programs, outings and social engagement
Caregiver support
Health and wellness programs
Resources such as Benefits.gov and BenefitsCheckUp from the National Council on Aging can help you discover benefits you might qualify for.
These programs can help pay for prescription drugs, heating bills, housing, meal programs and legal services.
Additional Resources
Last Modified: May 6, 2022
Share This Page
19 Cited Research Articles
Need Help Planning Your Retirement?
Yes, I'm Interested
I Have Help Already
I Will Manage It Myself
RetireGuide will soon offer services to help you better manage your retirement.
We will be offering assistance with annuities, life insurance, Medicare and financial planning. Sign up for updates and be the first to know when these services are available.
Get the right information to stay on top of your retirement planning.
Sign up for our newsletter for our latest retirement planning guides, tips and more!