Life After Retirement
You have lots of choices when it comes to what to do in retirement. Planning your life after retirement should focus on the retirement lifestyle you want to pursue, and planning for that goal. Finding the right retirement lifestyle for you depends on your interests, long-term goals and finances.
On This Page
How to Choose a Retirement Lifestyle
One of the most important questions to ask yourself when planning for retirement is, "What do I want to do in retirement?" Planning to save for retirement without knowing how you'll want to spend those savings in your golden years can leave you unprepared for the life you truly want after retirement.
According to the Social Security Administration, for Americans at full-retirement age, men are looking at more than 18 years in retirement, women at more than 20 years. That's a lot of time, and you're going to want to be happy with how you spend it.
What Are Your Retirement Living Priorities?
Consider what's important to you – friends and family, socializing, travel, hobbies and activities. Use this simple checklist of questions to get started. Use it to think about these and other priorities that you place on your life in retirement.
Retirement Lifestyle Checklist
Do you want to continue working – full-time or part-time?
Do you want to reinvent your life in retirement?
Do you want to pursue hobbies or other activities?
Is community important to you?
Do you want to take part in charitable activities?
Do you want to travel?
Do you want to retire abroad?
Do you want to move to another state?
Is living somewhere with lower taxes important?
Do you have health concerns that will affect your retirement lifestyle?
How important to you is health care quality where you live?
Will you need more income in retirement?
How much will your lifestyle cost – and will your finances support it?
Do you plan to stay in your current home?
Do you want to live near family or friends?
Do you want to move into a retirement community?
Have you planned on assisted living as you age?
What activities are you passionate about that you want to include in your retirement lifestyle?
Once you determine your priorities in your life after retirement, you will have a better idea of what should be included in your retirement planning strategy.
Determining – and Paying for – Your Retirement Lifestyle Cost
The average American age 65 and older will spend $974,268 over the rest of their lifetime – or $50,220 per year in 2019 dollars – according to the Bureau of Labor Statistics.
But that average varies depending on where you live – ranging from $857,886 in Mississippi to $1.48 million in Hawaii.
And that's just the average amount spent. Factor in any special retirement activities you have, and you can quickly see how you'll need to plan for an income in retirement.
Don't Rely on Social Security Alone
If you're like most Americans, you've probably gotten comfortable with the security of a regular paycheck. That can change dramatically as soon as you retire.
You can expect your Social Security benefits to be less than half your pre-retirement salary. So you'll need to cover that difference.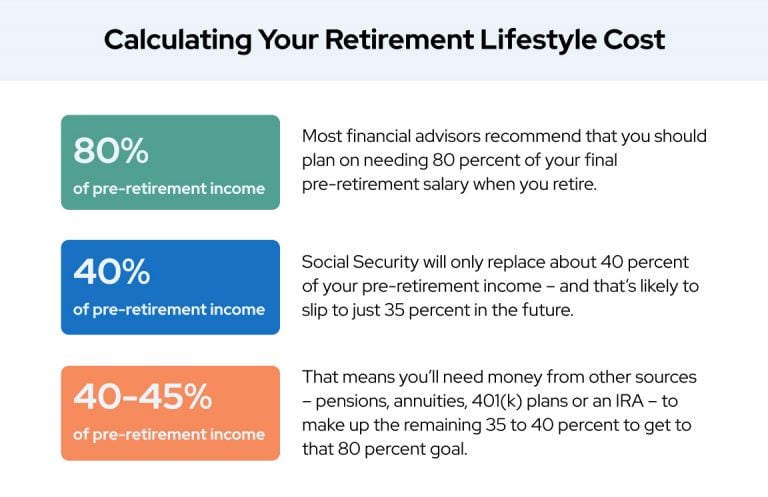 Consider Savings, Annuities and Other Options
Most people will need to have another income stream to make sure they can meet their bills and still enjoy their life in retirement.
Additional Retirement Income Streams
Pensions

Pensions have become increasingly rare in the private sector. For those who still have a pension – including many government workers – it can provide a regular source of lifetime income.

An annuity is a life insurance contract that you purchase which guarantees you a regular income in retirement and a steady stream of income for the rest of your life.

Retirement Savings

Most private-sector retirement plans rely on 401(k) plans, individual retirement accounts (IRAs) or similar plans. You contribute money that is invested in the plan throughout your working life. Depending on the type of plan, you typically get a tax break either when you contribute or when you take money out after retirement.

Veterans pension benefits

If you meet certain criteria – served during wartime, are 65 or older, have a service-connected disability, little or no income – you may qualify for Veterans Pension benefits through the Department of Veterans Affairs. This is different from your military retirement pension, which pays a lifetime annuity based on the number of years you served.
Part-Time Work Options to Consider
A part-time job in retirement can be a good fit for people who want to keep working, enjoy the downtime that comes with traditional retirement, and have an additional income stream.
3 Reasons People Choose a Part-Time Job in Retirement
Lifestyle – a desire to be physically active and mentally stimulated or try a new line of work
Financial need – you may need the extra money – or health care benefits – that come with a part-time gig
Easing into retirement – if you like your job but want more free time after retirement, you may consider talking to your employer about shifting to part-time or working as a contractor
Several part-time jobs are available to older Americans that require minimal training, provide a steady supplemental income stream, and keep you active. Many companies are now offering more opportunities to work from home which can serve as a bridge to retirement.
5 Top Part-Time Jobs for Retirees
Real estate agent

According to Indeed, the national average salary for a real estate agent is $42 per hour – that includes a commission on the properties they sell. You will have to be licensed.

Dental hygienist

You'll need at least an associate's degree in the field and a license to practice. About 17 percent of dental hygienists are over 55 and earn an average wage topping $35 per hour.

Freelance consultant

You can put your career experience to work for yourself advising others in your field. The average salary is more than $27 an hour.

Full charge bookkeeper

More than 73 percent of people in this part-time job are over age 55 with an average hourly wage of more than $20 – while regular bookkeepers earn about $18 per hour on average.

Driver

About 73 percent of school bus drivers are over the age of 55 with a national average wage of $17 an hour. Taxi drivers and people who work for gig economy rideshares like Lyft or Uber make on average between $14 and $15 an hour.
If you plan to continue working into retirement, talk to your licensed financial advisor about tax implications for any retirement savings or collecting Social Security benefits. These may have an impact on your finances.
Senior Living Options
Where you choose to live can make a difference in your retirement lifestyle – from activities you pursue to who you socialize with to how much your new lifestyle will cost.
Retirement Living Options
Senior living apartments

These age-restricted apartments, condos or townhouses are specifically designed for the needs of older Americans and generally require less maintenance. They typically feature pools or fitness centers but not medical or dining services like a senior care center. Moving into a senior living complex can free up equity in your home for travel or other retirement lifestyle activities.

55+ retirement communities

These age-restricted retirement communities typically have freestanding houses as well as apartments or townhouses aimed at active, older adults. They may feature their golf courses, organized activities, busy social calendars and other amenities.

More than 400,000 U.S. retirees live abroad, according to the Social Security Administration. There are several countries where an American can stretch their retirement dollars while enjoying retirement. The secret is looking for a balance between your finances, a place you will enjoy living and understanding the issues of becoming an expat – from tax issues to health care. You'll still have to pay income taxes in the states, and Medicare typically doesn't cover your health care in a foreign country.

Moving to another state

If you're considering moving within the United States when you retire, be sure to look at how taxes, cost of living, health care and other quality of life issues stack up in the best and worst states to retire in before deciding where to relocate.
Retirement Hobbies and Activities
Retirement should be the time of your life to pursue what matters most to you and makes you happy. You'll need to live within your means, but you can still pursue hobbies and activities that meet those two goals.
Hobbies and Activities to Consider During Retirement
Explore your creativity

Hobbies from knitting to photography can take on a new life in retirement if you're passionate about them and have more free time to devote to them. If you've ever wanted to write a book or start a blog about something that interests you, now's the time – without having to worry about turning it into a daily grind.

Travel

Free of a limited number of vacation days, your budget may be your only limit to seeing the world. Taking an RV adventure across the country may be an affordable option you can spread out over multiple weeks. Flexible travel dates and group tour packages can reduce the cost of intercontinental travel. Cruises offer activity packed adventures at sea with four-day packages providing affordable options.

Outdoor adventure

Retirement is a great opportunity to head out on a weekday and avoid weekend crowds at national and state parks or your favorite fishing hole. National and state parks also offer senior passes in a lot of cases. Check with your local parks for details. Camping, hiking or other outdoor activities can also help you keep in shape while enjoying nature.

Go back to school

Keep your mind active in retirement by taking classes at your local community college or university. Retirement is a good time to study a subject you were always interested in but never had the time to delve into. Many colleges and universities allow senior citizens to take or audit classes at reduced tuition rates – and in some cases for free.

Health and fitness

Whole retirement communities are built around golf courses. But running, swimming, biking and dozens of other healthy activities are great lifestyles to pursue in retirement. Staying physically active provides long-term health benefits. The U.S. Department of Health and Human Services recommends adults 65 and older get at least two and a half hours of moderate – or 75 to 150 minutes of vigorous – physical activity a week.

Volunteer

According to a survey by AARP and Independent Sector, an estimated 42 percent of retirees volunteer in their communities, an organization that works with foundations and nonprofits. Volunteering is a great way to remain active, socialize with people, and contribute to your community while feeling a sense of accomplishment.
The key to finding the right activity or hobby for your retirement lifestyle is to choose activities that you will enjoy – or expand on the ones you've enjoyed during your working years.
Focusing on the things you enjoy in life should be as important a part of your retirement planning as the financial strategy that gets you there.
Last Modified: December 21, 2021
Share This Page
12 Cited Research Articles