Vacation Ideas for Retirees Who Love Food and Culture
With food tourism, retirees can immerse themselves in new flavors, vibrant cultures and unforgettable experiences. But where should you start your journey? This guide explores top culinary and cultural destinations like Italy, France, Thailand and New Orleans, and offers valuable tips for planning your trip.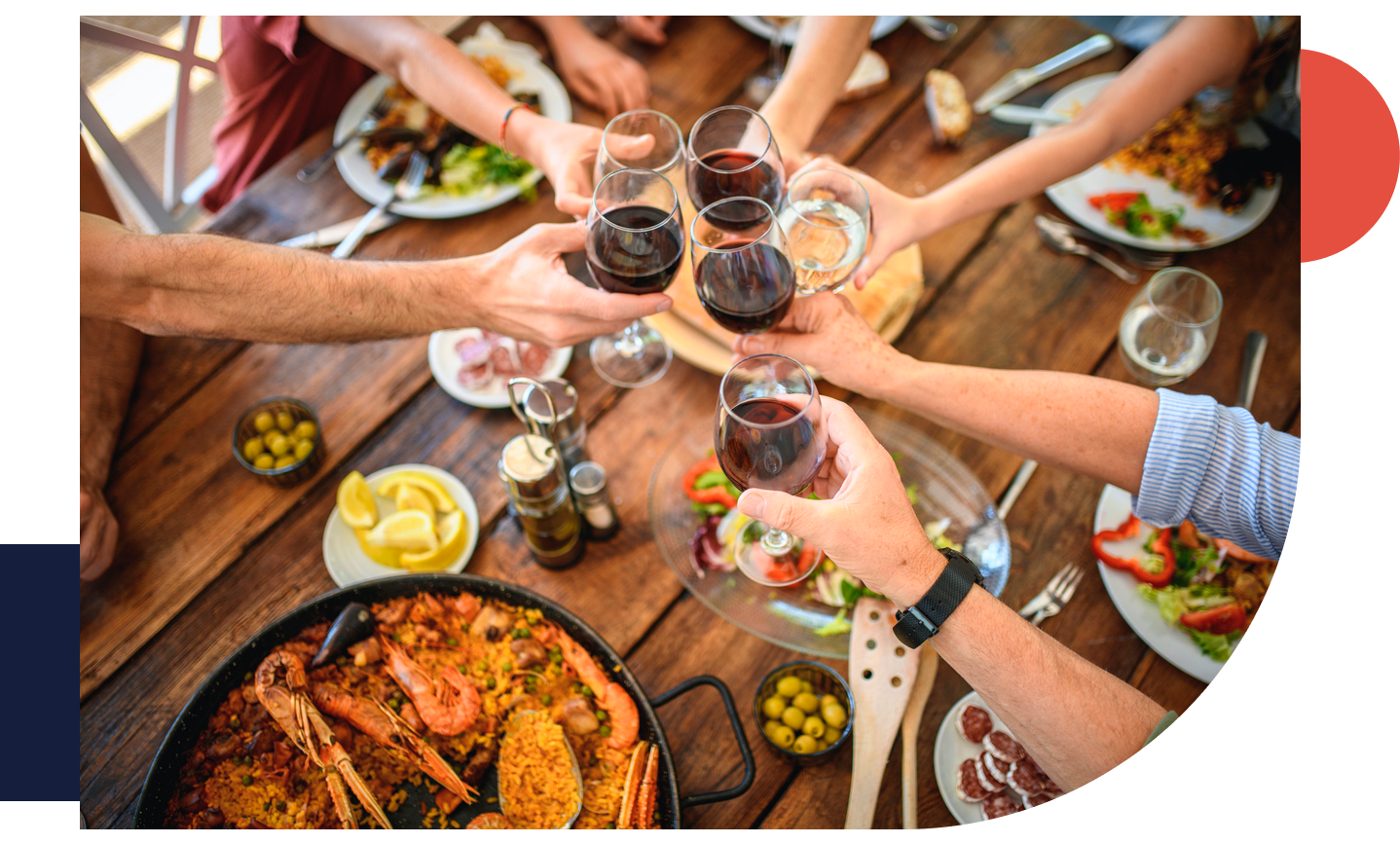 Written by

Michael Santiago

Michael Santiago

Senior Financial Editor

Michael Santiago, a senior financial editor, joined RetireGuide in 2023. With over 10 years of professional writing and editing experience, he brings a wealth of expertise in creating content for diverse industries, including travel and healthcare. Having traveled to more than 40 countries across five continents and lived in Europe and Asia for several years, Michael's global perspective enriches his work. He combines his strong writing skills, editorial judgment and passion for crafting accurate and engrossing content to enhance the user experience on RetireGuide.

Read More

Edited By

Savannah Pittle

Savannah Pittle

Senior Financial Editor

Savannah Pittle is a professional writer and content editor with over 16 years of professional experience across multiple industries. She has ghostwritten for entrepreneurs and industry leaders and been published in mediums such as The Huffington Post, Southern Living and Interior Appeal Magazine.

Read More

Published: September 14, 2023
Updated: September 19, 2023
8 min read time
This page features 4 Cited Research Articles
Why Choose a Food and Culture Vacation?
Food and culture play pivotal roles in our lives and can greatly enhance our travel experiences, particularly during retirement. Food tourism transcends simply dining out during travel. It revolves around the immersive experience of exploring local cultures, understanding regional culinary practices and tasting the authentic cuisine of each place.
Connecting with New People and Cultures
Food has a unique ability to bring people together. By immersing yourself in the local cuisine, you can establish connections with the people of the region and gain a deeper understanding of their customs and way of life. Sharing a meal can create bonds that make your travel experience more fulfilling and memorable.
Enriching Historical and Cultural Perspectives
Culture provides us with a sense of history, tradition and perspective. Exploring different cultures during your vacation allows you to broaden your horizons, appreciate the richness of human diversity and gain insights into the heritage of a place. This can be particularly rewarding for retirees, who often have an enhanced interest in delving into the cultural aspects of their destinations.
Top Food and Culture Vacation Destinations for Retirees
These cities each have a rich heritage of distinct cuisines and vibrant cultural scenes, allowing retirees to experience unique flavors and traditions.
Florence, Italy
Florence, renowned for its delectable cuisine and rich history, offers retirees a paradise for their taste buds coupled with cultural exploration. Indulge in fresh pasta, authentic gelato and pizza while immersing yourself in the city's captivating art, architecture and historical landmarks.
Be sure to taste local Tuscan specialties like ribollita soup and bistecca alla Fiorentina. A visit to a local vineyard to sample Chianti, the region's signature wine, is a must for wine lovers.
Paris, France
Parisian cuisine is synonymous with gourmet dining. Known for its artisanal bakeries, charming cafes and Michelin-starred restaurants, Paris is a famous destination for culinary enthusiasts. Don't miss out on trying Parisian specialties like croissants, escargot and crème brûlée.
With its iconic landmarks such as the Eiffel Tower and the Louvre, Paris is a captivating destination for food and culture enthusiasts. Enjoy the exquisite flavors of French cuisine, savor fine wines and embrace the sophisticated art scene that epitomizes French culture.
Barcelona, Spain
Barcelona's culinary scene is a dynamic mix of traditional Catalan cooking and avant-garde cuisine. The city is famous for its tapas culture, fresh seafood and iconic dishes.
Retirees can venture into local tapas bars, visit the city's bustling food markets like La Boqueria or take a paella cooking class to get a true taste of Barcelona.
Athens, Greece
For retirees seeking a blend of ancient history, breathtaking landscapes and delectable cuisine, Greece is a must-visit destination. Athens is a treasure trove of Mediterranean flavors. The city's culinary culture, characterized by fresh vegetables, olive oil, seafood and hearty meats, offers a healthy and delicious dining experience.
Savor local Greek specialties like moussaka and souvlaki, visit a traditional taverna and enjoy the city's vibrant street food scene for a taste of authentic Athens.
Bangkok, Thailand
Thai cuisine is all about harmony and contrast, and nowhere is this more apparent than in Bangkok. From the sizzling street food stalls to upscale dining establishments, the city offers a diverse culinary experience.
To explore the city's street food scene, try traditional dishes like pad Thai and green curry, and take a Thai cooking class to learn about the unique blend of flavors that define Thai cuisine.
New York, New York
As a cultural melting pot, New York City offers retirees an incredible variety of culinary delights and cultural experiences. With world-class museums like the Metropolitan Museum of Art to iconic Broadway shows, the city has something for everyone.
From classic New York-style pizza to international delicacies in globally-inspired neighborhoods, the city's food scene is a testament to its multicultural heritage. Be sure to sample global cuisines by visiting famous food markets like Chelsea Market, and indulge in classic New York-style pizza and bagels from the city's street vendors.
New Orleans, Louisiana
Known for its vibrant music scene, rich history and distinctive Creole cuisine, New Orleans is a top choice for retirees seeking a food and culture vacation in the United States. The city's unique cuisine stems from a blend of French, Spanish, African and Indigenous influences.
Indulge in delicious beignets, gumbo, jambalaya and other iconic dishes while exploring the city's historic French Quarter, visiting jazz clubs and immersing yourself in the lively atmosphere of Mardi Gras.
San Francisco, California
San Francisco is known for its culinary creativity. With a focus on locally sourced ingredients, the city is a haven for farm-to-table cuisine. It's also home to world-class restaurants, innovative food tech startups and a diverse street food scene.
Explore the city's distinct neighborhoods like Chinatown, Little Italy and the Mission District, each offering unique food experiences. For seafood lovers, don't miss the opportunity to sample fresh seafood at Fisherman's Wharf. Visit the Ferry Building Marketplace, a hub for local food producers and artisans. Discover the vibrant arts scene, including museums, galleries and iconic landmarks like the Golden Gate Bridge.
Charleston, South Carolina
With its historic charm and Southern hospitality, Charleston is a haven for food and culture enthusiasts. Indulge in Lowcountry cuisine, which blends influences from African, Caribbean and European cultures. Enjoy mouthwatering dishes like shrimp and grits, she-crab soup and Southern barbecue.
While in Charleston, immerse yourself in the city's rich history by visiting antebellum mansions, strolling along cobblestone streets and exploring the vibrant art and theater scene.
Seniors Travel Insurance
Why These Destinations Were Chosen
There are a number of factors to consider when deciding where to travel, especially for retirees on a fixed budget. We considered a number of factors to ensure they provide a fulfilling and enriching experience for retirees.
We selected destinations based on:
Accessibility and amenities
Diverse range of experiences
Safety
Cultural immersion
The accessibility and amenities of each destination are especially important for older adults. Retirees often prefer destinations with good infrastructure, ease of transportation and a range of accommodation options to ensure comfort and convenience during their travels.
A diverse range of experiences is important when trying to decide on the best destinations. From exploring historical sites and museums to enjoying live music performances and indulging in local delicacies, retirees can find activities that cater to different interests in these cities.
The selected destinations cater well to retirees. They offer safety, good health care facilities, easy accessibility and are generally retiree-friendly. Safety and friendly environments are a top priority for anyone. These cities have established tourism industries, making them well-equipped to cater to the needs of retirees in terms of accessibility, safety measures and services tailored to older travelers.
Finding a destination where retirees can immerse themselves in the local culture is important. Each destination we chose boasts a rich cultural heritage, which is deeply intertwined with its culinary scene. This cultural depth adds layers of understanding and appreciation to the food experience.
Whether it's exploring distinct neighborhoods, attending cultural festivals or visiting iconic landmarks, retirees should have ample opportunities to engage with the local community and gain a deeper understanding of the destination's culture.
Accessible Vacations for Seniors with Limited Mobility
Tips for Planning a Food and Culture Vacation
To make the most of your trip, there are some tips to consider. By following these tips, you can make the most of your food and culture vacation. Remember, the goal is to embrace new flavors, immerse yourself in local traditions and create cherished memories that will last a lifetime.
Do Your Research
Before embarking on your food and culture vacation, take the time to research your destination thoroughly. Read travel blogs and online guides that provide insights into the local food scene, cultural attractions and hidden gems. Engage in virtual tours or watch travel documentaries to familiarize yourself with the destination's history and traditions. The more you know beforehand, the better prepared you'll be to fully immerse yourself in the local culture.
Seek Recommendations
Reach out to friends, family or fellow travelers who have visited your chosen destination. They can offer valuable recommendations for must-try restaurants, local dishes, cultural events, and off-the-beaten-path experiences. Gathering firsthand insights from people you trust can enhance your trip and help you discover hidden gems that may not be found in guidebooks.
Create a Food and Culture Itinerary
Crafting an itinerary specifically focused on food and culture ensures you make the most of your vacation. Identify the renowned local dishes or culinary experiences you want to try and the cultural attractions you wish to visit. Schedule your days accordingly, allowing ample time for both culinary explorations and cultural immersions. Consider booking guided food tours or cultural excursions to gain deeper insights and expert guidance.
Unforgettable Vacation Ideas for Retirees
Advertisement
Connect With a Financial Advisor Instantly
Our free tool can help you find an advisor who serves your needs. Get matched with a financial advisor who fits your unique criteria. Once you've been matched, consult for free with no obligation.
Last Modified: September 19, 2023
Share This Page
4 Cited Research Articles
Your web browser is no longer supported by Microsoft. Update your browser for more security, speed and compatibility.
If you need help pricing and building your medicare plan, call us at 844-572-0696