Minnesota Life
Minnesota Life Insurance offers a variety of policies with high coverage limits — including term, permanent and long-term care coverage. Policies are available in every state except New York. Learn more about Minnesota's life insurance policies along with the company's pros, cons and average rating to determine if they fit your financial needs.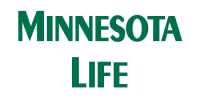 Written by

Lindsey Crossmier

Lindsey Crossmier

Financial Writer

Lindsey Crossmier is an accomplished writer with experience working for The Florida Review and Bookstar PR. As a financial writer, she covers Medicare, life insurance and dental insurance topics for RetireGuide. Research-based data drives her work.

Read More

Edited By

Lamia Chowdhury

Lamia Chowdhury

Financial Editor

Lamia Chowdhury is a financial content editor for RetireGuide and has over three years of marketing experience in the finance industry. She has written copy for both digital and print pieces ranging from blogs, radio scripts and search ads to billboards, brochures, mailers and more.

Read More

Reviewed By

Eric Estevez

Eric Estevez

Owner of HLC Insurance Broker, LLC

Eric Estevez is a duly licensed independent insurance broker and a former financial institution auditor with more than a decade of professional experience. He has specialized in federal, state and local compliance for both large and small businesses.

Read More

Published: December 5, 2022
Updated: July 7, 2023
5 min read time
This page features 9 Cited Research Articles

About Minnesota Life Insurance

Minnesota Life Insurance has provided a variety of financial products — from life insurance and accident insurance to annuities — for over 140 years. You can purchase a Minnesota life insurance policy in 49 U.S. states, excluding New York.

Securian Financial Group is the parent corporation of Minnesota Life Insurance. Securian Financial Group is one of the largest insurers in the U.S., with over $1.4 trillion life insurance policies in force.

Pro Tip

Minnesota Life doesn't offer average cost quotes for any of their life insurance policies online. You'll need to contact one of Minnesota Life's agents to learn more about costs. This is an inconvenience compared to other leading

life insurance companies

, such as Progressive and

AIG

, who offer a chart with average costs by age for a term policy or provide a life insurance cost calculator to give you a rough estimate.

Minnesota Life Insurance Contact Information

Types of Minnesota Life Insurance Policies

Minnesota Life offers term, whole and universal life insurance policies with long-term care coverage options. Some policies have exceptionally high coverage limits — up to $65 million — compared to other life insurance companies, which typically cap around $1 million. Most policies have options to skip a medical exam.

Minnesota Life Insurance Comparison Table

| | Term | Whole | Universal | Long-Term |
| --- | --- | --- | --- | --- |
| Lifelong coverage | ❌ | ✔️ | ✔️ | ✔️ |
| Can access funds while still alive | ❌ | ✔️ | ✔️ | ✔️ |
| Fixed premiums and death benefit | ✔️ | ✔️ | ❌ | ✔️ |

There are several customizable universal policies available, with variable and indexed universal options. Learn about Minnesota's life insurance policies to determine if one meets your coverage needs.

Term Life Insurance

Minnesota Life offers two term life insurance policies — the Advantage Elite Select Term and Convertible Annual Renewable Term. Both offer temporary coverage with a fixed death benefit and premiums. Both policies can be converted into a permanent policy under certain conditions.

Minnesota Life's Term Policies

Advantage Elite Select Term

Term lengths are available for 10-, 15-, 20-, or 30-years. There are options for quick underwriting processes and the issue ages vary depending on the term length you select. Your coverage limits range from $99,999 to $3 million.

Convertible Annual Renewable Term

This policy offers one term length — 10 years — that renews annually. Your premiums will increase annually with your age.

Whole Life Insurance

Minnesota Life's whole policies offer lifelong coverage with a fixed death benefit and premiums. You also have a cash value component, which grows tax deferred with a fixed interest rate.

Minnesota Life's long-term care coverage option is a whole life policy —the SecureCare III — which has built in long-term care benefits. Your premiums are set with this policy, and you have lifetime coverage.

SecureCare III Features

Guaranteed death benefit
Return of premium
You can access your long-term care indemnity benefit if you need care
Multiple premium payment options: pay all at once or over five, seven, 10 or 15 years

Online information about Minnesota's standard whole life policies is limited. You'll must contact an agent to learn about coverage limits and issue ages.

Universal Life Insurance

Minnesota Life offers several variable universal and indexed universal policies. Both offer lifelong coverage, a flexible death benefit and premiums, and have a cash value component. Some policies allow you to skip a medical exam and do a quick phone interview instead.

With a variable universal policy, you can select several subaccount choices to invest directly into the market. While this option presents more risk, there is more opportunity for cash growth.

Variable Universal Policies

Minnesota Life's indexed universal policies have their cash value's growth tied to the performance of an underlying index. This option provides an opportunity for your cash value to grow at a quicker rate.

Indexed Universal Polices

Eclipse Accumulator IUL
Eclipse Protector II IUL
Eclipse Survivor II IUL

Pros and Cons of Minnesota Life

Several pros of Minnesota Life insurance are having high coverage limits, options to skip medical exams and a variety of customizable life insurance policies. Their biggest con by far is not having average costs available on their website.

Having to call up an agent for a life insurance quote is a drawback, especially when trying to quickly compare life insurance costs.

Pro Tip

Several factors — such as your age, overall health and sex — will affect your Minnesota life insurance rates. For example, if you're 50 years old, your life insurance rate will likely be more expensive than someone in their twenties. Contact multiple insurers and compare life insurance costs to ensure you're getting a fair deal.

The website also lacks specific information about most policies.

Pros

Variety of policies available
High coverage limits
Option to skip medical exams
High financial strength ratings
First carrier to develop a Chronic Illness Conversion Agreement
One of the first companies to pay an index crediting bonus to clients
Long-term care coverage options

Cons

No cost information available
No calculator available to estimate costs
Website lacks specific information for some policies
Must contact an agent for most information
Policies not available in New York

Average Rating of Minnesota Life

Minnesota Life has high financial strength ratings from two leading credit rating agencies — AM Best and Fitch Ratings. An insurer's financial strength rating is determined by the company's overall performance, along with their ability to pay claims and pay off debts.

If you choose an insurer with a low financial strength rating, you could potentially have difficulty with the payout process. Luckily, this shouldn't be an issue with Minnesota Life.

Minnesota Life's Financial Strength Ratings

Last Modified: July 7, 2023

Share This Page

9 Cited Research Articles
Your web browser is no longer supported by Microsoft. Update your browser for more security, speed and compatibility.
If you need help pricing and building your medicare plan, call us at 844-572-0696