Cost-of-Living Adjustment (COLA) Information for 2023
The Social Security cost-of-living adjustment (COLA) is a yearly adjustment based on the rising prices of goods and services. The annual adjustment keeps your Social Security payment up to pace with inflation. COLA adjustments are announced in October and take effect after the start of the new year. Learn how the 2023 COLA will affect your Social Security benefit amount.

Written by

Lindsey Crossmier

Lindsey Crossmier

Financial Writer

Lindsey Crossmier is an accomplished writer with experience working for The Florida Review and Bookstar PR. As a financial writer, she covers Medicare, life insurance and dental insurance topics for RetireGuide. Research-based data drives her work.

Read More

Edited By

Lamia Chowdhury

Lamia Chowdhury

Financial Editor

Lamia Chowdhury is a financial content editor for RetireGuide and has over three years of marketing experience in the finance industry. She has written copy for both digital and print pieces ranging from blogs, radio scripts and search ads to billboards, brochures, mailers and more.

Read More

Reviewed By

Brandon Renfro, Ph.D., CFP®, RICP®, EA

Brandon Renfro, Ph.D., CFP®, RICP®, EA

Retirement and Social Security Expert

Brandon Renfro is a Retirement and Social Security Expert and financial planner. He focuses on helping clients create a secure financial future in retirement and co-owns Belonging Wealth Management. He is also a former finance professor and writes for several publications.

Read More

Published: May 18, 2022
Updated: June 6, 2023
5 min read time
This page features 9 Cited Research Articles
Key Takeaways
COLAs adjust your Social Security benefit amount annually to account for inflation.
The 2023 COLA is 8.7%, which is historically high compared to earlier years.
Retirement benefits will increase by $140 at minimum.
COLAs are announced in October of each year.
The COLAs annual calculation is based on the Consumer Price Index for Wage Earners and Clerical Workers (CPI-W).
What Are Cost-of-Living Adjustments (COLAs)?
COLAs increase or decrease each year and affect the amount of your Social Security benefits. The Social Security Administration (SSA) spends time annually evaluating the percentage by which it must adjust Social Security benefits to keep up with inflation. These COLAs appear as an additional amount added to your payments in the new year. The COLA for 2023 is 8.7%.
Because there is no set rate, COLAs will change each year. Percentages can fluctuate heavily due to years of high inflation. There have also been years with no adjustments at all when inflation wasn't significant enough to warrant one — though this is uncommon and has only happened three times this century.
Below is a chart displaying COLAs from 2001 through 2023, which highlights how the adjustment percentages can vary widely year by year. This chart displays the COLA percentage in the year it became payable.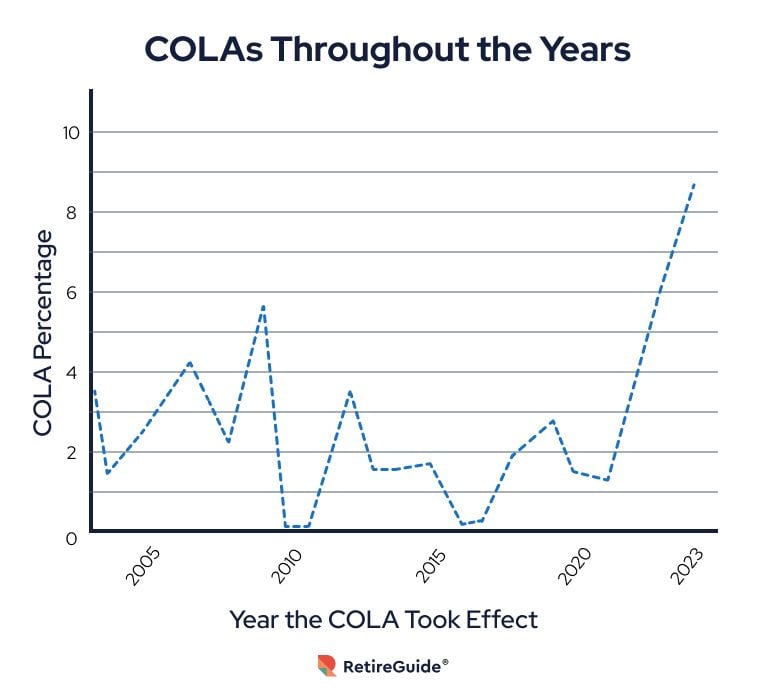 The annual adjustment doesn't always perfectly match the rate of inflation, but it helps close the gap and ensure that beneficiaries can continue to afford basic goods and services. For example, the inflation rate hit 9.1% in June 2022, but the COLA at that time was only 5.9%.
The annual inflation rate is expected to lower to 3.2% by the end of 2023, according to Kiplinger. Hopefully, this means that the 8.7% COLA will make basic goods and services more affordable as the inflation rate declines.
COLA Comparison with Benefit Increases
| Year | COLA | Benefits increased by an average of: |
| --- | --- | --- |
| 2021 | 1.3% | $20 |
| 2022 | 5.9% | $92 |
| 2023 | 8.7% | $140 |
It's important when receiving your COLA to not think of it as extra money or more than you were getting the year before, even though it appears that way on paper. The adjustment simply maintains the value of your Social Security benefit, raising it to match rising costs of goods and services and preserving its spending power.
Because Social Security benefits receive an annual cost of living adjustment, they can form a solid foundation for your retirement income.
How Are COLAs Calculated?
Calculating the COLA each year is a complex process. Since the adjustment is meant to combat inflation, it is based on the Consumer Price Index for Wage Earners and Clerical Workers (CPI-W).
According to the U.S. Bureau of Labor Statistics, the CPI-W is a monthly measure of the change in price that wage earners and clerical workers are paying for consumer goods and services. Essentially, it's a monthly snapshot of rising prices to gauge a sense of how much inflation has occurred.
The Social Security COLA is calculated based on the three months that make up the third quarter of the CPI-W. The COLA is equal to any increase from the third quarter of the past year to the current year. That increase is then rounded to the nearest tenth of 1%.
How Social Security Calculates the COLA
The office gathers the CPI-W measurements from the third quarter.
Officials compare those measurements to last year's third quarter data.
If there is an increase, they round the percentage to the nearest tenth of 1%.
The resulting figure is used as the Social Security COLA.
If there is no increase from one third quarter's data to the next, there will be no Social Security COLA for that year.
When Is the Social Security COLA Announced Annually?
The SSA typically announces upcoming COLAs in October of each year. The 8.7% COLA for 2023 was announced on Oct. 13, 2022. The SSA confirmed that 2024's COLA will be announced in October of 2023.
The adjustment takes effect a few months after the announcement at the start of the new year. This allows beneficiaries time to get a sense of what their new payment will be and how to budget for any changes, especially since other costs (like Medicare premiums) change yearly as well.
For example, the COLA in 2008 was a sizable 5.8%. But the two following years saw no COLA at all. Having a few months' notice before the adjustment takes effect can give you a chance to prepare for how your benefit will change in the coming year.
How Do COLAs Impact Social Security Payments?
COLAs have a major impact on Social Security payments and play a large role in how much money Social Security beneficiaries receive over the year.
Adjustments are larger in years where there is more inflation, but it's important to note that COLA adjustments don't always do enough to entirely counteract inflation. This can cause your Social Security payments to have less spending power than they did the year prior.
Below is a table which shows how COLA can affect your Social Security payment in 2023. Remember that each type of Social Security benefit receives different average payment amounts. For example, retirement benefits are typically higher compared to survival or disability benefits.
Projected Average 2023 Benefit Amounts
| Type of Beneficiary | Before 8.7% COLA* | After 8.7% COLA |
| --- | --- | --- |
| Retired worker | $1,680 | $1,827 |
| Spouse of retired worker | $832 | $904 |
| Aged widow(er) | $1,570 | $1,706 |
| Disabled widow(er) | $821 | $892 |
| Disabled worker | $1,364 | $1,483 |
*Average benefit amounts from August 2022
But without COLAs, your payments would quickly lose their spending power since they would not keep up with the rate of inflation otherwise.
History of COLA Percentages
COLAs first began in 1975, and the yearly amount has varied heavily ever since, depending on the state of the United States economy.
The adjustments have increased rapidly in recent years, rising from just 1.3% in 2020 to 5.9% in 2022, in part due to the effects of the COVID-19 pandemic. The 5.9% figure was the first to exceed 4% since 2009. COLA continues to increase in 2023, rising to 8.7%.
The highest COLA came in the early 1980s, when the rate exceeded 7% for four straight years. The single highest adjustment ever was 14.3% in 1980.
Last Modified: June 6, 2023
Share This Page
9 Cited Research Articles
Your web browser is no longer supported by Microsoft. Update your browser for more security, speed and compatibility.
If you need help pricing and building your medicare plan, call us at 844-572-0696