When Will Social Security Run Out?
Millions of Americans depend on Social Security payments when they retire. Lately, there's been concern that Social Security might run out soon. While this statement may be misleading, it's important to note that without federal assistance, Social Security's reserves could be depleted in 2033, after which benefits will be reduced.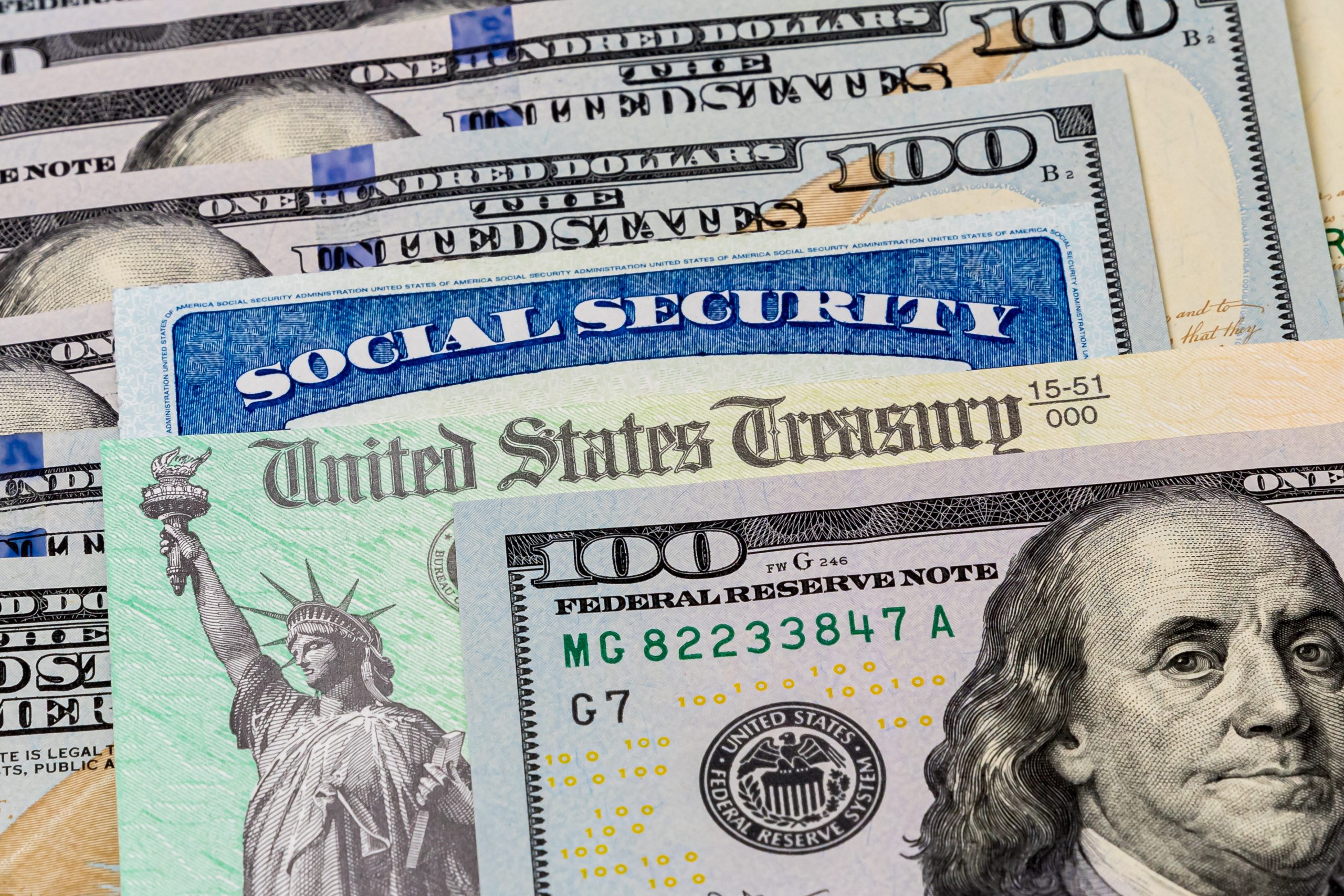 Written by

Lindsey Crossmier

Lindsey Crossmier

Financial Writer

Lindsey Crossmier is an accomplished writer with experience working for The Florida Review and Bookstar PR. As a financial writer, she covers Medicare, life insurance and dental insurance topics for RetireGuide. Research-based data drives her work.

Read More

Edited By

Lamia Chowdhury

Lamia Chowdhury

Financial Editor

Lamia Chowdhury is a financial content editor for RetireGuide and has over three years of marketing experience in the finance industry. She has written copy for both digital and print pieces ranging from blogs, radio scripts and search ads to billboards, brochures, mailers and more.

Read More

Financially Reviewed By

Toby Walters, CFA®

Toby Walters, CFA®

Chartered Financial Analyst and Paraplanner

Toby Walters, CFA®, has over 25 years of financial research experience. With a knowledge and understanding of researching and analyzing financial data, he has developed a unique and experienced viewpoint on money matters. He has been a chartered financial analyst since 2003, and most recently a portfolio analyst and paraplanner.

Read More

Published: May 4, 2023
Updated: June 8, 2023
5 min read time
This page features 6 Cited Research Articles

Key Takeaways

67 million Americans will receive monthly Social Security benefits in 2023.
At the current rate of funding, Social Security's reserve funds will be depleted by the end of 2033, at which point the SSA will only cover 77% of scheduled benefits.
The federal government has several options to avoid this fate, including increased funding through higher payroll taxes.
It's important to realize that 'depleted reserve funds' does not mean 'bankrupt'. Even if no federal changes are enacted, in 2033 people will still receive 77% of their Social Security benefits.

Funded by the Federal government, Social Security is a blanket term for supplemental financial assistance delivered by the Social Security Administration (SSA). The SSA oversees several types of supplementary benefits for retirees, survivors of deceased workers and people with disabilities.

Social Security was first enacted in 1935 in response to the economic effects of the Great Depression. Although it was never meant to be totally relied on, today Social Security provides a valuable source of supplemental retirement income for millions of Americans.

As of December 2022, almost 9 in 10 Americans aged 65 and older were receiving Social Security benefits. Across the broad spectrum, Social Security constitutes 30% of recipients' retirement income. For more than 37% of elderly men and 42% of elderly women, their Social Security benefit represents more than half their entire retirement income.

Misunderstandings about the way Social Security is funded cause unnecessary stress for retirees. Worse, it could lead to improper planning because many people adopt the attitude that it won't be around anyway. Even with the system's current strains, Social Security remains a valuable component of most people's retirement spending.

What Is the Current Status of Social Security?

In 2023, more than 67 million Americans will receive a monthly benefit from SSA, the majority of whom will be retirees. Though individual benefits vary greatly, the average retirement benefit is $1,827. That's a significant sum every month. Lately, you may have seen headlines that Social Security is running out. However, those reports are slightly misleading.

The Trustees of the Social Security trust fund reported that at current funding levels, the SSA will be able to provide 100% of required retirement benefits until 2033. After that, the reserve funds will be depleted.

It's important to note this does not mean Social Security will be "broke" after that point; taxes will still be paid into the program and the SSA will be able to fund 77% of scheduled retirement benefits. It is true, however, that without government action, retirees could see a reduction in their Social Security benefits after 2033.

What Are the Challenges?

One of Social Security's biggest challenges is the age spread of the general U.S. population. As of 2020, 17% of the population is over 65; by 2040, the 65 and up group is expected to hit 22%. Americans are also living longer. In 1980, the average life expectancy was 73.7 years; in 2023, it is 79.11.

However, the biggest reason for the demographic imbalance is that the birth rate is dropping. Each generation has fewer children than the one before. That means larger segments of the population are collecting retirement benefits, for longer periods.

What Is the Future of Social Security?

The 2033 date provided in the Social Security Trustee report is not a deadline, but an explanation of what might happen without decisive legislative changes. But that does not mean Social Security will abruptly end in 2033. Incoming taxes would still cover 77% of benefits.

The drop in benefits will only come true if there are no significant funding changes between now and 2033. The 2024 Biden-Harris budget provided the SSA with a 10% budget increase. In addition, Congress, which passed the Secure 2.0 Act in December 2022, showed that it can deliver much-needed attention to the retirement programs Americans need.

What Is Social Security Solvency?

Social Security solvency means the ability to have enough trust funds to pay 100% of benefits as needed. This is where the year 2034 comes in. At that point, without budget changes, the SSA will only be able to fund 77% of benefits, rather than 100%.

What Are the Consequences?

If the Social Security reserve funds are depleted, retirees could see their benefits drop to 77% of the amount they expected to receive. But that's not the only potential consequence. The Congressional Budget Office projects that the Social Security trust fund could be fully maintained through 2096 by raising payroll tax rates by 4.9%. Another potential causality might be an increase in the age at which you can begin to claim benefits.

Strategies for Retirement Planning

When planning for your retirement, make sure to examine the potential for uncertainty when it comes to your Social Security benefit. Social Security was never meant to be your only source of retirement income, only part of the income provided by your savings, investments and other pensions.

If you are able, consider increasing your contributions to your retirement savings. Be sure to diversify your retirement income streams. Having multiple income streams can future-proof your lifestyle in retirement.

To ensure you know how much you'll need, take advantage of the many free retirement planning calculators available to you.

Don't hesitate to speak to a trusted financial advisor about your concerns and strategies.

In addition, it's important to communicate your concerns to your political representatives. Stabilizing the future of Social Security will require good faith efforts from all members of Congress. With an aging population, the issue is too important for partisan politics.

Frequently Asked Questions About the Future of Social Security

When will Social Security run out of money?

Social Security will not run out of money as long as taxes are paid into it. However, at current payroll tax rates, the reserve funds will be depleted by 2033. After that, retirees will receive 77% of benefits, rather than 100%.

Editor Malori Malone contributed to this article.

Advertisement

Connect With a Financial Advisor Instantly

Our free tool can help you find an advisor who serves your needs. Get matched with a financial advisor who fits your unique criteria. Once you've been matched, consult for free with no obligation.

Last Modified: June 8, 2023

Share This Page

6 Cited Research Articles
Your web browser is no longer supported by Microsoft. Update your browser for more security, speed and compatibility.
If you need help pricing and building your medicare plan, call us at 844-572-0696