Walk-In Tubs
Walk-in tubs provide comfort and safety by reducing the risk of slips and falls while allowing you to sit, rather than recline into a standard bathtub. They can be expensive to purchase and install, but walk-in tubs can provide a sense of comfort and independence for people choosing to age in place.

Written by

Terry Turner

Terry Turner

Senior Financial Writer and Financial Wellness Facilitator

Terry Turner has more than 35 years of journalism experience, including covering benefits, spending and congressional action on federal programs such as Social Security and Medicare. He is a Certified Financial Wellness Facilitator through the National Wellness Institute and the Foundation for Financial Wellness and a member of the Association for Financial Counseling & Planning Education (AFCPE®).

Read More

Edited By

Lamia Chowdhury

Lamia Chowdhury

Financial Editor

Lamia Chowdhury is a financial content editor for RetireGuide and has over three years of marketing experience in the finance industry. She has written copy for both digital and print pieces ranging from blogs, radio scripts and search ads to billboards, brochures, mailers and more.

Read More

Reviewed By Bart Astor
Published: July 12, 2022
Updated: May 23, 2023
8 min read time
This page features 3 Cited Research Articles
What Is a Walk-In Tub?
A walk-in tub is exactly what its name suggests — a bathtub you can walk into.
The idea is to eliminate the effort and risk involved in having to step over the side of a bathtub to get in or out of it.
This is accomplished by having a watertight door that allows you to open the side of the tub to walk into it or even roll a wheelchair into the tub in some models.
Walk-in bathtubs may also feature foot or hand holds, grab bars or other features to improve senior home safety by reducing the risk of falling.
Different Types of Walk-In Tubs
There are several different types of walk-in tubs available based on features and individual needs.
Types of Walk-In Bathtubs
Walk-in soaking tubs

Walk-in soaking tubs are the most basic type of walk-in tubs. These offer the fewest features while allowing you to sit submerged up to your neck or upper torso in still water.

Aerotherapy tubs

Aerotherapy walk-in tubs use air jets on the sides of the tub to create a gentle massage action in the water. These may help with muscle aches and similar issues. They should not be used if you have problems with your balance or certain other conditions. Check with your doctor before deciding on this type.

Bariatric tubs

Bariatric walk-in tubs are designed to accommodate larger people. While a standard walk-in tub can accommodate someone up to 300 pounds, the seat and size of a bariatric tub can accommodate someone up to 600 pounds.

Hydrotherapy tubs

Hydrotherapy walk-in tubs are similar in purpose to a standard whirlpool bath — using water jets to massage you. You should check with your doctor if you have hypertension or other cardiovascular issues before choosing a walk-in hydrotherapy tub.

Wheelchair accessible tubs

Wheelchair accessible tubs allow you to easily move from your wheelchair to the tub's seat. These feature a wider door and lower threshold to roll your wheelchair into the tub. The seat in the tub is also closer to the level of a typical wheelchair, making it easier to transfer back and forth between the two.
Features
Walk-in bathtubs have a wide range of features and accessories to help promote senior safety and comfortability. These can give you a combination of options to suit your preferences or needs. But each can significantly add to the overall cost of a tub.
Examples of Features and Options Available for Walk-In Bathtubs
Air jets
Whirlpool jets
Adjustable jets
Combination walk-in tub and shower
Handrails or grab bars
Hand shower
Heated backrest or seat
Oversized tub
Slide-in access
Twin seats
Wheelchair accessible
Lighting
Walk-In Tub Sizes
Standard walk-in tubs tend to be shorter — but deeper — than standard bathtubs.
A typical freestanding bathtub averages about 60 inches long by 32 inches wide. The water depth can range from 15 to 20 inches.
Small walk-in tubs may be just 36 inches long by the standard 32 inches wide. But the water depth can be as much as three or four feet.
Larger sizes of walk-in tubs can go up to 60 inches in length by the standard 32 inches in width.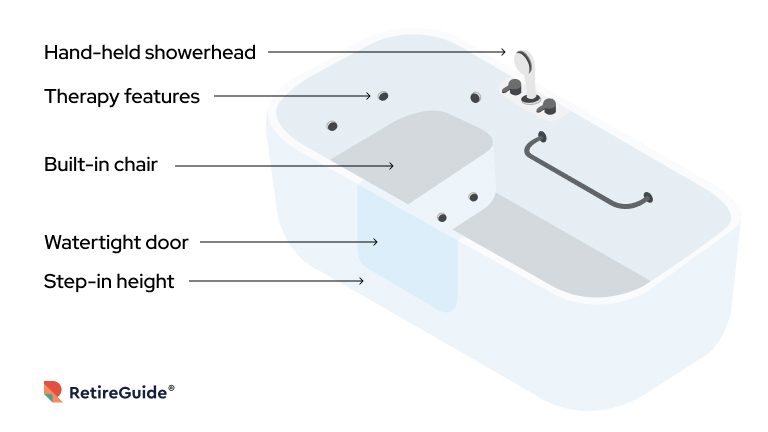 Pros and Cons of Walk-In Tubs
Walk-in tubs can mean a major modification in your home. There are several pros and cons to consider when weighing whether a walk-in tub is right for you.
Walk-In Bathtub Pros and Cons
PROS
Built to the standards of the American with Disabilities Act — ensuring high quality construction
Multiple features
Greater independence while aging in place
Potential health benefits
Sitting up may be more comfortable for you as you age
Safety features prevent slip and fall risks
CONS
Difficult to install, often requiring plumbing and electrical upgrades
Features and options can increase the need for costly maintenance
High cost for tub and installation
Higher water bills due to higher water volume
Long drain time — as much as eight to 15 minutes depending on the model
No active control of water temperature
3 Minute Quiz: Can You Retire Comfortably?
Take our free quiz & match with a financial advisor in 3 easy steps. Tailored to your goals. Near you or online.
Are Walk-In Tubs Worth It?
Determining if a walk-in tub is worth the cost and bother of installation depends on your personal wants, needs and budget.
Consider the overall costs — the tub, installation, wiring and plumbing changes and water usage — against your budget.
Also consider if a decline in your mobility will make the tub and the challenges of installing it worthwhile in the long run.
Popular Brands of Walk-In Tubs
There are many companies that manufacture walk-in bathtubs — including companies that manufacture standard bathroom fixtures, as well as companies that focus specifically on walk-in tubs.
These are some of the leading brands.
Kohler
Kohler Kitchen and Bath is a division of the Kohler Company, founded in 1873. Based in Kohler, Wisconsin, it is one of the leading producers of bathroom fixtures in the U.S. It features both basic and luxury walk-in tubs.
Kohler provides financing for its walk-in tubs and allows you to personalize the features of a walk-in tub. Its luxury models come with a wide range of options and accessories such as whirlpool jets and heated backrests. Tubs are available through Kohler dealers.
American Standard
American Standard created the first enamel-coated bathtub in 1880, making tubs more sanitary and easier to clean. It remains one of the largest manufacturers of bath and kitchen features today.
American Standard features more than 50 models of walk-in tubs with a wide selection of options, including whirlpool jets and larger water volume. The company's walk-in tubs are available through online retailers and many retail outlets that sell bathroom fixtures.
Safe Step
Nashville-based Safe Step specializes in walk-in tubs and showers. You can purchase a Safe Step walk-in tub directly from the company through its website. The company sends a consultant to your home to look at your bathroom and determine which of the company's models will work best for your space.
Luxury features include light and aromatherapy, a bidet built into the seat and whirlpool jets. Models come in walk-in tub, walk-in shower or a hybrid combining a walk-in tub with shower features.
Financial Assistance for Walk-In Tubs
The average cost of a walk-in tub ranges between $2,000 and $20,000, according to Kohler, a major manufacturer of bathroom fixtures. They can be one of the more expensive household modifications for people choosing to age in place.
There may be some options for financial assistance to help pay for a walk-in tub.
Medicare
Medicare Part B covers certain types of durable medical equipment (DME), but Medicare does not consider walk-in tubs to be DME in most cases. To qualify for coverage, your doctor would have to determine that you have a severe medical condition that makes the tub a medical necessity.
However, some Medicare Advantage plans may cover walk-in tubs. There are thousands of privately issued Medicare Advantage plans, and coverage varies from plan to plan. You will need to check your individual plan to see if it covers walk-in tubs.
Medicaid
Medicaid is a joint federal-state program that helps cover health care costs for seniors and others with limited resources and low incomes. Medicaid coverage varies by state, but some states may cover walk-in tubs if you qualify for Medicaid.
You may have to meet strict requirements to qualify for a walk-in tub under Medicaid, such as having your doctor prescribe the tub as medically necessary.
State and Local Programs
There are local and state programs that may help you pay for a walk-in tub. At least eight states and the District of Columbia have Medicaid and non-Medicaid programs that specifically mention walk-in tubs as a "relevant service," according to the Office of the Assistant Secretary for Planning and Evaluation at the U.S. Department of Health and Human Services.
State Programs to Help Pay for Walk-In Tubs
Alaska
Arkansas
District of Columbia
Indiana
Kentucky
Nevada
New Jersey
New York
Pennsylvania
You can also ask your doctor about state and local programs that may provide financial assistance for a walk-in tub.
Tax Deductions
If you have certain medical conditions that require a walk-in tub, you may qualify for a tax deduction that will cover at least a portion of the tub's cost, as well as the cost of installation. You will have to provide documentation to the IRS about the medical necessity when you file your taxes. You should talk to your tax preparer first to see if you qualify for a deduction.
Veterans Benefits
The U.S. Department of Veterans Affairs may provide loans or grants to help qualified veterans pay for a walk-in tub.
These include Home Improvement and Structural Alterations grants and Specially Adapted Housing grants. Veterans can contact their local VA office to see if they qualify.
U.S. Department of Agriculture
The USDA may provide a grant and loan if you qualify as a low-income older adult living in a rural area. These are provided for safety-related home improvements, home repairs or modifications.
Private Financing
Check with the manufacturer or retailer about financing options. You'll still pay the full price — and maybe interest on top of it — but monthly payments may be more affordable than paying the full price all at once.
Last Modified: May 23, 2023
Share This Page
Your web browser is no longer supported by Microsoft. Update your browser for more security, speed and compatibility.
If you need help pricing and building your medicare plan, call us at 844-572-0696