What Is SilverSneakers? Plus How to Stay Fit in Retirement
SilverSneakers is a fitness program included in many Medicare plans. It is specifically designed to improve and maintain health and fitness for people ages 65 and older. SilverSneakers includes more than 70 different types of fitness classes available at more than 17,000 locations across the U.S.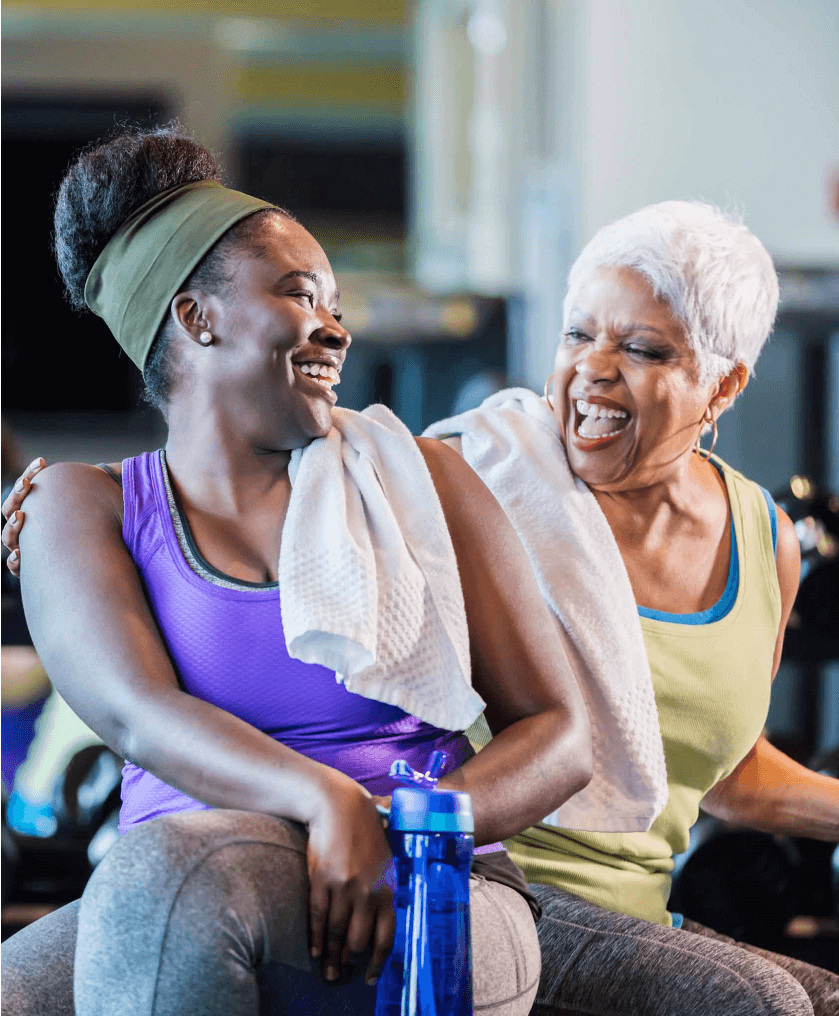 Edited By

Lee Williams

Lee Williams

Senior Financial Editor

Lee Williams is a professional writer, editor and content strategist with 10 years of professional experience working for global and nationally recognized brands. He has contributed to Forbes, The Huffington Post, SUCCESS Magazine, AskMen.com, Electric Literature and The Wall Street Journal. His career also includes ghostwriting for Fortune 500 CEOs and published authors.

Read More

Published: November 3, 2020
Updated: January 17, 2023
10 min read time
This page features 12 Cited Research Articles
Maybe you stumbled across something online talking about free fitness programs during retirement or heard some friends mention how they enrolled in the SilverSneakers program. If this has you asking, "What is the SilverSneakers program?," you're not alone.
SilverSneakers is a popular fitness program for people ages 65 and older that's offered through more than 60 Medicare Advantage and Medigap (Medicare Supplement insurance) plans.
The program was founded in 1992 by Mary Swanson to help her father recover from a heart attack. Her goal was to develop a program that improves health and well-being, according to the SilverSneakers website.
Keep reading to learn what SilverSneakers covers, who's eligible, where to find participating fitness centers and more. If you love free benefits that help you live a happier and healthier life, you won't want to skip over this one.
Key Takeaways:
SilverSneakers is available to those with certain Medicare Advantage or Medigap plans.
On-site gym classes, gym memberships and online workout videos are all included in the SilverSneakers program.
A variety of insurance companies carry Medicare Advantage or Medigap plans that include the SilverSneakers program.
What Does SilverSneakers Cover?
The SilverSneakers program provides free access to online workout videos, local gyms and community exercise classes. At local gyms, you have access to workout equipment and specific amenities, as well as classes offered on-site.
A few of the on-site gym classes and workout videos include:
Yoga
Tai chi
Walking
Mindfulness and meditation
Core training
Zumba
Boot camp
Total body strength training
There are a lot of benefits to the SilverSneakers program, but keep in mind that it won't cover all of your gym expenses. Personal training, massages and other similar extras like smoothies or protein shakes aren't included in the program and you'll have to pay for them yourself.
Silver Sneakers is one of the more popular features offered by many Medicare Advantage Plans. Many seniors who want to be proactive about their health will sometimes specifically look for a plan that offers Silver Sneakers as a benefit.
How Much Does SilverSneakers Cost?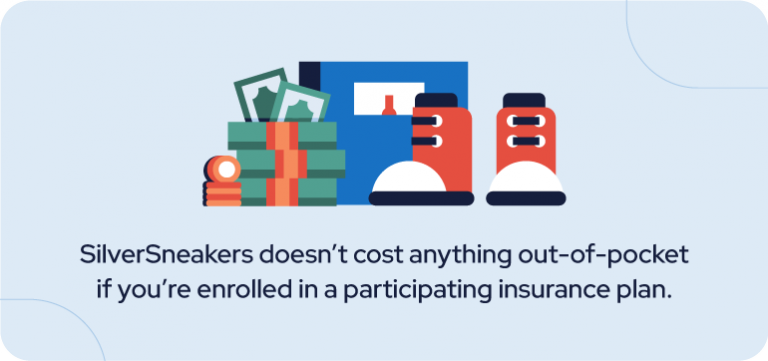 The program itself is covered by your insurance, so you shouldn't have to pay anything out of pocket unless you get something that isn't covered through the program.
Does Medicare Cover SilverSneakers?
Original Medicare — Medicare Part A and Part B — does not cover gym memberships or fitness programs, including SilverSneakers.
Medicare will only pay for physical therapy your doctor decides is medically necessary to treat your injury or illness.
Only select Medicare Advantage and Medigap plans that participate in the SilverSneakers program provide access to gyms, instructors and other program resources at no extra cost to you.
Don't Leave Your Health to Chance
Find a local Medicare plan that fits your needs by connecting with a licensed insurance agent.
What Insurance Plans Cover SilverSneakers?
There are over 60 Medicare Advantage and Medigap (Medicare Supplement) plans that offer a SilverSneakers membership at no additional cost to you. These insurance providers differ from state to state; however, a few include:
Aetna
Bankers Life
Humana
Blue Cross Blue Shield
Clover Health
AARP
Health Advantage
Vitality
Anthem
SCAN Health Plan
Kaiser Permanente
To learn which insurance plans cover SilverSneakers membership in your state, visit the Participating Health Plans page on the SilverSneakers website.
Who Is Eligible for SilverSneakers?
Though SilverSneakers is designed for people ages 65 and older, there is no age requirement. You simply have to have a Medicare Advantage or Medigap plan that participates in the program. If you're not 65 but have a disability or other reason for having a Medicare Advantage or Medigap insurance plan, you're still eligible for the SilverSneakers program.
Does Your Plan Cover SilverSneakers?
Source: SilverSneakers
If you are not yet enrolled in Medicare, but are looking for Medicare Advantage or Medigap coverage, ask if a plan includes SilverSneakers membership before making your purchase.
What Fitness Plans Do SilverSneakers Programs Offer?
The SilverSneakers program has agreements with thousands of gyms and trained fitness and exercise instructors at more than 17,000 locations. The trained instructors provide fitness programs designed specifically for seniors.
The program also has an on-demand video library for people who prefer exercising at home and a program that holds fitness classes outside of gyms in parks, community centers and churches.
SilverSneakers Fitness Classes
Boom Mind program

Mind classes combine yoga and Pilates to build strength, flexibility and confidence. The classes are designed to relax your body and mind while focusing on your core, lower body strength and balance.

Boom MOVE program

This is a high-intensity dance workout designed to improve cardio endurance while burning calories. It starts with simple dance moves, eventually advancing to more complex exercises.

Boom Muscle program

This program relies on blocks — or different combinations of exercises — to build and condition your upper body. It focuses on toning muscles and building strength.

Circuit training

These exercises focus on standing and low-impact movements alternating with upper body strength. It uses free weights, elastic tubing with handles and a SilverSneakers exercise ball.

EnerChi classes

EnerChi classes use modified tai chi forms. You practice low-impact movements in slow sequences to build balance, strength and focus. You are allowed to use a chair to help with balance and seated exercises.

FLEX program

FLEX programs are set up outside of traditional gyms and involve fitness programs in parks, community centers and houses of worship — particularly for people who don't want to work out in a gym environment.

Live virtual fitness classes

These are real-time exercise programs you can join from the comfort of your own home. Live classes and workshops featuring fitness instructors are delivered via Zoom conferencing.

On-demand classes

On-demand classes include a large library of exercise and wellness videos that you can access at your convenience and use in your fitness and wellness efforts in your home or on the go.

SilverSneaker Classic

The SilverSneaker Classic program is designed to increase your muscular strength and improve your range of movement with a focus on improving your daily life and activities.

Splash program

This is a shallow water exercise program using a splash board to give you more options for movement and intensity in your exercises. SilverSneakers bills it as safe for nonswimmers and suitable for anyone regardless of your skill level.

Stability classes

Stability classes are designed to improve your strength and balance. It aims to build strength around hip, knee and ankle joints and improve your reaction time, with the goal of reducing your risk of falls.

Yoga

This class involves a full range of standing and seated yoga postures coupled with breathing exercises. You are allowed to use a chair to support you. It is designed to reduce stress and increase balance, range of movement and flexibility.
3 Minute Quiz: Can You Retire Comfortably?
Take our free quiz & match with a financial advisor in 3 easy steps. Tailored to your goals. Near you or online.
Where To Find a SilverSneakers Program
The SilverSneakers website suggests there are programs near most Americans. You can check at the SilverSneakers website or on the program's app for locations near you.
Find a SilverSneakers Location
The SilverSneakers smartphone app allows you to access fitness programs, track and schedule workouts, and find participating SilverSneaker locations near you or where you plan to travel.
If your plan covers SilverSneakers, you can download a digital membership card on the app. It works on both iOS and Android phones and tablets and gives you access to your membership card at any time.
Frequently Asked Questions About SilverSneakers
Understanding all the ins and outs of Medicare and the SilverSneakers program can seem overwhelming at first. The more questions you ask about specific insurance coverage plans and what is covered by SilverSneakers, the more you'll understand. Look through the frequently asked questions below to learn what other people are asking.
SilverSneakers Alternatives
If you're not eligible to enroll in the SilverSneakers program, there are other options for gym memberships and fitness plans available. One program, Silver&Fit, offers benefits similar to SilverSneakers such as free online classes and gym memberships. It also offers free healthy aging coaching and you can earn rewards by tracking your physical activity.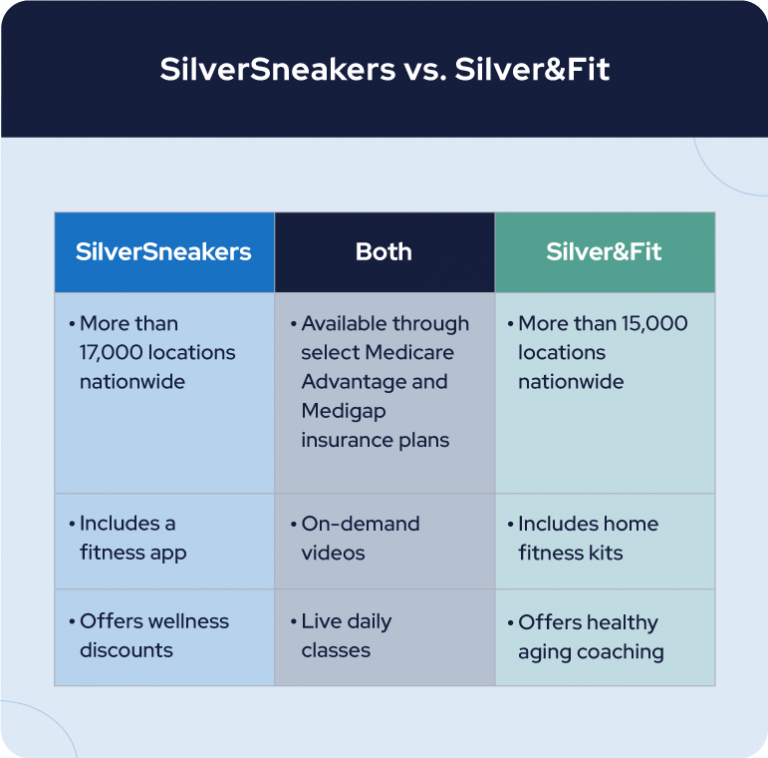 To enroll in Silver&Fit, you'll need to sign up for a Medicare Advantage or Medigap plan that includes this program.
If you don't have a qualifying Medicare Advantage or Medigap plan, you can also sign up for individual classes or coaching at your local gym. You'll have to pay for these out of pocket, but it's a great way to stay active — both physically and socially.
What are the Health Benefits of SilverSneakers?
Getting regular exercise is a huge part of promoting healthy aging in seniors. Physical activity helps to reduce the risk of a number of serious conditions that range from heart disease to cancer.
Exercise can also keep you both physically fit and mentally sharp late into life.
SilverSneakers offers seniors an easy and straightforward way to get physical activity that is specifically catered to older adults. Access to online classes can keep you engaged and working out regularly.
The included membership to a gym can also be huge, since it allows seniors to use all sorts of exercise equipment that they don't have access to at their homes.
On top of making it easier for seniors to get exercise, SilverSneakers can also make it easier to get into a routine, which is a key part of keeping up with exercising.
Regularly scheduled classes and support from a group can help to keep seniors from giving up on working out or not getting enough physical activity.
How To Stay Fit in Retirement
Staying fit as your body and life circumstances change takes effort and dedication, but it's worth it. Stephan Baldwin, founder of Assisted Living Center, mentioned the following in an email to RetireGuide:
"Physical activity is very important for people in their 60s and beyond. It promotes muscle growth and mobility, allowing seniors to perform day-to-day activities with ease as they age."
One study in the Journal of Applied Physiology found that 75-year-olds who consistently exercised four to six times a week for the majority of their lives had a heart that looked 30 years younger.
There's never a perfect time to do anything, so in order to see results, you must make a concerted effort to change your lifestyle and live healthier. Look through the visual at the bottom of this article for ways to stay fit in retirement by utilizing the SilverSneakers program.
Now that you can confidently answer, "What is SilverSneakers?," it's time to find out if you're eligible to enroll. If you're not sure whether your Medicare Advantage or Medigap plan includes this benefit, talk with a Medicare advisor to find out. They can also help you decide if it's time to enroll in a new plan, when you can do so and what plan may be best for you.

Last Modified: January 17, 2023
Share This Page
12 Cited Research Articles
Johnson, E. (2021, December 13). Personal communication.
May, L. (2021, December 12). Personal communication.
Dannenbaum, G. (2021, December 11). Personal communication.
Hosbein, J. (2021, December 11). Personal communication.
Baldwin, S. (2021, December 10). Personal communication.
Walker, M. (2019, December 31). 11 Burning Questions About SilverSneakers – Answered. Retrieved from https://www.silversneakers.com/blog/silversneakers-questions-answered/
PureGym. (2019, August 29). Feeling Scared of the Gym? You're Not Alone. Retrieved from https://www.puregym.com/blog/gym-fear-intimidation-report/
Gries, K., Raue, U., et al. (2018, November 26). Cardiovascular and skeletal muscle health with lifelong exercise. Retrieved from https://journals.physiology.org/doi/full/10.1152/japplphysiol.00174.2018
WebMD. (2009, August 7). Exercise for Energy: Exercises That Work. Retrieved from https://www.webmd.com/fitness-exercise/features/exercise-for-energy-workouts-that-work#3
Nguyen, H.Q. (2008, January). Managed-Medicare Health Club Benefit and Reduced Health Care Costs Among Older Adults. Retrieved from https://www.cdc.gov/pcd/issues/2008/jan/07_0148.htm
SilverSneakers. (n.d.). SilverSneakers. Retrieved from https://tools.silversneakers.com/
Humana. (n.d.). SilverSneakers Fitness Program. Retrieved from https://www.humana.com/manage-your-health/achieving-health-goals/silversneakers
Need Help Planning Your Retirement?
Yes, I'm Interested
I Have Help Already
I Will Manage It Myself
RetireGuide will soon offer services to help you better manage your retirement.
We will be offering assistance with annuities, life insurance, Medicare and financial planning. Sign up for updates and be the first to know when these services are available.
Get the right information to stay on top of your retirement planning.
Sign up for our newsletter for our latest retirement planning guides, tips and more!
Who Am I Calling?
Calling this number connects you to one of our trusted partners.
If you're interested in help navigating your options, a representative will provide you with a free, no-obligation consultation.
Our partners are committed to excellent customer service. They can match you with a qualified professional for your unique objectives.
We/Our Partners do not offer every plan available in your area. Any information provided is limited to those plans offered in your area. Please contact Medicare.gov or 1-800-MEDICARE to get information on all of your options.
888-694-0290