Aging Hair
As you age, you may start recognizing symptoms of aging hair, including brittle, dull and gray appearances. In severe cases, you may even start to lose much of your hair. Learning how to care for aging hair can help prevent these symptoms or even revive your locks to their previous healthy state.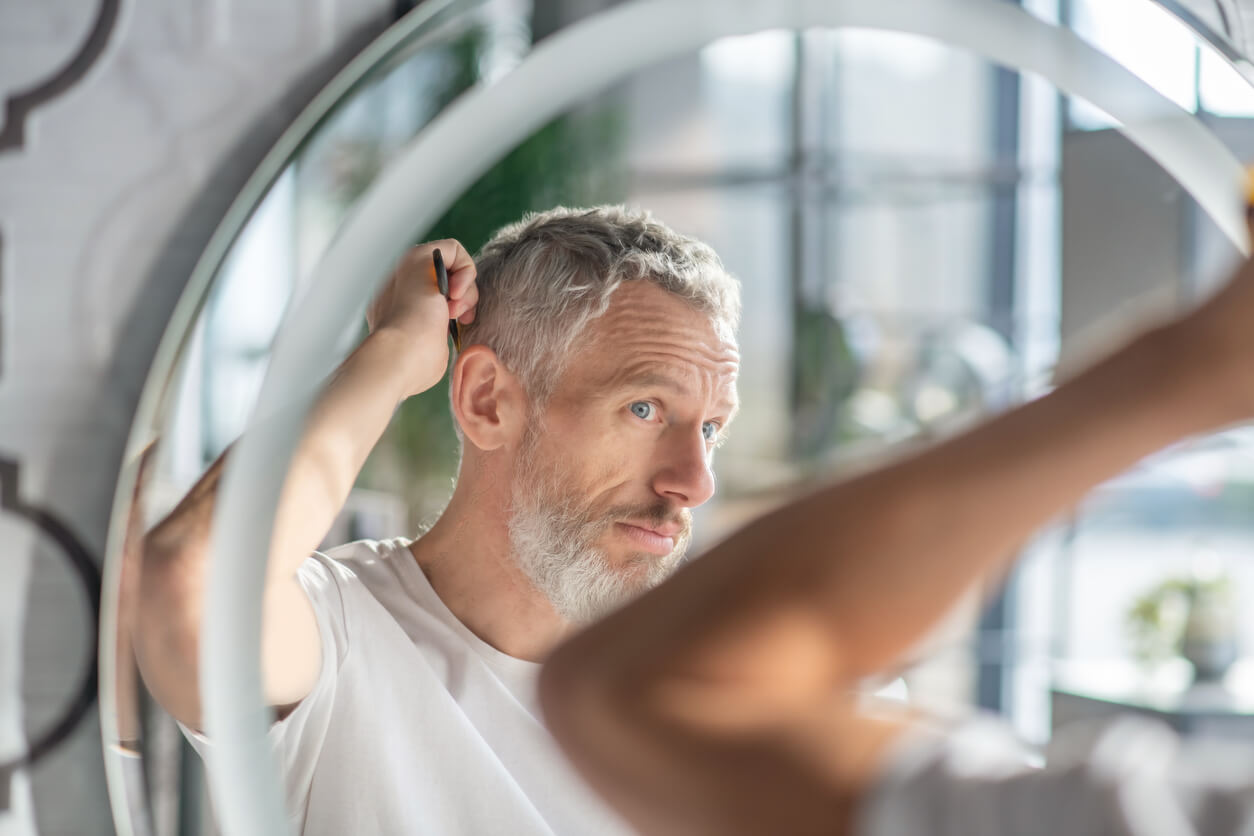 Written by

Lindsey Crossmier

Lindsey Crossmier

Financial Writer

Lindsey Crossmier is an accomplished writer with experience working for The Florida Review and Bookstar PR. As a financial writer, she covers Medicare, life insurance and dental insurance topics for RetireGuide. Research-based data drives her work.

Read More

Edited By

Lamia Chowdhury

Lamia Chowdhury

Financial Editor

Lamia Chowdhury is a financial content editor for RetireGuide and has over three years of marketing experience in the finance industry. She has written copy for both digital and print pieces ranging from blogs, radio scripts and search ads to billboards, brochures, mailers and more.

Read More

Reviewed By

Robin Schiltz, C.D.S.

Robin Schiltz, C.D.S.

Senior Safety Expert

Robin Schiltz is a certified Senior Home Safety Specialist and a certified CARES® Dementia Specialist™. In addition, Robin is the co-owner of Senior Safety Advice, an online platform that provides well-researched information and solutions for caregivers and seniors. Robin is an experienced writer in the financial and senior care industries.

Read More

Published: July 2, 2022
Updated: May 23, 2023
6 min read time
This page features 8 Cited Research Articles

Symptoms of Aging Hair

Being able to identify the symptoms of aging hair can help you know when it's time to start prevention techniques. While everyone's hair starts showing symptoms of aging at different times, most start realizing common signs in their late 30s or early 40s.

Common Aging-Hair Symptoms

Gray hair
Thinning or brittle hair
Loss of hair volume
Dullness
Fading hair color
Texture change
Coarseness

Understanding each symptom and the cause of it can help you avoid early aging hair. In some cases, like hair loss, the cause can either be hereditary, due to a vitamin deficiency or from an overprocessed scalp.

Hair coarseness typically occurs around the chin or lips for women. For men, hair grows coarser around the eyebrows, nose and ears.

One of the most common symptoms of aging is graying hair. Once you understand the causes of graying hair, you can then determine the best treatment or preventive routine.

If you start to notice thinning or breaking hair, see your doctor right away to rule out serious health conditions such as anemia or thyroid disorders.

What Causes Hair to Age and Turn Gray?

Naturally aging hair is caused by your hair's shaft and follicles getting weathered over time. Eventually, hair follicles stop producing new hair entirely. In some cases, symptoms of aging hair can be premature due to external factors like bad nutrition or lifestyle habits. These causes can all bring on the aging-hair symptoms listed above.

Your hair loses its natural color due to the loss of melanin pigment. Depending on your hair type and the level of pigment loss, your hair could turn dull gray, shiny silver or even translucent.

Fast Fact

By 50 years old, 50% of people have 50% gray hair.

In some cases, stress can cause early onset graying. However, this is not permanent. If the stress is resolved, your hair can revert to its natural color, according to the Columbia University Irving Medical Center. Healthy aging for your hair is possible if you follow several simple care tips.

How to Care for Aging Hair

There are many ways to revive aging hair back to its healthy glow. This includes taking vitamins regularly, using gentle moisturizing products and staying away from harsh chemicals. It's also best to avoid unnecessary heat. So, set aside the hair dryer and other styling tools whenever you can.

Another tip is to wash your hair less frequently. Shampoo dries out your scalp, and frequent scrubbing can result in hair loss. Try washing your hair two to three times a week at most. If you're having issues with a dry, flaky scalp, then a zinc pyrithione shampoo may help.

Creating a nightly hair routine can also help you care for aging hair. This can include putting a light hair oil on your ends to prevent breakage or putting a thicker oil on your scalp to encourage growth.

Common Hair Moisturizers for Scalp or Dry Ends

Avocado oil
Coconut oil
Aloe vera juice

One way to reduce harsh chemicals in your hair is to see a stylist. Hair stylists are professionals in mixing dyes and toners, ensuring the health of your hair remains priority. This isn't to say the coloring process doesn't damage your hair, but it is safer than if you were to do it yourself.

Some older adults are protecting their hair by embracing the beauty of their grays. In fact, many are asking stylists for the "gray blending" color treatment. This means, the stylist blends your gray roots with the rest of your hair color — sometimes even adding light face-framing pieces — for a natural glow. By blending gray roots, you will also not have to see a stylist often for touch ups.

Understanding body neutrality and embracing some aspects of aging can help give you a positive outlook on your physical appearance as you approach retirement.

Preventing Aging or Thinning Hair

Thinning hair occurs because your body creates less nutrients as you age. Since iron is the most important nutrient for healthy thick hair, it's beneficial to take iron supplements, along with other preventive methods, to help avoid thinning hair.

6 Ways to Prevent Thinning Hair as You Age

Check with your doctor about any medications that might lead to thinning hair or hair loss
Avoid chemicals like parabens and phthalates in shampoos
Take iron supplements
Use conditioners
Eat a well-balanced diet that is high in protein, such as leafy greens, spinach, omega-3, berries, and avocados
Take multivitamins

Another way to prevent thinning hair is to check your shampoo bottle label. There are chemicals in shampoos that are known to cause hair loss, such as sodium lauryl sulfate, sodium chloride and formaldehyde. If you notice your shampoo has any of these ingredients, it may be time to consider a different brand or type.

For some, thinning hair can turn to balding. According to the National Library of Medicine, a lot of men go entirely bald by 60 years old. While it is not as common for women to become bald, it is not impossible.

Female pattern baldness is a common type of hair loss for women, affecting 30 million women in the United States. This type of hair loss occurs when your follicles refuse to grow new hair.

But hair loss isn't always permanent, according to the American Academy of Dermatology Association. Even if you've lost a large amount of hair, it can fully regrow with a proper treatment plan.

It's best to follow a preventative plan early on to avoid hair loss altogether.

When to See a Doctor

If you start to notice your hair thinning or becoming brittle, it's best to see a doctor right away. It's much easier to prevent hair-aging symptoms than to reverse far-progressed damage.

Did you know?

You can receive treatment, diagnosis and medication for aging-hair symptoms from either your primary doctor or a dermatologist.

Although many people go to a dermatologist for skin issues, dermatologists are also experts in diagnosing and treating aging-hair symptoms. For example, if you're struggling with hair growth and overall fullness, then a dermatologist can prescribe a medication for treatment, like minoxidil.

However, if you're having a broad range of medical issues along with aging-hair symptoms, it would probably be best to visit your primary care doctor instead. Serious health conditions, like thyroid disorders or anemia, are linked to hair loss. Primary doctors can help you find the root of the problem and treat you accordingly.

Last Modified: May 23, 2023

Share This Page

8 Cited Research Articles
Your web browser is no longer supported by Microsoft. Update your browser for more security, speed and compatibility.
If you need help pricing and building your medicare plan, call us at 844-572-0696