Age and Beauty
The idea that your beauty fades as you age is a misconception that many over 50 experience. This notion is false — you can preserve your beauty for years to come with good health habits. These beauty tips for healthy aging can help you maintain the overall appearance and health of your skin, hair and nails.

Written by

Lindsey Crossmier

Lindsey Crossmier

Financial Writer

Lindsey Crossmier is an accomplished writer with experience working for The Florida Review and Bookstar PR. As a financial writer, she covers Medicare, life insurance and dental insurance topics for RetireGuide. Research-based data drives her work.

Read More

Edited By

Savannah Pittle

Savannah Pittle

Senior Financial Editor

Savannah Pittle is a professional writer and content editor with over 16 years of professional experience across multiple industries. She has ghostwritten for entrepreneurs and industry leaders and been published in mediums such as The Huffington Post, Southern Living and Interior Appeal Magazine.

Read More

Reviewed By

Robin Schiltz, C.D.S.

Robin Schiltz, C.D.S.

Senior Safety Expert

Robin Schiltz is a certified Senior Home Safety Specialist and a certified CARES® Dementia Specialist™. In addition, Robin is the co-owner of Senior Safety Advice, an online platform that provides well-researched information and solutions for caregivers and seniors. Robin is an experienced writer in the financial and senior care industries.

Read More

Published: June 17, 2022
Updated: May 23, 2023
5 min read time
This page features 7 Cited Research Articles
Maintaining Your Beauty Over 50
As you grow older, your healthy aging habits directly impact the appearance of your hair, skin and nails. Simple daily practices like avoiding the sun, drinking enough water and moisturizing can help preserve your natural beauty.
If you need ideas for creating a maintenance routine to keep yourself looking your best during your retirement years, explore our top tips and techniques to revive your skin, hair and nails and maintain your healthy glow.
How you maintain your beauty as you age is within your control. A healthy regimen of care for your skin, hair and nails should be followed to maintain a healthy and vibrant look. Consulting with your doctor or beauty specialists for the right products for your needs is important.
Anti-Aging Skin Care
Wrinkles and dark spots are a natural part of aging most will experience after 50. While they are nothing to be embarrassed about, there are anti-aging skin care products that can help you achieve an even skin tone and reduce the appearance of wrinkles. If you want more dramatic results, you can also look into cosmetic procedures like Botox® and Restylane® — or you might even opt to go under the knife for a facelift.
But there are easy changes you can make before undergoing such drastic procedures. According to the National Library of Medicine, an easy way to reduce the effects of aging skin is to cut back on sun exposure and smoking. These two factors have detrimental results on the health and appearance of your skin and can cause spider veins and loss of elasticity.
The American Academy of Dermatology Association suggests sunscreen and moisturizers to help reduce fine lines and wrinkles. To be effective, your sunscreen should have at least 30 SPF. Trying to increase your collagen intake, either with lotions or supplements, will further improve the appearance of your skin as collagen is responsible for the skin's elasticity and smoothness.
And there are other skin care products and treatments that can help deter or fade signs of aging. Dermatologists recommend trying one new product at a time to avoid a harsh reaction. Keep in mind that products typically take several months to make a difference — any anti-aging skin care product that promises overnight results is making a false claim.
Anti-Aging Skin Products
Retinoids

Prescription retinoid creams reduce dark age spots, soften rough skin patches and reduce wrinkles by increasing collagen production. Doctors recommend starting to use a retinoid cream slowly, typically once a week for new users. Always use sunscreen after using retinoid cream because it makes your skin sensitive to light. You can also consider using a retinoid cream as an overnight cream.

Vitamin C Serums

According to researchers at Harvard Medical School, vitamin C can slow skin aging and improve the appearance of wrinkles and dark spots. Because it's an antioxidant, vitamin C fights toxins that can damage your skin. Be patient, and you should start seeing visible results after three months of use.

Petroleum Jelly

Slugging, an anti-aging beauty trend from South Korea, recently became popular in America. Slugging is the use of a petroleum product, like Vaseline, on your face overnight. While some coat their entire faces in Vaseline, you can opt to put the Vaseline only on your dry areas. This should be the last step of your nightly routine, after any serums and lotions.
Products recommended to you by your doctor or dermatologist will likely have a larger impact on your beauty than store-bought creams and lotions.
Did You Know?
When shopping for over-the-counter beauty products, the phrase "clinically proven" does not always mean the U.S. Food and Drug Administration (FDA) tested or approved the product. Try finding a product with the phrase "dermatologist reviewed" instead. This guarantees that a dermatologist reviewed the clinical data and ingredients before manufacturers brought the product to the market.
Hair Color and Texture As You Age
It's natural for your hair to gradually gray and become brittle or thin with age. Keeping your hair a shorter length can help to deter hair loss since you won't be combing through long tangles. Using the right products and avoiding unnecessary heat can help keep your hair's strength and shine.
Unfortunately, many hair products contain ingredients that may contribute to hair loss and thinning. Check your shampoo and conditioner bottles — if they contain any of the ingredients listed below, ‌consider a safer alternative.
Hair Product Ingredients Linked to Hair Loss and Thinning
Sodium lauryl sulfate (SLS)
Sodium chloride
Polyethylene glycol (PEG)
Formaldehyde
Methylparaben
Propylparaben
Diethanolamine (DEA)
Triethanolamine (TEA)
Alcohol
Graying hair is a big beauty concern of those over 50. While you can opt to color your hair regularly, it's difficult for many aging Americans to maintain and grays typically leave a stark line in your hair once the follicles grow out.
Many have embraced their grays, choosing a gray blending technique at the salon. This process blends your grays with darker colors, often with a face-framing gray section. Not only does it enhance your natural beauty, but it is also low maintenance. Reducing how often you color your hair is better for its overall health and strength.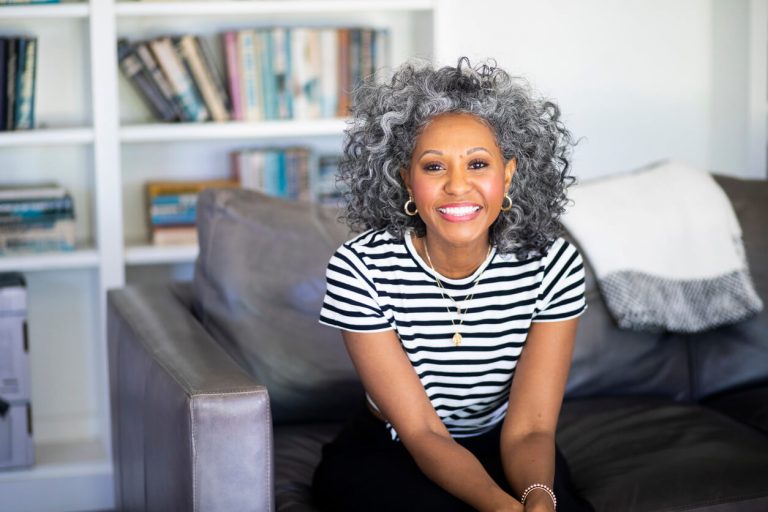 Aging Nails
Once you're over 50, it's not uncommon for your nails to become brittle, soft and thin. Several simple changes and products can improve the overall strength and look of your nails.
If you notice your nails becoming soft, the skin is likely being over-moisturized or exposed to harmful chemicals like cleaning products or nail polish remover. Wearing rubber gloves when cleaning and taking a break from nail polish and remover will allow your nails time to recover.
For brittle and thin nails that constantly break, you can contact your doctor for a prescription-strength nail hardener, such as Nuvail. Nuvail is a thin layer of solution applied to your nails, keeping them strong and healthy. Once the Nuvail is dried, you can apply your favorite nail polish on top for a fresh finish.
Last Modified: May 23, 2023
Share This Page
7 Cited Research Articles
Who Am I Calling?
Calling this number connects you to one of our trusted partners.
If you're interested in help navigating your options, a representative will provide you with a free, no-obligation consultation.
Our partners are committed to excellent customer service. They can match you with a qualified professional for your unique objectives.
We/Our Partners do not offer every plan available in your area. Any information provided is limited to those plans offered in your area. Please contact Medicare.gov or 1-800-MEDICARE to get information on all of your options.
844-359-1705
Your web browser is no longer supported by Microsoft. Update your browser for more security, speed and compatibility.
If you need help pricing and building your medicare plan, call us at 844-572-0696