Whole Life Insurance
Whole life insurance is a type of permanent life insurance that provides coverage for as long as you live. Also known as straight life or ordinary life, these policies build a cash value that buyers can borrow against in retirement.
What Is Whole Life Insurance?
Traditional whole life insurance is the most common type of permanent life insurance policy, according to the Insurance Information Institute.
Unlike term life insurance — which lasts for a specific number of years — whole life policies last your entire life.
No matter your age when you pass away, these policies guarantee a payout to your beneficiaries.
A certain percentage of your monthly whole life insurance premiums go into a savings component, known as the cash value of your policy. The cash value is tax-deferred and builds over time.
Like other types of permanent life insurance, you can withdraw, invest or borrow against this cash value.
Permanent life insurance policies — including whole life — are typically more expensive than term life policies.
When you pass away, beneficiaries often receive the face value of your whole life policy, not the face value plus cash value.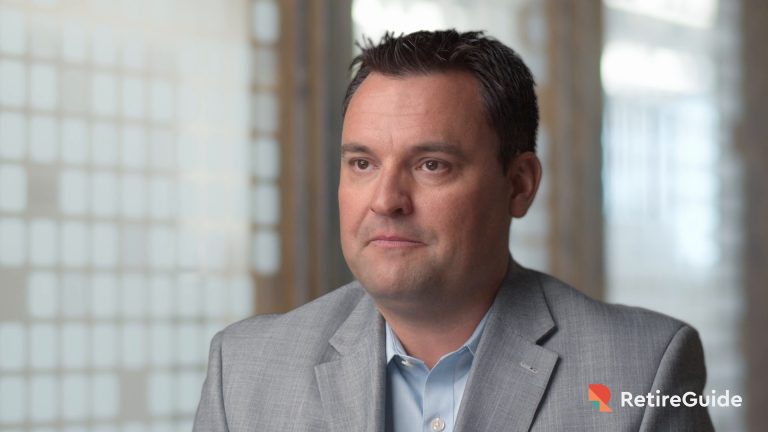 Is Whole Life Insurance Right for You?
A whole life insurance policy may not be right for everyone.
Whole life insurance can be a good fit if you:
Have dependents.
Want to leave money to your heirs.
Are still paying off a mortgage.
Have a spouse who financially depends on you.
Need money to cover final expenses.
Whole life insurance may also be attractive if you want to access its cash value during retirement.
You also have the option of converting your whole life policy's cash value into an annuity.
An annuity is a contract between you and an insurance company. It allows you to receive regular payments for the rest of your life, and potentially, the rest of your spouse's life.
By using a 1035 exchange, you can roll your whole life insurance into an annuity without paying taxes on the policy's cash value.
A certified financial advisor can help you explore your options. These experts don't make commissions from sales and can offer you an objective opinion.
Finding the Best Whole Life Insurance Policy
All whole life insurance policies are not created equal.
It's important to carefully review details about potential life insurance companies and the policies they offer before making a final decision.
What to Look for When Purchasing a Whole Life Policy
Price

Whole life insurance policies can be expensive. Before purchasing one, make sure you can afford the premiums. According to a ValMark Financial Group analysis reported on by CNBC, a healthy 55-year-old man can expect to pay roughly $3,100 to $4,000 a year for a 20-year term life policy worth $1 million. In contrast, it would cost the same person $20,000 to $37,000 a year through a whole life policy for the same amount of coverage. Keep in mind that prices can fluctuate greatly from one insurance company to another.

Reputation and Financial Strength

Carefully research potential life insurance companies online and read their reviews. Consumers can consult independent rating companies, such as Standard and Poor, A.M. Best and Moody. These companies grade insurers based on profitability, debt, liquidity and other factors. You can also reach out to your state insurance department with any questions or concerns about a life insurance company or agent.

Coverage Amount

Consider who depends on you financially. Think about how much money your loved ones will need to cover final expenses and replace your income. Also keep in mind that higher death benefit coverage amounts equal higher monthly premium payments.

Riders

A life insurance rider is an additional feature tacked on to your policy, usually at an extra cost. Riders provide specific benefits. For example, a long-term care rider allows you to tap part of the policy's death benefit when you're still alive to cover long-term care expenses if you meet certain criteria.

Approval Process

Whole life insurance policies are usually fully underwritten. This means you must complete an extensive application and undergo a medical exam. If your health is preventing you from finding a policy, you might be able to bypass this step with a simplified-issue or guaranteed-issue policy. However, you may pay a higher premium and receive a smaller death benefit under these two options because no medical exam is required.

Rate of Return on Cash Value

Whole life insurance guarantees a minimum growth rate on a policy's cash value. However, insurance companies may not automatically disclose what part of your annual premium goes to the savings component. So, make sure to ask any potential insurers for their rate of return on whole life insurance policies.
Last Modified: July 25, 2022
Share This Page
6 Cited Research Articles