How To Report Elder Abuse
There are different elderly abuse hotlines to report elderly abuse, depending on what state you live in. Learning about whom to contact and what information you need on hand to report elder abuse can help you protect yourself and your loved ones.

Written by

Lindsey Crossmier

Lindsey Crossmier

Financial Writer

Lindsey Crossmier is an accomplished writer with experience working for The Florida Review and Bookstar PR. As a financial writer, she covers Medicare, life insurance and dental insurance topics for RetireGuide. Research-based data drives her work.

Read More

Edited By

Savannah Pittle

Savannah Pittle

Senior Financial Editor

Savannah Pittle is a professional writer and content editor with over 16 years of professional experience across multiple industries. She has ghostwritten for entrepreneurs and industry leaders and been published in mediums such as The Huffington Post, Southern Living and Interior Appeal Magazine.

Read More

Reviewed By Bart Astor
Published: July 5, 2022
Updated: May 23, 2023
7 min read time
This page features 8 Cited Research Articles
Elder Abuse Hotline
If you are in a dangerous or life-threatening abuse situation, dial 911 immediately for help. If your life is not in immediate danger, there are non-emergency hotlines specifically for reporting elder abuse.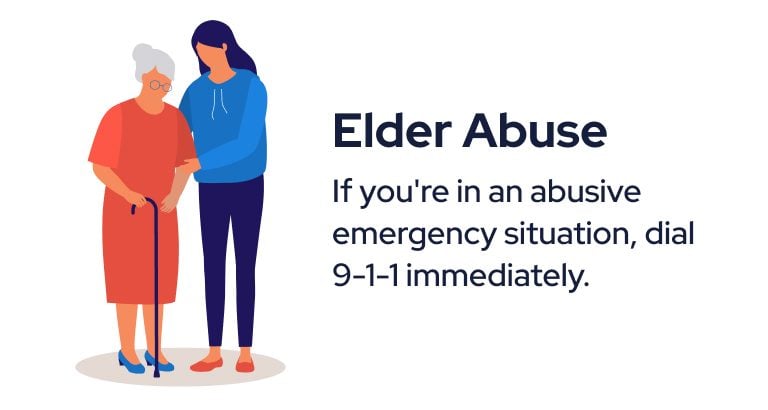 Report Elder Abuse
You can contact the National Elder Fraud Hotline at 1-833-372-8311 to report non-life threatening elder abuse. This nationwide option can also connect you with resources to help you get out of an abusive situation.
Unfortunately, elder abuse happens regularly. One in 10 people over age 60 have experienced abuse, according to the Centers for Disease Control and Prevention (CDC). Knowing multiple resources to report elder abuse can best aid you should you find yourself in a difficult situation.
Who Should You Contact To Report Elder Abuse?
If you feel frightened to report the elder abuse yourself, confide in a loved one about your situation and ask them to make a report for you. There are several contact options to report elder abuse.
Eldercare Locator
Report your abuse to the Eldercare Locator by dialing 1-800-677-1116 or by emailing eldercarelocator@n4a.org. This free nationwide service of the U.S. Administration on Aging protects older Americans by connecting them to resources in their area and provides support to caregivers.
Some elder and disability laws vary by state. If you want to report elder abuse to your specific state department, there are other options.
State Resources
The National Adult Protective Services Association (NAPSA) provides a
program list
with phone numbers and email addresses for reporting elder abuse in each state.
You can contact one of the national hotlines for elder abuse or refer to NAPSA's state program list with information to report elder abuse to your specific state's hotline.
What Information Should You Report?
Knowing what information is important to report will save you time and ensure you connect with the correct resources for your situation.
Always provide as much information as possible when reporting elder abuse. Generally, when reporting any type of abuse, you need to report how long the abuse has been occurring and who is committing the abuse. Additional information to report changes depending on the type of elder abuse suffered.
Types of Abuse and Information To Report
Emotional Abuse

Document and report how the emotional abuse has altered your life. This might include becoming increasingly depressed, anxious or isolated.

Financial Exploitation

Report the amount of money taken from you or the specific items stolen. In circumstances involving tampering of legal documents, you'll need to report what documents were altered and how.

Physical and Sexual Abuse

Report the injuries you have suffered. If possible, include photos of injuries. Keeping documentation on hand, such as hospitalization or doctor's office records, is also helpful to include in your report.

Neglect, Deprivation and Confinement

These forms of elder abuse likely cause poor hygiene and living conditions. Take photos if possible. Report how long you were confined and what you were deprived of.
It is important — even if you have no proof of abuse or have excess information — to always report your abuse. The National Center on Elder Abuse finds that, for every case of elder abuse reported, 24 cases go unreported. Your health and safety matters. If you suspect you are being taken advantage of or are being neglected, report the abuse along with any information and documentation you have.
Is Your Lifestyle Future-Proofed?
Secure the lifestyle you've always imagined post-retirement. Discover annuity options that can make it a reality.
*Ad: Clicking will take you to our partner Annuity.org.
Abuse Victim Information
If you are reporting on behalf of an abuse victim, include the victim's contact information so the caseworker can follow up for safety reasons. If there is physical abuse, like bruises or broken bones, ‌include details in your report.
The victim's mental condition should also be noted. In severe cases, mental abuse can lead to suicide. Having this information documented can indicate to a caseworker the time sensitive nature of a case, and whether it's essential to call 911 instead of waiting.
The victim's relationship to the abuser is also important. If they live with the abuser, the case will likely be prioritized.
Important Abuse Victim Information To Report
Victim's contact information
Victim's physical and mental condition
Victim's relationship to the abuser
Alleged Perpetrator Information
If possible, provide the alleged perpetrator's contact information and relationship to the victim in your report. It is not required to have this information to report abuse, but it may be important for the outcome of the case investigation.
While most abusers are family and friends with elder abuse, there are also strangers who abuse older adults. Typically, strangers abuse older adults financially through online scams. It is okay to file a report without knowing much information about your abuser.
Abuse Information
Reporting the type of abuse is crucial to be connected to the right resources. You should also report who else knows about the abuse. Many times, abusers target older adults with memory issues. This can make it difficult to show evidence of the abuse, but having multiple witnesses to back up the abuse can help the case.
Abuse Details To Include
Type of abuse
Contact information for others who know of the abuse
Reporter's contact information
While having the reporter's contact information is beneficial, it is not required. Elder abuse information can be reported anonymously.
What Happens When You Report Elder Abuse?
After you report elder abuse, local Adult Protective Services (APS) assigns a caseworker to conduct an investigation. If your caseworker finds your situation violates your state's elder abuse laws, action may begin within 24 hours of an initial report. Local law enforcement may become involved as necessary.
If no elder abuse law was broken, the caseworker will still work with community agencies and social services to provide assistance. This can include arranging a new housing option for you or the victim or offering medical services, legal services and other protective measures.
Pro Tip
If you're making a report on the behalf of an older adult, make sure they're okay with the action. They do have the right to refuse services offered. Some older adults in toxic relationships with their abusers may be too scared to leave. Ensuring they are aware and approving of you reporting the abuse will remove potential roadblocks.
Additional Reporting Resources
The Office for Victims of Crime (OVC) provides resource links to help with reporting elder abuse and mistreatment. Some are more focused on strictly reporting, while others center on educating the public to recognize signs of abuse and information needed to report elder abuse.
Example OVC Elder Abuse Resources
If you need additional resources for your specific state, the National Center on Elder Abuse provides an interactive map to connect you to each state's directory of reporting phone numbers, government agencies and state laws.
Last Modified: May 23, 2023
Share This Page
8 Cited Research Articles
Who Am I Calling?
Calling this number connects you to one of our trusted partners.
If you're interested in help navigating your options, a representative will provide you with a free, no-obligation consultation.
Our partners are committed to excellent customer service. They can match you with a qualified professional for your unique objectives.
We/Our Partners do not offer every plan available in your area. Any information provided is limited to those plans offered in your area. Please contact Medicare.gov or 1-800-MEDICARE to get information on all of your options.
844-359-1705
Your web browser is no longer supported by Microsoft. Update your browser for more security, speed and compatibility.
If you need help pricing and building your medicare plan, call us at 844-572-0696